Pure Raw Cocoa Beans direct from the Fijian rainforest with no processing. Chocolate doesn't get any more raw than this because here we offer the cocoa beans themselves!
Wild cacao raw and not processed. This cacao is from the original cacao trees planted in 1883 by the British Navy. The original tree saplings came from the British Territory of Trinidad. These special cacao trees are growing in the rainforest among vanilla orchids and banana trees and are pollinated naturally by the hummingbirds and butterflies visiting these plants.
THIS IS A RAW FOOD AND WE RECOMMEND WASHING AND ROASTING BEFORE EATING.
Robust cacao - 100% Cocoa Solids with skin
Raw sun dried Cocoa Beans
Roast 250F for 25 minutes
After roasting rub the cocoa beans in a towel to winnow and remove the thin brown skin
Eat the dark brown nib inside the skin - this is what we use to make our chocolate
Crush the cocoa nibs and enjoy in trail mix or like a nut cacao antioxidant superfood
Grind cocoa nibs into cocoa mass paste and mix with honey to make your own raw chocolate
Crush cocoa nibs and grind to make an Aztec style drink whisk with milk, cinnamon and honey
If you're a bean to bar chocolatier or chocolate alchemist try our raw cocoa beans and have fun making your own stone ground chocolates. Roast the raw cacao 250F for 25 minutes, place in a towel and rub so you winnow away the thin brown skin. Grind the dark brown cocoa nibs, the part eaten after the skin has been removed, into a cocoa mass paste. Add honey as a sweetener to make your own raw chocolate. Most customers just roast the raw cocoa beans and then eat them straight like nuts. Our pure raw chocolate cacao is popular with paleo food followers, health minded athletes and creative foodies looking to make savory chocolate recipes and homemade chocolates.
This is 100% cacao, nothing added, not processed and raw. Please wash the cacao and roast it as mentioned before eating. Raw cacao seeds of cocoa pods is what chocolate is made from. Please treat these raw cocoa seeds as you would a raw fruit or vegetable.
Directions on How to Roast Cocoa Beans in 8 easy steps:
Set oven 250F
Place cocoa beans on baking sheet
Once oven is up to temperature pop the cocoa beans on the baking sheet into the oven.
Set timer for 25 minutes.
Around 10 minutes turn cocoa beans, mixing them around on the baking sheet.
Remove cocoa beans from oven at 25 minutes - remove sooner if you smell a burning odor. The smell should be chocolate like or coffee like.
Place cocoa beans in a clean towel and rub them together in the towel - this is winnowing (removing the thin outer skin of each cocoa bean).
Take your freshly roasted and winnowed cocoa beans and enjoy them like a healthy nut, in smoothies, in trail mix or grind and make your own chocolate.
Information on our raw cacao:
Cocoa beans from South Pacific - Savusavu Fiji
Highly aromatic Amelonado Cacao and Trinitario Cacao varieties
Grown North Island side in a hilly terrain - micro climate
Fresh harvest March - May and October - December
Fermentation via tiered hard wood box
Sundried cacao
87 cocoa beans per 3.5oz - Grade AA
Please see our research on cocoa bean flavor.
Cocoa Bean Nutrition:
Serving Size: 1oz (28g)
Calories: 170
Calories from fat: 117
Total fat: 13g
Saturated fat: 8g
Sodium: 20mg
Total carbohydrate: 9g
Dietary fiber: 9g
Protein: 4g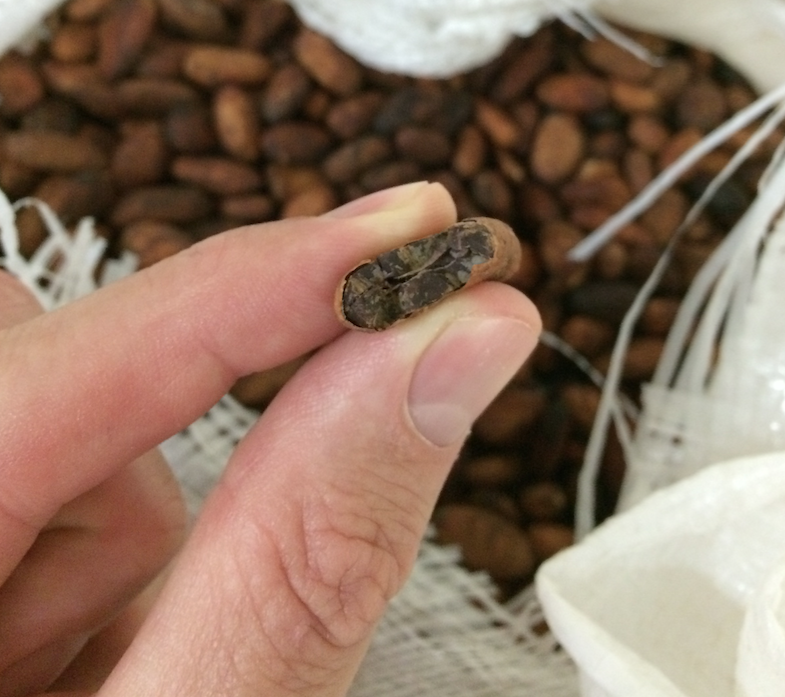 Pure cacao raw cocoa beans are some of the most enjoyable ways to eat unsweetened chocolate. Our cocoa beans are the Criollo variety from Fiji. These cocoa beans have been washed and sundried. Crunchy, alkaline and nut like cocoa nuances are what you'll experience when eating these cocoa beans.