Posted by Chocolatier Jason Vishnefske on 12th Aug 2017
Banana Desserts, Easy Chocolate Desserts
This delicious dessert is easy and a great way to inspire your kids to help in the kitchen. Banana desserts are healthy and pretty much mess free with a quick clean up.An absolute favorite dessert to make are Banana boats.Delightful and fast, they are also one of the easiest chocolate dessert recipe you can imagine. Perfect for those days when you have children at home and they want to help bake. You can fill Banana boats with any chocolate combination, use your imagination and look around your kitchen to find the perfect flavor combos.
It is important to use high quality couverture chocolate in all your chocolate recipes, otherwise what is the point spending the effort baking at home? For this recipe I recommend Organic Dark Chocolate. Of course you can also use milk chocolate because both chocolate types are great options.
If you want some extra yumminess, drizzle chocolate sauce or caramel over the bananas when still warm.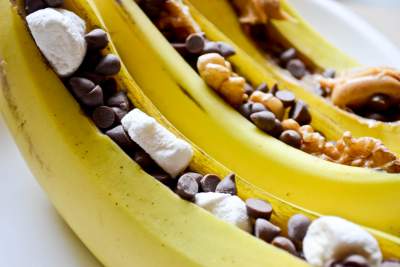 Banana Dessert Ingredients:
Bananas, preferably just ripe and not with brown spots
Organic Dark Chocolate
Mini marshmallows
Peanut Butter, your favorite kind
Salted Cashews, chopped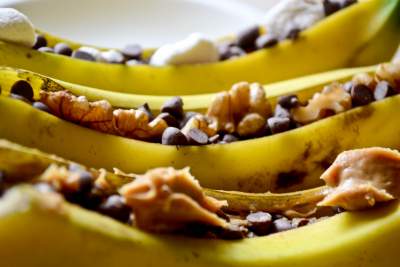 Banana Boat Assembly Instructions:
Preheat oven to 350 F.
Take your banana and slice the peel from the stem to the bottom, make sure to also slightly slice the banana, you need some space to fill them.
Leave the banana skin. Don't worry if you don't have ripe bananas, the oven will help you transform your green bananas to ripe ones.
For the first combination, add around 2 tbsp of Organic Dark Chocolate inside the banana, then add as many mini marshmallows as you wish.
For the second combination, add one tbsp of Organic Dark Chocolate, spread your favorite kind of peanut butter and finish it with more Chocolate on top!!
Now, the third combination, add 2 tbsp of Organic Dark Chocolate inside the banana, chop your cashews and place as many chunks as you want. If you don't have cashews use almonds or hazelnuts.
Place your filled bananas on a baking sheet.
Bake for 15 minutes, just to get your bananas brown and your chocolate soft. Be careful not to burn the marshmallows.
Take them out of the oven and grab a spoon because they are ready!
Check out our full list of chocolate varieties: