Chocolate Chip Banana Bread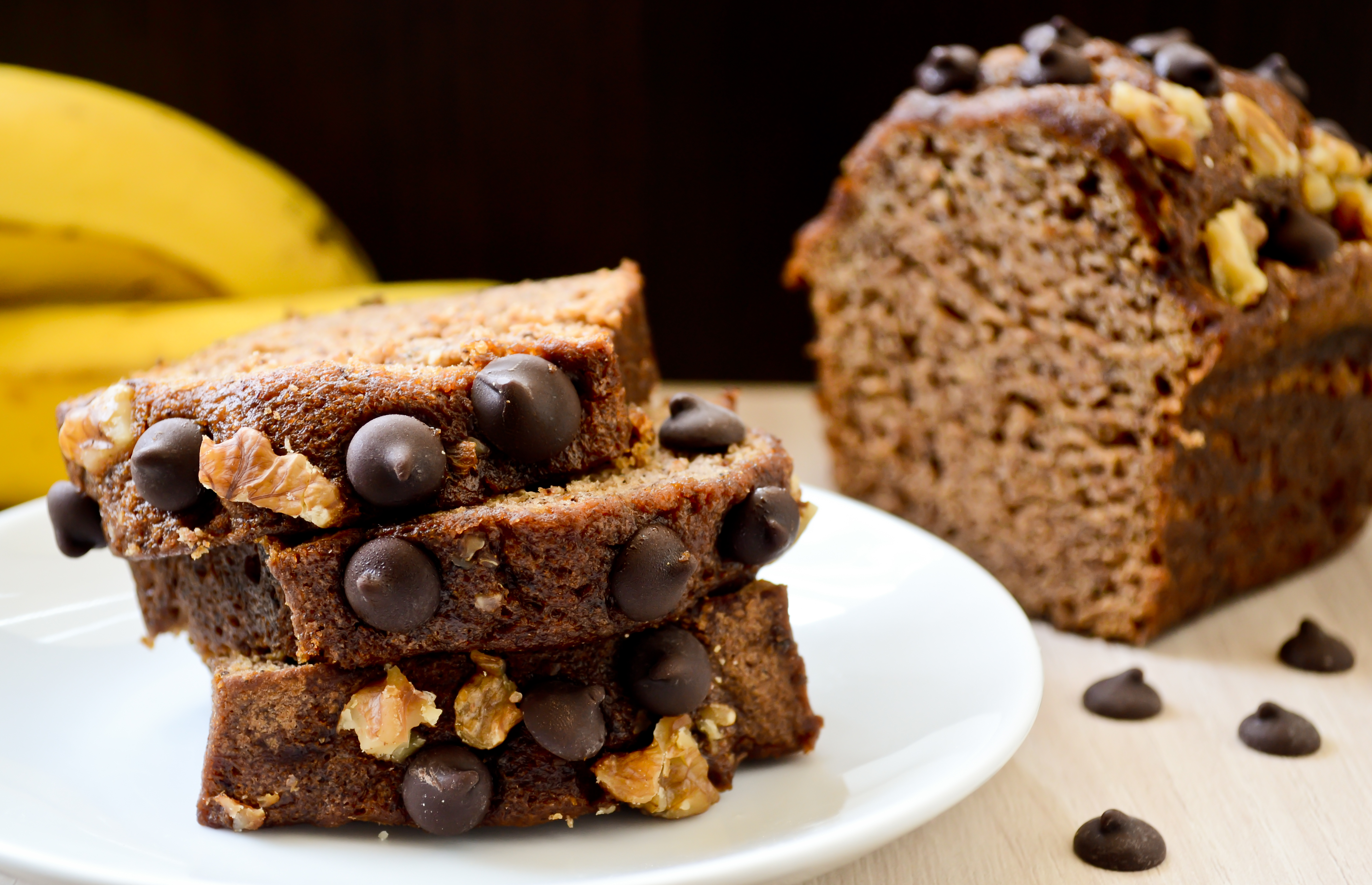 Am I the only one who celebrates when bananas are overripe at home? In my house every two or three dark bananas mean a freshly baked homemade banana bread loaf and since I'm a chocolatier it almost always means chocolate chip banana bread! If you don't have a loaf pan, I recommend using this same recipe in a muffin tin to make moist and delicious banana muffins.
If you are craving a warm loaf of banana bread, but your bananas are not even close to dark, just bake them for 10 – 12 minutes at 350 degrees F. You will end with black-ish bananas that are perfect for baking.
History relates that banana bread was invented during the Great Depression; bananas were costly to buy so no one wanted to waste one even if they were "too dark". Back then companies like Royal began mass producing baking powder which was perfect to create dessert recipes without using yeast.
The urge to find a way to use the "dark over ripened" bananas combined with the new nationwide access of easy to use leaveners inspired cookbook writers to come up with a "quick bread" recipe using bananas as a base.
At the beginning of the 1930s banana bread recipes were published in different cookbooks of big brands like Pillsbury Flour, making them popular. To be able to bake an easy bread without using yeast was really convenient and new. And of course it is still pretty useful nowadays.
If you Google banana bread recipes, you will find several recipe variations: simple, cake ish, with nuts, with fruits, there are even recipes that only call for 3 or 4 ingredients. My favorite way to bake banana bread is adding walnuts and bittersweet chocolate chips.
Ingredients:
2 cups of all purpose flour, sifted
3 large bananas, heavily ripened
¼ cup of butter, melted
2 eggs, large
¾ cup of sugar
A pinch of salt
1 tbsp of vanilla extract
1 tsp of cinnamon
1 tsp of baking soda
1 tsp of baking powder
Walnuts, chopped, to add on top
Dark Chocolate Chips, to add on top
Instructions:
Preheat the oven to 350 degrees F.
In a large bowl, mix your sugar, salt and melted butter; whisk those together until combined. You can make this recipe either with an electric mixer or by hand.
Take your ripe bananas and mash them with a fork, it doesn't have to be perfect. I like to keep some chunks to add a little bit of texture.
Incorporate both eggs and the vanilla extract, stir to combine.
Sift the all purpose flour, baking soda, baking powder and cinnamon, fold those into the batter, you will have a clumpy batter because of the bananas but it is fine. Don't forget to always sift all your fine dry ingredients when baking any recipe.
Place a large piece of parchment paper into a 9 inches loaf pan and fill it with the banana bread batter.
Add Kumba Dark Bittersweet Chocolate Chips and chopped walnuts on top of your loaf, as much as you want.
Bake the banana bread for 50 minutes. Check it after 40 minutes to make sure it is not over baking, ovens may vary and you don't want to end with a burnt loaf.
Pull the parchment paper up and take the banana bread out of the pan to let it cool down before cutting.
Some tips for those who want to bake banana muffins instead of the loaf:
When your batter is ready, start filling the muffin liners, remember to fill them just ¾ full because they need space to grow in the oven.
Bake them for 20 minutes or until golden.
These are perfect to have at home as a grab and go breakfast or snack.
Remember that this recipe is like a base, if you don't like walnuts or chocolate chips (are you crazy?), just add other toppings like peanut butter, almonds, hazelnuts dried strawberries, etc... Carob chips work also if you want to try a variation on chocolate.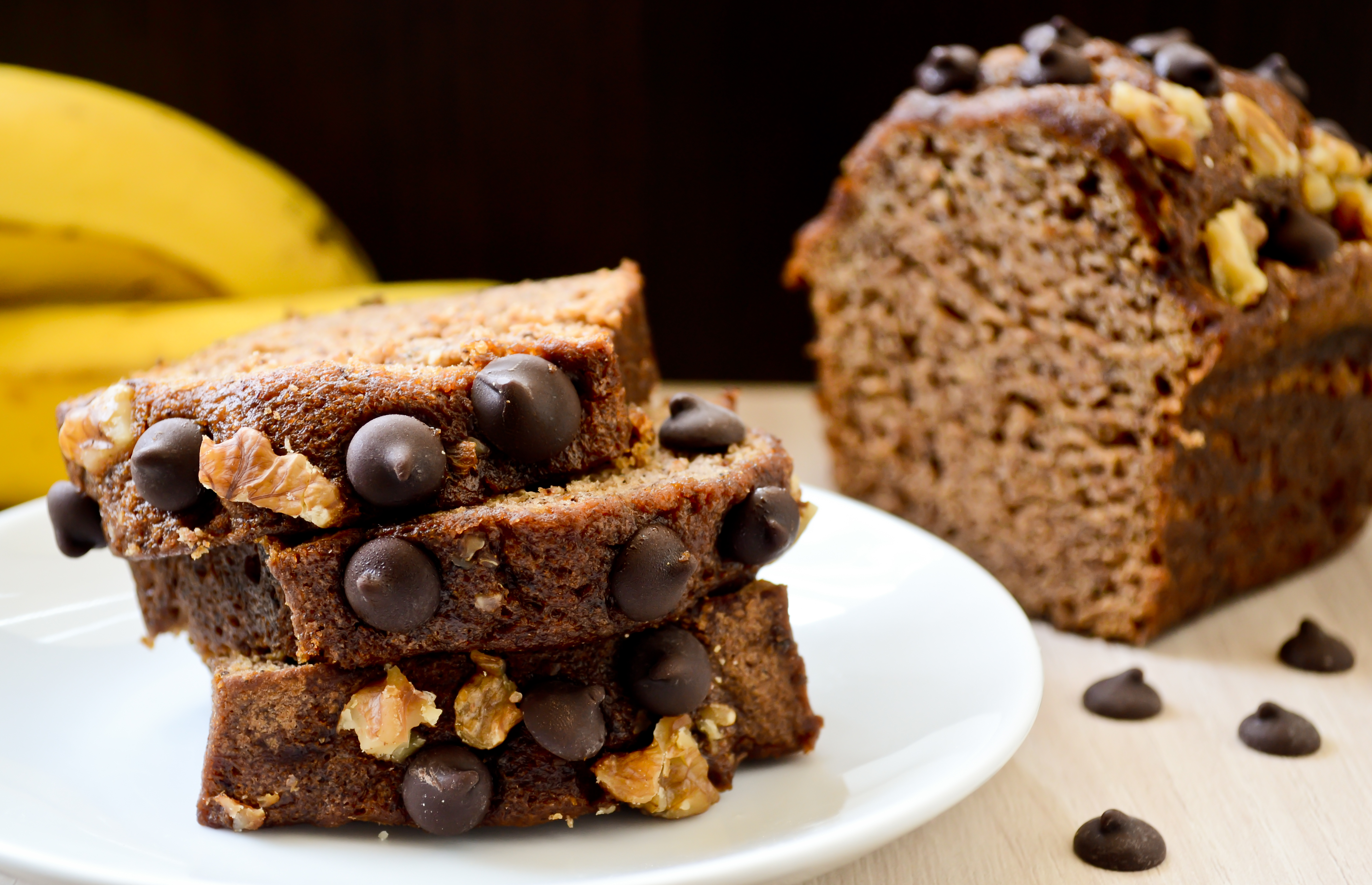 https://www.santabarbarachocolate.com/chocolatier-jason-vishnefske/