NUT FREE VEGAN BAKLAVA RECIPE:
How to Make Baklava
Nut free Baklava, layers of rose water syrup, soaked crisp phyllo pastry and Medjool date filling, topped with Santa Barbara Chocolate Cacao Nibs | Cocoa Nibs. Baklava is the perfect make ahead dessert because it's even better the next day!
New to making baklava from scratch? This is an easy step-by-step tutorial -follow the steps to make the BEST rose water baklava every single time!
To me, nothing rivals homemade baklava. The texture of crisp, flaky phyllo pastry with a tender filling and warm rose water syrup. It is everything in a dessert.
Making baklava at home may seem like a big undertaking but trust me, it's easier than you think. This fool-proof recipe will have you making baklava like a pro! And it's the perfect make-ahead dessert, so you never have to rush the process!
What is Baklava?
Baklava is a sweet dessert made of layered phyllo pastry, filled with crushed nuts and sweetened with honey syrup often flavored with orange or rose essence.
For this custom recipe I made it nut free, and made a date spread in place of the crushed nut filling. Also, instead of simple syrup or honey syrup, this recipe is made with rose water and garnished with Santa Barbara Chocolate Cacao Nibs.
What is traditional baklava made of?
Traditional baklava, also known as pistachio baklava is typically made of phyllo dough, finely crushed pistachios, butter, and a simple syrup made of sugar, water, and lemon juice.
You'll find many variations of this beautiful dessert. Middle Eastern baklava has the simple syrup scented with rosewater while Greek baklava has walnuts and a generous sprinkle of cinnamon.
Can you use other nuts?
Pistachios or walnuts are the most commonly used nuts. Cashews can be found in some Lebanese baklava varieties. You don't have to use just one or the other nut types. You can create a mixture of three different nuts like pistachios, walnuts and hazelnuts and add cinnamon, pinch of ground cloves and a sprinkle of sugar.
Or make it nut free, and have a date spread as filling.
If you make it with nuts, the nuts must be chopped. To get the perfect bite texture, don't grind them too finely. Baklava recipes are a bit on the nutty side and no one is ever upset about it! But you can totally make this recipe your own and change the nut mixture to your liking.
For the Date filling version, always use your hands to combine the spices and the olive oil. I used ground cinnamon; you could also add ground cloves if you like.
There are many types of dates as you probably know, the best one for this recipe is the Medjool date variety because they are tender and soft. However, if you use any other type, please remember to soak them in warm water for about 5 minutes to make them soft so it would make the blending / processing easier!
Use olive oil with the date spread, avoid using any other type of oil. And yes, in order to get the best date spread result It is important to add the oil… don't skip adding it!
Let's take a look at what all goes in a baklava recipe from scratch…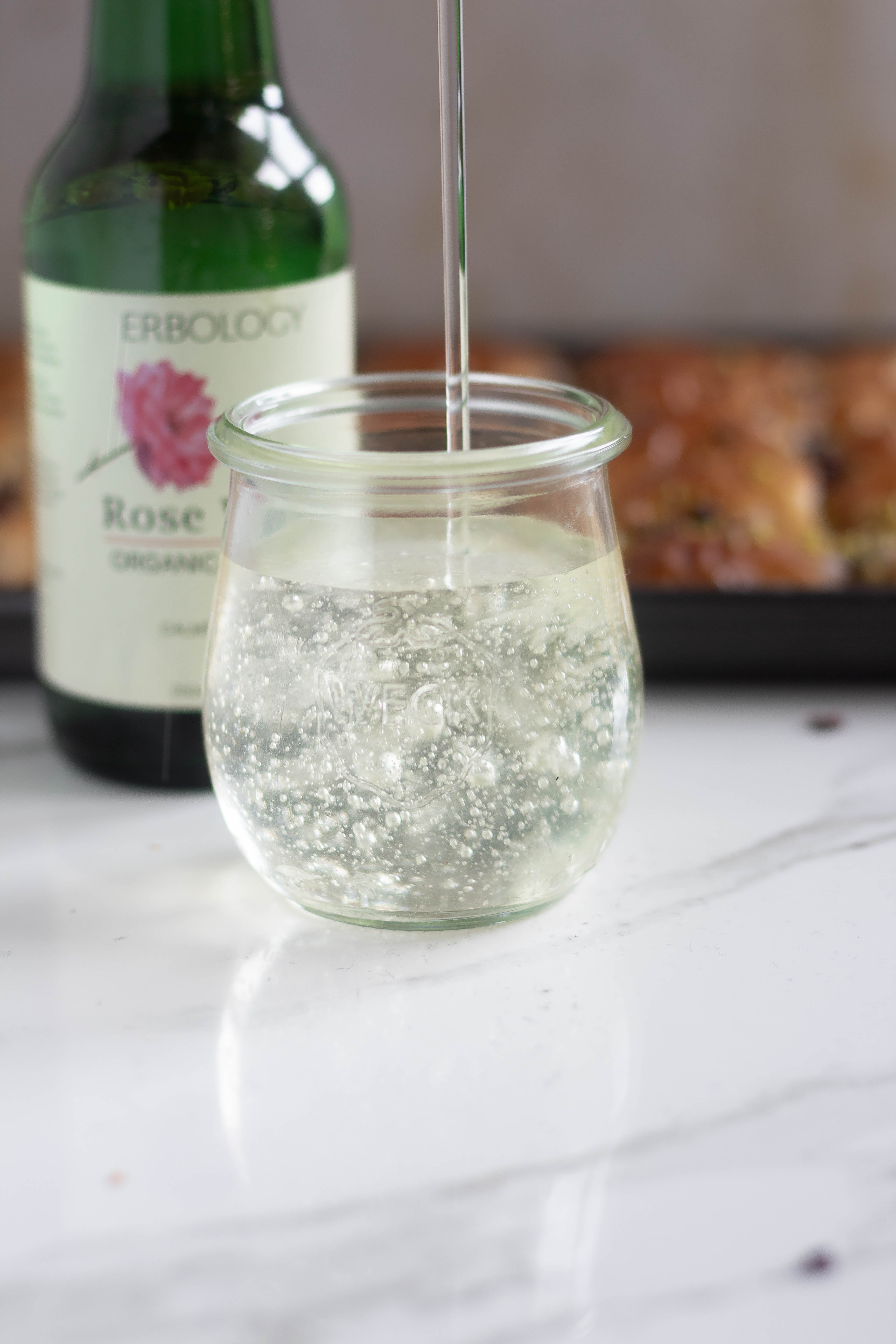 Baklava Ingredients
When making this baklava recipe, it helps to think of the ingredients list in three different components:
Phyllo pastry- find frozen phyllo dough in the freezer section next to things like pie crust.
Nut mixture- dates, ground cinnamon, olive oil. You can change the date filling with nut mixture according to what you have. For example, you can use just walnuts or pistachios, but be sure to have enough of whichever nut you use. And if you're not a fan of cinnamon simply omit.
Rose water syrup- water, sugar, and lemon juice. I use rose water because I like to infuse the syrup with flavor.
Butter- use vegan ghee butter or normal, melted.
How to Make Baklava: Step-by-Step
Preheat oven to 350° F
Make the Date spread
Make the Baklava
Make the Rose Water Syrup
Important rules to remember for a successful result
For the best syrup, the quantity of the sugar is always the double of the water; 2 cups sugar means 1 cup water. You can also use honey. The syrup is called honey in recipes even if it is a sugar syrup - this is the tradition going bake centuries.
When you add the sugar and water in the sauce pan, DON'T STIR! Let the sugar dissolve and when it starts boiling add the Rose Water and lower the heat. To make sure that it is the right thickness, using a clean dry teaspoon, pour one teaspoon of the liquid in a small dish. If the spoon sticks when you try to separate it from the dish it means that it's the right consistency
Thaw phyllo dough properly: Too much moisture will make the phyllo sticky and hard to manage.Do not remove the phyllo (filo) from the package, place it in the fridge 12-14 hours until ready to use.
Place phyllo pastry sheets between two clean towels while you work. Unless you are able to work quickly, before you begin to assemble the baklava, place the thawed phyllo sheets in between two clean kitchen towels. This helps the phyllo sheets remain lenient so they won't tear or break too much.
Prepare your rose water syrup ahead. It's important that the rose syrup is cool when it is poured over the freshly-baked hot baklava. This way, the hot baklava layers will absorb as much of the syrup as possible, and you'll have perfectly "honeyed" baklava (honey can be used in place of the syrup and honey with rose essence was the original Persian method). You have enough time to make the syrup while the baklava is baking, but be sure you take it off heat and set it in a cool place.
Cut the assembled baklava into pieces before baking. Importantly before you bake, use a sharp knife to cut the pastry into pieces (I cut baklava into rectangle or diamond shaped pieces.You can usually get about 24 and up to 36 pieces depending on their size). Why cut it before you bake it? Because once phyllo pastry is baked, it's super crunchy and if you try to cut through it then, it'll break into a mess.
Make your baklava one night in advance!Hooray for the perfect make-ahead dessert! Baklava is even better the next day when it's had a chance to completely soak in the honey syrup. You can store it covered at room temperature for one night. Be sure it is completely cooled before you cover it (very important).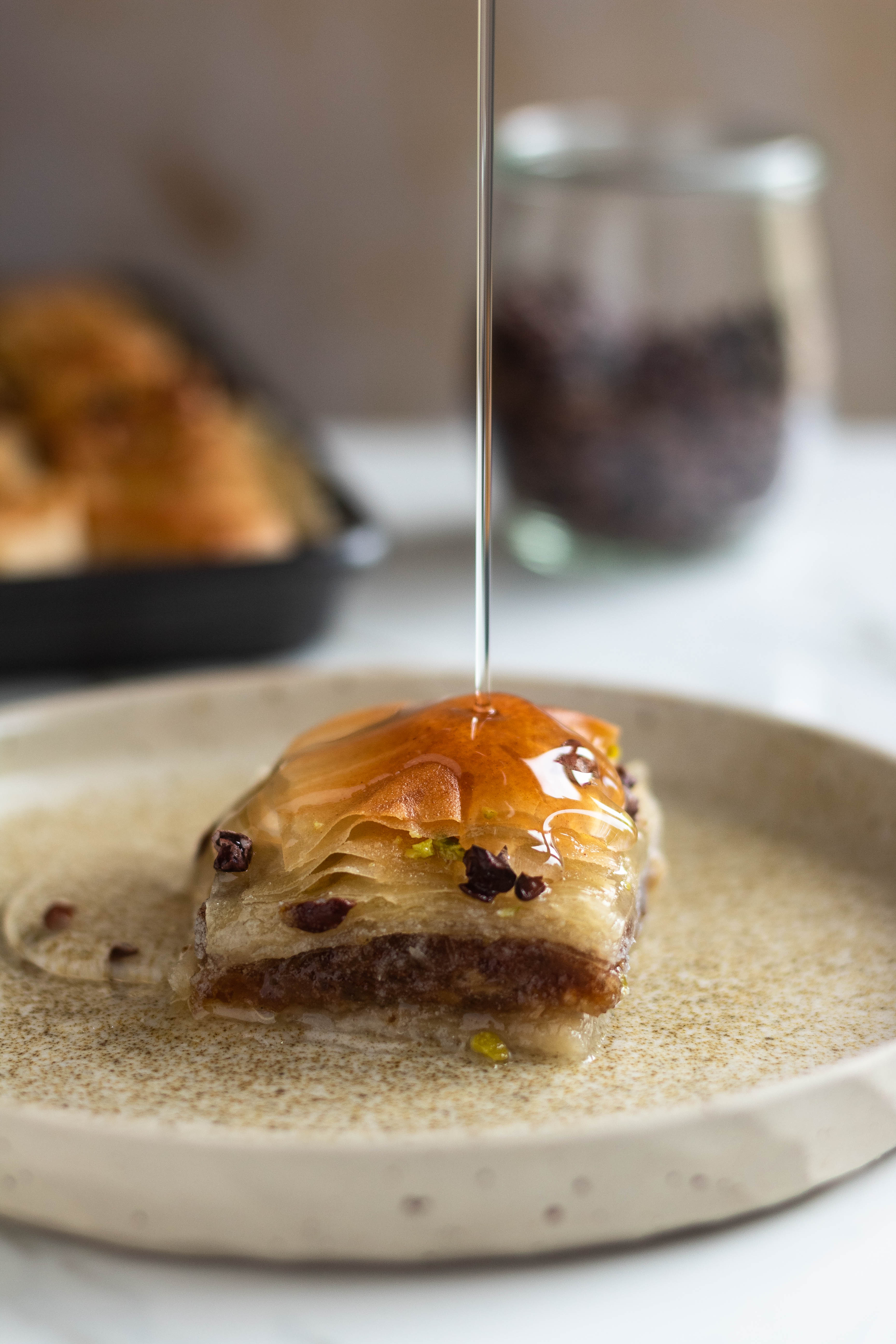 How to keep baklava from getting soggy?
Remember my one tip about hot baklava and cool syrup? This is also the key to keep your honey baklava from getting soggy. The hot flaky phyllo will properly absorb the cooled syrup while remaining crispy.
If the syrup was also hot, or if the syrup and baklava were both cool, the syrup will collect in a pool and will not be absorbed properly. This will cause the beautiful pastry you worked so hard to get soggy.
How to store baklava?
The good news is baklava is one of the few desserts you can make days ahead. It will keep well for up to 2 weeks stored in an air-tight glass container at room temperature or in the fridge.
Personally, I move any leftover baklava to the fridge after a few days, but keeping it at room temperature does preserve the crispy texture better.
You'll know when your baklava is nearing the end of shelf life when it starts to dry out.
You can freeze already baked baklava for up to 4 months. It's good to store it in small batches so you don't have to thaw out the entire pan when you need a treat. Thaw in the fridge overnight or at room temperature.
INGREDIENTS
For the Baklava and Date Filling
1 kg (2.2 lbs) Medjool dates
2-3 Table spoons olive oil
2 teaspoons ground cinnamon
1/4 cup sugar
16-oz package phyllo dough, thawed
2 sticks of unsalted butter (normal or vegan) (up to 16 tablespoons), melted
For the Rose Syrup
2 cups sugar
1 cup water
1 teaspoon lemon juice
1-2 teaspoons Rose Water
Instructions
Preheat the oven to 350° F.
Make the Date spread: Pit all the dates, then add to a food processor or blender. Pulse a few times to chop. Transfer to a large mixing bowl and add olive oil and cinnamon. Using your hands mix well to combine. Set aside.
Make the Rose Water Syrup (often called Honey Syrup in recipes - you can also use plain honey as the syrup): Place the sugar and water in a saucepan, add 1 teaspoon lemon juice and heat on the stove-top. Don't stir the mixture, wait until sugar dissolves (about 8 minutes). Then add the rose water. At this point it should be boiling, lower heat and check if the syrup is ready by pouring one teaspoon of the syrup in small dish. If the teaspoon sticks to the dish when you try to disconnect it from the dish, it means that your syrup is ready. Remove syrup from heat and let cool to lukewarm.
Prepare the Phyllo Pastry: Unroll the thawed phyllo pastry and place the sheets in between two clean kitchen towels. This will help keep the phyllo from breaking while you work.
Assemble the Baklava: Prepare a 9"x 13"x 2" baking pan. Brush the interior of the baking pan with some of the melted butter. To assemble the baklava, take one sheet of phyllo and place it in the pan (for this size pan, I typically fold my phyllo sheet in half, and it fits perfectly. You can also do a bit of trimming using a pair of kitchen shears). Brush the top of the phyllo sheet with the melted butter.
Repeat this process a few more times until you have used up about 1/2 of the phyllo pastry, each layer being brushed with the melted butter (mine was 20 layers).
Now, distribute the date spread evenly over the top layer of phyllo.
Continue assembling the baklava, one sheet of phyllo pastry at a time using another 1/2 of the phyllo package. Again, brush each layer with a bit of the melted butter.
Brush the very top sheet of phyllo with butter.
Cut the Baklava Pastry into Pieces: Using a sharp knife, cut the pastry into 24 rectangle or diamond shaped pieces (you can get up to 36 smaller pieces). (Review the tutorial to see how I cut baklava).
Bake: Place the baking dish on the middle rack of your heated oven. Bake at 350º F anywhere from 25-35 minutes or until the top of the baklava turns golden and a skewer inserted in the canter comes out clean. (IMPORTANT…Because ovens vary, be sure to check your baklava half-way through baking - this is why the bake time range).
Pour Syrup Over Hot Baklava: As soon as you remove the baklava from the oven, pour the cooled rose water syrup (Honey syrup) all over the hot baklava.
Cool Completely: Allow baklava to sit for a few hours before serving or for at least 1 hour. Cut through the earlier marked pieces. Serve with a garnish of Santa Barbara Cacao Nibs.
Notes:
Let Baklava Sit a While Before Serving: Make sure baklava sits cooling completely before serving. Baklava is even better the next day when it's had time to absorb the rose sugar syrup.
Storage and Freezer Instructions: Be sure baklava is completely cool before storing. Cover it completely and store it at room temperature the first night. To store for a longer period, transfer the baklava to airtight glass containers in the fridge for a few days or freeze. Thaw frozen, baked baklava in the fridge overnight or at room temperature before serving.