Pumpkin Truffle Recipe
This is a truffle recipe that is perfect to make when you are craving a yummy treat but don't want to turn on the oven. Our Pumpkin Truffle Recipe is an easy no bake recipe which will quickly become a must if you like chocolate and pumpkin. This recipe is somewhat like pumpkin cheesecake truffles but easier to make.
Kids love to bake and make desserts but sometimes they are too young to use the oven by themselves. Chocolate truffles typically require melting chocolate which involves the stove top. This pumpkin truffle recipe is super easy and not impossible for kids, thus allowing them to express their creativity as chefs.
The chocolate chips (chocolate chunks are a great option also) used in this recipe are Organic Dark Chocolate 70% from Santa Barbara Chocolate. These chocolate chips made with GMO Free Cacao are gluten free and Kosher.
Pumpkin Truffles Ingredients:
1 cup of natural pumpkin puree
1 cup of all purpose flour
1 cup of Organic Dark Chocolate 70%
1/4 cup of butter, room temperature
1/2 cup of sugar
A pinch of salt
Instructions:
In a large bowl, cream together natural pumpkin puree, room temperature butter, sugar and salt. You can either use an electric mixer or do it with a whisk. Make sure the mixture is creamy and soft.
Sift all purpose flour into a bowl. It is really important to sift so you don't get big lumps. Stir to combine.
Add the cup of Organic Dark Chocolate 70% chips and give it a good stir.
Place your bowl in the refrigerator for 30 minutes so the batter becomes easier to handle.
After letting the dough set up a bit, shape the dough into balls and place them in a parchment lined tray.
Refrigerate the truffles for 15 minutes before serving.
You can serve these pumpkin truffles drizzled with chocolate sauce to offer an extra special presentation.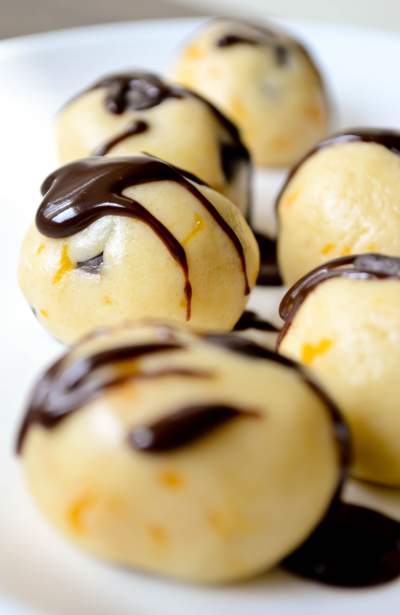 https://www.santabarbarachocolate.com/chocolatier-jason-vishnefske/
{ "@context": "https://schema.org/", "@type": "Recipe", "name": "Pumpkin Truffle", "image": "https://www.santabarbarachocolate.com/product_images/uploaded_images/pumpkin-truffle-recipe-compressed.jpg", "description": "This is a truffle recipe that is perfect to make when you are craving a yummy treat but don't want to turn on the oven. Our Pumpkin Truffle Recipe is an easy no bake recipe which will quickly become a must if you like chocolate and pumpkin. This recipe is somewhat like pumpkin cheesecake truffles but easier to make.", "keywords": "Pumpkin Truffle", "author": { "@type": "Person", "name": "Jason Vishnefske" }, "datePublished": "2017-12-20", "prepTime": "PT10M", "cookTime": "PT30M", "totalTime": "PT40M", "recipeCategory": "dessert", "recipeCuisine": "USA", "recipeYield": "8", "nutrition": { "@type": "NutritionInformation", "calories": "" }, "recipeIngredient": [ "1 cup of natural pumpkin puree", "1 cup of all purpose flour", "1 cup of Organic Dark Chocolate 70%", "1/4 cup of butter, room temperature", "1/2 cup of sugar", "A pinch of salt" ], "recipeInstructions": [{ "@type": "HowToStep", "text": "In a large bowl, cream together natural pumpkin puree, room temperature butter, sugar and salt. You can either use an electric mixer or do it with a whisk. Make sure the mixture is creamy and soft." },{ "@type": "HowToStep", "text": "Sift all purpose flour into a bowl. It is really important to sift so you don't get big lumps. Stir to combine." },{ "@type": "HowToStep", "text": "Add the cup of Organic Dark Chocolate 70% chips and give it a good stir." },{ "@type": "HowToStep", "text": "Place your bowl in the refrigerator for 30 minutes so the batter becomes easier to handle." },{ "@type": "HowToStep", "text": "After letting the dough set up a bit, shape the dough into balls and place them in a parchment lined tray." },{ "@type": "HowToStep", "text": "Refrigerate the truffles for 15 minutes before serving." }], "aggregateRating": { "@type": "AggregateRating", "ratingValue": "5", "bestRating": "5", "worstRating": "1", "ratingCount": "1" } }