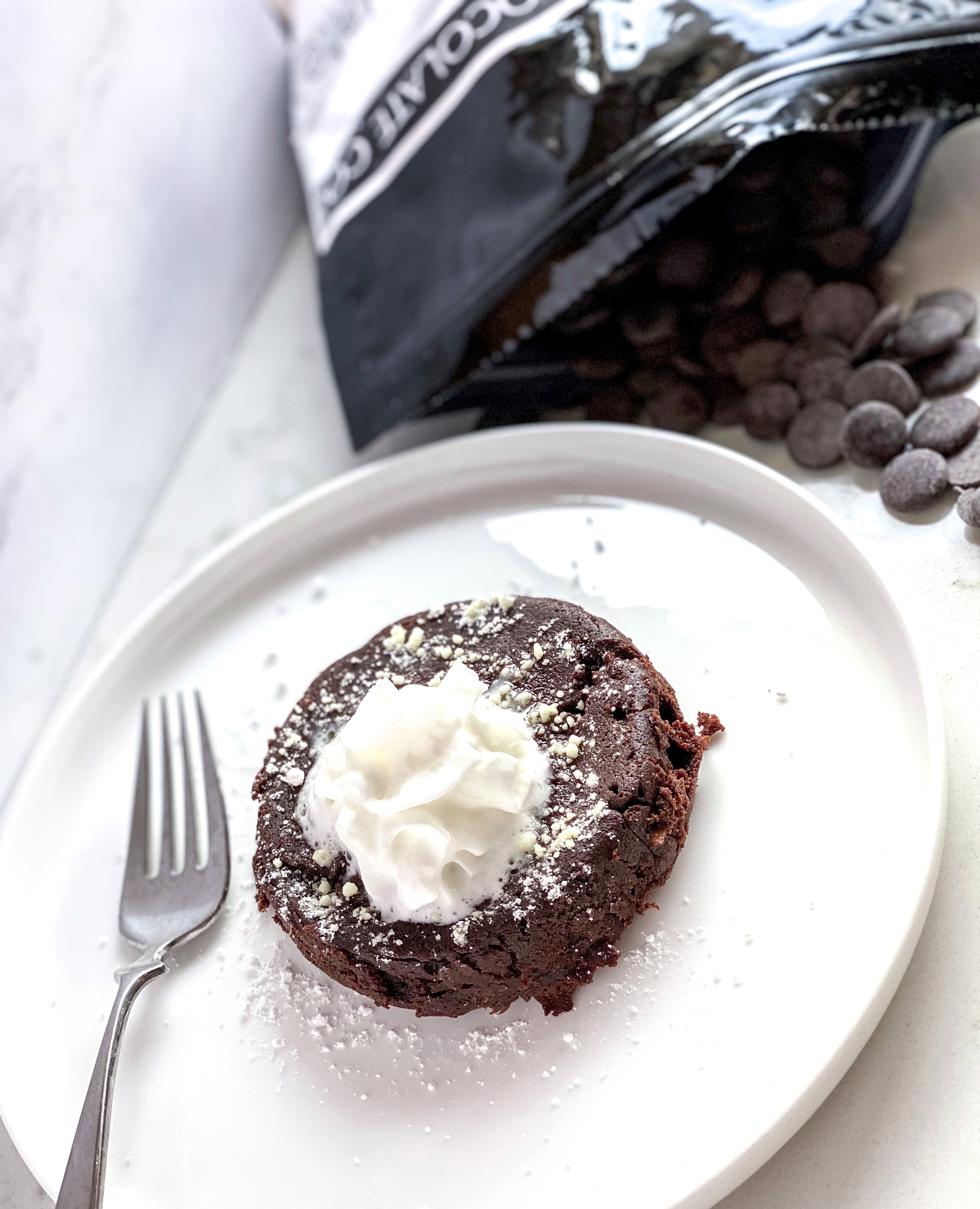 Chocolate molten lava cake for two
Spoil yourself with restaurant quality desserts at home
Picture this: it's that time of night where late night cravings being sneaking up on you. You decide to drive over to that restaurant that makes the chocolate lava cake you drool just thinking about. But wait, you pull up to see you can't because they're closed!Now what do you do???
For me, that's been one of the toughest parts about being in quarantine, missing my specialty items from restaurants. Especially ones off the dessert menu! However, due to this time all to myself at home, I've been able to really experiment with replicating the "restaurant experience" in my own kitchen!
This molten chocolate lava cake recipe was one of the first I began perfecting. For something as decadent and fancy as this dessert is, you would think it's a much more difficult recipe to follow. But thankfully, it's actually very simple, making it so easy that an inexperienced person can turn their dinner into a "restaurant at home experience"!
This has been so fun to do with a partner since this recipe serves two, but you could absolutely double it to serve your family to get them involved too! Whether you want to include with for your romantic candlelit dinner with your significant other, or entertain you kids, this experience will undoubtedly please whomever you include in on the fun!
Get ready to create your new favorite sweet treat your going to now only think about when those late night cravings come back and bite! Say goodbye to having to get out of you pj's, drive over to the restaurant, order, pay, plus wait for your cake to made, and hello to walking downstairs, mixing a few ingredients together, popping the cakes in the over and before you know it; you have two gooey, decadent molten chocolate lava cakes in the comfort of your own kitchen!
Chocolate molten lava cake for two
Times: 25 minutes
Serves: 2 people
Ingredients
3 ounces Santa Barbara Chocolate Co. Brazilian Style Dark Compound Confectionary Coating*
3 tablespoons butter, plant based one works great too
1 whole egg, room temperature
1 egg yolk, room temperature
3 tablespoons granulated sugar, (plus more for ramekins)
1/4 teaspoon vanilla
1/8 teaspoon salt
1/8 teaspoon espresso powder
3 tablespoons flour, I used all-purpose gluten free
Procedure
Preheat oven to 400 degrees F. Grease the inside bottom and sides of two 5-ounce ramekins with butter and add about a teaspoon of granulated sugar in each and shake the sugar around so it even coats the bottom and sides of the ramekins. Shake out any remaining sugar.
Combine the chocolate Compound Confectionary Coating wafers and butter in a heat-safe bowl set over a pan of simmering water to make a double broiler. Stirring, until melted and smooth. (You can also add butter and chocolate into a bowl and microwave in 30-second intervals, stirring in between, until melted, if this is easier.) Remove from the heat and set aside.
In a medium bowl, add the granulated sugar, egg, egg yolk, vanilla, espresso powder and salt. Whisking consistently for about 2 minutes to achieve a thick and pale-colored mixture. Little by little, whisk in the flour until incorporated in.
Slowly add the chocolate to the flour mixture and stir gently until combined.
Pour batter into the ramekins and then place in the oven on the middle rack. Bake for 11-12 minutes or until top is set but cake still jiggles in the middle.
When cakes are finished baking, take out and let cool for about 2 minutes. With a sharp knife, carefully loosen the edges of the cake from the ramekin. Place a plate over the ramekin and carefully flip the warm cake onto the plate. Using an oven mitt, remove the ramekin and dust the cakes with confectioners' sugar to serve with ice cream or whipped cream. Enjoy!
Notes
*Try using Santa Barbara Chocolate Co. Brazilian Style Milk Compound Confectionary Coating, you can use the milk chocolate coating to make cakes sweeter and more milky decadent rich.
{ "@context": "https://schema.org/", "@type": "Recipe", "name": "Restaurant Quality Chocolate Molten Lava Cake", "image": "https://www.santabarbarachocolate.com/product_images/uploaded_images/img-8955.jpg", "description": "", "keywords": "Chocolate Molten Lava Cake", "author": { "@type": "Person", "name": "Chocolatier Jason Vishnefske" }, "datePublished": "2020-09-13", "prepTime": "PT13M", "cookTime": "PT12M", "totalTime": "PT25M", "recipeCategory": "dessert", "recipeYield": "2", "nutrition": { "@type": "NutritionInformation", "calories": "" }, "recipeIngredient": [ "3 ounces Santa Barbara Chocolate Co. Brazilian Style Dark Compound Confectionary Coating", "3 tablespoons butter, plant based one works great too", "1 whole egg, room temperature", "1 egg yolk, room temperature", "3 tablespoons granulated sugar (plus more for ramekins)", "1/4 teaspoon vanilla", "1/8 teaspoon salt", "1/8 teaspoon espresso powder", "3 tablespoons flour, I used all-purpose gluten free" ], "recipeInstructions": [{ "@type": "HowToStep", "text": "Preheat oven to 400 degrees F. Grease the inside bottom and sides of two 5-ounce ramekins with butter and add about a teaspoon of granulated sugar in each and shake the sugar around so it even coats the bottom and sides of the ramekins. Shake out any remaining sugar." },{ "@type": "HowToStep", "text": "Combine the chocolate Compound Confectionary Coating wafers and butter in a heat-safe bowl set over a pan of simmering water to make a double broiler. Stirring, until melted and smooth. (You can also add butter and chocolate into a bowl and microwave in 30-second intervals, stirring in between, until melted, if this is easier.) Remove from the heat and set aside" },{ "@type": "HowToStep", "text": "In a medium bowl, add the granulated sugar, egg, egg yolk, vanilla, espresso powder and salt. Whisking consistently for about 2 minutes to achieve a thick and pale-colored mixture. Little by little, whisk in the flour until incorporated in" },{ "@type": "HowToStep", "text": "Slowly add the chocolate to the flour mixture and stir gently until combined." },{ "@type": "HowToStep", "text": "Pour batter into the ramekins and then place in the oven on the middle rack. Bake for 11-12 minutes or until top is set but cake still jiggles in the middle." },{ "@type": "HowToStep", "text": "When cakes are finished baking, take out and let cool for about 2 minutes. With a sharp knife, carefully loosen the edges of the cake from the ramekin. Place a plate over the ramekin and carefully flip the warm cake onto the plate. Using an oven mitt, remove the ramekin and dust the cakes with confectioners' sugar to serve with ice cream or whipped cream. Enjoy!" }], "aggregateRating": { "@type": "AggregateRating", "ratingValue": "5", "bestRating": "5", "worstRating": "1", "ratingCount": "1" } }