Posted by Chocolatier Jason Vishnefske on 27th Apr 2017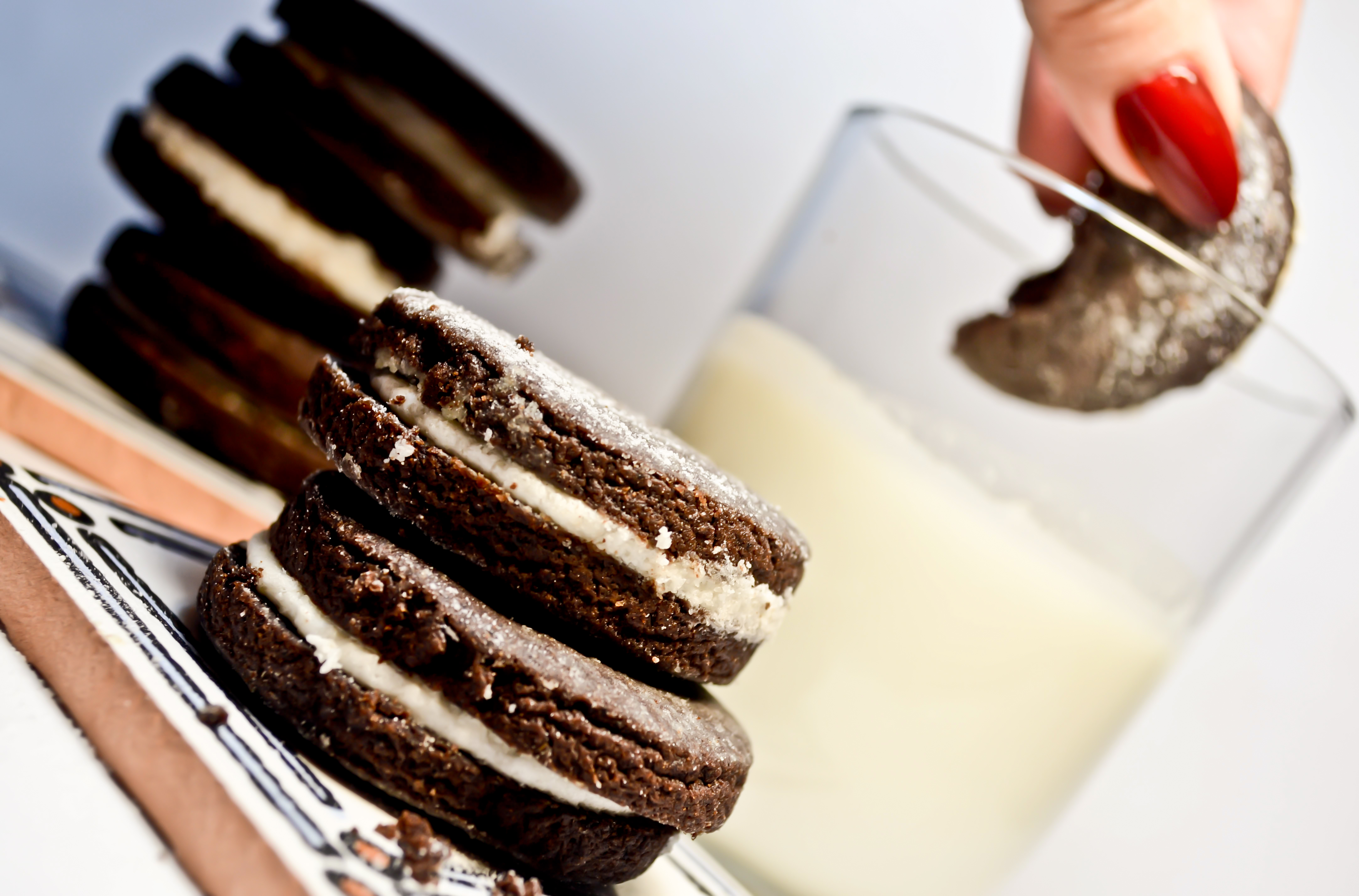 Sandwich Cookies Recipe
The original chocolate sandwich cookie was invented in 1912. Nowadays these cookies are known worldwide in more than 100 countries. Popular flavors include Peanut Butter, Neapolitan, Birthday Cake and Red Velvet sandwich cookies. If you are like me, you will always prefer homemade treats, so keep reading.
I have eaten sandwich cookies since I was a little kid and love dipping them in milk. The best part is when the inside cream filling gets milk sogged. YUM
So I was thinking how to make a homemade version of my favorite chocolate cookie that could be better than the original ones I had been buying. After some practice I decided this recipe is the best. I really love this homemade version. It is better than the original you'll find at the store and I recommend everyone try them.
It is really important to bake with high quality ingredients in order to get the best results. For these delightful gems I picked Rainforest Bulk Cocoa Powder from Santa Barbara Chocolate because I think is the best option you can find on the market. But I am also the head chocolatier for the company... :)
Ingredients:
For the cookies:
1 cup all-purpose flour
¾ cup sugar
½ cup Rainforest Bulk Cocoa Powder
1 tsp baking soda
1 egg, large
½ cup butter, room temperature
A pinch salt
For the filling:
¼ cup butter, room temperature
¼ cup shortening
2 cups powdered sugar
1 tbsp. vanilla extract (preferably clear and not caramel colored)
Instructions:
For the cookies:
Preheat the oven to 350º
In a large bowl, sift together the all-purpose flour, Rainforest Cocoa Powder and baking soda. This is really important to avoid clumps.
Add the salt and sugar into the bowl.
Incorporate the room temperature butter and the egg. Mix until all the ingredients are completely combined.
Take the cookie dough and place it in the refrigerator around 15 minutes.
After chilled, knead the dough slightly.
Divide it in two parts, place them between 2 sheets of parchment paper and roll them until ¼ inches thick.
With a 2 inch cookie cutter (or the size of your preference) cut a pair number of chocolate cookie circles. Any scrap can be chilled and rolled again.
Place the cookies on a baking sheet leaving some space between each one because they will expand a little bit.
Bake for 10 minutes, keep an eye on them after 8 minutes ensuring they don't burn.
Let the cookies cool down completely before assembling them, preferably on a cooling rack.
For the filling:
Whisk your room temperature butter and shortening together until it becomes soft and with matching texture.
Slowly start adding the powdered sugar, around 2 tbsp. at a time. Don't forget to sift all the powdered sugar before to get a softer fluffy cream.
Add your vanilla extract and beat with a high speed mixer for 1 minute until fluffy.
To assemble the cookies:
Fill your vanilla filling cream into a pastry bag with a round tip.
Take one of your cookies, make sure it is not hot, and add a little dollop of vanilla cream covering almost all the surface.
Place another cookie on top of the cream to create a homemade sandwich cookie.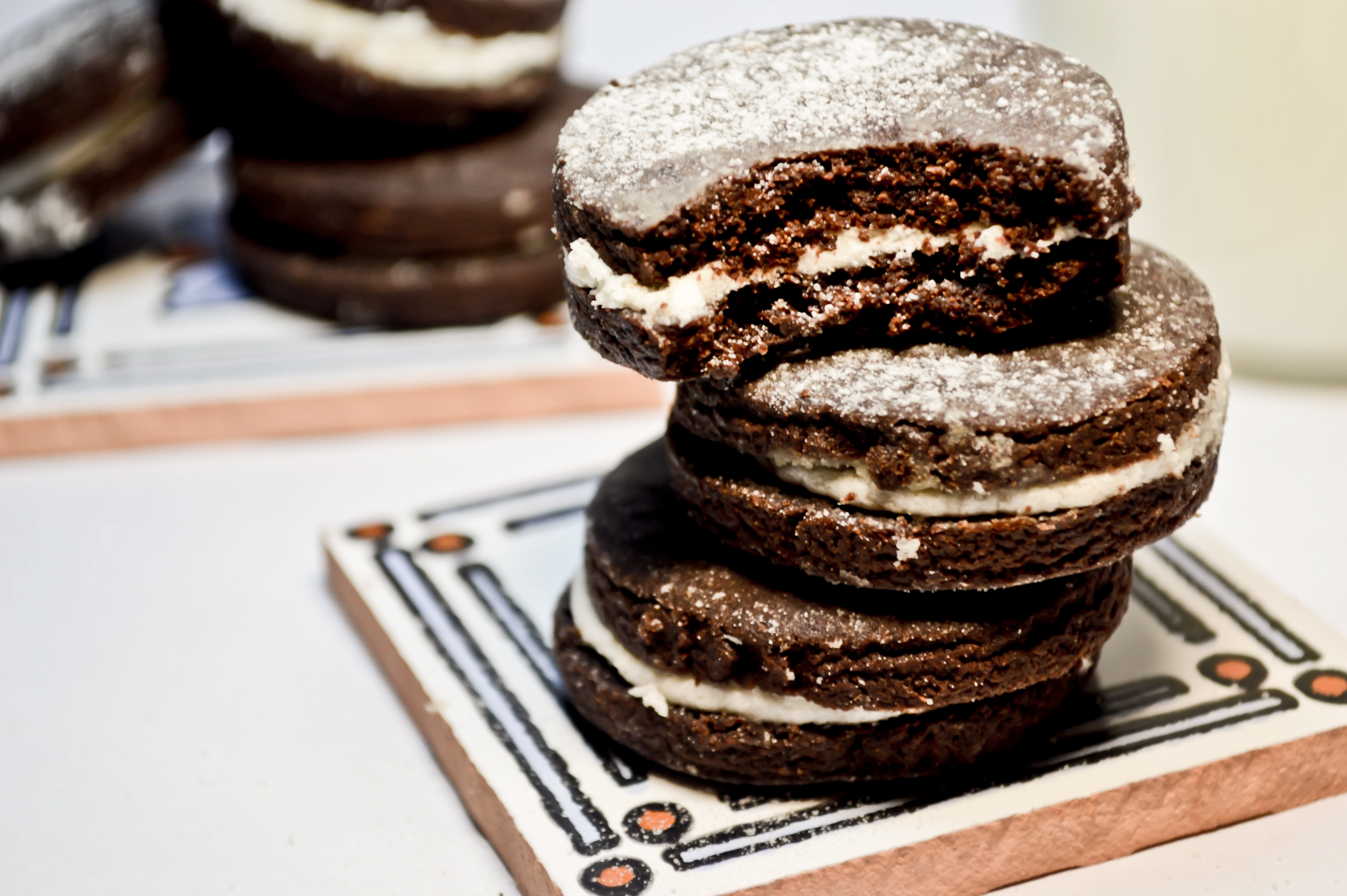 https://www.santabarbarachocolate.com/chocolatier-jason-vishnefske/