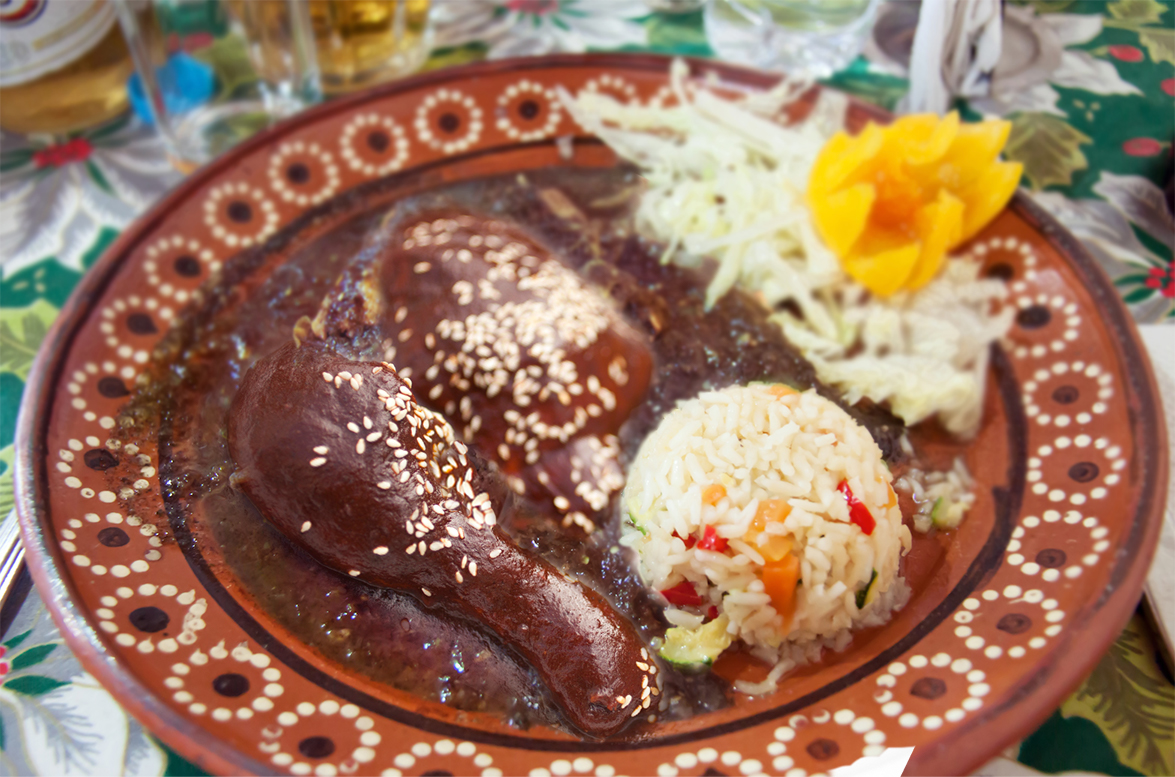 The Best Chocolate Dinner Recipe: Mole Poblano
Food says much about people and their culture. Flavor, color, and even temperature speak a lot of a culture. Food can be a significant part of our holidays, and that's not something new, it has always been a fact of human sociology. Rice is important in Asian culture, wheat in ancient Greek and Roman cultures or corn and Cacao in Maya and Aztec cultures. The Aztec and Maya as part of the American continent, have left their mark on all kind of traditions especially in Central America. This mark is specially noticed in food with strong spices such as chili or tropical fruits including cacao.
The Maya and Aztec cultural use of cacao is novel and it goes beyond the idea of candy. Nowadays, we usually have this mindset of 'chocolate as a candy', but back in Mayan days (4000 years ago) chocolate was a part of savory meals. Cacao so important that it was used as medicine and as coinage for all kind of transactions. Cacao was also the key to delicious food and beverages. Cacao mixed with chili and other spices create hot spicy dishes and drinks. This technique still has a presence in our modern kitchens here in California as much as in Latin America. The Aztecs, a culture unlike Mayans, tended to use chocolate more in beverages than in food. Actually, there's no clear evidence that could point to Aztecs using chocolate in savory dishes. The importance given to cacao by Aztecs and Mayan cultures has inspired modern dinner dishes, candies and many drinks.
The most popular and enduring dish that epitomizes the Maya chocolate tradition is called 'Mole Poblano' commonly known as turkey and chocolate or chicken and chocolate. Mole is famous because of the use of extra dark chocolate as the sauce. There are variations of this dish with many unique names, such as 'Mole Poblano de Guajolote' (wild turkey chocolate sauce), and all of them are commonly eaten during the holidays in Central America.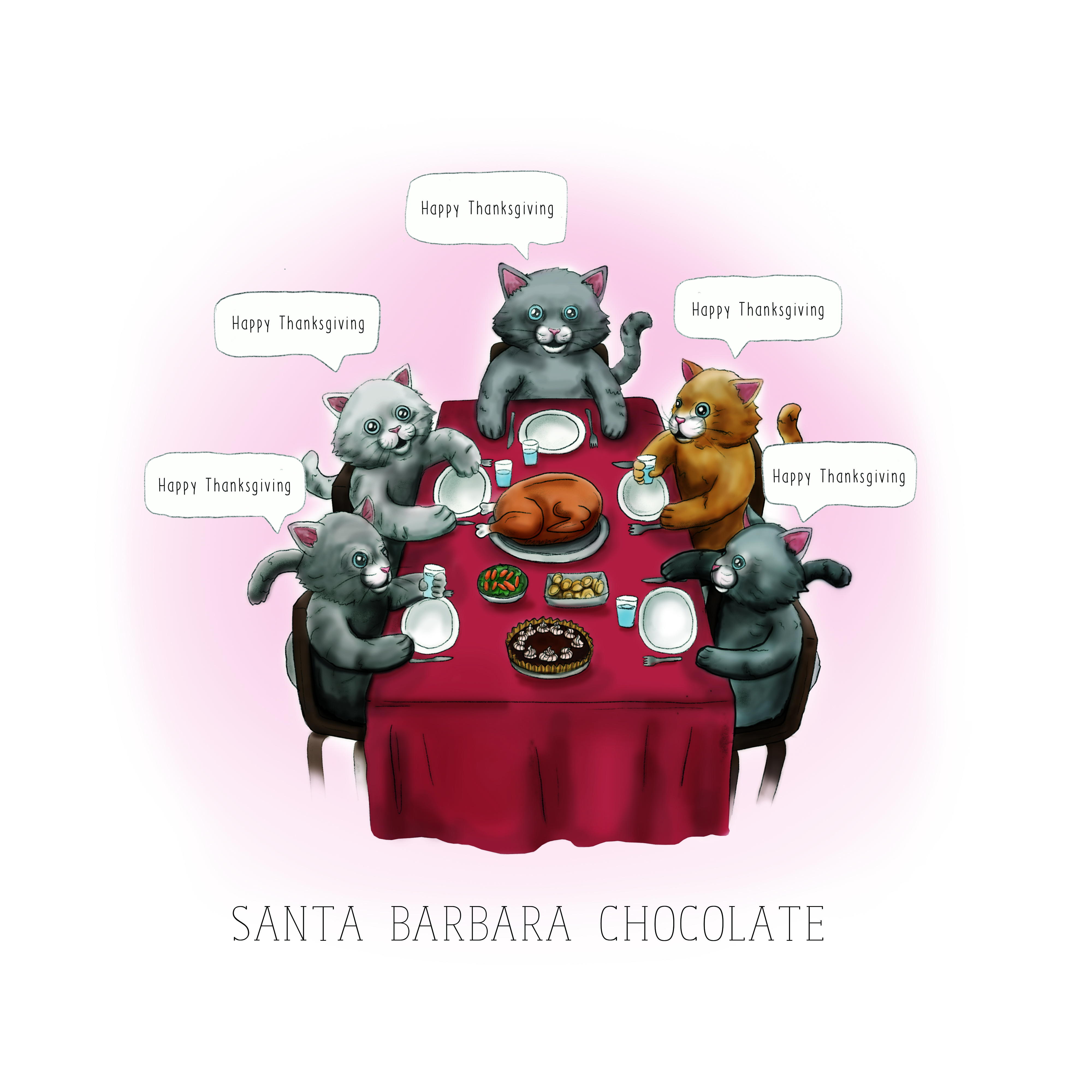 How to prepare Mole Poblano
Besides the fantastic flavor, mole poblano is a great idea for any celebration . So, let's prepare our own version of Mole Poblano the chocolate savory meal.
Ingredients:
3 tablespoons unrefined peanut oil (you can add as much as you wish)
5 pounds turkey or chicken meat chopped
3 cups poultry broth
2 cups orange juice
1 1/4 cups sliced onions
1/2 cup sliced almonds
1 clove garlic (2 tablespoons minced)
4 teaspoons cumin
4 teaspoons coriander seeds
4 ounces dried pasilla or ancho chiles, rinse clean, seeded, stemmed, shredded into 1-inch pieces
1/4 cup raisins
3 x 1/2-inch strips orange peel
1/2 teaspoons dried oregano
4 ounce unsweetened 100% unsweetened chocolate
2 ounce brown sugar (piloncillo is best - Mexican sugar)
Serve with: Warm flour tortillas or rice
Garnish Ideas: Fresh Cilantro, sesame seeds, shredded jicama, mango and slice of lime
Mole Poblano Recipe Preparation Steps
1) Heat 1 tablespoon of oil in a heavy frying pan over medium heat. Place turkey or chicken in pan sprinkled with pepper and salt. Sauté until browned. Place your meat in a large pot with the remaining oil from the pan.
2) Mix the meat with broth and orange juice and boil. Reduce the heat to medium-low, cover and stew until meat is soft and cooked through. This will take about 25 minutes.
3) While the meat is cooking. Place onions and 2 tablespoons oil in another pan to sauté until it becomes golden brown. Add cumin, garlic, coriander and almonds. Sauté for about 2 minutes, until you see both garlic and nuts getting colored then add chilies cooking 2 minutes more until it begins to mix well and soften.
4) Combine the fully cooked meat with the second pan's onion mixture, orange peel, oregano and raisins. Cover and continue to cook until chiles are smooth. Add chocolate and sugar stirring well till mixed. Remove from heat, let it stand until the chocolate is fully dissolved.
5) In the final step pour all the sauce into a blender (leaving your poultry in the pot off the heat). Blend until smooth. Add the mole chocolate sauce back to the meat pot.
Why not make life easy and prepare the mole 3 days ahead of serving, just keep it safely covered and chilled. Warm it over low heat stirring frequently before serving.
Serve mole poblano with options like cilantro, warm tortillas, white rice and vegetables, sliced mango or any garnish you like such as jicama. Squeeze a bit of lime juice over the whole dish to liven it up.
Serve piping hot! YUM! :)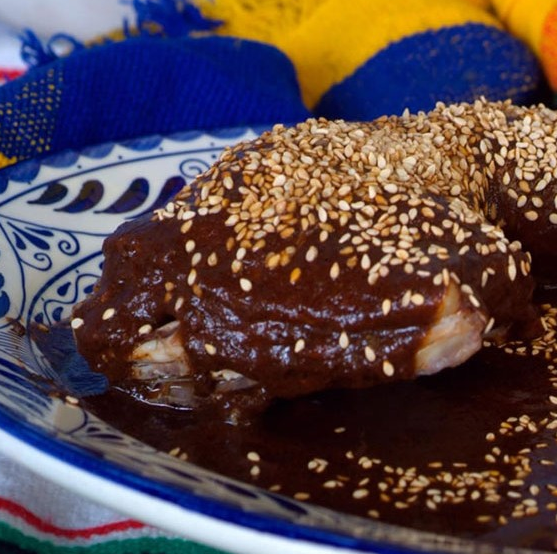 https://www.santabarbarachocolate.com/chocolatier-jason-vishnefske/