Posted by Chocolatier Jason Vishnefske on 7th Apr 2017
THE CDC SAYS TO AVOID MOSQUITO BITES TO PREVENT ZIKA VIRUS INFECTION.
THE BEST ZIKA PREVENTION IS TO USE MOSQUITO REPELLANT AND TO WEAR FULL LENGTH CLOTHING WHICH OFFERS FULL SKIN COVERAGE. AVOIDANCE OF MOSQUITO AREAS IS OF COURSE GUARANTEED PREVENTION AND EASIEST.
FULL CDC DETAILS HERE: https://www.cdc.gov/zika/prevention/
READ OUR EXPERIENCE AND DISCOVERIES BELOW AND HOW WE RELATE CHOCOLATE TO ZIKA VIRUS PREVENTION. THIS IS NOT A SCIENTIFIC STUDY AND STRICTLY OPINION BASED ON OUR IN FIELD COCOA EXPERIENCE.
In the chocolate business one travels to far off equatorial lands in search of exotic cacao. In these cacao hunting trips everyone traveling deep into the jungle is exposed to all types of hot tropical infections and mosquitos. As a result a supreme awareness of protection and prevention is key. Because Zika is in the news I thought I'd share our personal thoughts on the subject, especially considering how long people have been dealing with Zika in the cacao orchards.
Short Summary:
1) According to some cocoa experts the smell of cocoa 'stuns' insects and therefore reduces the incidence of their bites.
2) Cacao likely boosts immunity which makes the body less prone to communicable diseases (malaria, zika, coughs). General health and resilience could be associated with cacao consumption.
3) It is thought that the flavanol antioxidant found in cacao interferes with the life cycle of malaria causing parasites. This suggests further study should be conducted with cacao and possible Zika prevention.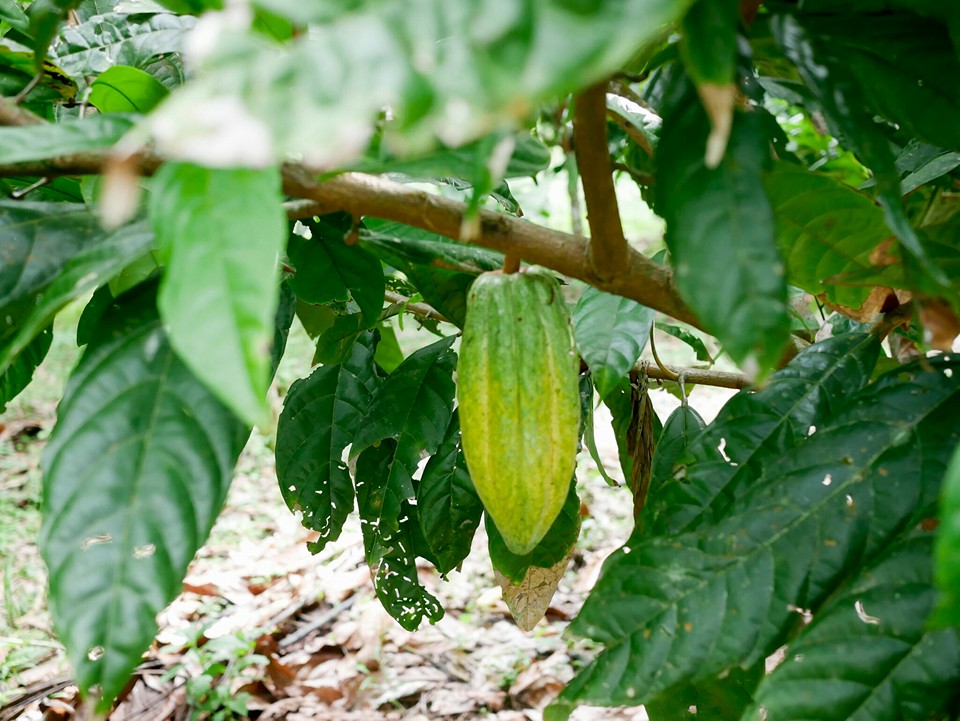 Preventing Mosquito-Borne Infections
An overview of the mosquito menace
Mosquitoes can be harmless though disturbing insects. There are several thousand different species of mosquitoes but only about 200 of these bite. Some in this group are known to be dangerous to health because they play an important role in the transmission of disease. Common diseases transmitted by mosquitos include:
Zika virus infection
Malaria
Yellow fever
Dengue fever
Encephalitis (several different types)
Chikungunya
Some of these diseases are widespread and cause many fatalities each year. To lower this problem, there are many projects for the control of mosquitoes as a way of lowering the incidence of mosquito-borne diseases. There are also chemicals that have instant knockdown effects on mosquitoes. These are chemicals usually packaged in pressurized cans for sale and these are effective and recommended by The CDC.
Could cocoa play a role in the prevention of zika and other mosquito-borne diseases?
Many people only know cocoa as a popular beverage or in the format of a chocolate bar. However, current research suggests that this popular plant product is useful in other ways. Cocoa is an already proven source of beneficial nutrients that overall can support good health and improved immunity. According to Cocoa Research Institute of Nigeria* the benefits of cocoa are best experienced in its natural form and not in the beverage format or chocolate bar. These popular formats contain less than the full 100% cocoa solids of cocoa butter and cocoa fiber.
Can cocoa help boost immunity against viral, protozoal diseases and other health problems?
African folklore says the smell of cocoa when crushed repels mosquitoes like a natural mosquito repellent. This folklore is being studied in Ghana* to see if it is true and if there is merit (please read here to see what is said: http://bit.ly/2aEG6UG). According to some cocoa experts the smell of cocoa 'stuns' insects and therefore reduces the incidence of their bites. It could therefore feasibly reduce risk of diseases transmitted this way including zika.* But there is no true scientific proof beyond what cocoa farmers have said and the ongoing research in Ghana and Nigeria. The folklore does suggest there is merit in this practice of cocoa crushing and application as a non chemical topical mosquito repellent however. Farmers will sometimes use cocoa powder as a repellant.
Antioxidant properties
Antioxidants are products in the body that play an important role in the balance of metabolic byproducts called free radicals. Excessive circulating free radicals are the basis of many diseases. They lower the immunity which makes the body more prone to communicable diseases (malaria, zika, coughs and others) as well as non-communicable health problems such as diabetes, hypertension, cancers and others. Some of the antioxidants found in cocoa include the following:
Cocoa is a source of this powerful micronutrient that research has proven to be vital for good immunity. Polyphenols are a group of nutrients that contain many more types depending on their molecular structure. Cocoa is a source of a number of these. They include:
Catechins
Flavonols
Glycosides
Anthocyanins
Procyanidins
All these are beneficial to immunity against degenerative diseases as well as the communicable ones. Other possible benefits include improved vascular health and improved circulation. This in turn promotes healthy cardiovascular and sexual health.
Early research in Nigeria when talking to deep rainforest cocoa farmers suggests that cocoa consumption and topicals lowers the incidence of malaria. It is thought that the flavanol antioxidant in it interferes with the life cycle of the malaria causing parasites. This mechanism may also be important in preventing other related problems such as zika virus infection. The U.S Government has research on this subject: http://bit.ly/2ayHngs This appears to be a possible way to combat malaria infection and so it is worth further research regarding the zika prevention and exposure.
This trace-element is important for general health. Cocoa is a source. Together with other antioxidants and minerals in cocoa, it can improve cellular health and as a result may slow many processes that promote premature aging.*
How to reap maximum cocoa benefits
Use without milk
Use dark chocolate as a good source of cocoa.
A reliable cocoa source with these properties mentioned above could reduce your risk of zika and malaria infections in addition to having other possible health benefits.
So eating chocolate is fun and may have some added health benefits but the proven way to protect against mosquito bites is to follow The CDC recommendations: http://www.cdc.gov/zika/prevention/
Our recommendation is to include cocoa in your daily diet because it can't hurt and it tastes good.
Our personal unscientific experience when visiting the cocoa orchards in the heavy mosquito infested jungles is that a very light cocoa powder mixture with hypoallergenic cocoa butter as a skin coverage along with natural mosquito repellent and a daily ingestion of cacao seems to help reduce mosquito bites significantly. But I also follow all The CDC guidelines so what we are doing is developing extra layers of protection especially when deep in the jungle.
*Sources:
https://en.wikipedia.org/wiki/Cocoa_Research_Insti...
http://www.eyesonmalaria.org/content/cocoa-without-milk-can-be-solution-malaria-diabetes-stress
https://en.wikipedia.org/wiki/Oxygen_radical_absor...
https://en.wikipedia.org/wiki/Cocoa_solids