Posted by Chocolatier Jason Vishnefske on 11th Jan 2017
updated December 4, 2017
Macarons and Memories - The Very Best Macaron Flavors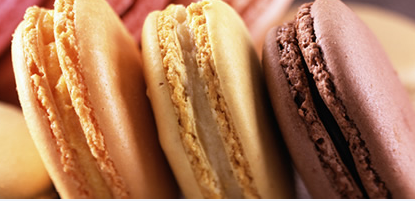 I will never forget the very first time I tasted a macaron, one rainy afternoon in Paris. In my younger days I lived in the city of lights and the love capital of the world. I would spend my days walking the length of the green milky Seine and stopping to press my nose against the frosted windows of many patisserie to admire the ornate shelves decorated with the French sugared goods.
One of these days I pushed a coin or two across the counter and was rewarded with a small paper bag containing several of the tiny and delicate almond meringues. Slipping a small pale pink macaron into my mouth my senses burst to life. This tiny admirable treat melted on the tongue and left a refreshing zest from the rich cream filling. That was it, I was hooked. Since then I have scoured every macaron recipe available in search of the very best macaron flavors: here are the results.
Lemon Zest Macaron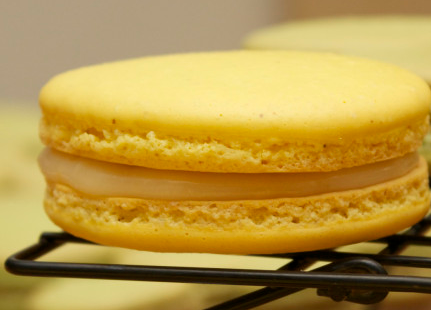 For those who are a fan of the fruity zesty sugary treats, then the lemon macaron is for you! This delicate little lover is light and airy on the tongue and filled with a bright lemony filling that will leave your tongue tingling. The lemon zest and the subtle almond flavors seem to match perfectly. However, creating a lemon macaron is tricky as you have to balance the line between the true taste of fruit with rather than that hint of dishwasher detergent when overusing the lemon.
Salted Caramel Macaron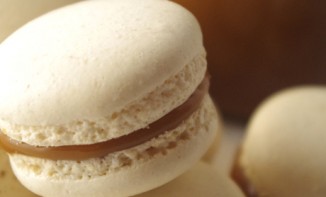 My love of the salted caramel macaron came after I visited the salty sea of Betagne in France when I purchased and brought home a small jar of Bretagne Caramel with crushed salt crystals. Creating this macaron was as fun as it was delicious. The wispy angelic classic macaron can be stuffed with the highly addictive salted caramel buttercream filling. If pure caramel is what you are after, just harden it in the fridge and it will deliver something spectacular to your taste buds.
True Chocolate Macaron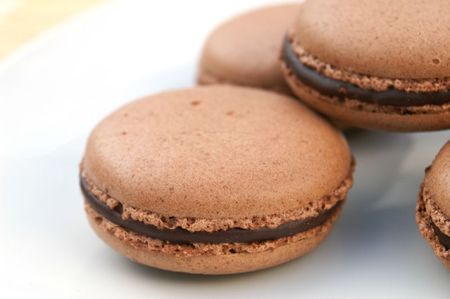 The winner of incredible macaron flavors has come down to the chocolate flavor. Chocolate macarons are out of this world, especially when a high quality chocolate is used; such as Santa Barbara Chocolate. The joy about blending the rich taste of chocolate with the light taste of almonds is that you strike exactly the right note. Chocolate in macarons is truly versatile. You can opt for a rich ganache filling or go for the traditional French almond macaron and dip it in a tempered chocolate or compound chocolate for a delicate dessert that works in perfect harmony with your after dinner coffee. Want to make your own? Check out this delicious macaron recipe.
Best French Macaron Flavors
So there you have it, the three very best French macaron flavors! Remember for your macaron to stand out from the crowd and tempt the true memories of Paris: you will need a little love, a little je ne sais quoi, and Santa Barbara Chocolate on your side. Happy macaroning!
Chocolate Macaron History:
https://www.santabarbarachocolate.com/blog/macarons-and-their-history/

Macarons: A Short History of the most Coveted Cookie in Paris
It's no secret that today many of us take sweets, cakes, and confectionery items for granted. However, some deserts and sweet temptations like everyone's favorite French macarons, are far from modern culinary inventions. In fact, while today, experimental pastry chefs might delight sweet-toothed friends with distinctly modern truffle chocolate macarons, their endeavors are far from anything new.
Macarons and the Common Availability of Sugar in Europe
The first thing to understand when it comes to macarons is that their popularity through several centuries stems from them being one of the world's first commonly available confectionary items. This is because although sugar had been part of people's diets from around 300 BC, sugar itself only became popular and widely available in Europe in the 15th Century.
Referred to as 'white gold' sugar even throughout the 16th Century was considered a luxurious and altogether precious commodity. Venice in Italy, however, was Europe's main importer and exporter of sugar, and with this being the case, many of the world's first western cakes and confectionary items were created in and around Venice at around this time.
Macarons During the Renaissance
While often referenced as French in origin, macarons as we know them today actually originated in Italy. Macarons, however, were created in the first instance by the chefs of the Florentine noblewoman Catherine de' Medici, who herself became Queen of France after Marrying the French King Henry II in 1533.
From this point onward, simple macarons made using almond powder, sugar, and egg whites became a staple in numerous French and Italian cookbooks. In fact, a legend even has it that the granddaughter of Catherine de Medici herself was once saved from starvation by eating macarons.
Of course, delicacies such as truffle chocolate and even compound chocolate macarons were still generations away from being first experimented with at this point. However, macarons themselves became a common confectionary staple in France and beyond from the 16th Century onward. Furthermore, the only significant deviation from the original macaron recipe came in the 20th Century, when the double macaron with cream and/or liqueur filling was first invented.
French Macaron Flavors Today
French Macaron makers famous for thinking ahead of the game and producing some of the freshest and best macaron flavors (these are two of our favorites):
Pierre Herme macaron: Pierre Herme is a famous French pastry chef who has built a world wide pastry specialty company that has close ties with Ritz Carlton luxury resort properties. In fact you can find Pierre Herme macarons served in house at Ritz Carlton. Pierre Herme has a range of pastry cook books and is recognized worldwide as a macaron expert.
Laduree macaron: Based in Paris but with shops also in Southern California, Laduree is a specialists in fresh and bright macaron flavors. Famous for Bonaparte blue boxes, Laduree is a great gift idea if you want real French macarons. Our favorite flavor beyond the chocolate macaron is the rose followed closely by the lime and vanilla. At a recent celebrity party we attended in Montecito California, Laduree macarons were served. Being a chocolatier I had particular interest in the macarons and so I watched the guests reactions to see how they would respond to the beautiful packages and fresh flavors. Everyone at my table talked about the fresh orange blossom macaron and how it captured the essence of orange so beautifully.