Brazilian Chocolates - What Makes Them Stand Out
Brazil, a country renowned for football and the colorful Rio Carnival, is also one of the world's leading producers of cocoa and chocolates. This might not be surprising as Brazilians are ardent chocolate lovers who tend to celebrate most occasions by gifting and enjoying chocolates.
According to Brazilbusiness.com, which quotes the ABICAB (Brazilian Association of the Chocolate Industry) that 75% of the Brazilian population consumes chocolate and 35% of Brazilian people would choose chocolate over any other food or drink. During occasions like Easter, Christmas and Valentine's Day- chocolate consumption increases by whooping 23%, 16%, and 11% respectively. Besides the holiday seasons, where it is a tradition among the people to give each other chocolates, 88% of the consumers buy high quality chocolate for their own consumption as well. With 2.2 kg of chocolate consumed per person per year, it is safe to say that chocolate is the favorite national food of Brazil. The consumption of chocolate is only expected to grow in the coming years. As per confectionery news, the Brazilian premium chocolate market is expected to grow 26% by 2020 due to the ever increasing demand of chocolate among the Brazilian people.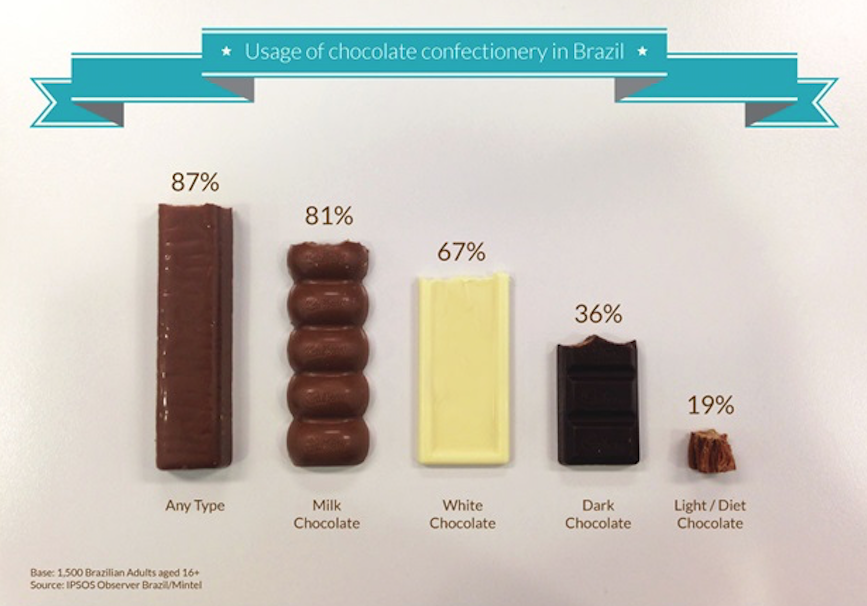 Image source: http://www.mintel.com/blog/food-market-news/how-h...
The most popular types of chocolate in Brazil are milk chocolate, bonbons and truffles (preferred milk chocolate by 81% of people) while white chocolate (67 %) comes in second. In fact, Brazil is one of the largest markets for white chocolate in the world. As for dark chocolate it is increasing popular due to health benefits.
Brazilian Cocoa- what makes it different from the original chocolate?
Let's start with a bit of background. Cocoa was first found in the State of Para, Brazil, in 1746. It was later taken to the State of Bahia, where it eventually became the basis of the local economy. The cocoa tree is a tropical tree and is cultivated in tropical and subtropical areas in Brazil. These regions are characterized by soil fertility and with a balance of the perfect climatic conditions. Cocoa is highly sensitive to the excess of sun and rain and these locations offer the best growing regions.
Cocoa trees require a temperature always above 68F. Due to this reason, places like States of Espírito Santo, Bahia and Rondônia, in Brazil are ideally suited for chocolate cultivation. The largest Brazilian national producer of cocoa is the State of Bahia, with 75% of the Brazilian cocoa being produced there.
The main cacao produced in the Brazil is the forastero variety, it's the strongest and the most resistant type of cacao with a strong cocoa flavor. Brazil has several climates but for cocoa growing the tropical region with Amazon rainforests and large lands for cultivation. There are several varieties of cocoa available in Brazil such as Trinidadian Trinitario and Scavina 6 that are known for their fine quality. There are over 140 plus types of cocoa growing in Brazil that offer a wide variety of flavors and textures. What makes Brazilian cocoa unique is that their cultivation is integrated into the native forests which generates a unique aura, texture, and flavor.
Brazilian chocolate- the rising phoenix
Brazil was once the second largest exporter of the cocoa until the Amazonian fungus known as Vassoura de Bruxa, or the witches broom disease, showed up in the region as an act of bioterrorism in the 1980s. It caused a significant social, economic and environmental consequences for the farmers and the crops. Ninety percent of the plantations were lost due to the fungus and more than 250,000 rural workers became unemployed and eventually left their plantations. It was a malicious act to destroy Brazilian chocolate production.
Fortunately, the chocolate market in Brazil is getting back on track thanks to social movements such as Landless Workers' Movement which is enabling Brazilian chocolate farmers to take back their lands to produce organic chocolate and help them take care of their cocoa from tree to the chocolate bar. As you can see from the data chart provided below, cocoa production has significantly increased both in Brazil and Ecuador since 2010.
Image source:
The current chocolate market in Brazil
Between 1905 and 1910, Brazil was the world's leading cocoa producer. Now it is ranked in 5 th as their main focus is production of chocolate for their own internal market. Despite their cocoa gaining recognition in the international market, it's only recently that Brazilian chocolate is making a presence felt in the foreign market.
The Brazilian chocolate market has seen a growth of 10 percent per year and it generates the revenue of BRI 12.1 billion. There are about 50 thousand cocoa farmers in Brazil that produce cocoa for the national and international market.
The growing national demand for chocolate is due to the fact that Brazilians prefer to eat national chocolates. Imported chocolates are considered expensive and not easily reachable for most people. And in many cases imported chocolate is not even as high quality as local chocolate. According to Brazilian law, any product to be considered as chocolate must have 35% of the cocoa. To cater to national transportation requirements across warm climate regions, it's a common practice among some Brazilian chocolate manufacturers to add fats along with cocoa butter in the chocolate to help minimize bloom due to heat exposure.
Demand for Brazilian cocoa in US Market
Brazil is very well known throughout the world for producing fine quality raw cacao. One of the top reasons why many top chocolate makers in the US want Brazilian cocoa is that it offers high quality and strong earthy flavors. Our company, Santa Barbara Chocolate sees Brazilian cacao as a great addition to our chocolate making uses. We use Brazilian cocoa in our dark compound chocolate. The Brazilian dark compound chocolate is made from a combination of Brazilian cocoa powders. It is a hit among customers due to the dark fudge-like flavor and convenience it offers as it sets quickly when melted (no tempering required). It is a great choice for dipping, candy making or simply coating delicious fruits in dark flavored fudge compound coating.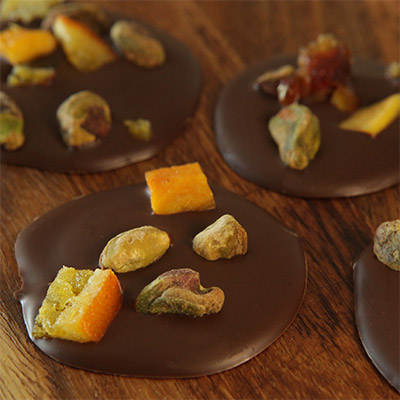 It's not just pure cocoa that's finding a niche in the US market. Brazilian premium chocolates are grabbing the attention of US chocolate lovers as well. Harald, a top quality Brazilian chocolate producer with a 75000 MT capacity per year has recently launched their brand in the US. They use 100 percent premium fine flavor Brazilian cocoa and have already secured a market in the mainstream US and specifically West Coast. What sets Harald Unique apart is that their source of cocoa comes from a single farm. Twice chocolate maker Harald has won the Salon Du Chocolate's award for the best tasting rare cocoa chocolate bar.
Brazil is an ultimate chocolate destination where practically in every neighborhood in Brazilian cities; there are chocolate stores and famous craft chocolate makers. Supermarkets and chocolate specialty shops are filled with a wide variety of chocolates. Needless to say, Brazil has an incredibly profound and passionate relationship with cacao and it definitely reflects in their raw material (cacao) to the end product (chocolate). Bean to Bar Brazilian cacao is exotic.
Be sure to look at this site (they are friends of ours and we love them). http://haraldunique.com.br/
Reference and Source material were taken from:
How is Brazilian Chocolate Different?
The Summer Olympics 2016 are in Rio and the question is what types of chocolate are the athletes and tourists enjoying and Why is Brazil so special when it comes to Cacao?
Chocolate Diversity
Brazil offers a diverse range of cacao varieties and is one of the cradles of all cacao trees and hybrids. In fact when you look at all the hybrid types and flavors offered in Brazilian cacao you can find 140+ types.
Brazilian Chocolate Flavor Profile
Brazilian cacao has a strong flavor, so normally you will find Brazilian cacao used with other cacao types to create unique flavor profiles in chocolate. Brazilian cacao can have strong fruity, earthy or wet flavors. If one chooses the correct type of Brazilian cacao, it can offer a wonderful flavor that is truly unique and very up lifting. The predominate locations for Brazilian cacao production are Manaus North Central Amazon and Bahia Eastern Coastal.
Great Brazilian Selection
Brazilian Bittersweet Chocolate represents some of the best South American chocolate for baking.
The Rainforest series of compound chocolates epitomize the Brazilian cacao flavor profile. Milk compound coating is the most commonly used coating in Brazilian confectionery and baking. We opted to use Brazilian cocoa in making our range of compound chocolates.
The Santa Barbara Chocolate product known as Brazilian Dipping Chocolate is not a cocoa butter based couverture chocolate. It is technically known as confectioner's coating. We make it using cocoa powder produced in Brazil from 100% top quality Manuas cacao. The cocoa butter has been replaced with palm butter. The palm butter is not hydrogenated and there are no artificial ingredients in our recipe. We made it to be as natural and as close as possible to our real chocolate cocoa butter couvertures (there are many pure chocolates to choose from on our site). We offer the Brazilian Dipping Chocolate as a convenient alternative for pastry chefs and confectioner's who are looking for a great tasting chocolate alternative that does not require tempering.