Cashew Butter Cookie Bars
I love to bake and I love to eat my baked goods. Some better than others, you just never really know how a final product is going to turn out. However, this one in particular, left me speechless and wanting more ever since that last bite. No really, these Cashew Butter Cookie Bars were devoured almost immediately.
Made with wholesome ingredients and homemade cashew butter, these bars offer a little twist on your traditional chocolate chip cookie, in the best way possible. Somewhere between a blondie (which I actually just discovered is a vanilla brownie) and a traditional cookie... The cashew butter brings about an insanely moist and buttery texture, without contributing an overwhelming flavor. This is met with ooey-gooey melted Santa Barbara white chocolate + crisp edges.
I even captured a couple of the reactions by my (seasoned) taste testers. And I quote… "I don't even like white chocolate but I love these!" and this one was similar to my own reaction: "This might be the best thing I have ever tasted." I am sure you often think the same when you eat most desserts… as I once did, too. But in all seriousness, these cookie bars were, in fact, one of the greatest things I have ever tasted.
I have found that incorporating a nut butter, in place of an oil, makes for a very soft and gooey texture once baked… which I personally prefer over a more cake-like texture. The homemade cashew butter has a very mild, smooth texture and it is surprisingly easy to make. With only one ingredient, (cashews) there is always the option to add flavoring or spices, to your liking.
I always bake with Santa Barbara Chocolate, since they deliver a wide selection of the best baking chocolates. The white chocolate chips are made with pure cocoa butter, delivering a smooth vanilla flavor. It acts as a nice complement to the flavors of the cookie dough.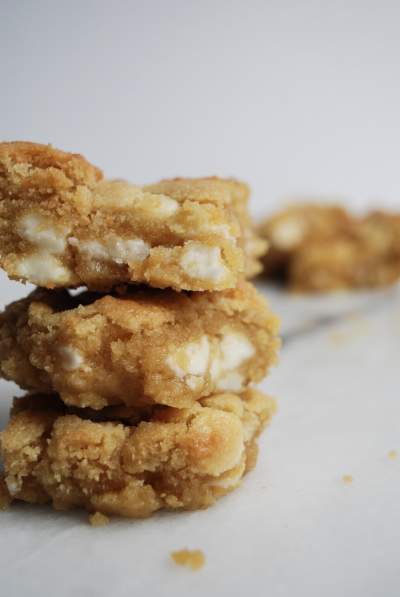 Cashew Butter Cookie Bars
Total time: 40 minutes, Makes 16 small cookie bars
Homemade Cashew Butter
Put 1 cup of unsalted cashews in a food processor (or other high-powered blender). Blend on low for about 3 minutes. It will initially form a crumbly mixture but continue to blend until it forms a smooth butter.
Cookie Bars
1 cup of butter softened
1/3 cup brown sugar
1/3 cup white sugar
2 eggs
1/3 cup homemade cashew butter
1 tbsp vanilla extract
1 tsp baking soda
1 cup flour
½ tsp salt
1 cup Santa Barbara White Chocolate Chips
Directions:
Cream the butter and sugars. Stir in eggs, vanilla extract, + cashew butter. In separate bowl, mix flour, baking soda and salt. Slowly incorporate the dry ingredients into the butter and sugar. Mix until well combined. Stir in the white chocolate chips. Press the mixture into an oiled 9x9 pan. Bake at 350F for 28-32 minutes (or until light golden brown). Let it cool completely before cutting into squares. Recommended, but not required, once cooled place bars in the freezer for a few minutes then cut into squares. It will make the edges much cleaner. Then serve at room temperature. Option to warm it up before serving or top it with a scoop of ice cream. Store on the counter for up to 2 days, otherwise store in the refrigerator.
Easy to grab on the go, the cookie bars are the perfect treat for a crowd + they are great for all ages. Plus, they're a one pan wonder + they do not require scooping or shaping of individual cookies. These bars would also be delicious with milk or dark chocolate morsels or chopped nuts.