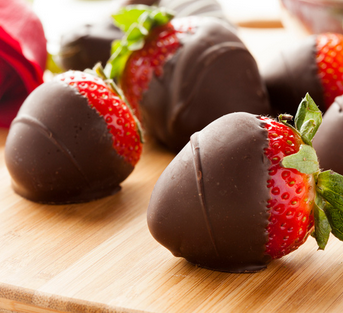 How to make the Best Chocolate Dipped Strawberries



Chocolate dipped strawberries are an icon of romance, decadence, and just all-around deliciousness. Now that strawberries are in season, it's the perfect time for you to try making these treats at home.
There are a few reasons why you should try chocolate-dipped strawberries yourself:
Ease: Chocolate-dipped strawberries are not rocket science. All you have to do is dip strawberries in chocolate. If you gather some helpful tips beforehand, you can do a beautiful job on your first try.
Price: Chocolate-dipped strawberries can run for a few dollars each if you buy them in a store. Not so if you make them yourself, giving you even more of an excuse to indulge in more than just one.
Wow Factor: Chocolate-dipped strawberries are the perfect impressive touch at a party, get-together, or just a special night at home.
So how can I make a successful batch of chocolate-dipped strawberries?
How to Heat: If you use the stove, melt the chocolate in a double boiler. If you use a microwave, microwave the chocolate in short intervals and stir in between.
Use the Right Chocolate: You will want a high-quality chocolate for chocolate-dipped strawberries, preferably one that comes in small chunks (otherwise you will have to cut it up yourself). My personal favorite is our organic dark chocolate. It comes in easy-to-melt coins and produces a smooth, uniform body perfect for dipping.
Buy the Best Chocolate Dipped Strawberries
If you need a smart gift and don't trust your hand at dipping strawberries yourself, we recommend the most famous chocolate strawberry company: Shari's Berries. Gourmet chocolate dipped berries from Shari's Berries are safe and taste great. Shari's washes their berries.
Many chocolate companies don't wash their berries before chocolate dipping because they are concerned about the berries molding under the chocolate shell. This of course is not safe because the berries could carry dangerous bacteria from the soil. This is why it is very important to know your chocolate berry supplier and this is why we only trust Shari's Berries. Safety and quality are the hallmarks of a quality chocolate dipped berry. Here is Shari's website: https://www.berries.com/