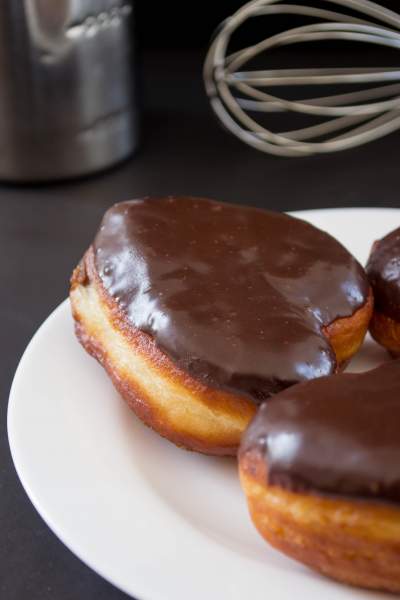 Chocolate Filled Donuts
Because the only thing better than donuts is chocolate. You can make gourmet chocolate filled and glazed donuts at home this weekend.
Everyone is a fan of donuts, and some of us are addicted to them. In my house we don't typically buy donuts during the year other than on special occasions because if we did buy them frequently we would eat them in one sitting and not be able to control ourselves.
So, when my family seat donuts we try to moderate ourselves and also pick just the ones that we know are really good (if you are spending calories why not spend them on the best tasting donut you can get- right?).
Making donuts from your own chocolate donut recipe ensures no hard donuts, donuts with too little glaze or donuts that are too cake like. As a side note for a future blog posting, some cake donuts can be altered to a baked donut recipe but for today's recipe we will savor the real donut that has been fried.
In the past I had thought baking with yeast was difficult and that is why I never tried to fry donuts at home. Last year my mom took a class where she learned a lot about baking pastries, breads and yes, donuts! After she told me how easy it was to make the donut dough I needed to try it. Now I'm in love with this recipe of homemade donuts and will never buy a cheap store donut again when I can have gourmet chocolate donuts.
Chocolate Filled Donut Ingredients:
For the donuts:
2 ½ cups of all-purpose flour
7 gr. of dry yeast
¾ cup of milk, warm
¼ cup of butter, melted
1 egg
3 tbsp of sugar
A pinch of salt
Oil to fry
For the chocolate filling:
For the glaze:
½ cup of powdered sugar
¼ cup of Rainforest Bulk Cocoa Powder
3 tbsp of milk*
Note*: If you feel the glaze is too thick, add a bit more milk. Stir well before adding more milk to make sure it is the consistency of glaze.
Making Donuts Instructions:
For the donuts:
Heat the milk until warm but not completely hot, add the dry yeast and set aside for 5 minutes.
In a large bowl, combine sugar, butter and salt.Give it a whisk to combine.
Add the egg to the mixture, whisk a bit more.
Then, incorporate the milk that should be foamy because of the dry yeast. Whisk a bit.
Sift in your all-purpose flour and then start to combine all the ingredients using your hands. Knead the dough until it forms a smooth ball of dough, this will take you about 10 minutes. If after 5-6 minutes the dough is too sticky still, add a bit more of flour.
In a previously greased bowl, add the dough and cover it with a towel. Let it sit in a warm place for at least 2 hours. The dough will double in size. Usually, I let my dough grow inside the microwave.
When doubled in size, sprinkle some all-purpose flour over a clean flat surface and roll the dough to about ½ inch thick.
Using any shape of cookie cutter, cut the donuts and transfer them to a greased pan or plate.
Again, cover them with a towel and let them grow for 30 – 45 minutes more.
You will notice the donuts get puffy and then it is time to fry them!
Heat the oil and fry them 2 – 3 at a time. Be careful when transferring them from the plate to the frying pan, you don't want to deflate them.
When golden on both sides, let them cool down before filling them.
For the filling:
Melt the Organic Dark Chocolate; you can use either the bain marie method or do it in the microwave. If you decide the second option, heat the chocolate for 10 seconds, stir and repeat the same process until completely melted.
Combine the melted chocolate with the dulce de leche. Set aside.
For the chocolate glaze:
Sift the dry ingredients and mix them really well in a medium bowl. Set aside.
To assemble:
Place your chocolate and dulce de leche mixture inside a piping bag.
With a knife, make a tiny cut to the donut. If you are going to do them in a heart shape, do the cut in the bottom or sides.
Fill the donut with chocolate. Repeat with all of them.
When all the donuts are filled, dip one side of each into the chocolate glaze.
Let the glaze set for 5 minutes.
Serve and enjoy!

https://www.santabarbarachocolate.com/chocolatier-jason-vishnefske/
{ "@context": "https://schema.org/", "@type": "Recipe", "name": "Chocolate Filled Donuts", "image": "https://www.santabarbarachocolate.com/blog/chocolate-filled-donuts/", "description": "Because the only thing better than donuts is chocolate. You can make gourmet chocolate filled and glazed donuts at home this weekend.", "keywords": "Chocolate Filled Donuts", "author": { "@type": "Person", "name": "Jason Vishnefske" }, "datePublished": "2018-02-20", "prepTime": "PT20M", "cookTime": "PT35M", "totalTime": "PT55M", "recipeCategory": "dessert", "recipeCuisine": "USA", "recipeYield": "8", "nutrition": { "@type": "NutritionInformation", "calories": "" }, "recipeIngredient": [ "For the donuts: 2 ½ cups of all-purpose flour", "7 gr. of dry yeast", "¾ cup of milk, warm", "¼ cup of butter, melted", "1 egg", "3 tbsp of sugar", "A pinch of salt", "Oil to fry", "For the chocolate filling: 4 oz of dulce de leche", "4 oz of Organic Dark Chocolate, melted", "For the glaze: ½ cup of powdered sugar", "¼ cup of Rainforest Bulk Cocoa Powder", "3 tbsp of milk" ], "recipeInstructions": [{ "@type": "HowToStep", "text": "For the donuts: Heat the milk until warm but not completely hot, add the dry yeast and set aside for 5 minutes." },{ "@type": "HowToStep", "text": "In a large bowl, combine sugar, butter and salt.Give it a whisk to combine." },{ "@type": "HowToStep", "text": "Add the egg to the mixture, whisk a bit more." },{ "@type": "HowToStep", "text": "Then, incorporate the milk that should be foamy because of the dry yeast. Whisk a bit." },{ "@type": "HowToStep", "text": "Sift in your all-purpose flour and then start to combine all the ingredients using your hands. Knead the dough until it forms a smooth ball of dough, this will take you about 10 minutes. If after 5-6 minutes the dough is too sticky still, add a bit more of flour." },{ "@type": "HowToStep", "text": "In a previously greased bowl, add the dough and cover it with a towel. Let it sit in a warm place for at least 2 hours. The dough will double in size. Usually, I let my dough grow inside the microwave." },{ "@type": "HowToStep", "text": "When doubled in size, sprinkle some all-purpose flour over a clean flat surface and roll the dough to about ½ inch thick." },{ "@type": "HowToStep", "text": "Using any shape of cookie cutter, cut the donuts and transfer them to a greased pan or plate." },{ "@type": "HowToStep", "text": "Again, cover them with a towel and let them grow for 30 – 45 minutes more." },{ "@type": "HowToStep", "text": "You will notice the donuts get puffy and then it is time to fry them!" },{ "@type": "HowToStep", "text": "Heat the oil and fry them 2 – 3 at a time. Be careful when transferring them from the plate to the frying pan, you don't want to deflate them." },{ "@type": "HowToStep", "text": "When golden on both sides, let them cool down before filling them." },{ "@type": "HowToStep", "text": "For the filling: Melt the Organic Dark Chocolate; you can use either the bain marie method or do it in the microwave. If you decide the second option, heat the chocolate for 10 seconds, stir and repeat the same process until completely melted." },{ "@type": "HowToStep", "text": "Combine the melted chocolate with the dulce de leche. Set aside." },{ "@type": "HowToStep", "text": "To assemble: Place your chocolate and dulce de leche mixture inside a piping bag." },{ "@type": "HowToStep", "text": "With a knife, make a tiny cut to the donut. If you are going to do them in a heart shape, do the cut in the bottom or sides." },{ "@type": "HowToStep", "text": "Fill the donut with chocolate. Repeat with all of them." },{ "@type": "HowToStep", "text": "When all the donuts are filled, dip one side of each into the chocolate glaze." },{ "@type": "HowToStep", "text": "Let the glaze set for 5 minutes." },{ "@type": "HowToStep", "text": "Serve and enjoy!" }], "aggregateRating": { "@type": "AggregateRating", "ratingValue": "4", "bestRating": "5", "worstRating": "1", "ratingCount": "1" } } <\script>