HISTORY OF FAMOUS CHOCOLATE BRANDS IN CALIFORNIA
The chocolate revolution came to California in the beginning of the 21st century turning San Francisco into the world's chocolate capital. Around 218 chocolate makers and wholesaler dealers were doing business in this field, with twenty in the San Francisco Bay Area only.
Chocolate drinks had been more popular than coffee in California due to Spanish influence. Chocolate, originally introduced to California by Spanish Missionaries was widely enjoyed as a drink. Franciscan Junipero Sera is the most famous Spaniard who had chocolate served at every important event and he did a lot in introducing chocolate to California culture.
California was considered New Spain and chocolate interestingly had a role in bringing together the different people that comprised the California population.
California is not a region where cocoa beans are grown and harvested but it is definitely a host to a variety of chocolate festivals and chocolate makers. There are many world class chocolatiers who are based here. In fact, it is home to two of the oldest chocolate makers in America, Ghirardelli and Guittard.
The History of California's most Famous Chocolate Brands
At Santa Barbara Chocolate, we're proud to be part of a chocolate making tradition in California, which dates all the way back to the California Gold Rush. In fact, some of the world's most famous chocolate brands started in San Francisco!
THE GHIRARDELLI CHOCOLATE COMPANY
Domenico Ghirardelli can be credited with being one of California's chocolate entrepreneurs. In fact, Ghirardelli himself established what was California's very first chocolate shop.
Domingo Ghirardelli was an Italian born to an importer of exotic food. At the age of twenty he went to Peru South America and opened a store selling coffee, cocoa powder and other spices.
In 1848, James Lick, presumed to be Ghirardelli's nephew, sailed to San Francisco with 600 pounds of Ghirardelli's chocolate. With a fast sale of the bulk chocolate, James wrote to Domingo to supply him with more bulk chocolate stock. In 1849 after his arrival in California, Domingo Ghirardelli opened a confectionary store selling liquor, coffee, spices and his chocolate to fellow miners in Stockton. Although it wasn't a love of chocolate which drew Ghirardelli to open the first confectionery and chocolate shop in California. Instead, it was news of gold being found at Sutter's Mill, right at the start of the California gold rush. Drawn to California (along with over 300,000 other prospectors), what made Domenico Ghirardelli different was his background in food and his clever business sense.
The Ghirardelli business prospered and he was quick to open a second store in San Francisco.
Business was running smooth until in 1851 when a major fire created havoc in the city destroying everything. Both Ghirardelli's shops were burned down.
However, in 1852 Ghirardelli re-opened his confectionary store at Kearny Street. In 1893, he took over OLD Pioneer Woolen Mill, thus creating Ghirardelli Chocolate Co. as we know it today.
After his death in 1895, the legacy was carried on by his son Domingo JR. It had become one of California's largest businesses. The company headquarters were moved to North Point Street, now known to people as Ghirardelli Square.
In 1998, Lindt of Switzerland acquired Ghirardelli. Lindt has preserved the originality of the chocolate. Highly selective, the company rejects up to 40% of the cocoa beans it receives in order to maintain quality.
THE GUITTARD CHOCOLATE COMPANY
Today Guittard supplies chocolate and wholesale confectionery ingredients to some of the biggest cereal and baking companies both in America and worldwide.
Guittard & The Gold Rush
Still holding the title of the oldest continuously run chocolate company in America, Guittard is a world famous chocolate brand which can also credit it's success to the California gold rush.
Adventurer Etienne Guittard came to San Francisco California from Lyon during the GOLD RUSH. His intentions were to trade chocolate from his uncle's factory in Tonus France for mining supplies. He learned however that selling chocolate was more profitable than mining so he went back to France to master the art of confectionary from his father, who was a chocolatier. Returning to San Francisco in 1868, he opened a chocolate shop. Guittard had a focus on wholesale rather than retail, which was Ghirardelli's forte. Currently, Guittard is located in Burlingame and is the oldest chocolate producer still owned by the original family. They continue to produce chocolate for the wholesale chocolate market.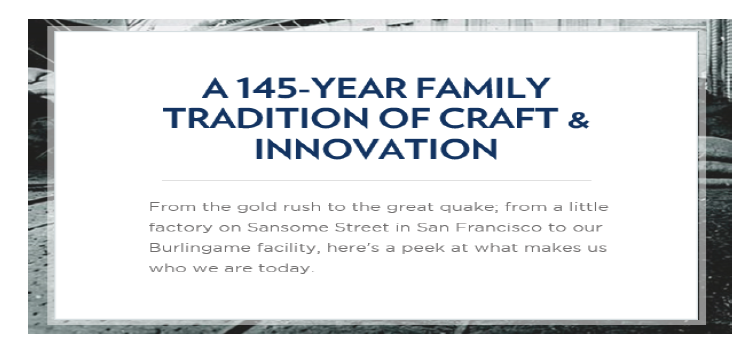 Source: https://www.guittard.com/our-company
FAMOUS CHOCOLATE COMPANIES IN CALIFORNIA
Apart from Ghirardelli and Guittard chocolate companies, there are a variety of famous chocolate companies who have become best-selling brands. Having both survived the 1906 San Francisco earthquake, Guittard and Ghirardelli both hold iconic and legendary status in American business history.
However, just like Santa Barbara Chocolate, several other chocolate companies have also made their mark in California over the years. Such brands include See's Candies which started in Los Angeles in 1921 before relocating to San Francisco and the Annabelle Candy Company.
SEE'S CANDIES:
Founded in Los Angeles 1921, See's Candies business is booming. The dream of Charles See and with the help of his mother, Mary See, the company was founded. Today See's sells over a hundred types of chocolate specialties and truffles. They are made using Mary See's original homemade candies and chocolate recipes.
See's famous recipes include Peanut Brittle, Victoria Toffee and Chocolate Walnut Fudge.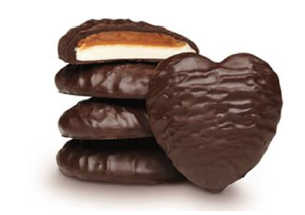 https://www.sees.com/about-us/sees-family/
CHARLES CHOCOLATE:
Charles chocolate has been a part of the California chocolate scene since 1987. At Charles Chocolates the chocolates are made with quality ingredients of fresh cream and butter, herbs, fruits and nuts with no artificial flavor.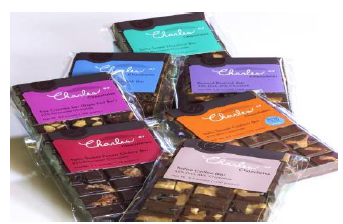 Source: https://www.charleschocolates.com/collections/gif...
MICHAEL MISCHER CHOCOLATES:
Michael Mischer was born and raised in Germany. He worked as an apprentice to a Swiss Master Pastry Chef Andreas Heartle. He moved to California in 1984 and opened up a small chocolate shop.
Mischer excels in the handmade art of filled chocolates known as Pralines. Michael Mischer chocolates are made with Grand cru quality chocolate from Venezuela and Ecuador cocoa beans. The main retail store is currently on Grand Avenue in Oakland.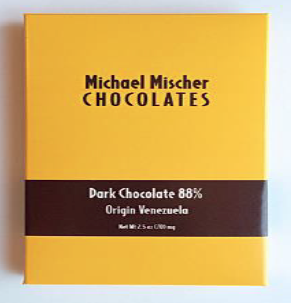 http://www.michaelmischerchocolates.com/home/
SANTA BARBARA CHOCOLATE COMPANY
Established in 1992, Santa Barbara has been pleasing chocolate lovers with creativity, freshness and high quality chocolate products. Santa Barbara Chocolate has been delivering premium quality chocolates and other cocoa products. Raw chocolate and bulk ingredients coming into the chocolate factory have been accredited by organizations such as HACCP, UTZ, USDA Organic and Rain Forest Alliance.
An exceptional wholesale luxury brand, efficient delivery with affordable pricing, Santa Barbara Chocolate has emerged to be a leading chocolate company of California in recent times.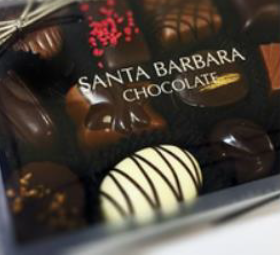 https://www.santabarbarachocolate.com
REFERENCES
http://www.seecalifornia.com/festivals/paradise-ch...
https://www.wheretraveler.com/san-francisco/san-fr...
https://sfist.com/2015/02/11/the_10_best_candy_and_chocolate_sho/
https://www.guittard.com/our-company
https://lebelgechocolatier.com/chocolate-history/
https://www.sees.com/about-us/sees-family/
http://www.michaelmischerchocolates.com/home/
https://www.charleschocolates.com/collections/gift...
https://www.santabarbarachocolate.com/chocolatier-jason-vishnefske/