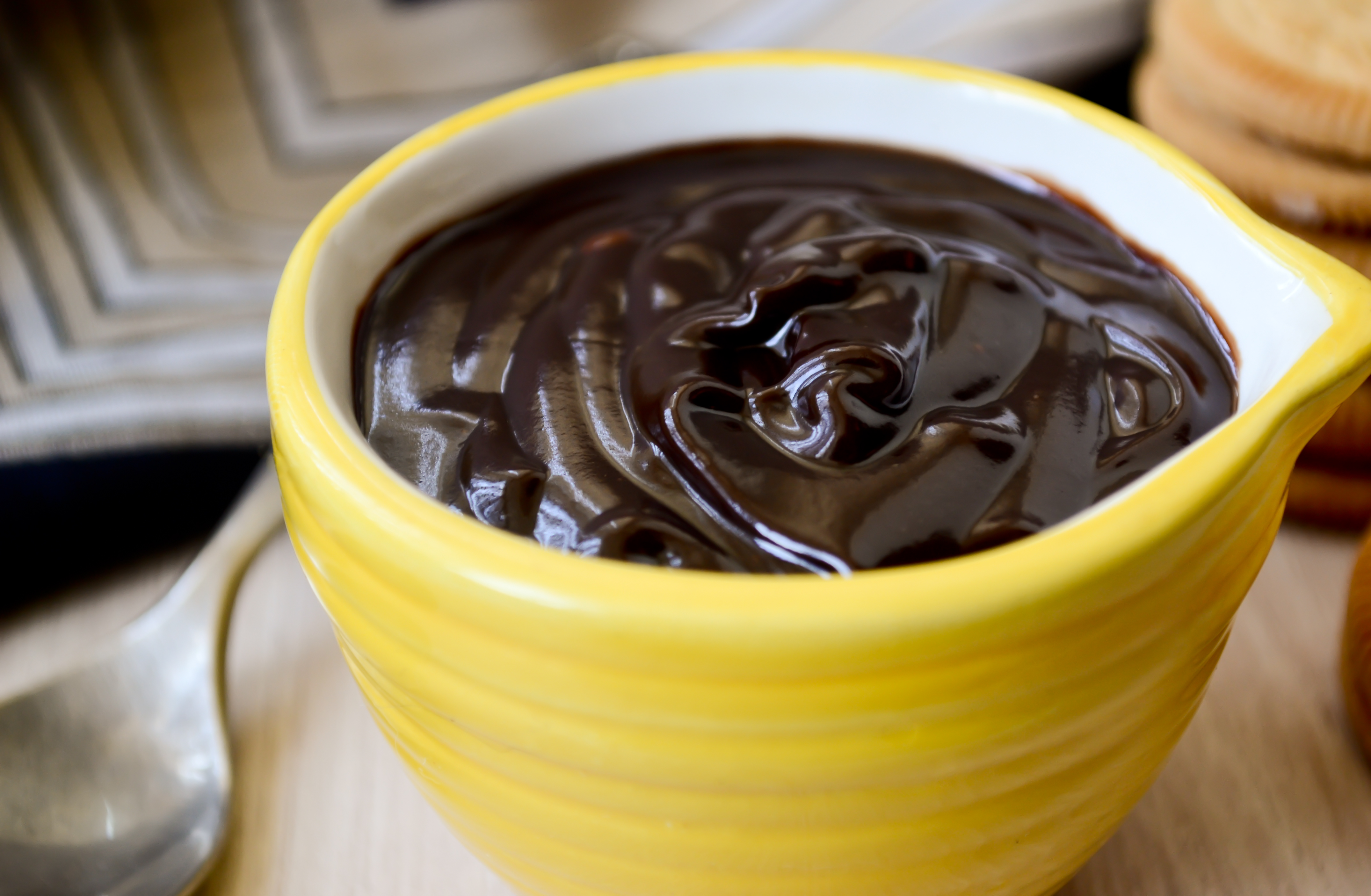 Chocolate Ganache Origin and Recipe

Ganache is a popular, smooth and thick chocolate paste often used as a frosting on chocolate cake or a filling in chocolate truffles. The story about how it was created says that one day a French pastry master in Paris asked his assistant to melt chocolate and heat cream. The assistant did both and without direction combined the two ingredients. The master saw what had happened and he was infuriated yelling at his assistant that the mixture was a total "ganache" which was an insult back in the days. The insult is probably from the French word "Ganacher", which means to slog, as if walking through mud or a mess. So in general, somehow the term was a colloquial way of insulting someone. But it also makes sense since ganache is dark chocolate and thick... visually speaking, sorta like yummy edible mud in some ways.
After the master tried the dark chocolate mistake, he decided to use it; the cakes filled with the chocolate mixture were always sold out. Every time they had to make more, the pastry master would say "hand me the ganache". This is the legend about how this magnificent mixture was created.
Chocolate ganache glaze is a popular coating for chocolate cake. It first showed up around 1850. Without a doubt it is hard to know the true story of where the recipe was born because both France and Switzerland claim they are the creators of the original recipe. The famous book "Larousse Gastronomique" states that the chocolate recipe was created in Paris and so this is true to the original story.
There are many ways to use this silky chocolate paste, as well as several methods to make it depending on the application. The basic recipe is really easy to make, you just have to combine two parts of high quality chocolate and one part of cream. Some people like to add butter to get a firmer and shinier texture. Now, I'm sure you are wondering about the other recipes, I will share my favorites ones.
Dark Chocolate Ganache Recipe: This is going to be your favorite recipe to make easy chocolate truffles at home. I love making them as a fast and easy gift. Also, this is the recipe that you will want to use for frosting cakes and cupcakes. The firmness depends on the chocolate quality because the higher cocoa butter content, the firmer it will set up.
Ingredients:
Two parts of high quality chocolate, chopped
One part of heavy cream, hot
2 – 3 drops of vanilla extract (or any extract you want)
Instructions:
Over low heat, warm your heavy cream until really hot but before completely boiling.
Remove from heat and add the chopped chocolate.
Wait around 5 minutes before stirring.
After 5 minutes, add the vanilla extract and stir until combined smooth.
Let it cool down and then place in the refrigerator until firm.
Scoop some of the mixture, around a tbsp size, and roll it to make truffles.
Cover the chocolate truffles in any topping you like. I usually use: chopped peanuts, chocolate sprinkles, sifted cacao powder, sea salt or cookie crumbs.
That is the easiest way to make basic truffles. I really enjoy creating combinations like coffee and cookie crumb truffles or kahlua and almonds truffles. Don't be scared about using alcohol or liqueurs in your truffles creations, just be careful with the kids if you decide to add a lot to the recipe... haha. Truffles can be a real luxury if you make the right combinations.
Because this recipe calls for two ingredients, it is key to use the best chocolate ingredients. I recommend using Santa Barbara Chocolate because it is the best chocolate.
Soft Chocolate Recipe: This is my favorite chocolate dipping sauce recipe. This is a perfect option to make for a party or family reunion. Place the dipping sauce in a bowl and make a little buffet with different fruits and cookies to dip.
Ingredients:
One part of high quality chocolate, chopped
Two parts of heavy cream, hot
Instructions:
Over low heat, warm your heavy cream until really hot but before completely boiling.
Remove from heat and add the chopped chocolate, don't stir right away.
After 5 minutes, whisk the cream until you get a smooth and creamy texture.
Serve warm or room temperature
If you don't use all of the ganache right away, store it in the refrigerator for up to three days, or in the freezer for three weeks with no problem. To use it again just heat over a bain marie, also known as double boiler, and bring it back to the original smooth texture.
Additional resources and recipes:
Chocolate Chocolate and More - Extensive Recipe Database: https://chocolatechocolateandmore.com/
Chocolate Recipe Book: https://www.santabarbarachocolate.com/recipe-books/