How to Make The Fudgiest Gluten Free and Vegan Brownies

!
The secret to these fudgy brownies is simple: they're vegan and gluten-free. Doesn't seem like much of a secret, does it? Well, let me explain. Sometimes baking with certain restrictions opens up a world of possibilities - and in this case the result is the fudgiest brownies you've ever tasted.
It's recipes like this one that inspired me to become a vegan chef. It wasn't about veganism per se (I'm not vegan, although I was for a while, more on that on my blog if you want the backstory). I fell in love with vegan baking for the health benefits and for the challenge of creating something without the usual mix of ingredients, like eggs and butter. This recipe is the perfect example of how baking without eggs can make things tastier than ever.
Whether you're vegan or not, there's a huge advantage to making this vegan brownie recipe. First, you can eat the batter (no raw egg means it's fair game to lick the bowl!). Secondly, because of the texture of the flaxseed egg, you end up with the gooey-est, fudgiest brownies in all of existence (no, really!).
The cherry on top is the chocolate tahini glaze you'll want to eat by the bowlful.
Best part? They're healthy-ish too. Flaxseed meal is packed with fiber and omega-3 essential fatty acids. And, in true DabblingChef form, there's a secret veggie in the recipe too. You've seen desserts made with pumpkin and sweet potato, but what about butternut squash? It has lots of heart-healthy fiber, beta-carotene for eye health (like carrots), vitamins A and C to boost our immune system (great for this time of year!), and it supports bone health. Talk about a spectacular squash.
So if you're never made a vegan or gluten-free dessert before, this is the one to try. And the chocolate tahini glaze is to die for. I hope you'll enjoy this recipe as much as we do, and who knows, maybe you'll fall in love with vegan baking too.
Source for nutritional information: https://www.bbcgoodfood.com/howto/guide/health-be...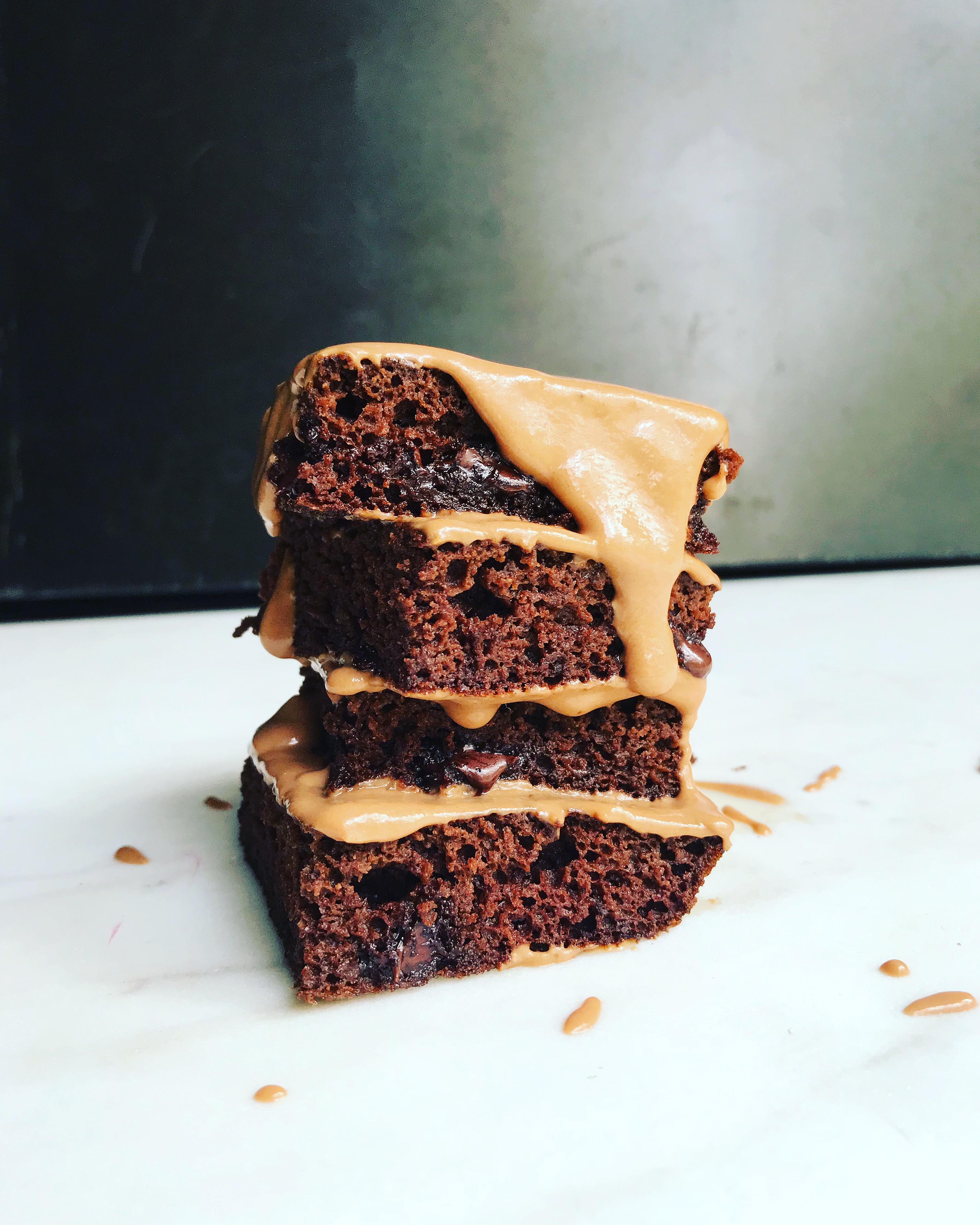 Fudgiest Double Chocolate Brownies with Chocolate Tahini Glaze (vegan and gluten-free!)
RECIPE BY ANDREA BRANCHINIACTIVE: 20 MIN TOTAL: 60 MINS
INGREDIENTS
For the brownies:
4 flax eggs (see note*)
1 cup butternut squash purée (organic canned sweet potato or pumpkin works too, see note*) 1⁄2 cup coconut sugar
1⁄2 cup Bob's red mill 1:1 Gluten-free flour
1/3 cup cocoa powder
1 Tbsp cinnamon (or pumpkin pie spice)
1 tsp baking soda
1⁄2 tsp kosher salt
1⁄2 cup Santa Barbara Chocolate semisweet Organic Chocolate Chips (these are vegan chocolate chips)
For the glaze:
1⁄2 cup semisweet chocolate chips 2 Tbsp coconut oil
1 heaped Tbsp tahini
1 Tbsp maple syrup
METHOD
Preheat oven to 350 degrees F. Grease a 9x13 Pyrex baking dish with coconut oil.
Meanwhile, prepare the flax egg and set aside for 10 to 15 minutes to set.
In a large bowl, mix the flax eggs, butternut squash purée, coconut sugar, flour, cocoa powder, cinnamon, baking soda and salt. Gently fold until no streaks of flour remain. Stir in chocolate chips. Pour into greased baking dish. Bake for 18-20 minutes until toothpick inserted in center comes up with only a few crumbs on it and top springs back when pressed.
To make the frosting, place chocolate, coconut oil, tahini and maple syrup in a small saucepan. Heat over medium-low heat, stirring constantly, until chocolate is melted and forms a glaze.
When brownies are done, remove from oven and set aside to cool slightly. Using a toothpick or cake tester, poke holes all over the brownies. Pour the chocolate glaze until. Enjoy.
*Note: 1 flax egg is 1 tablespoon ground flaxseed + 3 tablespoons water. In a small bowl mix 4 tablespoons ground flaxseed + 12 tablespoons water and set aside to gel while you prepare the rest of the ingredients.
*Note: to make the butternut squash puree, preheat oven to 350 degrees F. Cut butternut squash in half lengthwise, and place cut-side down on a baking sheet lined with parchment paper. Bake, until softened, about 40-45 minutes. Scoop the cooked butternut squash and mix with remaining ingredients to make the recipe. Usually the butternut squash is soft enough to spoon directly into the bowl and mash with a fork, but you can always puree it first for a smoother texture.
A variation can include Nutella frosting in place of tahini for your gluten free brownie (using Nutella will change the recipe away from being vegan):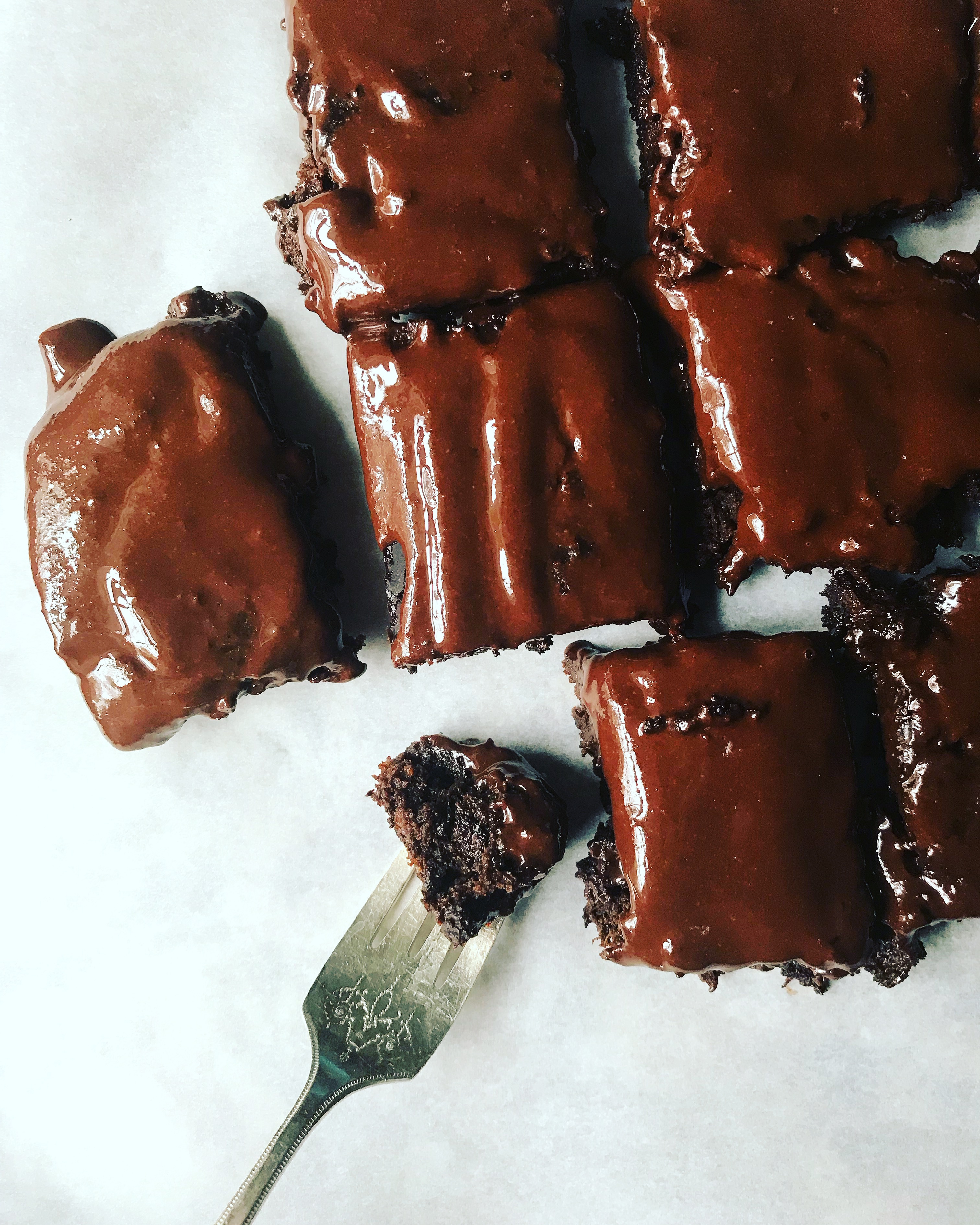 Making Gluten Free Brownies - the video and Vegan recipe: