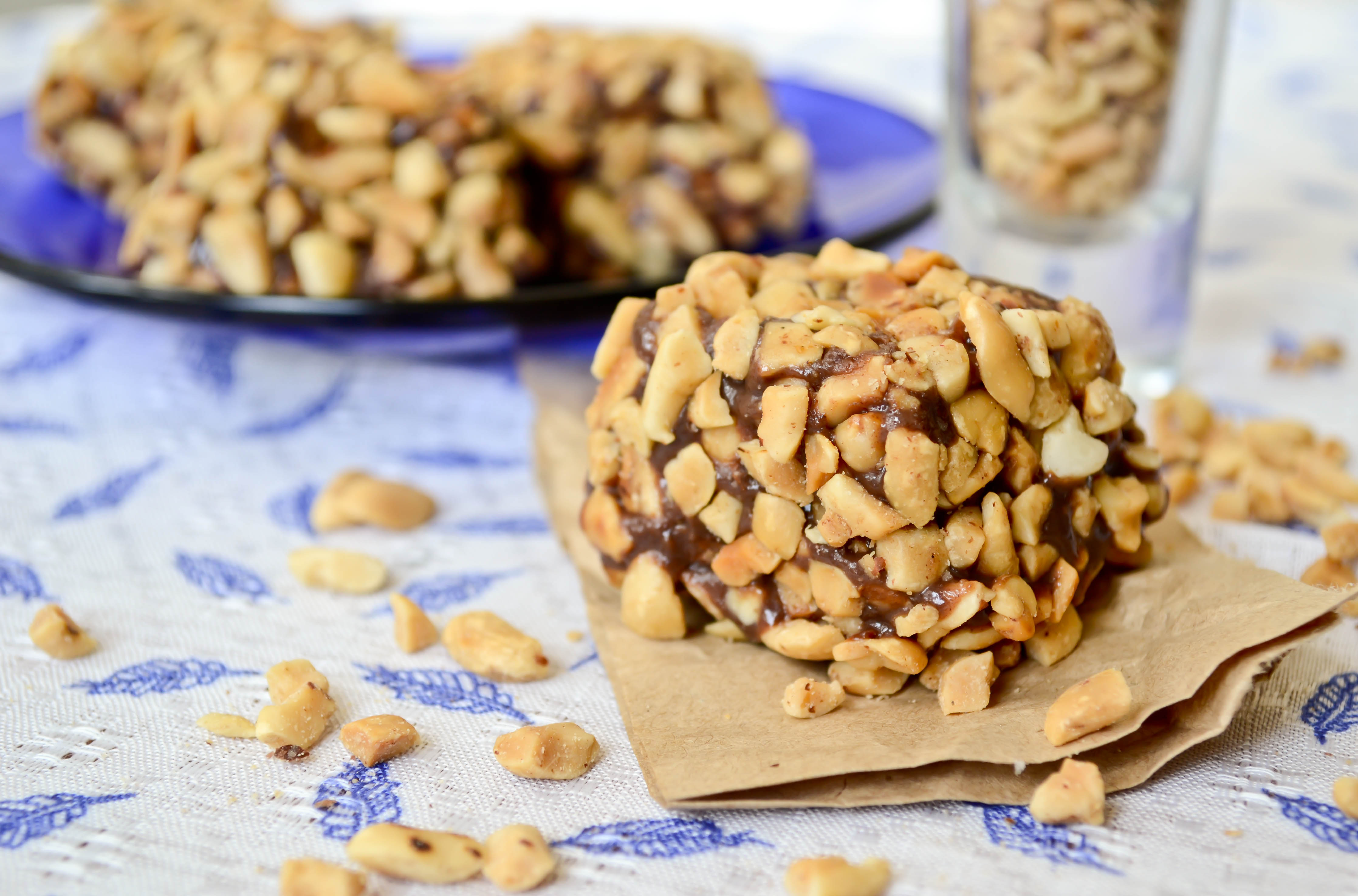 How to Make Chocolate Fudge and Chocolate Fudge with Peanuts
Chocolate Fudge is one of the most popular chocolate confections in The United States. Distinctly American, you won't find fudge in European chocolate shops where pralines are king. Fudge was invented sometime around 1886 in North Eastern United States. Folklore says a mistake ("fudged" colloquial English for a mistake) in making chocolate caramels at a candy kitchen in Baltimore Maryland gave rise to a never before eaten American classic. Aptly named fudge to honor a unique birth as a confection.
Dark Chocolate is the most common flavor of fudge. Nuts like peanuts or black walnuts will add a nice variation of texture and flavor.
Peanut butter and chocolate is a really popular combination in fudge recipes. Probably the first variation on the traditional chocolate fudge recipe was the inclusion of peanuts and then later peanut butter.
In this recipe below I wanted to keep the flavor mildly chocolate along with the crunchy texture of peanuts. Using chopped, salted peanuts instead of peanut butter adds a nice texture to fudge while also offering a pleasant flavor.
When asked how to make chocolate fudge I always recommend using good quality ingredients otherwise why waste the effort to make a homemade chocolate like this. Because I work for the company, I use Belgian Milk Chocolate Couverture from Santa Barbara Chocolate (one of my favorites). I selected milk chocolate instead of dark chocolate because I think it works better with the roasted peanuts and allows the fudge to become a more delicate truffle like confection. If I were making the fudge with no peanuts, I would use a dark chocolate, something like the Organic Dark Chocolate Couverture 66% from Santa Barbara Chocolate.
Ingredients:
1 – 14 oz can of sweetened condensed milk
20 oz of Belgian Milk Chocolate Couverture
1 ½ cups of peanuts, chopped
2 tbsp of butter
Pinch of salt
Instructions:
Grab an 8 x 8 inches pan and line it with parchment paper. You want to make sure there is some paper overhanging the edges because that is going to help you unmold the fudge later.
In a bain marie, also known as double boiler, melt your Belgian milk chocolate. I recommend melting the chocolate using this method to prevent burning.
When the chocolate is completely melted, add the sweetened condensed milk and stir together until well combined.
Incorporate the butter and a pinch of salt and mix until the butter melts into the chocolate.
Pour the mixture into the lined pan.
Place the pan in the refrigerator for at least two hours before serving.
Two hours later, pull out the parchment paper and with a table knife cut little squares of your chocolate fudge. If you feel that your fudge is too hard, slightly heat the knife and the cut the fudge carefully.
Roll all your fudge squares into a bowl full of chopped salted peanuts. Make sure to cover them completely.
You don't have to cut the fudge in squares, be creative! Maybe you will prefer bars or triangles.