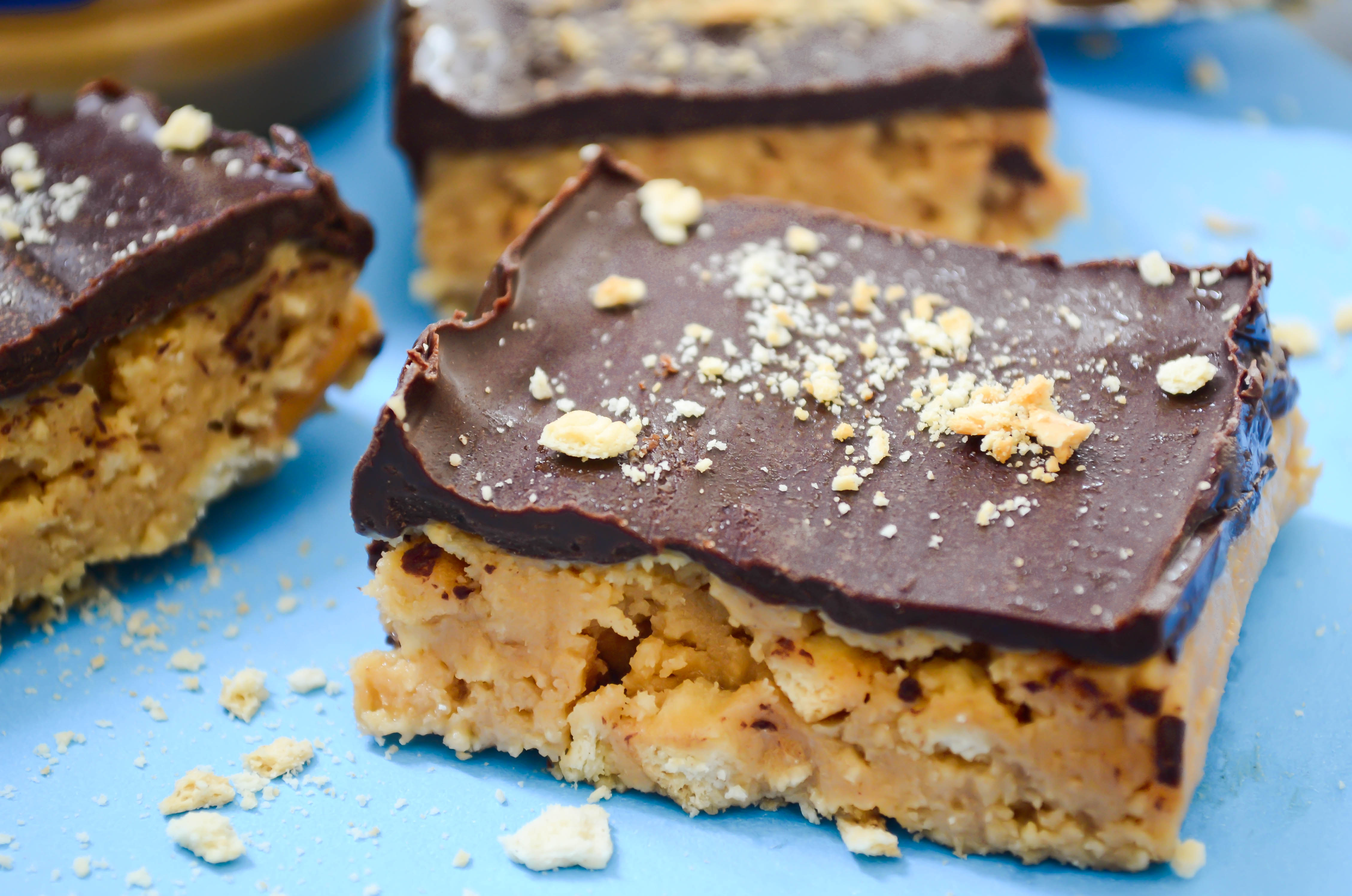 No Bake Peanut Butter Bars with Chocolate
Just to think about the delightful combination of chocolate and peanut butter makes most happy! These bars are easy to make, they don't call for many ingredients and you don't even have to turn on your oven to make them.
Should you use creamy or chunky peanut butter? That is totally up to you. If you want your bars as smooth as possible, then use the creamy version. But if you like the crunchy treats, then go for the chunky peanut butter.
Don't be afraid to personalize your no bake bars. You can always change things a little bit in order to make them a family recipe. For example: use crushed chocolate cookies or pretzels instead of digestive cookies, add a layer of caramel between the peanut butter and the chocolate, mix some chocolate chips with the peanut butter to make double chocolate bars or just add some sea salt on top to give them extra flavor, the salty sweet crunchy experience.
The Couverture Chocolate from the brand Santa Barbara Chocolate is the perfect option for this recipe. It is a gourmet chocolate that will take all your treats to the next level.
Ingredients:
¾ cup of butter, melted
1 cup of powdered sugar
1 ½ cups of peanut butter, your favorite kind
2 cups of digestive cookies
4 oz of Couverture Chocolate
Instructions:
Melt your Couverture Chocolate over a double boiler or carefully melt chocolate in the microwave. If you want to use the second option for melting chocolate chips, make sure to heat it for ten seconds, stir and repeat the same process until completely melted. Set aside.
In a large bowl, combine melted butter and peanut butter. Mix using either an electric mixer or a whisk.
Add the powdered sugar and keep mixing. Don't forget to sift it before to avoid big lumps of sugar.
Crush the digestive cookies using a food processor into really small pieces. If you don't have one, place the cookies inside a plastic bag and smash them with a roller. Add them into the bowl and mix well.
Take an 8-inch pan, previously lined, and add your peanut butter mixture. Spread evenly all over the pan.
Place your pan inside the refrigerator just for 10 minutes.
Take the pan out from the refrigerator and pour the melted couverture chocolate on top. Again, spread evenly all over the pan. You don't want to miss any spot!
Refrigerate for one hour to set up.
When ready, pull up the parchment paper or aluminum foil and place it on a flat surface.
Cut them as big as you wish!

https://www.santabarbarachocolate.com/chocolatier-jason-vishnefske/