Ingredients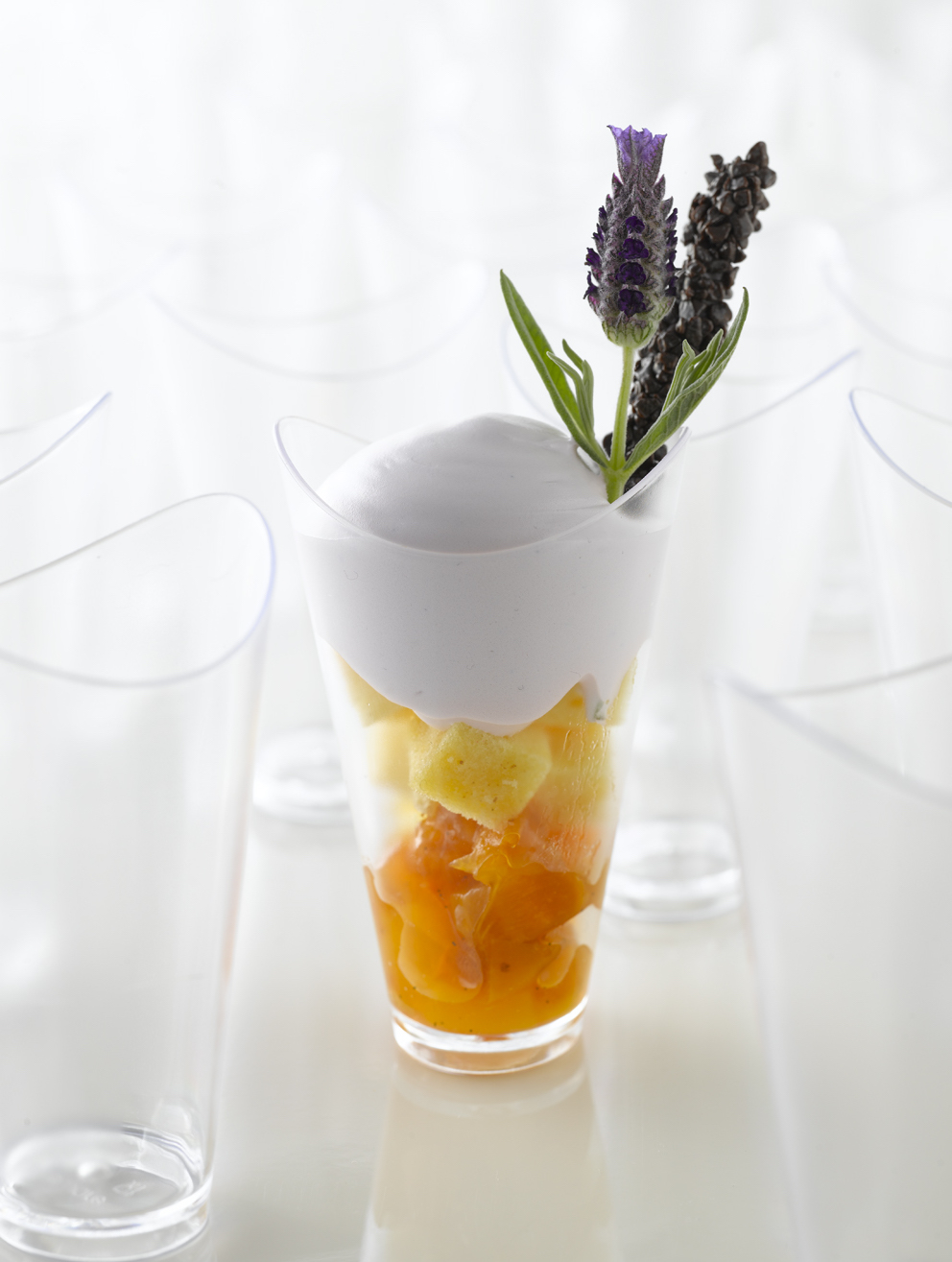 Streusel for Lemon Sponge
150g Unsalted butter
150g Raw Sugar
150g Almond Powder
130g Cake Flour
0.5g Fleur de Sel
Lemon Sponge
275g All Purpose Flour
230g Sugar
200g Whole Eggs
145g Lemon Juice
115g Cream 35%
75g Vegetable Oil
75g Inverted Sugar
10g Baking Soda
5g Lemon Zest
Poached Vanilla Apricot
500g Frozen Apricots
170g Water
130g Sugar
100g Apricot Puree
5g Vanilla Extract
Lavender Creme Legere
500g Whole Milk
500g Cream 35% (whipped to soft peak)
70g Gelatin Mass (6:1 ratio)
60g Egg Yolks
40g Sugar
40g Corn Starch
5g Dried Lavendar
5g Vanilla Extract
Directions
Streusel for Lemon Sponge
Mix all ingredients with paddle attachment until a crumble forms.
Place crumbs on a pan and place in freezer.
Lemon Sponge
Mix all dry ingredients together.
Separately mix inverted sugar, lemon zest, eggs and cream.
Mix cream mixture and dry mixture, then add vegetable oil and lemon juice.
Spread 1/2" thick in a pan and top with frozen crumbs. Bake until golden brown at 400˚F
Poached Vanilla Apricot
Bring water, sugar, vanilla and puree to a boil.
Pour over the frozen and diced apricots.
Let poach in refrigerator for 48 hours.
Lavender Creme Legere
Bring milk, lavender and vanilla to a simmer. Remove from heat and let sit for 10 minutes.
Combine sugar, egg yolks and corn starch. Mix until smooth. Temper infused milk into the eggs and then re-combine. Bring the mixture to a boil and stir for 1 minute constantly. Remove from heat.
Add white chocolate couverture and melted gelatin to pastry cream. Mix well and let cool completely.
Use the paddle attachment to combine with 1/4 whipped cream. Remove mixing bowl and gently fold in the remaining whipped cream.
Place in piping bag.
Assembly
Drain apricot and place in bottom of verrine.
Sprinkle diced lemon streusel sponge.
Pipe lavender creme legere.
Garnish with lavender.