Posted by Chocolatier Jason Vishnefske on 2nd Aug 2020
Cacao Rose Latte {paleo + vegan}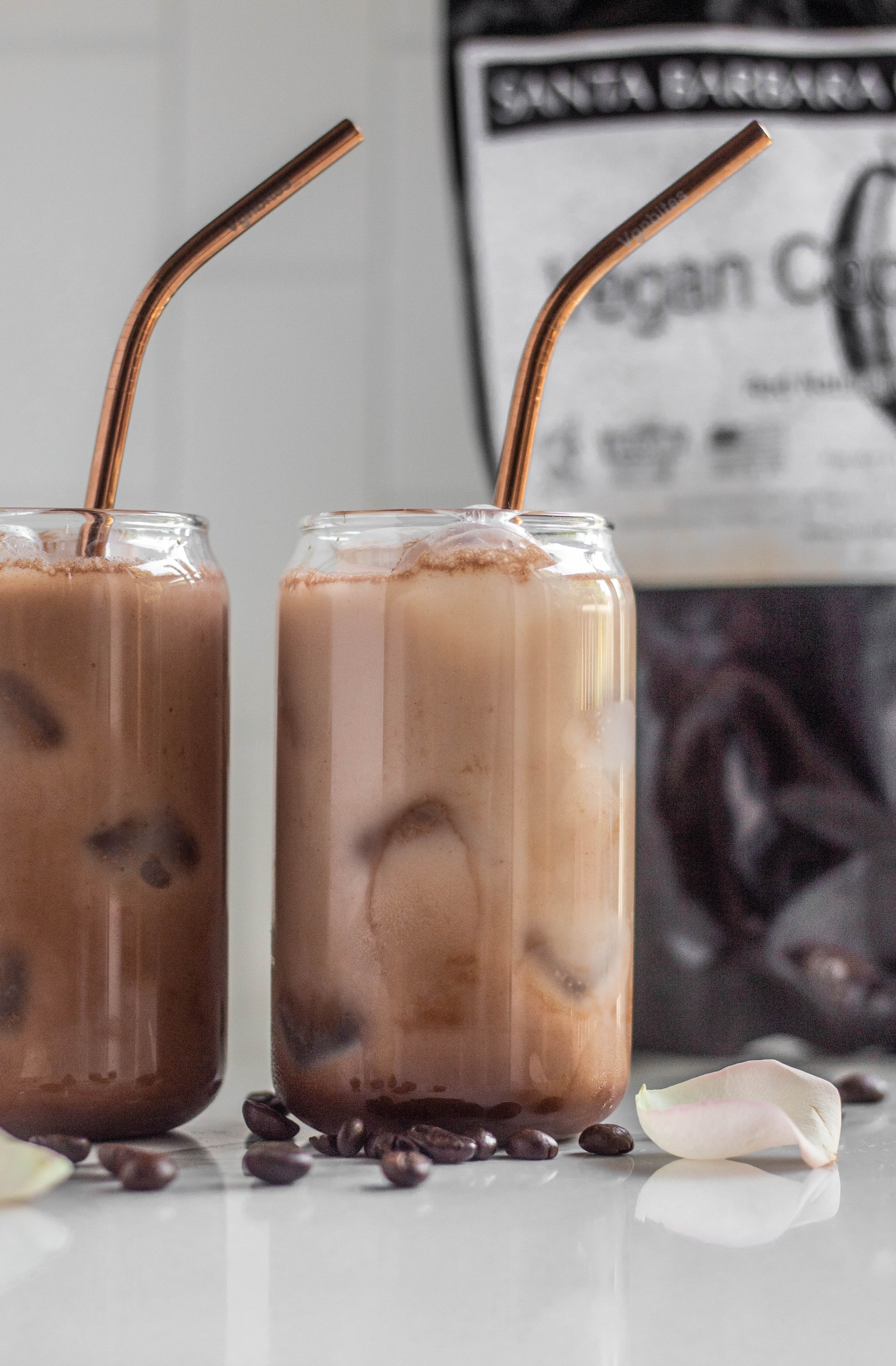 This rose latte is naturally sweetened so that it is both paleo and vegan! Made with espresso or cold brew coffee, plant based milk, Santa Barbara Vegan Cacao Powder, maple syrup, and a few drops of rose water.
I admit it is hard not to fall in love with rose water. If you have not tried it, you should, starting with this amazing cacao rose latte that freshens your morning with a healthy cold drink.
What you need to make this amazing cacao rose latte
All you need is simple 6 ingredients, that's all!
First, you need to make the coffee base:
Cold brew or espresso coffee.
Maple syrup.
Pinch of salt.
Vanilla extract.
Once you have your chocolatey coffee base ready, pour it over ice and top with a healthy pour of your milk of choice.
Is this cacao rose latte healthy?
This cacao latte is different from coffee drinks that are served at many typical coffee shops, this one is only sweetened with natural sweeteners, which instantly makes it a healthier choice.
It's also made with Santa Barbara cacao powder, which is AA red cacao with no added colors or fillers.
NATURAL PROCESS COCOA - NO ALKALIZATION
PREMIUM COCOA COMES FROM PREMIUM COCOA BEANS
KOSHER COCOA
NO ADDED FILLER
LOW ASH CONTENT
Vegan & Paleo
Cacao has also been said to boost your mood and lower stress.
Start your morning routine with this anti-stress latte and enjoy the real chocolate flavor!
Notes:
For the best texture, use your high-speed blender or handheld whisker to whip together the coffee / cacao / rosewater base. If you don't have either of those options available, vigorously shake it together in a tightly lidded jar or mix together with a whisk and a bowl.
A good ratio is about 1/2 coffee base and 1/2 plant milk. Any less milk than that and the flavor might be too strong.
This recipe is slightly sweetened with maple syrup,
Feel free to adjust the level of sweetness or leave it out all together.
Recipe:
Calories Per Serving: 155 kcal
INGREDIETNS:
For the coffee + cacao base:
4 oz cold brew coffee or 1 or 2 shots of espresso (about 2 Tablespoons)
1 teaspoon Santa Barbara cacao powder
1 teaspoon vanilla extract
2 teaspoons maple syrup(you can sub with honey or agave syrup).
1/2 teaspoon rose water
pinch of sea salt
For the latte:
6 ounces plant-based milk of choice (you can substitute with normal milk).
Method:
Use a handheld whisk/blender, or a jar with a tight fitting lid
Mix together the coffee or espresso, cacao powder, vanilla extract, maple syrup, rose water, salt.
Pour coffee base over ice and top with about 6 ounces of your favorite plant-based milk.
Serve immediately and enjoy!