Posted by Chocolatier Jason Vishnefske on 19th Feb 2020
Chocolate Coconut Fat Bombs
Wanting to make a delicious treat without having to turn on your oven? Well, these chocolate coconut fat bombs might be the answer! They are rich, filled with good fats that will give you lots of energy and also extremely yummy, perfect for any chocolate lover.
You can make this snack either with almond butter or peanut butter. Use your favorite one, both taste amazing with the other ingredients and both are really easy to make at home; you will need a food processor or a blender and about 2 or 3 ingredients. I recommend to prepare your own nut butter and keeping it in a glass jar so you can use it for several recipes or by its own.
For this recipe we're going to use Swiss Dark Chocolate and Rainforest Cocoa Powder, both from Santa Barbara Chocolate. This combo will give us the best flavor and texture for our fat bombs! Don't forget that it's important to use high quality ingredients to guarantee the best results when making a dish with such a few ingredients.
Chocolate Coconut Fat Bombs
Ingredients:
Instructions:
In a large saucepan, over low heat, add about 2 to 3 cups of water and bring to boil.
Place a heat proof bowl on top of the saucepan. Make sure the bottom of the bowl is not touching the hot water. This is called a double boiler and it is the best way to melt your chocolate to prevent burning it.
Add the Swiss Dark Chocolate into the heat proof bowl and wait until it melts. If you can't make a double boiler, melt your chocolate in the microwave but be really careful. Heat the chocolate for 10 seconds, stir, heat 10 more seconds, stir again and repeat the same steps until completely melted. It's really easy to burn the chocolate so don't try to heat it for too long at once.
In a separate large bowl, add the cup of almond or peanut butter and ¼ cup of coconut oil. Whisk to combine. You can do this by hand or with an electric mixer on low speed.
Sift in the cocoa powder into the coconut oil mixture. Stir to incorporate. It's important to sift the cocoa to avoid large lumps.
Finally, add the melted dark chocolate, liquid sweetener, vanilla extract and pinch of salt. Give it a last good stir to combine all the ingredients until creamy.
Place it in the refrigerator for 20 to 30 minutes just to chill it a bit.
Grab a tbsp. of the chocolate and roll a little ball. Repeat with all the remaining chocolate.
Place them in a tray and let them cool in the refrigerator for another 20 to 30 minutes.
Before serving the chocolate coconut fat bombs, cover them with shredded coconut. You can use any other toppings you like!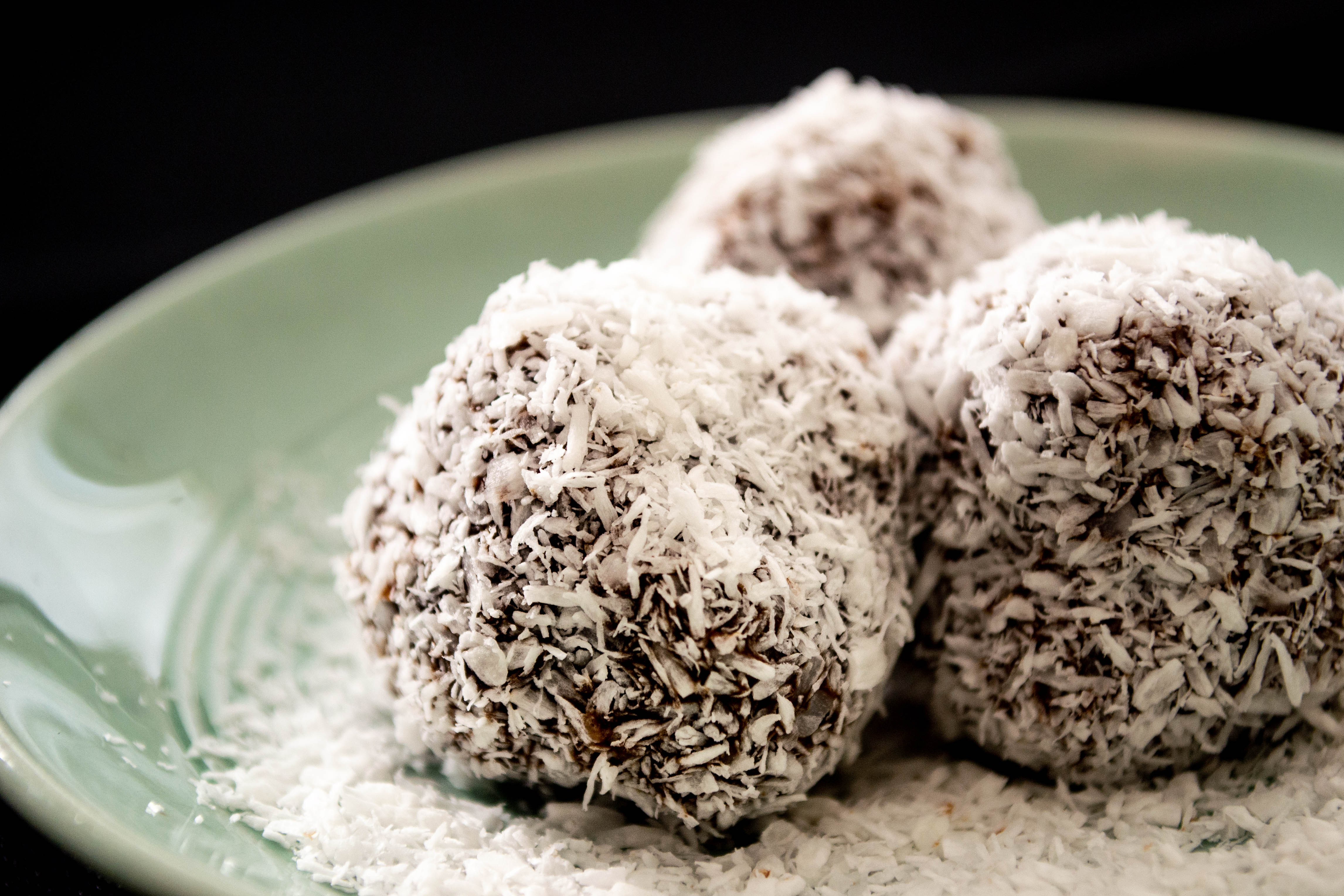 Chocolate Coconut Fat Bombs made with 2 ingredients and ready in 5 minutes!
To make these Chocolate Coconut Fat Bombs you only need 2 ingredients
● 2 cups chocolate of choice (I love using semisweet chocolate).
● 1-2 cups Coconut butter (I used homemade as recipe below). Otherwise, you could buy it ready!
How to make coconut butter?
Buying coconut butter is expensive, but you can easily make your own using just one ingredient- shredded coconut!
You can use shredded coconut or flaked coconut (both unsweetened), either works just fine. Though I've found coconut flakes tend to make for a slightly smoother finished product.
Please note that coconut butter is NOT the same as coconut oil. Coconut oil is the oil which has been extracted from the coconut meat. It can be refined or unrefined. In contrast, Coconut butter, which this recipe uses, is the coconut flesh ground to a smooth, creamy spread.
To make homemade coconut butter, simply add 2-4 cups of shredded unsweetened coconut in the food processor or blender. Mix on high speed, scraping down the sides often for approximately 18 or 19 minutes, until a thick paste is formed. It takes 15 to 20 Minutes - The coconut starts to pull together into a buttery paste. Continue to scrape down the sides of the processor regularly.
Storing: Leftover coconut butter can be stored in an airtight container, for up to 5 months. Depending on the temperature of your home, it will likely harden once cooled. To use, you can either heat it up in the microwave, or place in a shallow pot of very hot water and it will soften.
Instructions to make the chocolate coconut fat bombs:
1. Line cupcake liners in a muffin pan.
2. Melt your chocolate of choice. Pour into the cupcake liners and refrigerate until firm.
3. Ensure your coconut butter is smooth, creamy and spreadable.
4. Pour the coconut butter over the cooled chocolate.
5. Add some shredded coconut and Pecan (optional).
6. Refrigerate until firm. Once firm, you could enjoy eating it.
Storing Healthy Candy: Chocolate Coconut Fat Bombs should be kept refrigerated to ensure the coconut butter layer doesn't become gritty and/or melt. It is also freezer friendly.