Description
Swiss Dark Chocolate made to Swiss perfection.
This is much more than the Swiss chocolate you'll find at the store.
Santa Barbara Chocolate offers the real taste of Swiss Chocolate in a couverture chocolate chip. Using the top quality Swiss standard of chocolate making, a small chocolate facility in Zurich meticulously crafts this dark chocolate so it will be one of the best imported chocolates you'll ever try. Having the quintessential Swiss flavor famously known world wide, this is the epitome of Swiss dark chocolate. Popular with chefs and chocolatiers for ease of use and the sweet, exotic flavor, you've never had a dark chocolate as smooth as this one. Take your recipes and chocolate creations to a whole new level of satisfaction of cocoa goodness.
Semisweet Chocolate with a touch of added Swiss milk to round out the flavor.
Ingredients: Sugar, unsweetened chocolate, cocoa butter, anhydrous milkfat, soy lecithin (emulsifier) and natural vanilla powder. GMO Free ingredients.
Kosher Dark Chocolate
Why is gourmet Swiss Chocolate Famous?
Swiss chocolate is famous for being made from mild roast cacao, resulting in a light flavor. The smooth texture and clean melt are due to the chocolate making technique. Swiss chocolates will not have a heavy bitterness typical of other European chocolates like French chocolate. The result of Swiss technology using finely tuned chocolate machinery that follows exact procedures and temperature set points is how Swiss chocolate is made and this is why it is smooth. Recognized as a Noble Dark Chocolate in the realm of couvertures, this chocolate follows the time honored traditions of lengthy grinding producing an uncommon flavor of chocolate Switzerland is famously known to offer. Most Swiss chocolate brands sold in the USA are not made in Switzerland - our Swiss chocolate really is made in Switzerland following the scrutiny of Swiss law.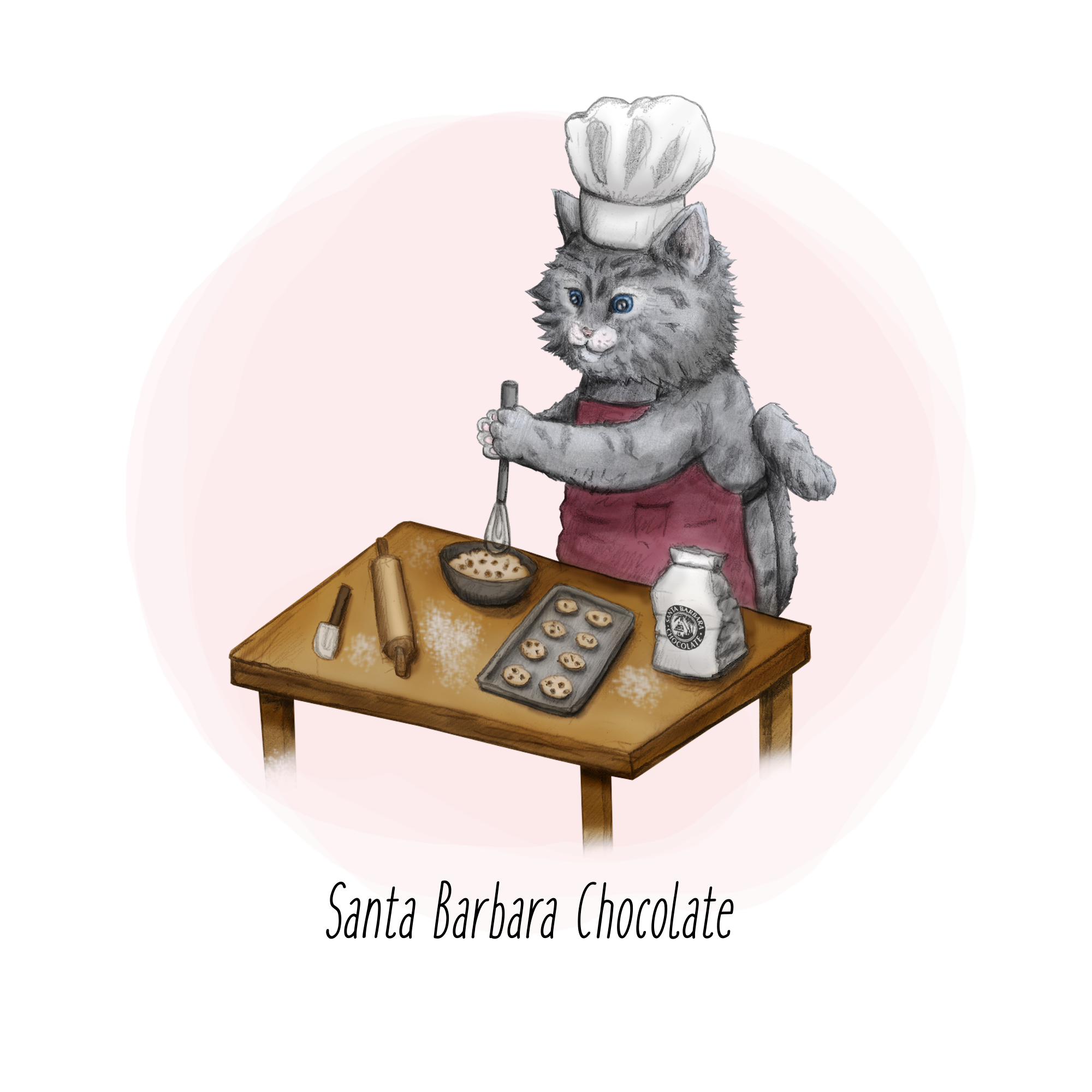 Premium Swiss Dark Chocolate Begins With Sustainable Cacao and the fair trade social movement
Our imported Swiss chocolate is sourced using UTZ Certified cacao.
Top quality cacao fruit comes from healthy Theobroma trees. From this amazing fruit we make the best tasting gourmet chocolates and cocoa powders. Our certified organic trees are given 32 square feet of space each so the tropical rainforest winds can blow around all four sides and penetrate the branches. This ensures the organic cacao fruit develops and ripens properly and with full flavor. Dedicated cocoa farmers check the trees daily to see how the cocoa pods are ripening and to "know" each tree and its needs. The farmers watch each pod. Interestingly, one fun fact the farmers shared with me is that the rainforest winds play an important part in protecting the quality of the organic cacao. Because the trees are open to receive the wind from all four directions, the cocoa pods are blown and washed clean daily by the afternoon tropical thunderstorms. This process cleans the pods and removes harmful tropical insects that may have flown onto the tree. It is a natural way of ensuring healthy cacao.
From these top notch healthy organic cacao fruit we bring to you the world of organic chocolate. Tastes have changed over the years and today the status quo isn't what we want, and most likely you don't either. That's why you are reading this right now, you are seeking more than the typical. Santa Barbara Chocolate is evolving with you in new ways of thinking. Direct flavors with a clear ingredients listing is what you want and so do we. Our organic chocolates are flavorful and memorable. When you use one of our chocolates in a recipe you'll have the tools to create new innovative desserts. A top chocolatier told us he appreciates that we offer the unique organic ingredients for him to make chocolate truffles that are clear in flavor and lasting in impression. Within our organic chocolate you'll find the natural purity of taste. Bold cocoa flavors touched by subtle nuances of the unique premium cocoa bean are the hallmarks of our range of organic chocolate and organic cocoa powder.
Swiss Chocolate made from high quality cocoa beans:
Rainforest Cacao which has Pure Flavor and is Famous for Quality
Rainforest cacao is often found under a canopy of shade trees of banana. This natural canopy helps protect the delicate cacao trees from direct sun, heavy rain or wind. As a result of this protective cover the cacao trees flourish in a healthy environment and they grow premium cocoa pods with the best tasting cacao. We have asked the Swiss chocolate maker to source indigenous cacao with pleasant floral, nutty notes when making our custom made Swiss Brand chocolate. This is a gourmet chocolate experience you'll enjoy tasting right from the package.
Swiss Cooking and Baking Chocolate
Switzerland is a land well known for exclusive banking, premium watches and beautiful gold ingots is also famous for premium chocolate. From this nestled land, a confederation of ideals, there is a core value of quality and refinement. This attitude of not accepting ersatz goods is pervasive in all aspects including cooking and the ingredients used in cooking. Swiss food is just like all other aspects of the culture: clean, basic, delicate and superior. This delicate style of cooking is to enhance flavors and to balance the nuances. Swiss coffee for example is best described as mild roast. Swiss chocolate is similar. The choice of cacao varieties in this chocolate is a subtle and nuanced combination. This graceful chocolate naturally lends itself to intricate cooking and baking. Cooking with this chocolate is a snap due to the mild flavor that allows the true essence of the dessert intent to showcase itself; meaning it is great for flavoring and ganache because it has a mild flavor. Swiss chocolate is easy to add flavors that come through with a clean and pure taste. Delicate flavors like blueberry or mandarin orange, raspberry liqueur or hazelnut pair nicely with this chocolate. Not too bitter, but just dark enough to be enjoyed as a bittersweet chocolate, this is the best choice for frosting a cake.
Swiss Dark Chocolate
Wafers
Ingredients
Sugar, unsweetened chocolate, cocoa butter, anhydrous milkfat, soy lecithin (emulsifier), natural vanilla powder.
Country of Origin
Switzerland
Allergen Information
Contains: Milk and soy.
Physical and Chemical Properties

Method

Moisture

≤ 1%

IOCCC1(1952)

Total fat content

36.5 – 39.5%

IOCCC14(1972)

Fineness (> 30 micron)

≤ 3%

IOCCC38(1990)
Microbiological Properties

Method

Total Mesophilic Aerobic Count

≤ 5000/g

ISO4833

Mold

≤ 50/g

ISO7954

Yeast

≤ 50/g

ISO7954

Enterobacteriaceae

≤ 10/g

ISO21528-2

Coliforms

≤ 10/g

ISO4832

E. Coli

Absent/g

ISO16649-2

Salmonella

Absent/25g

ISO6579
Recommended Storing Conditions
60 - 68°F; relative humidity < 60%, in odor free atmosphere.
Shelf Life
Best used within 24 months of production date.
Nutritional Information on Average for 3.53oz (100g)

Calories

562kcal

Total fat

38.0g

Saturated fatty acid

22.8g

Monounsaturated fatty acid

12.2g

polyunsaturated fatty acid

1.2g

Trans fatty acid

0.2g

Cholesterol

10.9mg

Total carbohydrates

46.7g

Sugars (mono+disaccharides)

44.6g

Polyols

0g

Starch

1.9g

Dietary fiber

7.0g

Total protein

4.4g

Milk protein

0g

Salt

0.01g

Sodium

3.8mg

Organic Acids

0.61g

Total alkaloids

0.45g

Polyhydroxy phenols

1.13g

Alcohol

0g

Vitamin A

39.487µg

Provitamin A

5.920µg

Vitamin B1

0.074mg

Vitamin B2

0.074mg

Vitamin B3

0.554mg

Vitamin B5

0.295mg

Vitamin B6

0.037mg

Vitamin B12

0.0μg

Vitamin D

1.591μg

Vitamin E

2.946mg

Vitamin H

0.0mg

Vitamin M

10.603μg

Vitamin K

0µg

Vitamin C

0.0mg

Phosphorus

138.9mg

Iron

10.84mg

Magnesium

87.7mg

Zinc

1.22mg

Iodine

0µg

Calcium

24.4mg

Chloride

7.43mg

Potassium

407mg

Copper

2.81mg

Manganese

0mg

Fluoride

0.09mg

Selenium

3.4µg

Chromium

44.32µg

Molybdenum

53.92µg

Ash Content

1.07g

Isomaltulose

0g
*Nutrient content information is indicative of composition but not intended as definitive or complete. It is not intended for use in determining specific nutrient labeling values in finished products containing this ingredient as the responsibility for determining label information lies with the finished product manufacturer. Organic matter such as contained in products of this nature is subject to variation in nutritional composition. We disclaim any and all warranties, whether express or implied, including the implied warranty of merchantability. Our responsibility for claims arising from breach of warranty, negligence or any other cause shall not include consequential, special or incidental damages, even if we have been made aware of the possibility of such damages, and is limited to the purchase price of the product. None of the statements made herein shall be construed as a grant, either express or implied, of any license under any patent held by Santa Barbara Chocolate or other parties.
Warranty Information
Swiss Dark Chocolate Couverture by Santa Barbara Chocolate is ready to eat. This is the exotic taste of criollo cacao. Grown deep in the pristine rainforest, this rare chocolate tastes floral with subtle cocoa notes.