Posted by Chocolatier Jason Vishnefske on 30th Jan 2017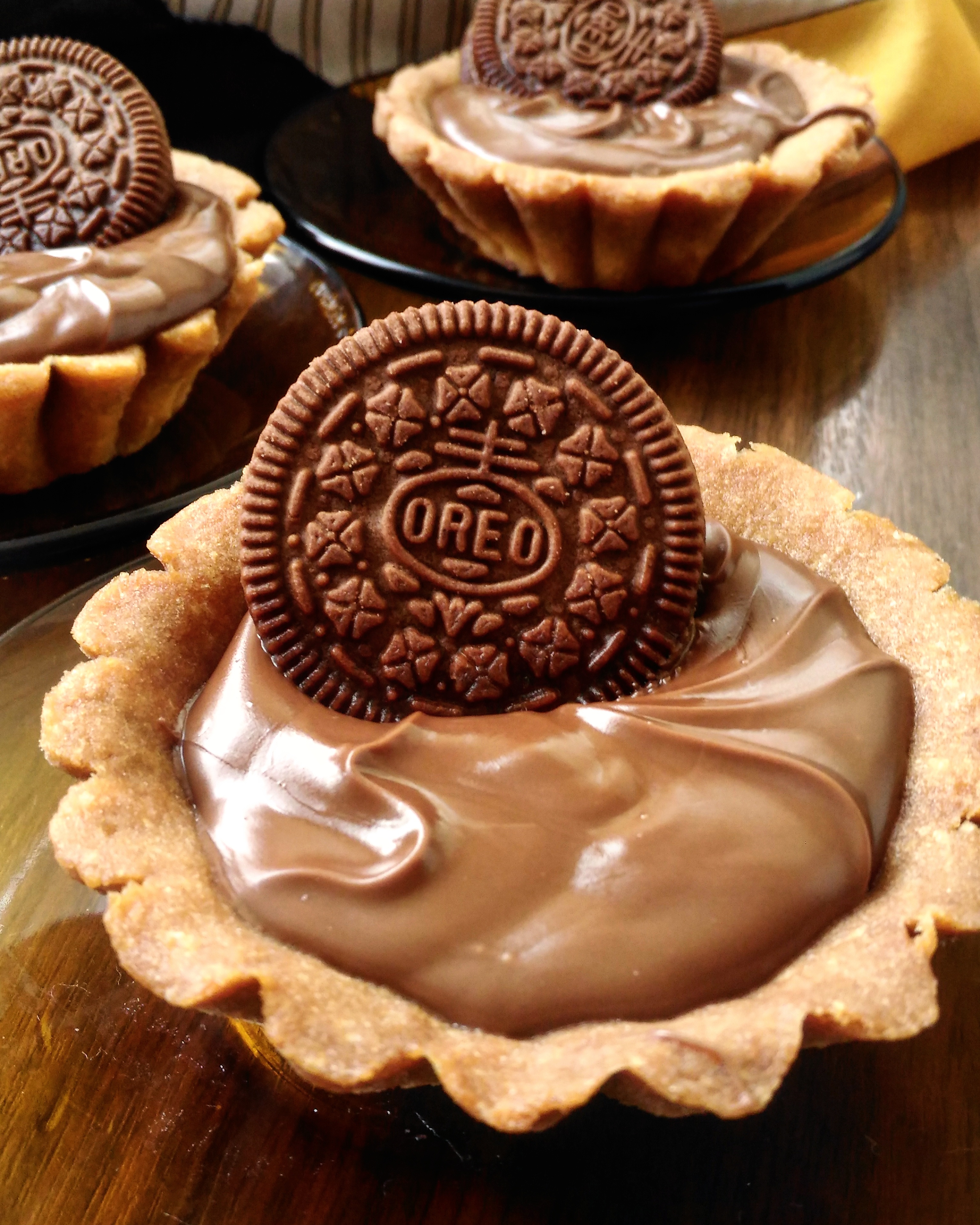 Worldwide Favorite Recipe: Homemade Chocolate Cream Pie and Hazelnut Spread
Who does not love a warm toast or a pancake tower with a good amount of chocolate spread on top? "Chemically speaking, chocolate really is the world's perfect food." – Michael Levine.
In this recipe we are going to combine two worldwide favorites: pie crust and chocolate hazelnut spread; we like to call these "Choco Cups". As usual we are choosing to use just high quality ingredients to get the best results.
Santa Barbara Chocolate sells a really exotic cocoa powder named "Rainforest Red Cocoa Powder"; this one has no filler added and it is also low in ash content, perfect for any dessert recipe you want to try!
So basically these are mini chocolate cream pies where the filling is a homemade chocolate hazelnut spread. The flavor is very chocolatey and a nice twist on the traditional chocolate cream pie recipe. Personally I love this pie because it is a great merger of American pie making with the savoir faire of European chocolate making. I can assure you no matter how you decorate and serve these desserts, your guests will love them. Dress them up with edible gold leaf or make them home style with a cookie garnish.
Ingredients:
For the Chocolate Cream Pie crust:
2 cups of flour
¾ cup of cold butter cubes
¼ cup of cold water
A pinch of salt
For the Chocolate Hazelnut Spread filling (this is the chocolate cream filling which includes hazelnuts):
2 cups of hazelnuts (peeled)
½ cup of Rainforest Red Cocoa Powder
1 cup of powdered sugar
1 tsp. of vegetable oil
A pinch of salt
Instructions:
For the Chocolate Cream Pie crust:
Mix flour and salt together inside a large bowl.
Add the cold butter cubes, it is really important to use cold butter in this recipe, I recommend putting it into the freezer for an hour before start making the crust.
Start cutting in the butter cubes until you get a crumbly texture.
Take the cold water and pour in a little bit; do not add the whole ¼ cup at once because maybe you won't need as much, this varies all the time depending on the ingredients brands you are using.
With your clean bare hands start kneading the dough until you are able to shape it into a ball form.
With the help of a rolling pin, roll the dough, if you are going to make just one big pie crust do it in a circular shape, if you are going to make several mini pie crusts do it in a rectangular shape.
Place the dough into the pan (s) and bake it at 375°F for 20 minutes or until golden and crispy.
For the Chocolate Hazelnut Spread filling:
Put all your peeled hazelnuts in a pan and bake them at 350°F for 5-8 minutes, be careful not to burn them. Toasting these nuts will help to give a really intense flavor.
After the hazelnuts cooled down, chop them into really tiny chunks.
Add the hazelnuts into a blender and blend them until you start seeing their own natural oil coming out.
At this point, sieve the Rainforest Red Cocoa Powder and powdered sugar into the blender, blend for 2 minutes.
Finally, add the vegetable oil and the pinch of salt, blend it for 2-3 minutes more, until everything is combined.
If you can't find peeled hazelnuts, just toast them with the skin and when they are still warm put them in a towel, cover them with another towel and rub them until all the skin is off.
IF YOU WANT A SUPER EASY CHOCOLATE CREAM PIE FILLING OPTION, TRY OUR DARK FUDGE ONYX FILLING (THIS IS WHAT MOST RESTAURANTS AND BAKERIES USE): https://www.santabarbarachocolate.com/onyx-dark-cocoa-confectionery-coating-truffle-filling/
To assemble:
Wait until the pie crust is cooled down, if you don't wait the heat will melt the chocolate spread.
Pour all the chocolate hazelnut spread inside the pie crust and put it into the refrigerator for 20 minutes.
Decorate with any kind of cookie or fruit you prefer.