Chocolate Meringue Pie when made properly will have a thick chocolate custard filling. An easy to make dessert, this recipe reveals the secret to a delectable custard filling. There are a lot of pie recipes, but there is nothing quite like a homemade chocolate pie.
INGREDIENTS FOR THE PIE CRUST:
2 cups all purpose flour (substitute with 1:1 Gluten Free flour to make it a GF crust)
1 teaspoon salt
2 teaspoons of sugar
2 cups unsweetened vegan butter (room temperature).
1 cup lukewarm almond milk (you can substitute with whipped vegan cream or coconut cream)
FOR THE MERINGUE HOT FILLING:
¾ Cup Sugar
5 Tablespoons Santa Barbara Chocolate Cocoa Powder *The key ingredient in this recipe is the Vegan Cocoa Powder which gives the pie a smooth chocolate custard filling.
3 Tablespoons Cornstarch
1⁄4 Teaspoon Salt
2 Cups Whole Milk
3 Large Egg Yolks, room temperature
1 Teaspoon Vanilla Extract
FOR THE MERINGUE:
3 Large Egg Whites, room temperature
¼ Teaspoon Cream of Tartar
6 Tablespoons of Sugar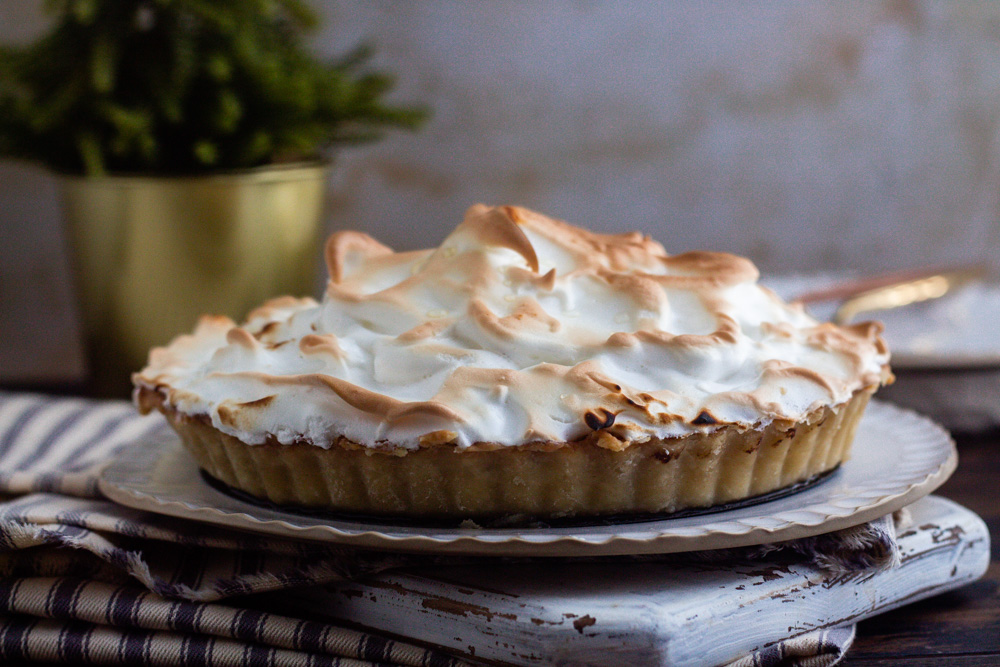 INSTRUCTIONS:
Make the Pie Crust:
1. Put flour, sugar, salt, milk & unsweetened vegan butter (room temperature) into the bowl of a food processor and whisk or pulse 6 to 8 times until combined.
2. Using your hands, quickly pack the dough into a smooth ball.
3. Wrap the dough disk tightly in plastic wrap, then refrigerate for at least 1 hour.
4. Once your pie dough is chilled, remove from fridge and let it warm up on floured surface for a few minutes.
5. Roll out with a rolling pin, always start at the center of the crust, on a lightly floured surface to a 12-inch circle; about 1/8 of an inch thick. As you roll out the dough, check if the dough is sticking to the surface below. If necessary, add a few sprinkles of flour under the dough to keep the dough from sticking.
6. Carefully place onto a 9-inch pie plate. Gently press the pie dough down so that it lines the bottom and sides of the pie plate.
7. Use a pair of kitchen scissors to trim the dough to within 1/2 inch of the edge of the pie dish.
8. Using a fork make some holes in the bottom of the pie.
9. Fill shell with pie weights or dry beans and bake at 375° F for 20 minutes (until crust is golden).
Make the filling and assemble the pie:
In a saucepan, mix sugar, Santa Barbara Chocolate Cocoa Powder, cornstarch and salt; gradually add milk. Cook and stir over medium-high heat until thickened and bubbly. Reduce heat; cook and stir 2 minutes more. Remove from heat. Stir about 1 cup of the hot filling into the egg yolks. Return to saucepan and bring to a gentle boil. Cook and stir 2 minutes. Remove from the heat and stir in vanilla. Pour hot filling into pie crust.
For meringue, add to a bowl beat egg whites and beat with cream of tartar until soft peaks form. Gradually add sugar and continue to beat until stiff and glossy. Spread evenly over hot filling, sealing meringue to pie crust. Bake at 350°F for 12-15 minutes or until golden.