Chocolate Chip Zucchini Bread
Refined sugar free, gluten/dairy free
Before you dismiss this recipe when seeing zucchini in the title, allow this bread to surprise you! If you don't already, prepare to be familiar with one of my favorites quotes, "chocolate makes everything better" and in this recipe, it's definitely true!
I personally and regularly love to add veggies in my baked goods! Not only does it sneak in a little extra nutrients to treats, but also can really help keep the moisture and provide better texture. Another great reason for adding veggies, is it also contributes to the volume!
By adding veggies to baked goods and other recipes, you can increase the portions by ½x – 2x the amount a traditional recipe makes. Some of my go-to veggies to bake with are zucchini like this recipe, pumpkin, cauliflower, carrots and broccoli, but feel free to get creative! Some ways I regularly hide veggies into recipes are riced cauliflower in oatmeal, steamed/frozen cauliflower in smoothies, riced broccoli in casseroles or baked entrees and pumpkin or squash puree in soups.
Have any over ripened avocados? No problem, just blend them up and use them as an oil substitute for brownies or muffins! This method of sprucing up your recipes is also a great way to use up vegetables that are about to go bad. By blending them up, baking and adding them to recipes with ingredients like chocolate or spices, you mask the flavor. I love to do this in my sauces, like pesto with wilted fresh herbs! When paired with other pungent flavors like citrus and garlic, you would never guess your basil was on its last leg!
When adding sweeter veggies, it can also add a bit of sweetness, calling for less added sweetener.That's why adding veggies like pumpkin, squash, carrots or beets are perfect for desserts and soups. If you prefer a lower carb diet, freezing these kinds of veggies pureed in an ice cube tray for smoothies is a great way to make fruit-free smoothies!
Now get ready to meet one of your soon to be favorite ways to get your serving of veggies!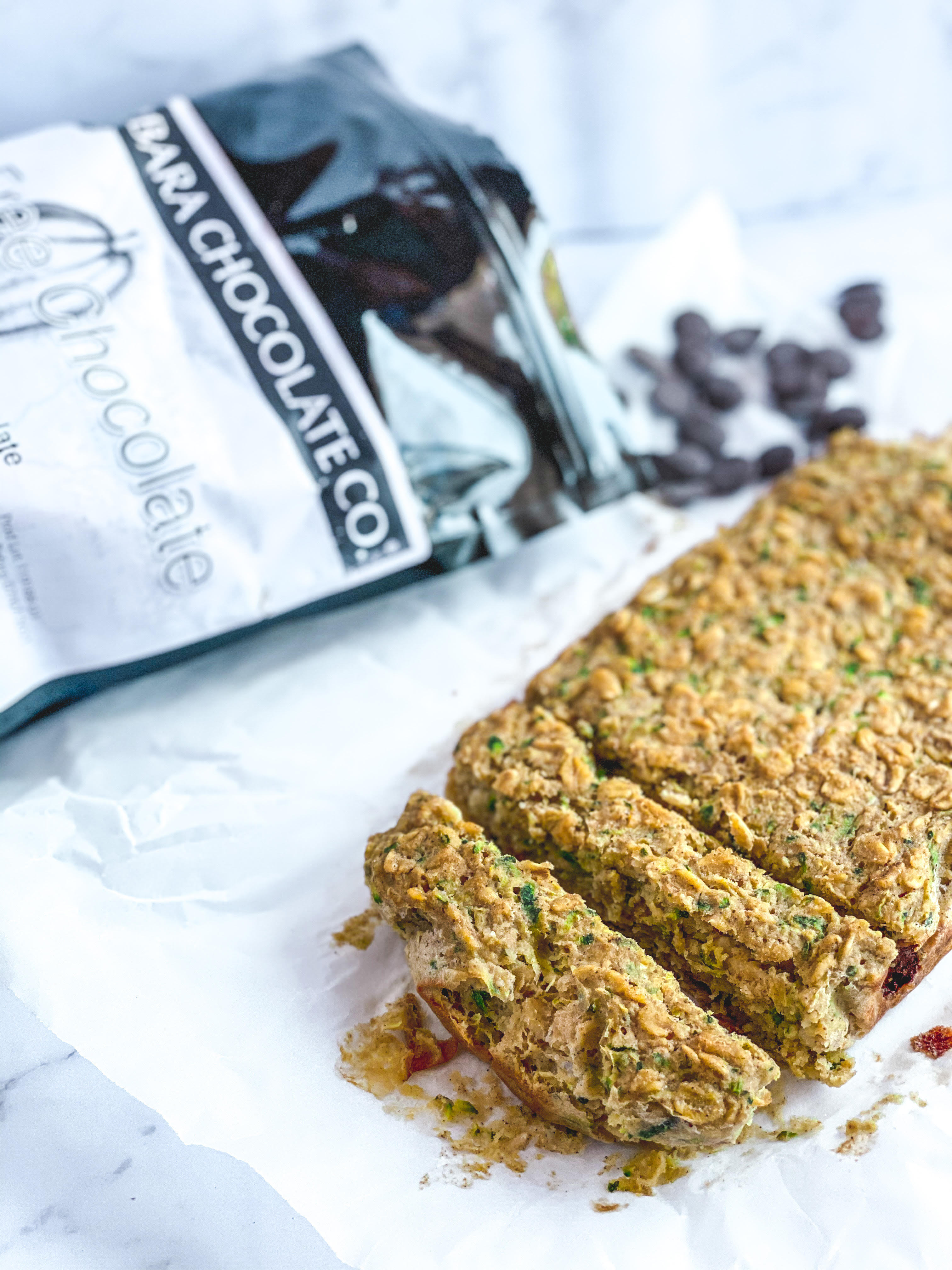 Recipe
Makes: 9 slices Prep Time: 10 minCook Time: 40-45 min
Ingredients
1 medium zucchini, shredded
1 cup gluten free rolled oats
1 cup almond flour (oat flour works too!)
1 egg or 2 egg whites
1 cup unsweetened applesauce
1 ½ tsp baking powder
1 tsp vanilla
½ tsp salt
1 tsp cinnamon
¼ cup Santa Barbara Co. sugar free chocolate chips
Directions
Preheat oven to 350 degrees and line or grease a loaf pan.
In a medium bowl, add dry ingredients and mix.
In a separate bowl, whisk together egg, vanilla and applesauce until completely combined.
To the dry mixture, add shredded zucchini and fully incorporate. Then add the wet mixture, and mix.
Add in the chocolate chips before giving the batter a finial mix.
Transfer to your lined baking pan and bake for 40-45 minutes.
Once finished baking, take out of oven and let cool before serving.
{ "@context": "https://schema.org/", "@type": "Recipe", "name": "Chocolate Zucchini Bread", "image": "https://www.santabarbarachocolate.com/product_images/uploaded_images/chocolate-zucchini-bread.jpg", "description": "Before you dismiss this recipe when seeing zucchini in the title, allow this bread to surprise you! If you don't already, prepare to be familiar with one of my favorites quotes, chocolate makes everything better and in this recipe, it's definitely true!", "keywords": "Chocolate Zucchini Bread", "author": { "@type": "Person", "name": "Chocolatier Jason Vishnefske" }, "datePublished": "2020-07-24", "prepTime": "", "cookTime": "", "totalTime": "", "recipeCategory": "dessert", "nutrition": { "@type": "NutritionInformation", "calories": "" }, "recipeIngredient": [ "1 medium zucchini, shredded", "1 cup gluten free rolled oats", "1 cup almond flour (oat flour works too!)", "1 egg or 2 egg whites", "1 cup unsweetened applesauce", "1 ½ tsp baking powder", "1 tsp vanilla", "½ tsp salt", "1 tsp cinnamon", "¼ cup Santa Barbara Co. sugar free chocolate chips" ], "recipeInstructions": [{ "@type": "HowToStep", "text": "Preheat oven to 350 degrees and line or grease a loaf pan." },{ "@type": "HowToStep", "text": "In a medium bowl, add dry ingredients and mix." },{ "@type": "HowToStep", "text": "In a separate bowl, whisk together egg, vanilla and applesauce until completely combined." },{ "@type": "HowToStep", "text": "To the dry mixture, add shredded zucchini and fully incorporate. Then add the wet mixture, and mix." },{ "@type": "HowToStep", "text": "Add in the chocolate chips before giving the batter a finial mix." },{ "@type": "HowToStep", "text": "Transfer to your lined baking pan and bake for 40-45 minutes." },{ "@type": "HowToStep", "text": "Once finished baking, take out of oven and let cool before serving." }], "aggregateRating": { "@type": "AggregateRating", "ratingValue": "5", "bestRating": "5", "worstRating": "1", "ratingCount": "1" }, "video": { "@type": "VideoObject", "name": "Chocolate Zucchini Bread", "description": "Before you dismiss this recipe when seeing zucchini in the title, allow this bread to surprise you! If you don't already, prepare to be familiar with one of my favorites quotes, chocolate makes everything better and in this recipe, it's definitely true!", "thumbnailUrl": "https://www.santabarbarachocolate.com/product_images/uploaded_images/chocolate-zucchini-bread.jpg", "uploadDate": "2020-07-24", "contentUrl": "https://www.youtube.com/5KiNsOYv260", "embedUrl": "https://www.youtube.com/embed/5KiNsOYv260" } }