Cremeux Recipe
This recipe is for all the dense chocolate lovers that enjoy having a rich and thick dessert!
What is a Cremeux exactly? Well, it translates to "creamy" in French, and it is dessert that looks like a mousse but extra creamy. Also it's incredibly versatile, it can be served by its own, maybe with some toppings or you can use it to fill a pie, doughnuts, decorate a cake, spread on a toast, anything you want.
As any other recipe where the main ingredient is chocolate, we are going to use just high quality chocolate to get the best results we can. For this one I recommend to use the Sugar Free Chocolate Chips from Santa Barbara Chocolate. Also, using chips will help to melt the chocolate easier. If you choose to use another kind of chocolate, don't forget to chop it into small pieces before adding it to the cream to melt.
Feel free to use this recipe as a base to incorporate other flavor and ingredients you want like chopped nuts, some black coffee, vanilla beans, anything you can imagine. The best part of making your desserts at home is to experiment and to give them your personal touch!
Ingredients:
200 g of Sugar Free Chocolate Chips
1 cup of whole milk
1 cup of heavy cream
3 egg yolks, room temperature
½ cup of white sugar
A pinch of salt
Instructions:
In a pan, over low heat, add in all the whole milk and heavy cream. Stir with a wooden spoon and bring to simmer. When ready, remove from heat immediately.
In a medium bowl, combine the white sugar and egg yolks. Stir using a whisk until creamy and completely combined. Some people use two whole eggs instead of three yolks, both are good options.
Add the hot cream mixture into the bowl with eggs and sugar but a tbsp. at a time. Pour a tbsp., stir, pour another tbsp., stir again, keep repeating the steps until incorporated for complete.
Transfer the mixture to the saucepan, add the pinch of salt and place it over low heat. Stir continuously with the wooden spoon. This will give us a thick custard after about 5 to 6 minutes. Keep an eye on it all the time.
Strain the custard into a large bowl, this will help us to get rid of any large lump that might be there to get a smooth and silky texture.
Add in the Sugar Free Chocolate Chips and let them there to melt. After about 2 – 3 minutes, stir to combine. If the chocolate is not completely melted yet, wait another 1 – 2 minutes. Give it a last good stir.
Cover the bowl with plastic wrap, slightly pressing it into the surface of the Cremeux. The plastic wrap is important to keep the texture of the dessert.
Place the Cremeux into the refrigerator and let it chill for at least 2 hours before serving. I recommend to let it chill overnight.
Serve in a glass or use it to decorate and dessert and enjoy!!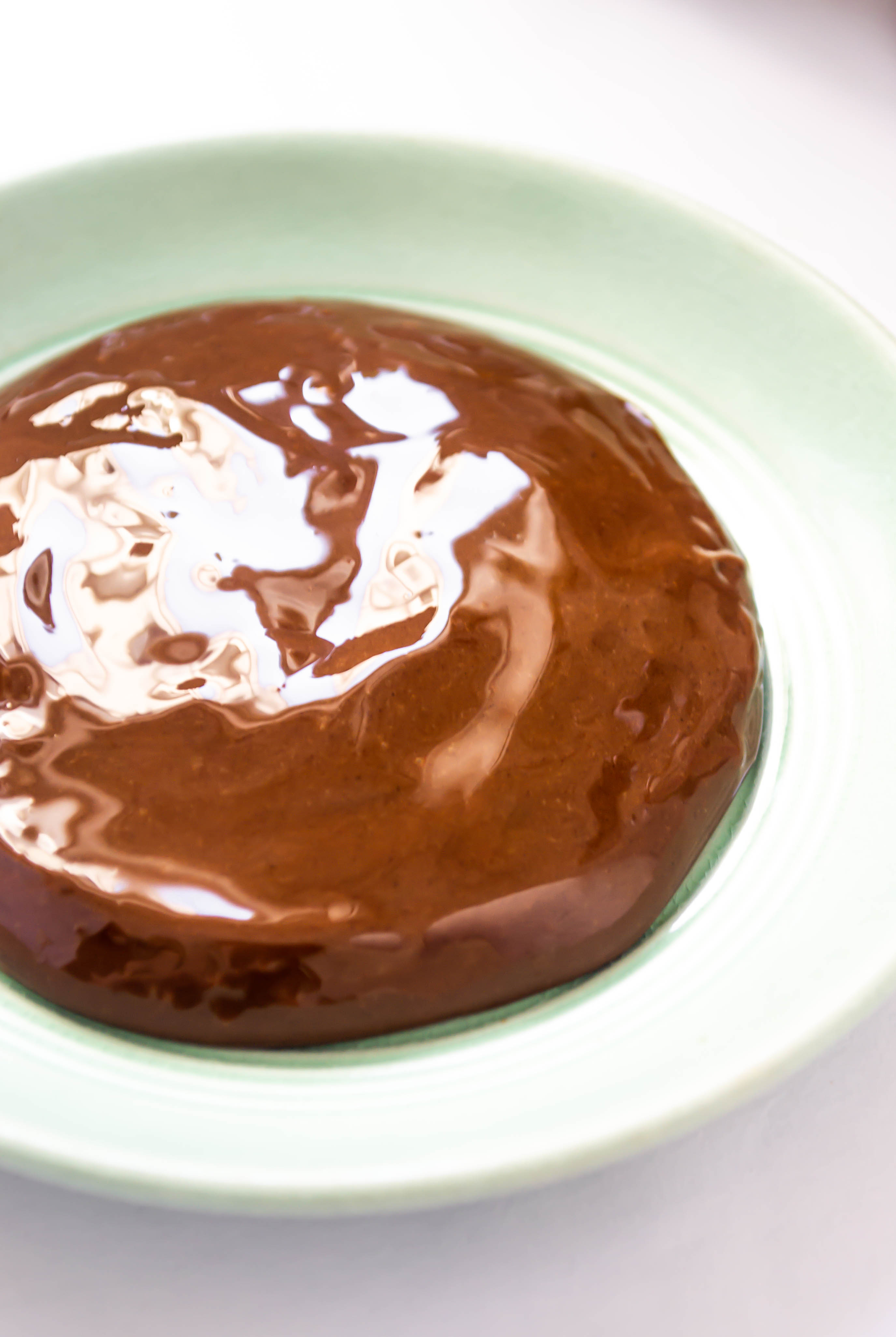 DARK CHOCOLATE CRÉMEUX
Crémeux is simply a French word that means - creamy!
It is not really a chocolate sauce nor is it a mousse, it's sort in between both.
How to make the perfect chocolate crémeux? Dark chocolate crémeux or chocolate cream is a smooth, dense pastry creamy with a rich and intense chocolate taste – firm enough to hold its shape in a layered dessert or to be piped on top a pastry shell. For the perfect taste and texture, it is recommended to use finest chocolate with a higher cocoa percentage or pronounced flavour.
To make chocolate creme it's very simple. You need basic ingredients, which are: Egg yolk, sugar, milk and heavy cream. You could add vanilla as a flavoring (which is the most common, but you can use lemon oil or almond also).
Ingredients :
2 egg yolks
1 Tbs sugar
1/2 cup whole milk
1/2 cup heavy cream
Method :
Heat up the milk with the sugar and stir together till boiling, and in the meantime mix together the egg yolk with the sugar. It is important you don't add your sugar to your egg yolks before your milk mixture is hot and ready. The reason is that sugar is very hygroscopic and it will absorb the moisture content of your egg yolks, thus leaving you with grainy spots of yolks that you will have to strain out. If you don't, you will end up with little bits of sand like specs in your chocolate creme, and it's very unpleasant.
So if you are planning on making this, just be warned, DO NOT rush the sugar + egg yolk until your milk is hot and ready to be tempered.
When the milk comes to boil, turn off the heat and stream in the egg yolk mixture while quickly whisking. This whisking step is important due to the fact that if you don't whisk the mixture fast enough, the heat from the milk and pot might end up cooking the yolks, and you will end up with some kind of scrambled eggs gone horribly wrong.
In the world of baking and pastries it's refereed as TEMPERING.
Now pour back the sauce into a clean saucepan and heat gently while stirring with a wooden spoon or spatula for about 10-15 seconds till your cream hits 179.6 °F (82°C)
Pour immediately over the chocolate (some pour the sauce through a fine mesh strainer to filter our any egg yolk pieces in the bottom of the pan - depends if you had them). Then add in the chocolate and whisk vigorously the whole mixture. Start the whisking from the center of the bowl and then whisk your way out with bigger circular motion until the overall mixture is fully emulsified.
The end result is a really creamy, fully bodied chocolate mousse-like sauce. You can use it as a cake filler, tart filling or a sauce for ice cream or let it sit in the fridge until the gelatine sets and eat like a pudding. It's a perfect dessert for anyone who loves chocolate.
The chocolate crémeux can be refrigerated for up to 2 days.