Easy Dark Chocolate Fudge Truffle Recipe:
Line a 9" pan with foil or just spray with oil.
3 cups sugar
3/4 cup butter
1 small can (5oz) EVAPORATED MILK, not condensed
12 oz of chocolate, your choice of type and cacao % (I used organic dark chocolate 70%)
1 jar (7oz) marshmallow creme
1 cup choice of nuts and can add dried fruit (I added pecans and raisins - 1 cup each)
1 tsp. Vanilla
Bring sugar, butter and evaporated milk to a boil in a large pan, boil over medium heat and stir constantly (wood spoon works best).
Cook approximately 4 min. Boil, reaching 234 degrees F. Remove from heat.
Add chocolate and marshmallow creme, stir until melted.
Add nuts and vanilla, mix well.
Pour into pan and spread quickly. Cool completely.
Cut into fudge squares and cocoa dust to make chocolate fudge truffles (see photo)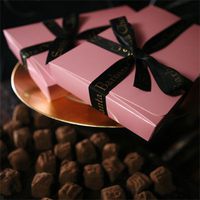 Mom made these fudge truffles as a gift for me this last Christmas using our Belgian Dark Chocolate 64% . I was so impressed with how great it tasted I asked her for the recipe and then made my own batch using our dark organic chocolate. The organic dark fudge tasted extra dark with a slight fruity red berry flavor. Adding a little bit of milk chocolate would have mellowed the batch out some so it wouldn't have had such a strong extra dark chocolate cocoa taste (half milk chocolate and half dark chocolate would be a nice combo).
Mom couldn't recall where she found this recipe, but she said this is her favorite fudge recipe because it is so easy and always a winner with everyone (she has been trying hundreds of fudge recipes and thinks this one is the best).
I've often thought a business selling different types of gourmet fudge and organic fudge would be a good idea. Wouldn't you love to visit a shop like that? I sure would. Can you imagine this recipe as milk chocolate fudge with macadamias? Or white chocolate fudge with cranberries and pistachios? Oh my gosh! Experiment and have fun!!!!