German Chocolate Cake; Not from Germany!
What words come to your mind when you think of German chocolate cake? Sweet? Decadent? Rich? Creamy? Moist? Germany? Well, if you said "yes" to all of the above, you're wrong! Which one could be wrong though? Sweet? Check! Decadent and Rich? Check, check! Creamy and Moist? Double check again! It must be from Germany, right? Nope! Shocking, I know. I almost didn't believe it myself.
This is a photo of the original recipe card you can find online that was printed in a Magazine. This is the same recipe located on the back of the old wrapper of the Baker's German sweet chocolate bar.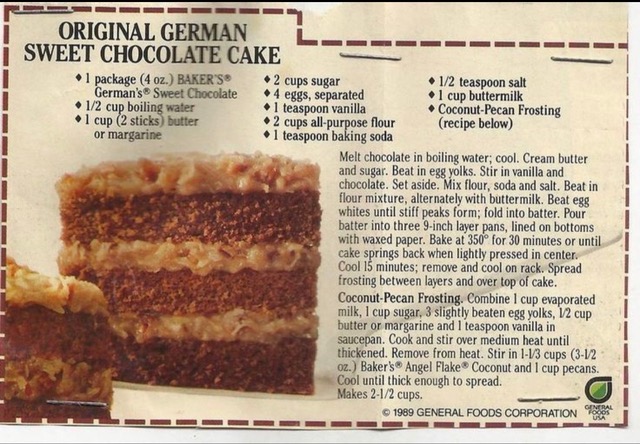 German chocolate cake was actually born right here in the United States! Dallas, Texas to be exact. Let's start from the beginning where the famous chocolate used for this cake evolved. English-American baker Samuel German got a job at the Baker's Chocolate Company, which was the first American chocolate factory. In 1852 Samuel developed a special type of dark baking chocolate that had more sugar than any other chocolate the brand was selling. According to the history of the Baker's Chocolate Company, "Walter Baker bought the recipe… for $1000 and began marketing it as 'Baker's German['s] Sweet Chocolate.'"
Fast forward 105 years to June 3,1957 when a recipe for "German's Chocolate Cake" appeared in The Dallas Morning newspaper as the "Recipe of the Day." This recipe was created by a homemaker,Mrs. George Clay, from Dallas, Texas. She submitted her recipe to the newspaper's Julie Benell's "Recipe of the Day" column. She named her cake "German's" Sweet Chocolate Cake referring to Samuel German who invented the chocolate! According to various publications, after the recipe appeared in the Dallas Mornings News it spread by mouth, or like wildfire, and grew in popularity. After just six months of it being publicized, the popular brand Kraft (owner of the Baker's Chocolate Company) took notice and started sending the recipe to newspapers all over the United States. Somewhere along the line the apostrophe-s got lost leading so many to believe the cake was of German origin. Needless to say, it continued to grow in popularity and sales for the chocolate skyrocketed! In 1964, the company decided to reinvent the wrapper and included the famous recipe for German Chocolate cake right on it!
So what is German Sweet Chocolate cake and why is it so special? German sweet chocolate cake is traditionally a 3 layer cake. Not so special yet, I know. It shows its Southern roots by incorporating buttermilk and pecans, which are both abundant in the souther part of the US. Buttermilk is used instead of whole milk in the recipe along with an entire bar of German's Sweet Chocolate melted right into the batter. What else makes it different is the frosting, which is also the filling! It's layered and topped with a custard-like filling which is essentially cooked frosting. It's made with eggs and sugar followed by being mixed with coconut and pecans. Back then there was no social media to showcase the cake's beauty, but it sure was deliciously popular for its flavors!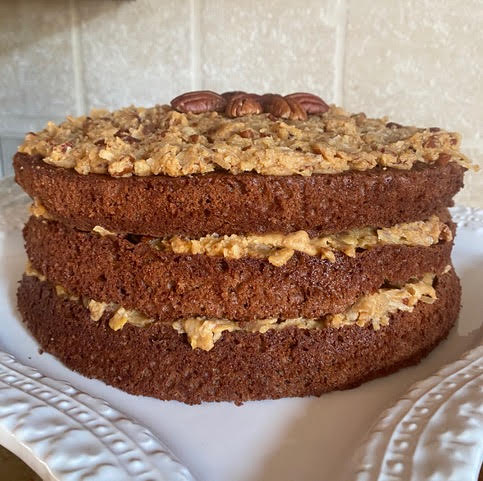 Given the absence of social media many moons ago, and the fact that the traditional recipe is no longer found on the wrapper, you can find the original recipe online. Although it's easily found, directions are lacking in detail on how to make it. The classic German chocolate cake is a fabulous recipe to make according to its original directions and ingredients, for most; but for some reason I just can't keep well enough alone!I love to get my hands on recipes and tweak them ever so slightly. Using the knowledge I have gained over the years, I swapped all purpose flour for cake flour to give it a light, fluffy texture. I then added a little espresso powder which enhances the chocolate flavor. Last, but certainly not least, I changed the original chocolate! I changed it for better quality, better tasting and better better better all around chocolate, Santa Barbara Chocolate, of course! I even mixed two different chocolates.Yup, I said it. I used better chocolate and mixed it! And it came out amazing!!!
Now it's time to walk you through this classic-is recipe. I used my handy dandy food scale for more precise measurements. Baking is usually more like science class, but I am typically more of an eye-baller when it comes to measuring depending on my familiarity with the recipe at hand. This one is not one that I have made recently so I made sure to be on my best and most accurate behavior. I converted cups to grams for more accurate measurements as most people don't know how to properly measure flour.If the flour is measured packed into a cup it will produce different results than if it were accurately measured using grams or by scooping spoonfuls into a measuring cup and leveling it off.
Ingredients for the cake:
254g cake flour (roughly 2 1/4 cups)
1 tsp baking soda
1/4 tsp salt (the original recipe calls for 1/2 tsp)
400g cane sugar (2 cups)
2 sticks, 1c softened butter
4 eggs, separated
1 tsp vanilla extract
1/2 c boiling water
2oz Santa Barbara Chocolate semisweet chocolate
2oz Santa Barbara Chocolate dark couverture
1c buttermilk
Ingredients for the coconut-pecan filling/frosting:
1c evaporated milk
200g sugar
3 slightly beaten eggs
1/2c (1stick) butter
1 tsp vanilla
3oz Baker's Angel Flake Coconut
1c chopped pecans
The first step is to preheat your oven to 350.
Second, measure out your flour. Then add in your baking soda, salt and whisk it together.
Side note, my scale is to zero in the below photo because I lifted my bowl to whisk.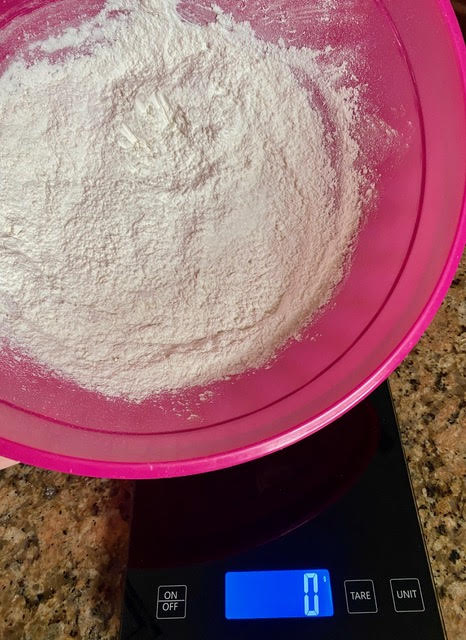 Then, I placed my water in a small saucepan on medium heat. I measured out my chocolate as I waited for it to boil. Next, I melted it down in the boiling water, added in the espresso powder and removed once it from the heat once it was all smooth in order for it to cool a bit. (Notice the little feet in the corner? They are always watching.)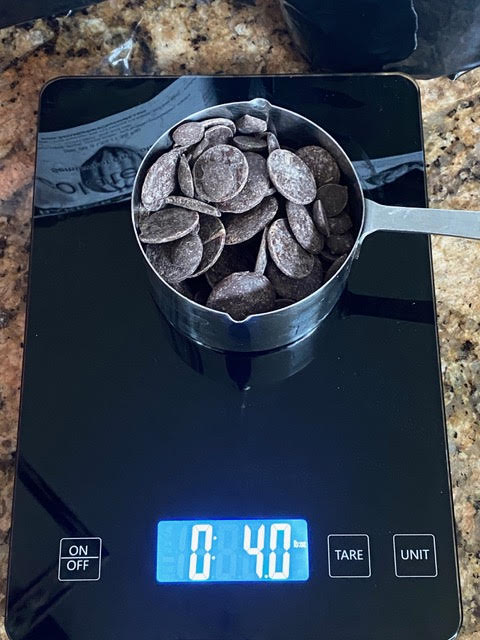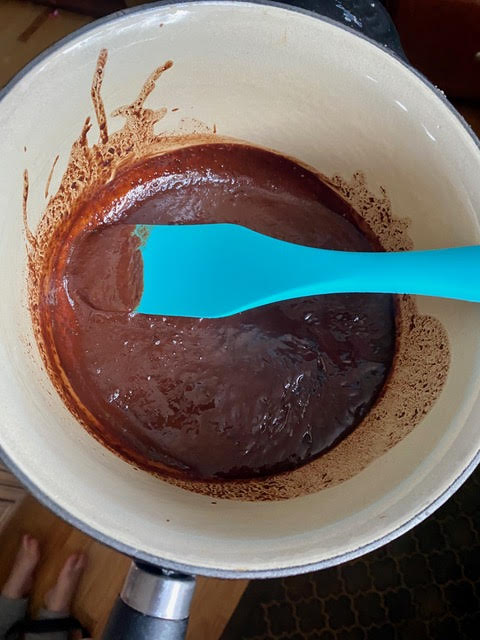 If you haven't already done so, crack and separate the eggs. Mix your egg whites until stiff peaks form and set aside.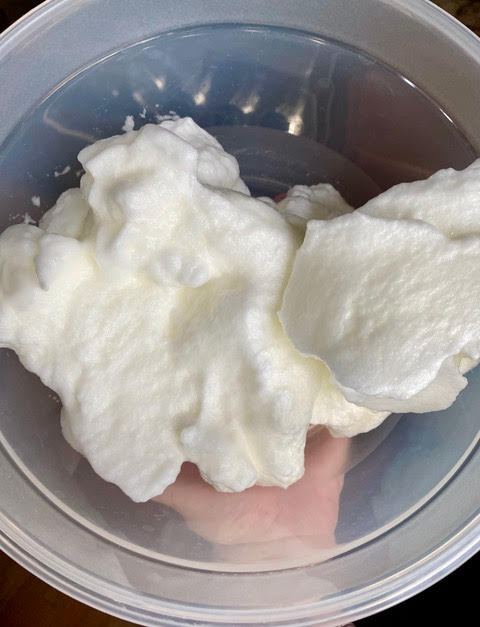 Measure your mixing bowl in grams, write that number down somewhere. If you're like me, I can't remember what I ate for breakfast so writing down along the way definitely helps.Then, weigh your sugar on a scale to 400g.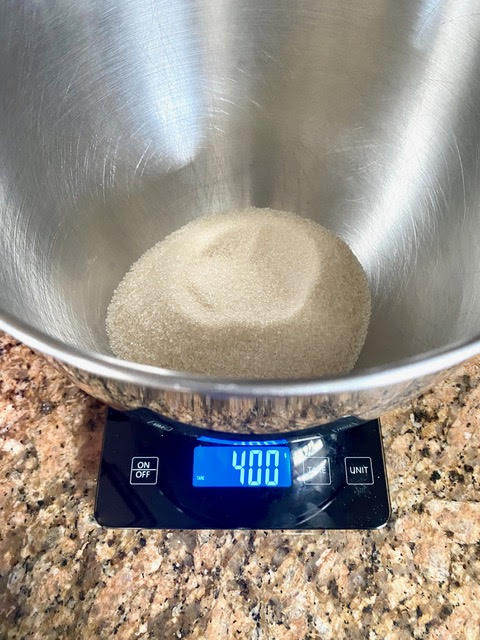 Add butter and vanilla to your sugar and cream until fluffy.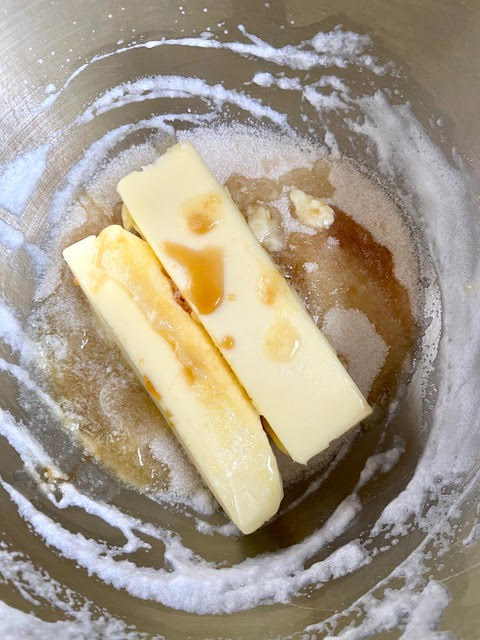 Then add in beaten egg yolks and vanilla.
Next, mix in your chocolate you have set aside.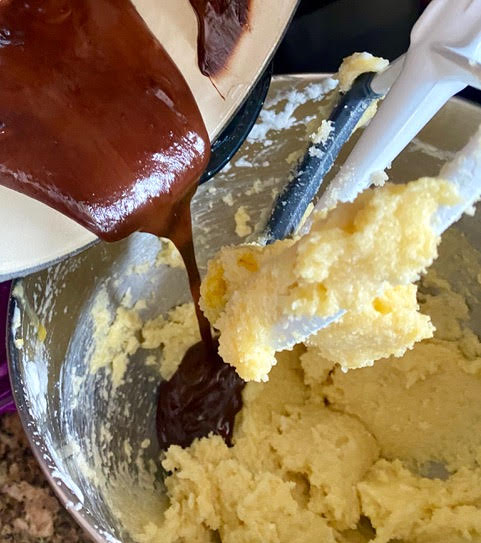 Now it's time to add in you flour and buttermilk, alternately. I added in about 1/3 of each mixture at a time. Fold in your whipped egg whites you set aside earlier.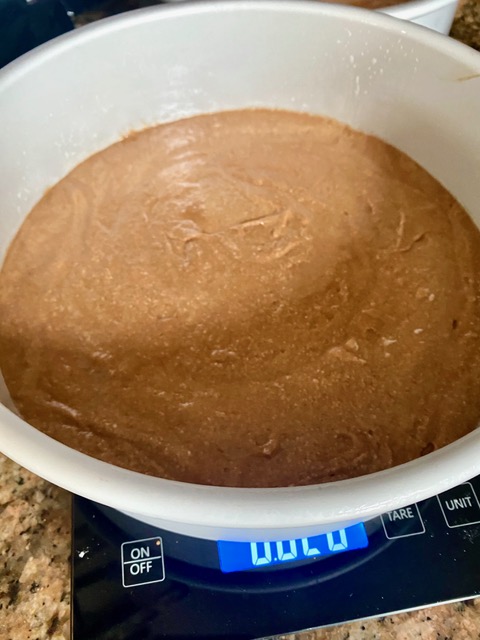 Finally, line three 9" round pans lined with parchment paper and spray the side thoroughly with cooking spray, I used organic coconut oil spray.
Time for some 4th grade math! Weigh your bowl with all you batter in it. Mine was 2236g. Subtract from that the bowl you weighed earlier and wrote down, mine was 768g. 2236-768= 1468. Now, divide your batter number by 3. I got 489.3. So each of your cakes should weigh roughly this number. I placed my pan on the scale and set it to 0. Then add in 489.3g of batter. Do this for each of your pans.This will ensure all 3 cakes will cook the same and look the same when plating it up.
Now it's time to pop them into the oven. I baked the first two layers for 30 min which was perfect in my oven.Every oven is slightly off so be sure to keep an eye around the 27 min mark. Don't open the oven unless it already looks golden.Opening the oven can mess with your results. Once it's ready the center should spring back when lightly pressed and a toothpick should come out clean from the center. Somehow I missed the photo-op when they came out baked, but they should look nice and golden and slightly pulled from the edges.To ensure that your cake comes out easily when its just out of the oven, take a thin spatula or even your toothpick (that's what I used because it was in my hand and easy) and run it around the entire edge of the cake. Cool them for 15/20 minutes in the cake pan and then remove them gently.I actually used one 9" round cheesecake pan which worked out super easy because the bottom pops up and the cake comes right out. My other 9" round pan I used my hand and gently popped it onto a cooling rack. If your nervous just let it cool a bit more and you can even use another piece of waxed paper or parchment instead of just your hand to flip it out of the pan and onto a cooling rack.
As my two layers were cooling and my third was baking up I began preparing my frosting/filling layer. I used a small cast iron saucepan and began measuring my ingredients and placing them all in together.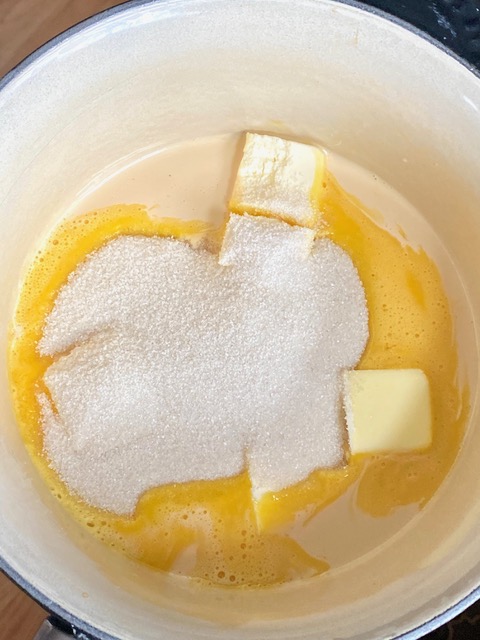 You can put your ingredients over medium heat and begin to whisk. It will go through some phases and even come to a boil as it thickens to a consistency that will be spreadable on your cake. Below you will see images as it is boiling, then as it's thickened to a spreadable consistency, and then after your remove from the heat you add in your coconut and chopped pecans.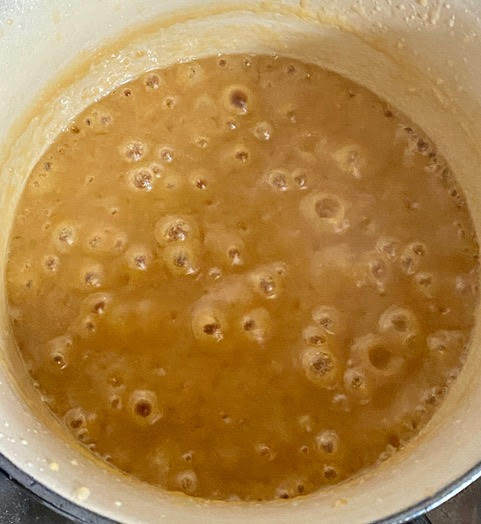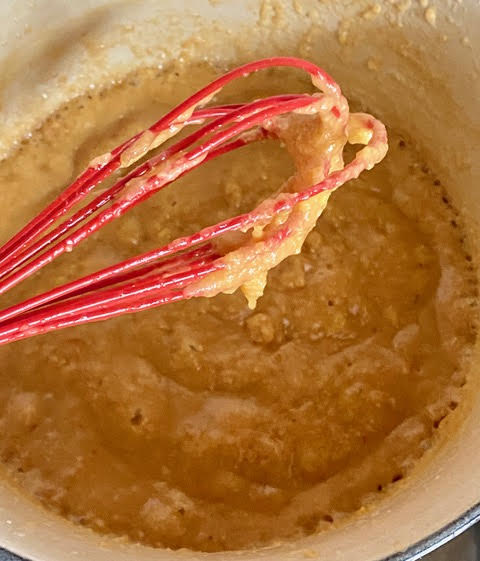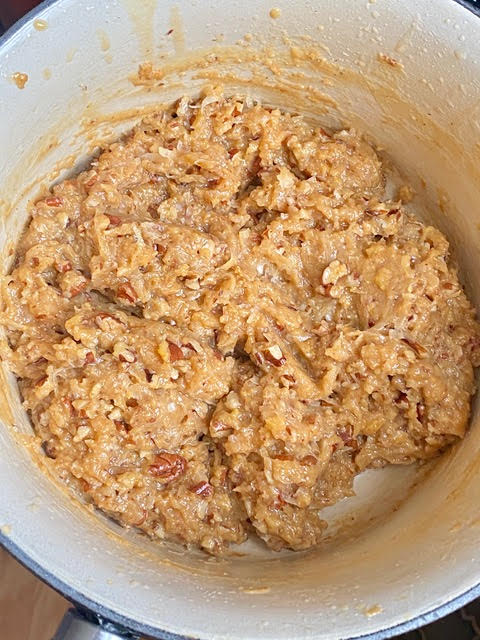 You should've taken out your third layer and placed it on a cooling rack.
Now it's time to assemble. Place your first layer wherever you would like to display your cake. With your frosting still warm, gently and evenly spread one-third (I found it helpful to eyeball one-third of the frosting in the warm saucepan) on top to cover the bottom layer. Once covered, carefully take your second layer off of the cooling rack and place on top of the filling. Now, apply a third of the frosting evenly.Then finally, pop on the last, top layer of your chocolate cake. Use the last third of your filling to cover the top.I got a little fancy and added a few extra pecans for show. You can even add a little extra coconut in the center under the pecans on top. Your final masterpiece should look similar to the photos below! How did you do?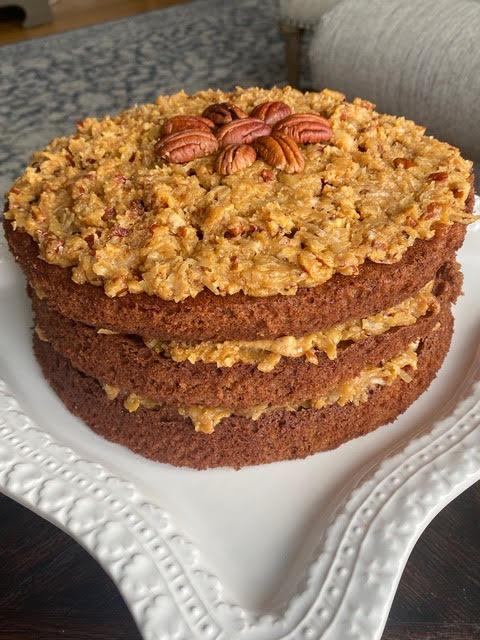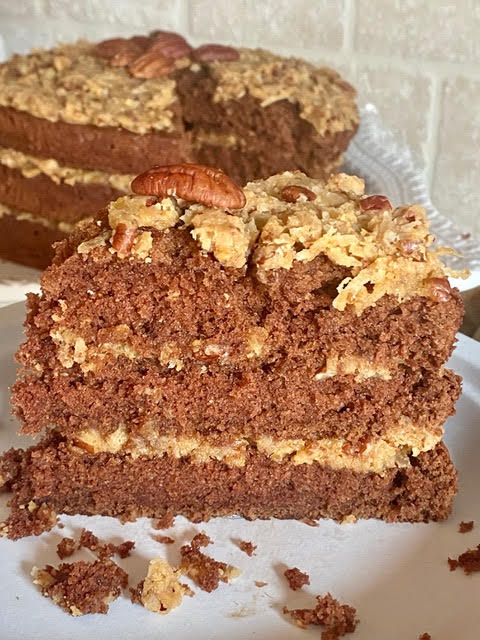 Hopefully, my step-by-step tutorial helped ease your nerves making a cake that seems a bit more complicated at first glance I encourage you to attempt to make this delicious version of German chocolate cake and enjoy it with your loved ones just as much as I did!