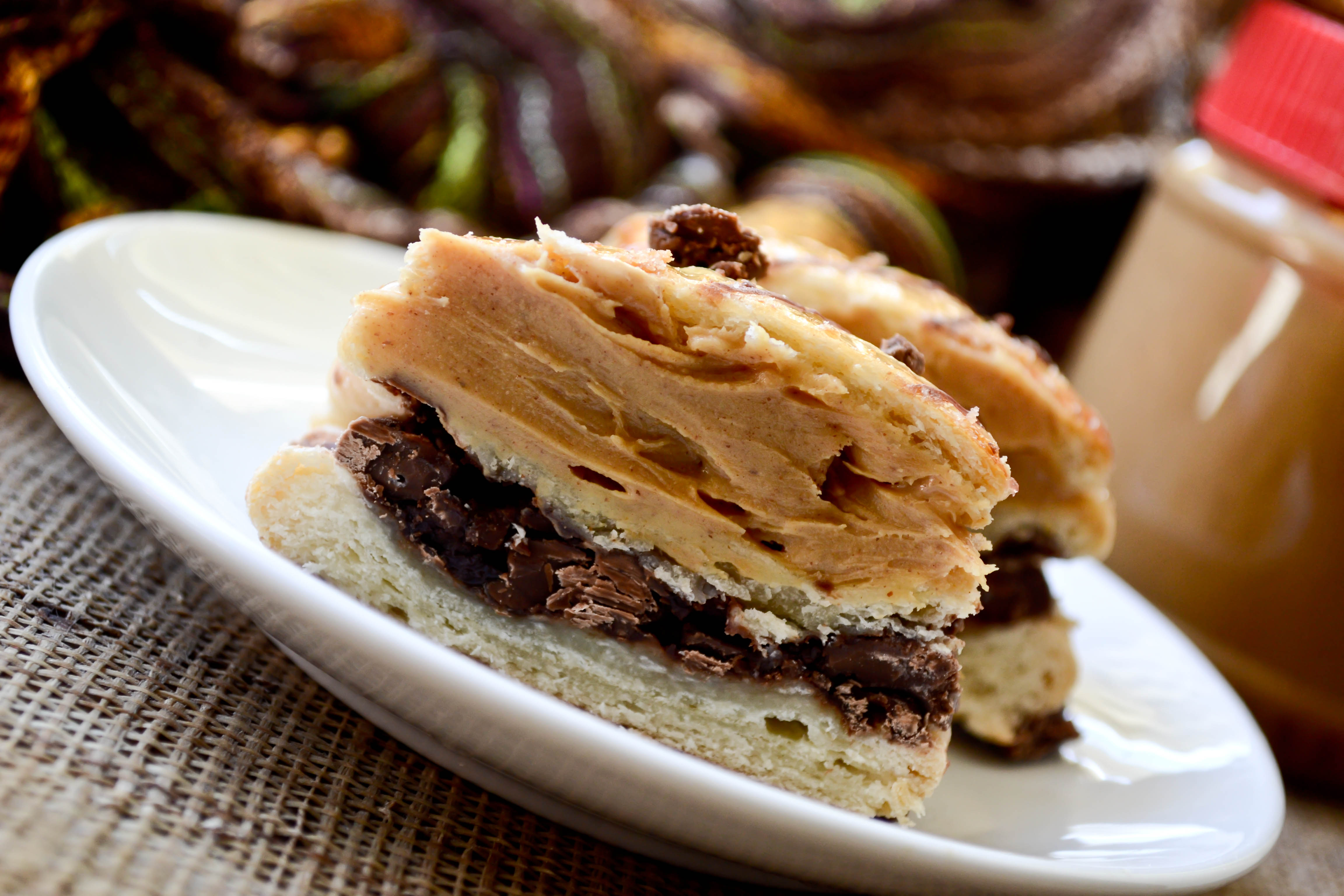 Puff Pastry Recipes: Peanut Butter Chocolate Chip
My two favorite meals are breakfast and, of course, dessert; so every time I have the chance I mix those two and create an extra yummy dish. This time we are going to bake puff pastries filled with a really famous combination, chocolate and peanut butter!
Many people like using store bought puff pastry dough but I will show you how easy is to make your own. Homemade dough is healthier and tastes so much better. I recommend using only high quality chocolate for this recipe; I used two of the Santa Barbara Chocolate brand. Also you can choose the kind of peanut butter you like the most.
"Your hand and your mouth agreed many years ago that, as far as chocolate is concerned, there is no need to involve your brain." ― Dave Barry
Ingredients:
Instructions for the dough:
Take a cup of butter and put it in the refrigerator to chill, we will use it later.
In a food processor, add the all-purpose flour and the remaining ½ cup of butter, mix for 20 seconds or until well combined.
After that, add the chilled cup of butter into the food processor but this time mix it just for 5 seconds, you will see chunks of butter, that is what we need.
Incorporate the tbsp. of salt into the water and pour it into the food processor.
Mix for about 10 seconds or until you get all the ingredients roughly combined.
Take your dough out of the food processor and place it in a flat surface, previously floured.
Flour a rolling pin and shape your dough into a rectangle.
Fold your dough and keep shaping it into a rectangle and then folding it in half. Repeat this step three times ending with your dough as a rectangle.
Place your dough on a sheet of plastic wrap and put another one on top of the dough.
Roll the dough and chill it in the refrigerator for one or two hours.
How to assemble it:
Preheat your oven to 375°F.
Flour your flat surface and take your dough out of the refrigerator.
Unroll the dough and sprinkle some flour on top.
Make it flat again and cut some strips of around 3 inch wide each.
Take your Belgian Milk Chocolate and put some into each strip.
Roll half of the strip, covering the chocolate, and then add a tbsp. of peanut butter.
Finish rolling the strips, covering the peanut butter; make pressure at the end to close the pastry.
In a small bowl whisk your egg.
Place your pastries in a tray and brush some of the egg on top of each. This will help to make them gold in the oven.
Bake them for 40 minutes; keeping an eye on them after 35 minutes.
While still warm put some Organic Dark Chocolate chips on each end of the pastries.
Far and away if you are searching the web for puff pastry recipes, I recommend trying this one. It is perfect for dessert or as breakfast. I've been serving this one at our home for years and everyone visiting will ask for it everyday if you let them! :)
.