VEGAN GERMAN CHOCOLATE CAKE RECIPE
This vegan German chocolate cake is two layers of delicious vegan cake with a coconut pecan filling and a rich chocolate buttercream frosting!
The gorgeous coconut pecan mix goes in the middle of this vegan German chocolate cake, and the delicious chocolate buttercream frosting goes on the top. This recipe has enough vegan buttercream for a very thick layer of frosting on top, so I'm pretty sure if you want to frost the sides as well, you'll have enough to do so without increasing the recipe.
Traditionally a German chocolate cake uses sweet German chocolate in the cake itself, and then the filling is made with egg yolks, so of course we are straying from the traditional here with our vegan adaptation, but the result is so good I don't think anyone will complain!
The cake recipe is easy and simple, no fancy ingredients, but it results in pure chocolate cake perfection: moist and spongey and a total delight in taste and texture.
The main attraction in a German chocolate cake is the coconut pecan filling! It's really the stand out feature of this cake and what makes it unique and special.
You can use roasted pecans or raw. Use whichever version you prefer or is easier to get. Additionally, I used coconut flakes, but you can also use shredded coconut, which is the slightly smaller version. Just don't use desiccated coconut because that won't work and results in a bad mouthfeel.
Recipe:

Ingredients:
For the Vegan Chocolate Cake:
2 and 1/4 cups (281g) All Purpose Flour
3/4 cup (63g) Santa Barbara Vegan Cocoa Powder
1 and 1/2 cups (300g) White Sugar
1 and 1/2 tsp Baking Soda
3/4 tsp Salt
1 and 1/2 cups (360ml) Soy Milk or Almond Milk
3 tsp Vanilla Extract
1/2 cup (120ml) Olive Oil or another Vegetable Oil
1 and 1/2 Tbsp White Vinegar or Apple Cider Vinegar
1 and ½ Flax Eggs
For the Coconut Pecan Filling:
1/4 cup (56g) Vegan Butter
1/2 cup (100g) Brown Sugar
1/2 cup (120ml) Coconut Milk from a can, or Soy Milk
Or Almond Milk
1 Tbsp Cornstarch
1 tsp Vanilla Extract
1 cup (50g) Coconut Flakes or Shredded Coconut
1/2 cup (60g) Pecans (Chopped) Raw or Roasted
For the Chocolate Buttercream Frosting:
2 cups (240g) Powdered Sugar
1/2 cup (42g) Santa Barbara Vegan Cocoa Powder
1/3 cup (75g) Vegan Butter
3 Tbsp + 1/2 tsp Coconut Milk
1 tsp Vanilla Extract
For Decoration (Optional):
Coconut Flakes
Chopped Pecans
Santa Barbara Vegan Chocolate Chips
Instructions:
Preheat the oven to 350°F (180°C). Spray two 8 inch cake pans with non-stick spray and line the bottoms with circles of parchment paper. Set aside.
Sift the flour and cocoa powder into a mixing bowl and then add the sugar, baking soda and salt and mix together.
Prepare your flax egg by adding 1 and 1/2 Tbsp ground flaxseed meal to a bowl and then adding in 4 and 1/2 Tbsp hot water (this equals 1 and 1/2 flax eggs). Leave it to sit for a minute and become gloopy.
Add in the soy milk, vanilla extract, oil, vinegar and flax eggs to your dry ingredients and mix in. Use a hand whisk to briefly mix it all together removing any lumps (tiny lumps are fine) but being careful not to over-mix and whip air.
Divide the batter evenly between the two cake pans and then place into the oven to bake for 30 minutes or until a toothpick inserted into the center of one of the cakes comes out clean. Transfer the cakes to a wire cooling rack to cool completely before adding filling or frosting.
While the cakes are baking, prepare your coconut pecan filling. Mix the cornstarch into the cold coconut milk and whisk so that it's well mixed in. Then add the vegan butter to a saucepan and let it melt before you add the brown sugar and coconut milk/cornstarch mix. Stir constantly until the mixture boils and starts to thicken, then remove it from the heat and add in the vanilla, coconut flakes and chopped pecans. Set aside to cool completely before using.
Prepare your chocolate buttercream frosting. Add the powdered sugar, cocoa powder, vegan butter, 3 Tbsp of coconut milk and vanilla extract to the bowl of an electric stand mixer. Start off at slow speed, gradually increasing speed until it's very thick and smooth. If needed, add in around 1/2 tsp of extra coconut milk to get to the ideal consistency. I prefer to add this in last, only if needed, as you want this to be thick, but it still should be spreadable. If it's still too thick, add in more coconut milk a drop at a time until you get the right consistency.
When the cakes are completely cool and your coconut/pecan filling is completely cold, then you can finalize your cake. Add all the coconut/pecan filling to the middle layer and then all the chocolate buttercream to the top. If you want to frost the sides as well you can do that, there is enough frosting to allow for this.
Decorate the cake with coconut flakes, chopped pecans and vegan chocolate chips (optional).
Notes: Keep leftovers covered in the fridge where they will stay good for 5 days.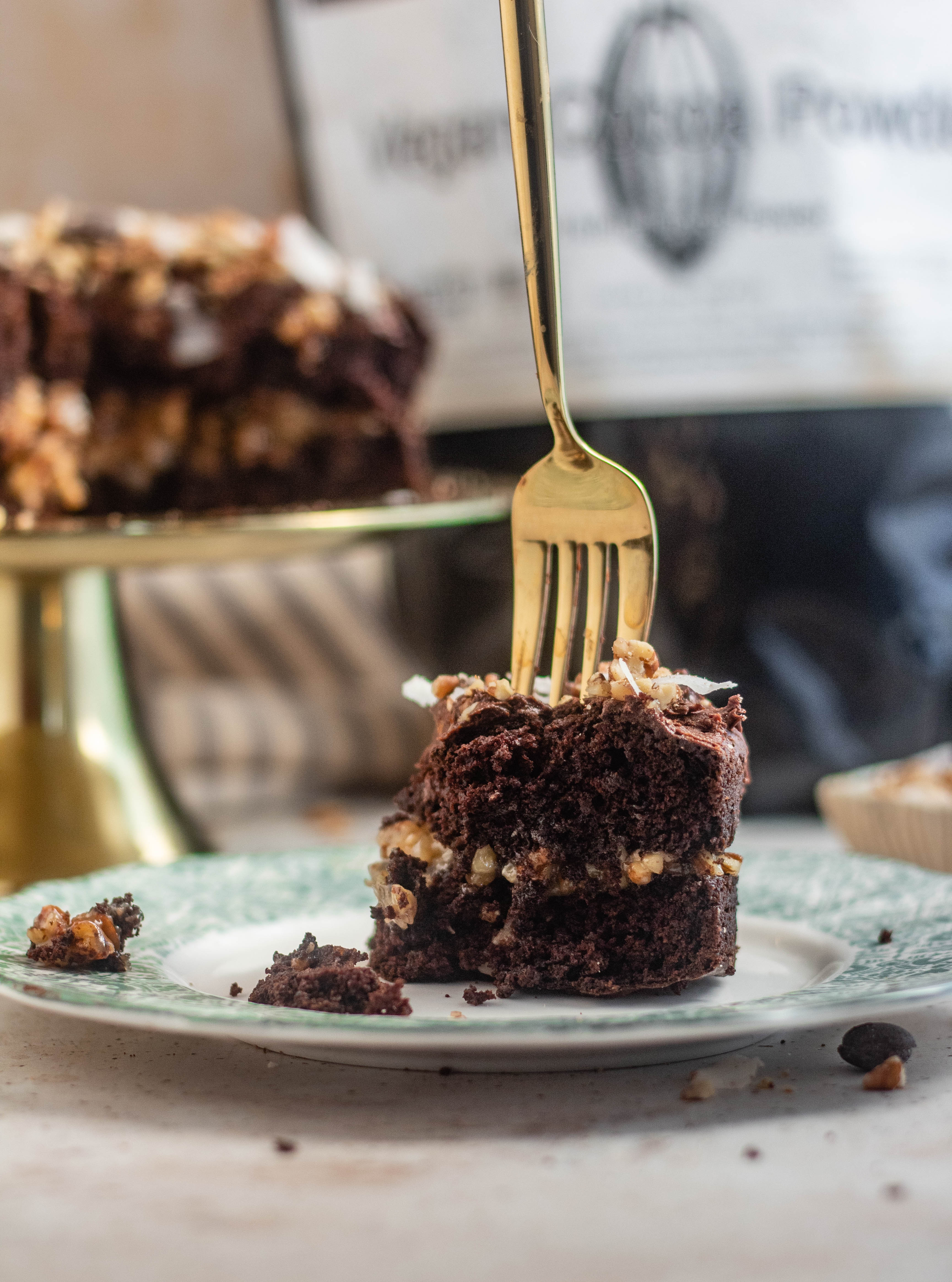 { "@context": "https://schema.org/", "@type": "Recipe", "name": "VEGAN GERMAN CHOCOLATE CAKE", "image": "https://store-ham8sjk.mybigcommerce.com/product_images/uploaded_images/vegan-german-chocolate-cake-with-fork.jpg", "description": "This vegan German chocolate cake is two layers of delicious vegan cake with a coconut pecan filling and a rich chocolate buttercream frosting!", "keywords": "", "author": { "@type": "Person", "name": "Jason Vishnefske" }, "datePublished": "2021-01-03", "prepTime": "", "cookTime": "", "totalTime": "", "recipeCategory": "dessert", "nutrition": { "@type": "NutritionInformation", "calories": "" }, "recipeIngredient": [ "For the Vegan Chocolate Cake:", "2 and 1/4 cups (281g) All Purpose Flour", "3/4 cup (63g) Santa Barbara Vegan Cocoa Powder", "1 and 1/2 cups (300g) White Sugar", "1 and 1/2 tsp Baking Soda", "3/4 tsp Salt", "1 and 1/2 cups (360ml) Soy Milk or Almond Milk", "3 tsp Vanilla Extract", "1/2 cup (120ml) Olive Oil or another Vegetable Oi", "1 and 1/2 Tbsp White Vinegar or Apple Cider Vinegar", "1 and ½ Flax Eggs", "For the Coconut Pecan Filling:", "1/4 cup (56g) Vegan Butter", "1/2 cup (100g) Brown Sugar", "1/2 cup (120ml) Coconut Milk from a can, or Soy Milk Or Almond Milk", "1 Tbsp Cornstarch", "1 tsp Vanilla Extract", "1 cup (50g) Coconut Flakes or Shredded Coconut", "1/2 cup (60g) Pecans (Chopped) Raw or Roasted", "For the Chocolate Buttercream Frosting:", "2 cups (240g) Powdered Sugar", "1/2 cup (42g) Santa Barbara Vegan Cocoa Powder", "1/3 cup (75g) Vegan Butter", "3 Tbsp + 1/2 tsp Coconut Milk", "1 tsp Vanilla Extract", "For Decoration (Optional):", "Coconut Flakes", "Chopped Pecans", "Santa Barbara Vegan Chocolate Chips" ], "recipeInstructions": [{ "@type": "HowToStep", "text": "Preheat the oven to 350°F (180°C). Spray two 8 inch cake pans with non-stick spray and line the bottoms with circles of parchment paper. Set aside." },{ "@type": "HowToStep", "text": "Sift the flour and cocoa powder into a mixing bowl and then add the sugar, baking soda and salt and mix together." },{ "@type": "HowToStep", "text": "Prepare your flax egg by adding 1 and 1/2 Tbsp ground flaxseed meal to a bowl and then adding in 4 and 1/2 Tbsp hot water (this equals 1 and 1/2 flax eggs). Leave it to sit for a minute and become gloopy." },{ "@type": "HowToStep", "text": "Add in the soy milk, vanilla extract, oil, vinegar and flax eggs to your dry ingredients and mix in. Use a hand whisk to briefly mix it all together removing any lumps (tiny lumps are fine) but being careful not to over-mix and whip air." },{ "@type": "HowToStep", "text": "Divide the batter evenly between the two cake pans and then place into the oven to bake for 30 minutes or until a toothpick inserted into the center of one of the cakes comes out clean. Transfer the cakes to a wire cooling rack to cool completely before adding filling or frosting." },{ "@type": "HowToStep", "text": "While the cakes are baking, prepare your coconut pecan filling. Mix the cornstarch into the cold coconut milk and whisk so that it's well mixed in. Then add the vegan butter to a saucepan and let it melt before you add the brown sugar and coconut milk/cornstarch mix. Stir constantly until the mixture boils and starts to thicken, then remove it from the heat and add in the vanilla, coconut flakes and chopped pecans. Set aside to cool completely before using." },{ "@type": "HowToStep", "text": "Prepare your chocolate buttercream frosting. Add the powdered sugar, cocoa powder, vegan butter, 3 Tbsp of coconut milk and vanilla extract to the bowl of an electric stand mixer. Start off at slow speed, gradually increasing speed until it's very thick and smooth. If needed, add in around 1/2 tsp of extra coconut milk to get to the ideal consistency. I prefer to add this in last, only if needed, as you want this to be thick, but it still should be spreadable. If it's still too thick, add in more coconut milk a drop at a time until you get the right consistency." },{ "@type": "HowToStep", "text": "When the cakes are completely cool and your coconut/pecan filling is completely cold, then you can finalize your cake. Add all the coconut/pecan filling to the middle layer and then all the chocolate buttercream to the top. If you want to frost the sides as well you can do that, there is enough frosting to allow for this." },{ "@type": "HowToStep", "text": "Decorate the cake with coconut flakes, chopped pecans and vegan chocolate chips (optional)." }], "aggregateRating": { "@type": "AggregateRating", "ratingValue": "5", "bestRating": "5", "worstRating": "1", "ratingCount": "1" }, "video": { "@type": "VideoObject", "name": "VEGAN GERMAN CHOCOLATE CAKE", "description": "This vegan German chocolate cake is two layers of delicious vegan cake with a coconut pecan filling and a rich chocolate buttercream frosting!", "thumbnailUrl": "https://store-ham8sjk.mybigcommerce.com/product_images/uploaded_images/vegan-german-chocolate-cake-with-fork.jpg", "uploadDate": "2021-01-03", "contentUrl": "https://youtu.be/JHr3eKW1mlw", "embedUrl": "https://www.youtube.com/embed/JHr3eKW1mlw" } }