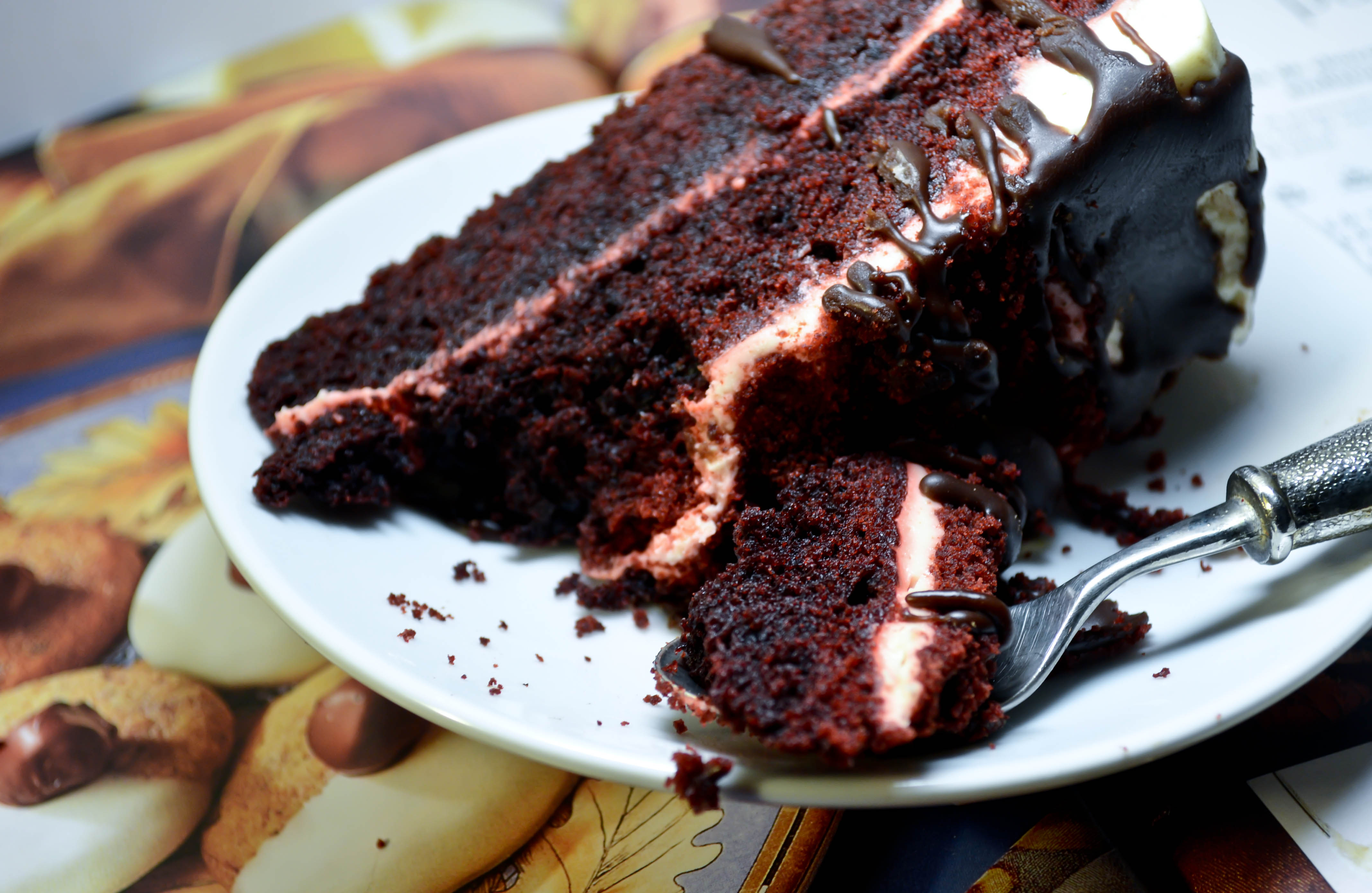 The Original Red Velvet Cake Recipe with Chocolate Ganache
Red Velvet Cake is a chocolate cake, moist texture, unique buttermilk flavor and a red hue due to the addition of a red coloring like beet juice.
This classic and magnificent cake was born around the 1900s, at the beginning people used to call it "Red Cocoa Cake" or "Cocoa Velvet Cake"; nowadays it is worldwide known as "Red Velvet Cake". The name comes from the reddish tone that the cocoa gives when reacting with the buttermilk. Real red velvet cake recipes call for cocoa and buttermilk.
When I was learning how to bake, I found two or three Red Velvet Cake recipes that called for a weird ingredient: beet juice. I never tried to bake it using beet juice, but I was intrigued. I did my research and found that during World War II, bakers began to use beet juice in their cake recipes for two reasons; first one was because the bright red color made the cakes look appealing offering a marketing angle and the second was to keep them moist.
The beet juice was not the only reason why I did not try to bake a Red Velvet Cake back in those days; the other thing was buttermilk. It is really important to use buttermilk in this cake but it is an ingredient that you can't find in some countries, including mine, Venezuela. Then I learned how to make the perfect cake with a buttermilk substitute and now, even if there is no buttermilk available, I can bake it.
Ingredients:
For the cake:
2 cups of all purpose flour
1 ½ cups of sugar
3 tbsp of Rainforest Red Cocoa Powder
1 cup of buttermilk*
2 eggs, large
1 cup of vegetable oil
2 tbsp of red food coloring, liquid
1 tsp of baking soda
A pinch of salt
For the frosting:
8 ounces of cream cheese, room temperature
2 cups of powdered sugar
2 tbsp of vanilla extract
For the topping:
½ cup of heavy cream
1 tbsp of butter
Instructions:
For the cake:
Preheat the oven to 350 F
In a large bowl, sift together all your dry ingredients.
Make a hole in the middle of the dry ingredients and add all your wet ingredients except the red food coloring.
Mix everything until well combined and without clumps.
Add your red food coloring and mix until the batter is all red.
Divide your batter into two 9 inches cake pans.
Bake for 20 minutes, keeping an eye on them after 15 minutes because all the ovens are different and nobody wants burnt cake.
When your cakes are ready, set aside to cool down before adding the frosting.
For the frosting:
Whisk your cream cheese to make it softer.
Then, start incorporating your powdered sugar one tbsp at a time, do not stop mixing.
Finally add your vanilla extract and combine it really well.
For the ganache:
Heat your heavy cream over the stove without letting it boil.
Remove from the heat and your Belgian Dark Chocolate.
Do not stir! Let the chocolate melt for 5 minutes.
After 5 minutes add your butter and stir it until you get a sleek texture.
To assemble:
Level both of your Red Velvet Cakes with a serrated knife.
Take your cream cheese frosting and divide it in two parts.
Add half of the frosting on top of one of your cakes, spread it out.
Place the second leveled cake over and add the other half of the frosting on top, cover all your cake with the frosting, be careful because this cake is really delicate.
Take crumbs of the cake and put them on top of the cream cheese frosting.
Put your cake in the refrigerator for 15 minutes to let it set.
I love chocolate that is why I like to drizzle some dark chocolate ganache on top of my classic Red Velvet cake.
When all assembled, chill it 10 minutes more and then it is ready!
What if I don't have buttermilk?*
You will have an extra step to do but it is really easy.
1 cup of milk
1 tbsp of white vinegar
Add tbsp of white vinegar into 1 cup milk and let it stand for 10 minutes before using it.