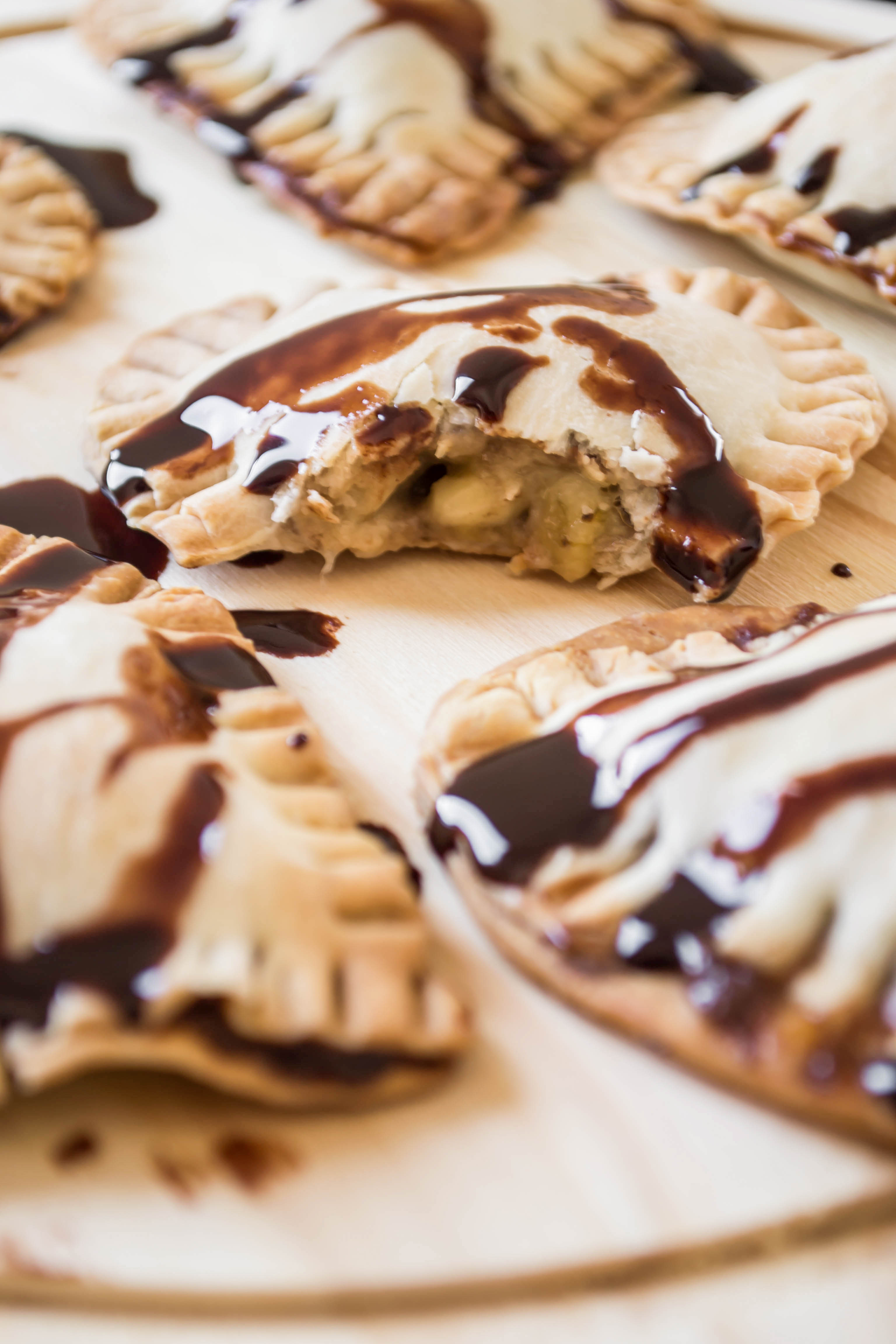 Chocolate Banana Pie Recipe
There is something so subtle, warm and lovely about pies, I honestly feel that if someone bakes a pie for you, that person really cares about you. I enjoy baking them a lot, especially for my family and of course, they enjoy much more eating them!
This recipe is really fun to make because you can use your imagination and prepare different pie shapes and also there are several filling options. Because I'm a chocolate lover, I will show you one of my favorite combinations: bananas and chocolate.
At the end of the recipe I will teach you how to make your own homemade chocolate syrup which I love to drizzle over my hand pies but you can also use it for anything! I always have some in a bottle in my refrigerator because it is perfect to use it for shakes, coffee, pancakes and anything else you wish to drizzle with a delicious chocolate syrup. Believe me, it is better than the ones you can find in stores.
Ingredients:
For the dough:
2 cups of all-purpose flour
¾ cup of butter, cold and cubed
¼ cup of water, cold
2 tbsp of sugar
A pinch of salt
For the filling:
Instructions:
For the dough:
First of all, place your bowl, whisker or paddle and any other tool that you might need in the refrigerator for 20 or 30 minutes so they can cool down a bit.
In the cold bowl, add the cubed butter, sugar, salt and all-purpose flour.
Using an electric mixer, a whisk or even your hands, start to combine the chunks of butter with the other ingredients.
Incorporate the cold water to the bowl and mix until you get an even dough. If necessary add a bit more of water but be careful, you don't want the dough to be watery.
Take the dough and pat it into a rectangle. Cover it with plastic wrap and let it chill in the refrigerator for one hour.
To assemble:
Preheat the oven to 350 degrees F.
Take the dough and lay it over a previously floured flat surface.
Roll the dough to around ¼ inch thick.
Using cookie cutters, make as many individual pie crust sheets as possible. Remember you will use two per hand pie.
Melt the milk chocolate couverture. You can do this using the microwave or the double boiler method. If using the microwave remember to heat the chocolate for 10 seconds, stir and repeat the same process until perfectly melted.
Combine the ground cinnamon with the mashed bananas. Stir well.
Place a tsp of mashed bananas in the middle of the pie crust.
Add a tsp of melted milk chocolate on top of the banana.
Take another piece of pie crust and close the first one. Use a fork to push the edges and close each hand pie.
Brush some melted butter on top of each hand pie.
Bake them for 10 minutes or until golden.
Serve with some chocolate syrup on top!
Optional:
Homemade Chocolate Syrup
Ingredients:
¼ cup of Rainforest Bulk Cocoa Powder
¼ of water
¼ cup of sugar
A pinch of salt
Instructions:
Mix all the ingredients in a medium sauce pan, over low heat, and stir until combined.
When you feel the syrup getting thicker, remove from heat. It will get even thicker when cooled down.
Enjoy!

https://www.santabarbarachocolate.com/chocolatier-jason-vishnefske/
{ "@context": "https://schema.org/", "@type": "Recipe", "name": "Chocolate Banana Pie Recipe", "image": "https://store-ham8sjk.mybigcommerce.com/product_images/uploaded_images/chocolate-banana-pie.jpg", "description": "", "keywords": "", "author": { "@type": "Person", "name": "Jason Vishnefske" }, "datePublished": "2020-07-09", "prepTime": "", "cookTime": "", "totalTime": "", "recipeCategory": "dessert", "recipeCuisine": "American", "nutrition": { "@type": "NutritionInformation", "calories": "" }, "recipeIngredient": [ "For the dough:", "2 cups of all-purpose flour", "¼ cup of water, cold", "2 tbsp of sugar", "A pinch of salt", "For the filling:", "4 oz of Milk Chocolate Couverture, melted", "3 large bananas, mashed", "2 tbsp of butter, melted", "1 tsp of ground cinnamon", "For the Chocolate Syrup", "¼ cup of Rainforest Cocoa Powder", "¼ of water", "¼ cup of sugar", "A pinch of salt" ], "recipeInstructions": [{ "@type": "HowToStep", "text": "For the dough:" },{ "@type": "HowToStep", "text": "First of all, place your bowl, whisker or paddle and any other tool that you might need in the refrigerator for 20 or 30 minutes so they can cool down a bit." },{ "@type": "HowToStep", "text": "In the cold bowl, add the cubed butter, sugar, salt and all-purpose flour." },{ "@type": "HowToStep", "text": "Using an electric mixer, a whisk or even your hands, start to combine the chunks of butter with the other ingredients." },{ "@type": "HowToStep", "text": "Incorporate the cold water to the bowl and mix until you get an even dough. If necessary add a bit more of water but be careful, you don't want the dough to be watery." },{ "@type": "HowToStep", "text": "Take the dough and pat it into a rectangle. Cover it with plastic wrap and let it chill in the refrigerator for one hour." },{ "@type": "HowToStep", "text": "To assemble:" },{ "@type": "HowToStep", "text": "Preheat the oven to 350 degrees F." },{ "@type": "HowToStep", "text": "Take the dough and lay it over a previously floured flat surface." },{ "@type": "HowToStep", "text": "Roll the dough to around ¼ inch thick." },{ "@type": "HowToStep", "text": "Using cookie cutters, make as many individual pie crust sheets as possible. Remember you will use two per hand pie." },{ "@type": "HowToStep", "text": "Melt the milk chocolate couverture. You can do this using the microwave or the double boiler method. If using the microwave remember to heat the chocolate for 10 seconds, stir and repeat the same process until perfectly melted." },{ "@type": "HowToStep", "text": "Combine the ground cinnamon with the mashed bananas. Stir well." },{ "@type": "HowToStep", "text": "Place a tsp of mashed bananas in the middle of the pie crust." },{ "@type": "HowToStep", "text": "Add a tsp of melted milk chocolate on top of the banana." },{ "@type": "HowToStep", "text": "Take another piece of pie crust and close the first one. Use a fork to push the edges and close each hand pie" },{ "@type": "HowToStep", "text": "Brush some melted butter on top of each hand pie" },{ "@type": "HowToStep", "text": "Bake them for 10 minutes or until golden" },{ "@type": "HowToStep", "text": "For the Chocolate Syrup" },{ "@type": "HowToStep", "text": "Mix ¼ cup of Rainforest Bulk Cocoa Powder. ¼ of water, ¼ cup of sugar, apinch of salt int a saucepan over low heat, and stir until combined." },{ "@type": "HowToStep", "text": "When you feel the syrup getting thicker, remove from heat. It will get even thicker when cooled down." },{ "@type": "HowToStep", "text": "Add over banana pie" }], "aggregateRating": { "@type": "AggregateRating", "ratingValue": "5", "bestRating": "5", "worstRating": "1", "ratingCount": "1" }, "video": { "@type": "VideoObject", "name": "Chocolate Banana Pie Recipe", "description": "There is something so subtle, warm and lovely about pies, I honestly feel that if someone bakes a pie for you, that person really cares about you. I enjoy baking them a lot, especially for my family and of course, they enjoy much more eating them!", "thumbnailUrl": "https://store-ham8sjk.mybigcommerce.com/product_images/uploaded_images/chocolate-banana-pie.jpg", "uploadDate": "2020-07-09", "contentUrl": "https://youtu.be/HVXk2xzcNk8", "embedUrl": "https://www.youtube.com/embed/HVXk2xzcNk8" } }