CHOCOLATE BAVAROIS CAKE RECIPE BY SANTA BARBARA CHOCOLATE
The chocolate Bavarois is a delicious and fresh spoon dessert, perfect for the hot season. The two basic preparations of this dessert are custard and whipped cream combined with gelatin to firm it up. In this case, chocolate has been added, but you can give the Bavarois the flavor you prefer. By using fruit, coffee or yogurt you will always obtain a new cake.
Make sure you have the appropriate Bavarois mold, so that it is easier to un-mold when ready. The consistency of this dessert will be similar to that of a pudding, but less gelatinous.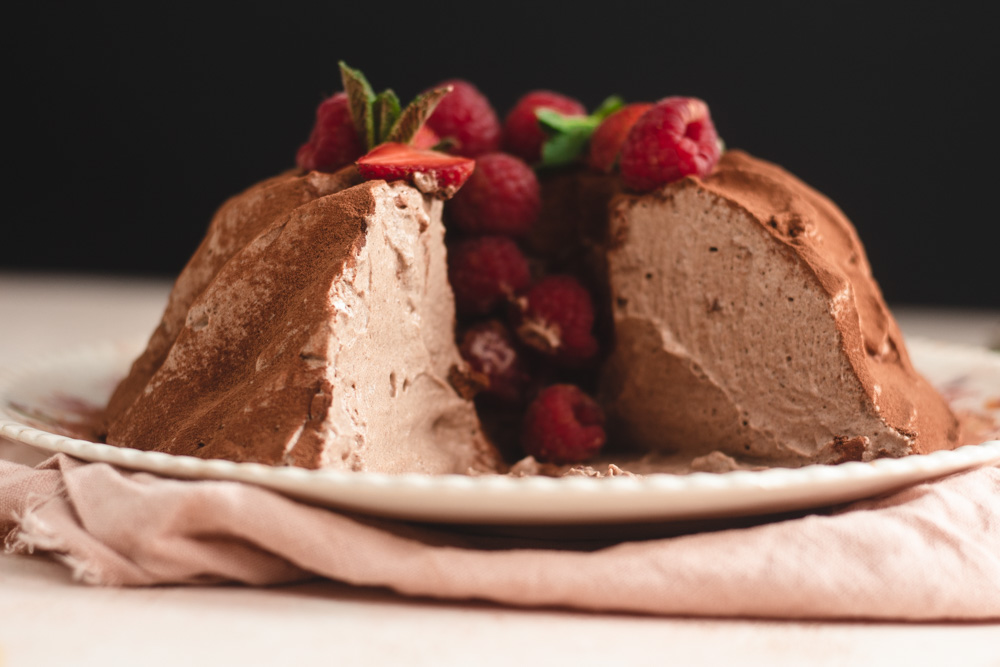 What is the difference between Bavarois and Mousse?
In the case of mousse, the mousse stabilizes itself (the whipped cream, meringue, air) with the help of refrigeration, chilling. Bavarian cream is stabilized with gelatin. There you have it.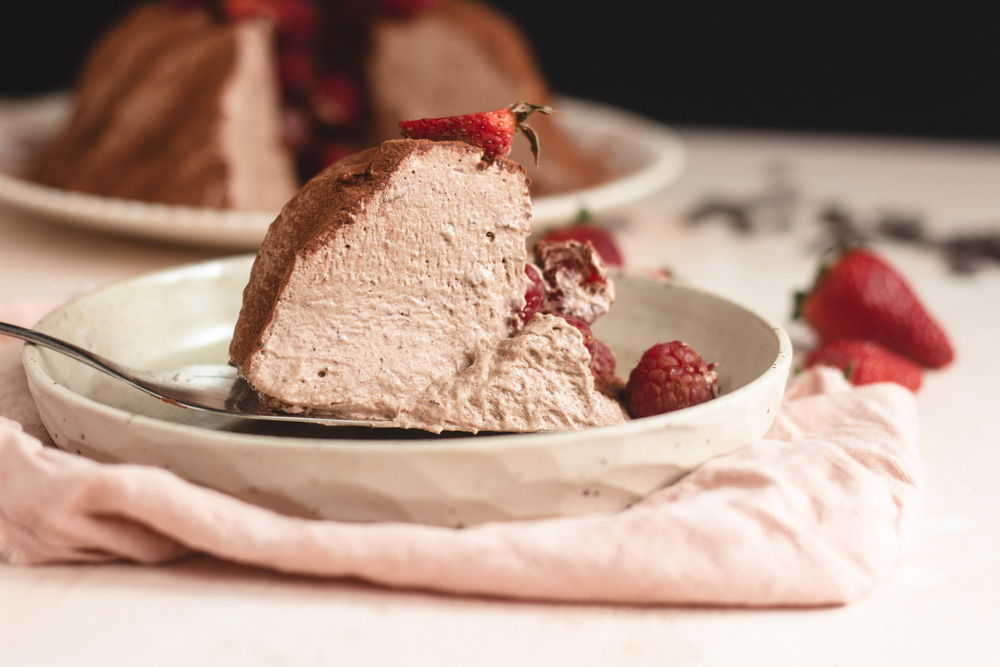 WHAT DO YOU NEED?
1 cup (250g) Milk
4 Egg Yolks
¼ cup (50 g) granulated white sugar
7 g / One Gelatin Leaf
2 Tbsp (15 g) Santa Barbara Dark Couverture Chocolate Chips
1.8 Cup (450 g) Heavy Cream
BAVAROIS CHOCOLATE PREPARATION
Let the gelatin soften in cold water for few minutes. Mix the egg yolks with the sugar.
Boil the milk, and when ready pour over the mixture of egg yolks and sugar, stirring quickly.
Put the mixture back on the heat and cook up to a temperature of 179.6°F/ 82 °C.
Transfer the mixture to a bowl and add the lightly squeezed gelatin leaf. Mix well until the gelatin is melted.
Add Santa Barbara Dark Chocolate Chips and mix until smooth, then let it cool to temperature around 113°F/ 45°C.
In a separate bowl whip, the heavy cream until it is shiny and thick.
Using a Spatula, add in the Whipped cream gradually and stir slowly till fully combined.
Pour the Bavarois batter into the mold and let it harden in the refrigerator for 12 hours.
To take the Bavarois Cake out of the mold, heat some water and fill in a big deep bowl (it must be a big bowl that could contain the entire mold), fill to the half with the hot water and carefully dip the stamp inside the hot water, wait 30 second and take it immediately out. (be careful not to wet the cake!).
Serve your cake on a flat plate and cover with Santa Barbara Chocolate Sauce or Santa Barbara Cocoa Powder, garnish with Raspberries & Strawberries.