CHOCOLATE FONDUE WITH FRUIT
Looking for a fun and easy chocolate dessert experience for Valentine's Day? (Or any other day because we all gotta agree, chocolate is an everyday thing).
How bout this incredibly easy to make Chocolate Fondue With Fruit!!!!
The dip-ables can be prepped in advance, and the chocolate sauce comes together in just a few minutes.
What to dip in chocolate fondue?
Fruit is the obvious place to start - Cherries, Strawberries, Pineapple, Plums… or even candies and cookies if chocolate sauce isn't enough to satisfy that sweet tooth, everyone gets to choose their own dip-able, so be creative!!!
Of course, the main focus of a Chocolate Fondue is the chocolate sauce. It's key that you make your chocolate fondue using the highest quality chocolate possible, which is why Santa Barbara Chocolate works perfectly.
For this recipe we use our Organic Coconut Sugar Sweetened Couverture Chocolate
Santa Barbara Chocolate is proud to offer this professional organic vegan couverture, made specifically as a chocolate for candy making, chocolate sauce and more. A real couverture chocolate with a delicate rounded flavor and plenty of cocoa butter makes it one of the best dark chocolates for organic truffle making and eating plain right from the package.
You can find alternate options at:
https://www.santabarbarachocolate.com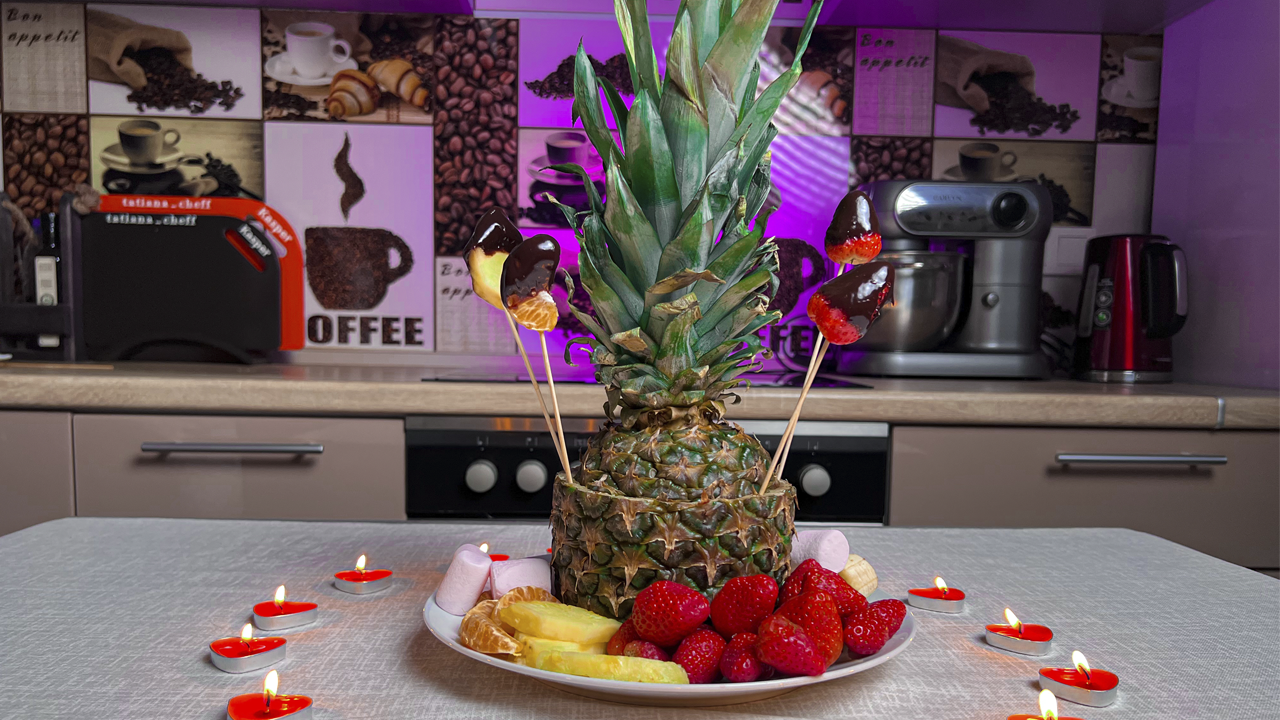 Now let's get to it!!
CHOCOLATE FONDUE WITH FRUIT INGREDIENTS:
200 g (7 oz) Santa Barbara Chocolate Organic Coconut Sugar Sweetened Couverture Chocolate
100 g (3.5 oz) Cream 20% or coconut cream as a vegan option
Strawberries
Pineapple
Bananas
Marshmallow
Tangerines
Method:
From a pineapple we make a thick bowl for a romantic serving and beautiful presentation. Put the prepared fruits on a plate. Pour cream and chocolate into a saucepan. Place the saucepan in a hot water bath and stir until it completely melts. Next, pour the chocolate fondue into the pineapple bowl. Decorate with fruits/candies/cookies and when the time comes, dip in the chocolate fondue and enjoy with champagne or your favorite drink!!
P.S: Other than chocolate, you can replace everything else with fruits/sweets of your own choice and even try savory options like dipping specialty cheese (it sounds weird yes, but try it with a gourmet quality hard cheese like Manchego). When the sauce cools and thickens you can simply reheat it as necessary in a heat safe bowl (not in the pineapple).
Santa Barbara Chocolate is fair trade and rainforest friendly which helps protect against poverty, deforestation, and child labor. Take the opportunity to experience the true nature of the amazing cocoa bean while also helping sustain the environment and wildlife you love and supporting farm families too.
From "Pod to Bod" taste the real flavor of premium rainforest cacao direct to your door.
#santabarbarachocolate