Keto Avocado Brownies
Keto Avocado Brownies are the best tasting brownies you will make. These brownies are rich, full of chocolate flavor from the Organic Cocoa Powder, fudgy dark and moist also thanks to the avocado... which I promise you won't feel or notice the taste of avocado.
It's super vegan, keto, gluten-free and easy to make in less than 20 minutes using just your food processor.
Prep Time: 20 minutes
Cook Time: 30 minutes
Total Time: 50 min
Serves: 8 -10 servings
Honestly these are the tastiest brownies you will make. Let me explain why.
Using JUST 9 INGREDIENTS, these brownies will satisfy any sweet or chocolate tooth out there without putting you in danger of a sugar spike. One of my secret/bonus ingredients (besides the high quality cocoa powder) is the coconut milk powder. It's naturally sweet but contains no sugar at all, and most importantly is keto-friendly. It also brings flavor and texture to the brownies.
Next ingredient is the avocado of course, that is why we called them Keto Avocado Brownies. The wonderful surprise is that after baking the brownies, you won't notice any taste of avocado (for those that are not big fans of avocado desserts). Also avocado is the king because it's the good kind of fat and Keto-Friendly in this recipe.
Avocado is an incredibly nutritious fruit. Based on research avocado contains more potassium than bananas. Avocado contains the good kind of oil like monounsaturated fatty acids as well as fiber.
Next key ingredient in this recipe is the organic cocoa powder. So important that you use a high quality cocoa powder not only for deep flavor but all the amazing benefits that come with a natural processed cocoa that uses no alkalization. I only use Santa Barbara Chocolate's Wholesale Vegan Cocoa made from rainforest grown cacao. This is a Red Cocoa with no added colors or fillers. Santa Barbara Chocolate Rainforest Cacao and Cocoa Powder blends are of exotic origin. All exclusive blends, ethically traded adhering to the highest standards of quality. Great quality cocoa like this comes from the rainforest. Cocoa powder contains zinc, iron and selenium, minerals that help your body function and can give your immune system a boost. Cocoa powder also contains magnesium which is said to help with maintaining muscle and nervous system integrity. It contains antioxidants that may help reduce inflammation. So there can be good reason to use a high quality cocoa.
Another key ingredient in this recipe is the pecan flour. I absolutely love adding nut flours to all my baking recipes. Pecan flour has such a wonderful flavor when baked in goods. It is keto-friendly and filled with fiber that can help keep you energized and satisfied.
Hopefully by now I convinced you that you should try this recipe.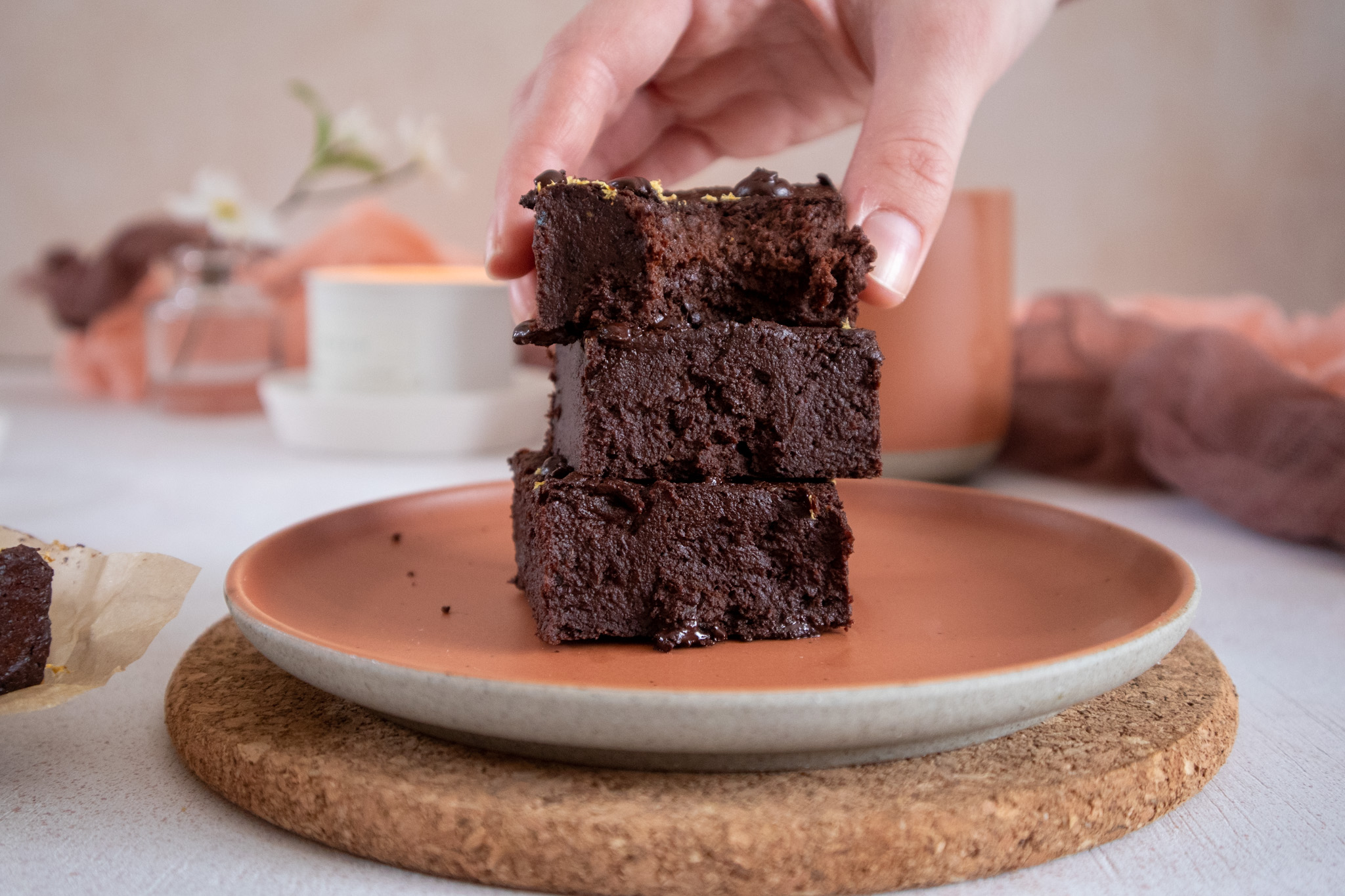 Ingredients:
● 1 Cup Pecan Flour (which can be obtained from mixing pecan nuts in a food processor)
● ½ Cup Coconut Milk Powder
● ½ Cup Organic Cocoa Powder
● 1 small pitted avocado
● 2 flax eggs (mix 2 tbsp of grounded flax seed + 6 tbsp water)
● 1 tsp baking powder
● The juice of ½ lemon
● 2 tbsp coconut oil
● Drops of Liquid Sweetener Monk Fruit (I've used 18 drops which equals 1 tbsp of sugar, you can use more if you like)
● Toppings: Unsweetened cocoa chips and some lemon zest to add more flavor. (these are optional, but in my opinion an excellent addition)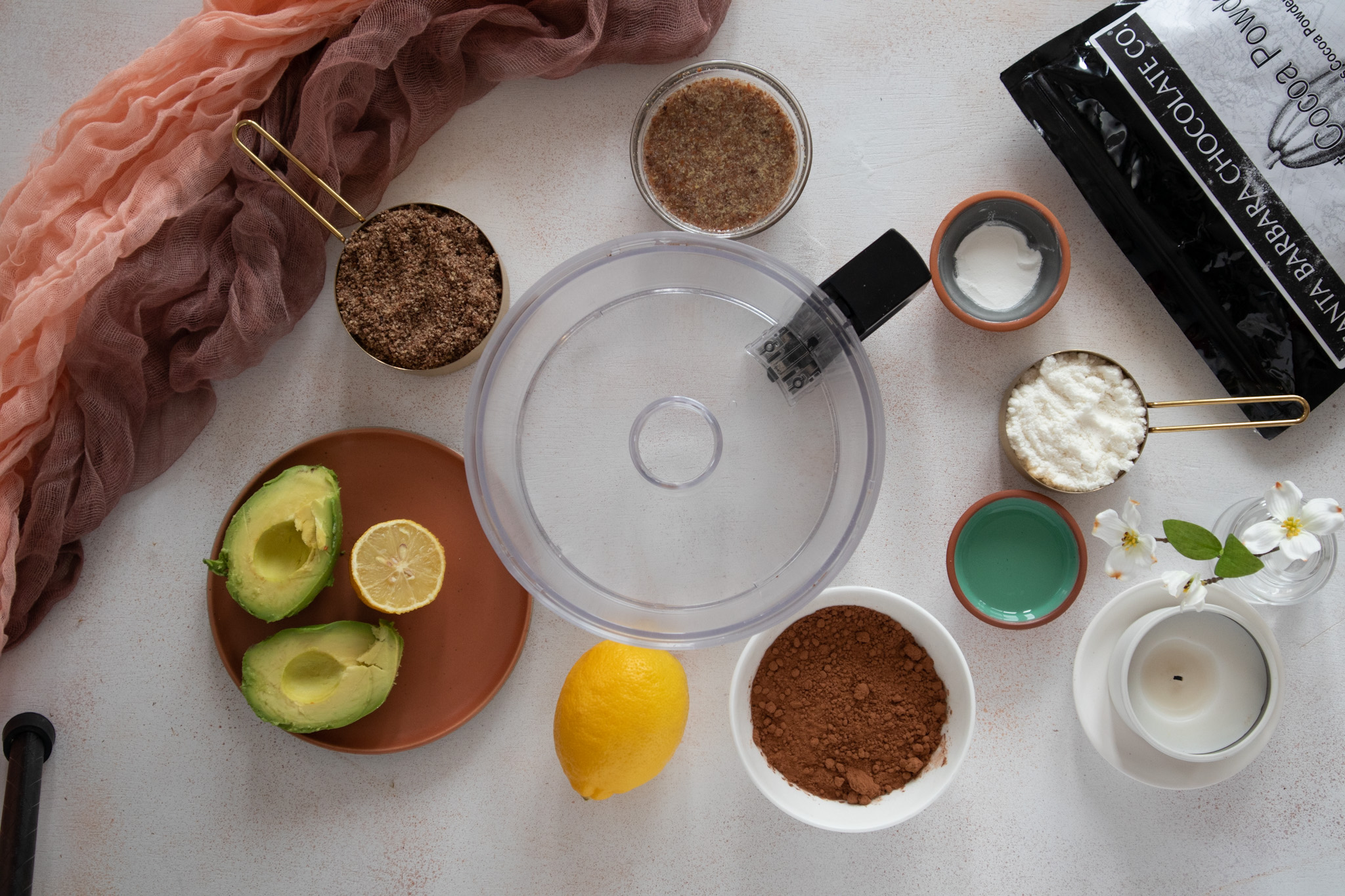 Instructions:
● Start by adding all ingredients to a food processor. Add dry ingredients first.
● Then start pulsing a few times before mixing on low speed. Increase the speed and make sure all ingredients are well combined.
● When the mix is ready, prepare a loaf pan 10 inch x 5 inch with parchment paper.
● Add the toppings.
● Bake on 350 F for 30 min.
● When baking is done let the brownies cool down for 10 min before cutting them into squares.
● And finally ENJOY.