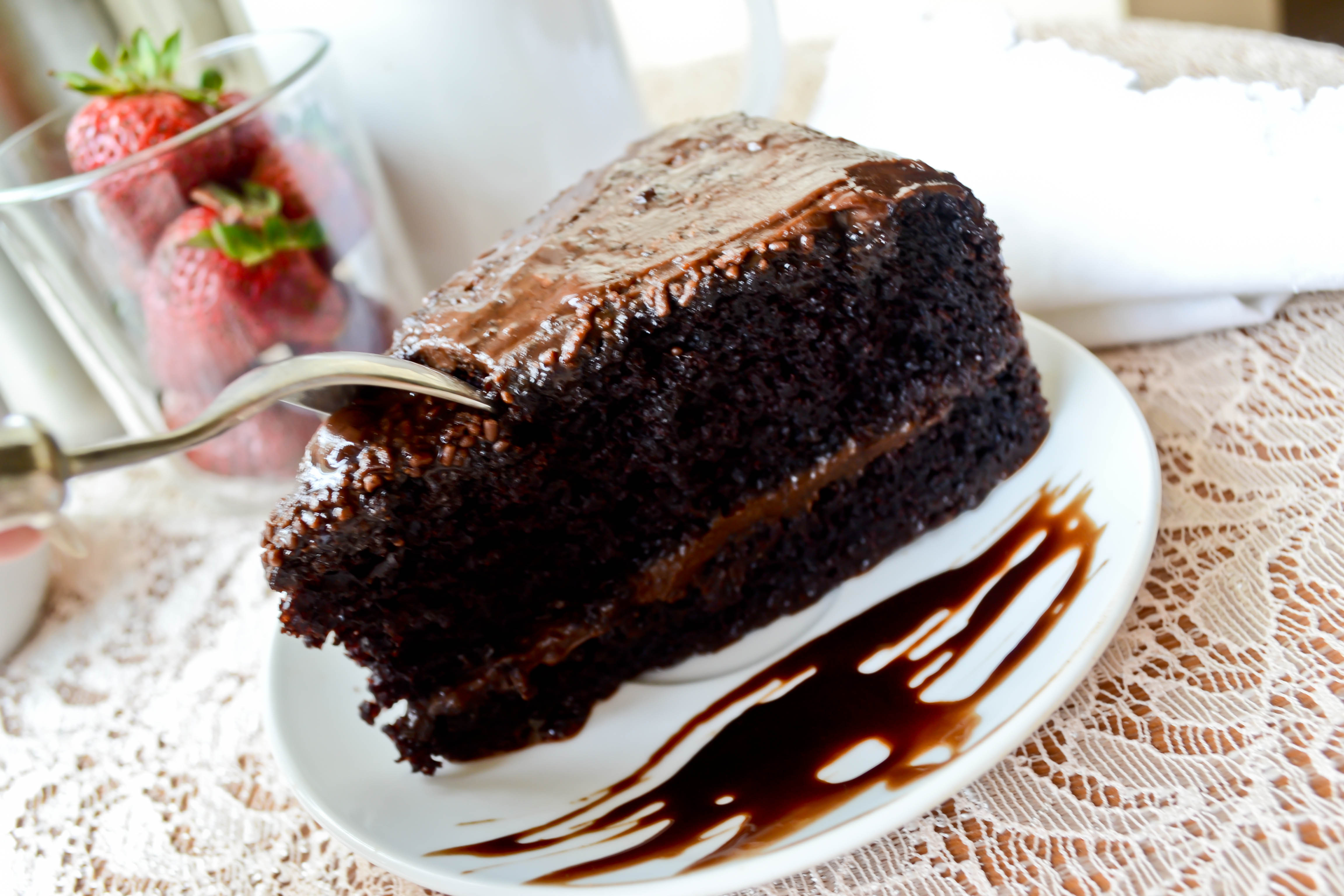 Matilda Chocolate Cake Recipe aka Devil's Food Cake Recipe
If you ever watched the 90's movie "Matilda" you are one of my team and obviously you know which cake is this! When I was a kid this used to be my favorite movie, I even knew all the dialogues. In the film there is one scene where a kid has to eat an entire chocolate cake; a huge, moist, dark chocolate cake.
This recipe is popularly known as "Devil's Food Cake" but in my heart it will always be the "Matilda" cake. "The Devil's Food Cake" recipe was first created around 1900s; the main difference between it and a regular chocolate cake is that the second one uses around half the amount of chocolate.
"When the larger amount of chocolate is used, it is a black, rich Devil's Food." – Joy of Cooking
Ingredients:
For the cake:
2 cups of all purpose flour
2 cups of sugar
1 ¼ cup of Rainforest Cocoa Powder
1 cup of buttermilk*
1 cup of water, boiling
3 eggs, large
¾ cup butter, room temperature
1 tsp of baking soda
1 tsp of baking powder
For the ganache:
2 cups of heavy cream
2 tbsp of butter, room temperature
Instructions:
For the cake:
Preheat your oven to 350º F.
Mix your cocoa powder, previously sifted, into the boiling water, stir well and set aside, we need this to be room temperature before using it.
In a large bowl add your sugar and room temperature butter.
Whisk them well and then start adding the eggs one by one.
Beat the mixture until fluffy and pale.
In a separate bowl sift together your all purpose flour, baking soda and baking powder.
Alternate adding flour mixture and buttermilk into the batter, don't stop mixing in low speed.
Incorporate the cocoa powder sauce into the batter and fold it in until you get a smooth chocolate batter.
Grease or line some parchment paper inside two 9 inch pans.
Divide the batter into the two pans, equally.
Bake for 35 minutes or until you insert a toothpick in the middle of the cakes and it comes out just with some crumbles, not wet.
Let your cakes cool down before icing them.
For the ganache:
Chop your dark chocolate into little chunks.
Boil the heavy cream and then pour it over the chocolate chunks.
Wait 5 minutes without moving it.
After 5 – 8 minutes, stir the chocolate mixture to combine it well.
Immediately add your butter and mix it until dissolved.
Let it cool down before using it.
To assemble:
When your cakes and ganache are room temperature, now it is time to assemble the cake.
First, level your cakes; cut the dome part of your cakes with a serrated knife.
Add around 2 -3 big dollops of ganache on top of one of the chocolate cakes and place the other one on top. Make some pressure for them to stick together.
Place the cake in the refrigerator 15 – 20 minutes before icing on top.
After chilled, add more ganache on top of the cake and with the help of a table knife or a spatula cover it completely.
If you want to decorate it, use a pastry bag and make some ganache details on top or you can also use chocolate shavings or sprinkles.
*Buttermilk:
If you don't have buttermilk, you can make your own. Mix 1 cup of regular milk with a tbsp of vinegar, stir and let it stand for 10 minutes before using it.
Check out our full list of chocolate varieties: