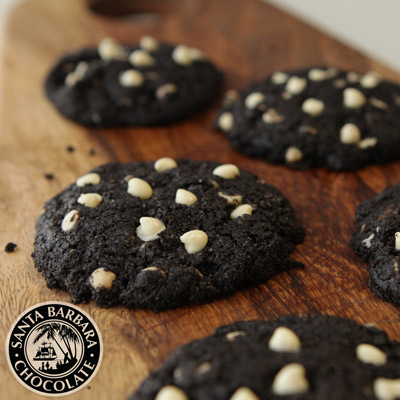 White Chocolate Chip Cookies
Organic white chocolate chips with ground vanilla sprinkled in a very dark colored black cocoa cookie make these an exotic looking dessert. What an easy recipe, and if you've ever wanted a black chocolate visual impact, this is the easiest recipe to try. Grasshopper pie is a great option if you want to try another black cocoa with white chocolate recipe.
Why is Black Cocoa Black?
We use a special blend of Brazilian cocoa beans to make our Rainforest Black Cocoa. This flavorful cocoa blend is roasted and alkalized to enhance the color. There is no burnt taste or ash taste in our cocoa powder. We don't burn the cocoa beans to get the black color. As a result, you get a beautifully colored very dark cocoa powder that still has a pleasant flavor.
Why do the Organic White Chocolate Chips have black flecks?
Our organic cocoa butter white chocolate chips have ground vanilla bean added to enhance the flavor and texture. The taste of ground vanilla bean offers a complexity in flavor not normally found in white chocolate.
White Chocolate Chip Cookies with Black Cocoa Recipe:
Ingredients:
1 cup white sugar
3/4 cup dark brown sugar
3/4 cup soft butter
1/2 cup coconut oil
1 teaspoon vanilla extract
2 medium eggs
2 1/2 cups flour
1/2 cup Rainforest Black Cocoa Powder
1 teaspoon baking soda
1 1/2 cups Organic White Chocolate Chips
1/4 cup Organic Dark Chocolate Chips
Directions:
Bring oven to 350F
Mix all ingredients in a bowl thoroughly
Use a spoon and drop dough on ungreased cookie sheet about 2" apart
Bake 12 minutes, remove from oven, cool and enjoy! :)