CHOCOLATE TRUFFLES RECIPE
If you ever ask me for my go to chocolate recipe, with no doubt I will give you my fudge double chocolate brownies, but if you need a no bake recipe, then this is the perfect one for you! These truffles are rich, soft, and really easy to make.
My little brother is not that little anymore, he is 13 years old now but when he was around 7 he always wanted to help me in the kitchen; recipes like this one were the best to let him be my cooking assistant. He was the one in charge to roll and decorate the truffles; kids have fun making these with little mess.
One story says Truffles were invented in France around 1920; a chef named Auguste Escoffier discovered how to make them when he poured hot cream over chunks of chocolate by mistake and noticed that was then easy to make balls out of that chocolate mixture; we are truly thankful, Escoffier!
These exquisite chocolate ganache balls have their name "truffle" because they look like the rare black truffle fungus.
Nowadays you can find a lot of different truffles variations. I will show you how to make milk chocolate, dark chocolate and white chocolate truffles. Because the main ingredient of this recipe is chocolate, we are going to use high quality chocolate. The brand Santa Barbara Chocolate has a large variety of chocolates to buy online.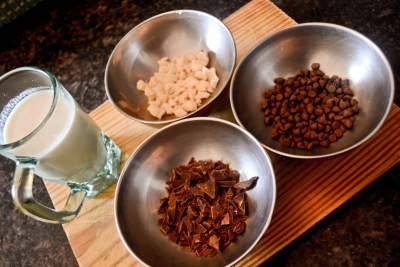 Ingredients:
Instructions:
In a saucepan, pour the heavy cream and bring to boil.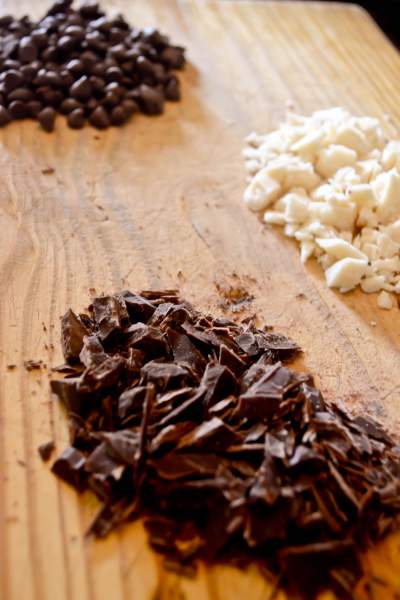 Chop your three different kinds of chocolate and place each type in a little bowl.
Pour your hot heavy cream over the chocolate divided in even amounts.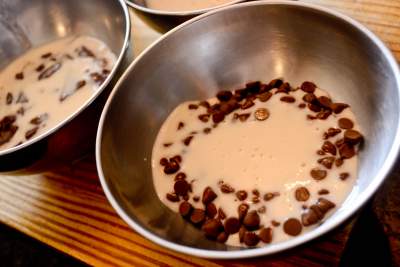 Let your chocolate melt with the heat of the heavy cream and do not stir until 5 minutes later.
Stir really well until all the chocolate is melted. If your chocolate is not completely melted, pour it back into the saucepan over medium heat for 2 minutes more, stirring constantly.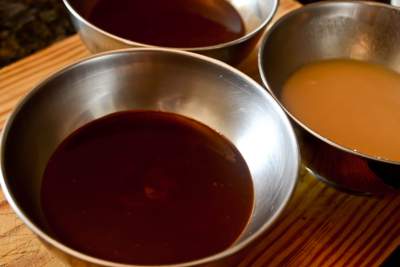 Place the melted chocolate mixture in the refrigerator to cool down until hard enough to make little balls. This process will take around 2 hours. I like to let them chill overnight but a couple of hours is enough if you don't want to wait.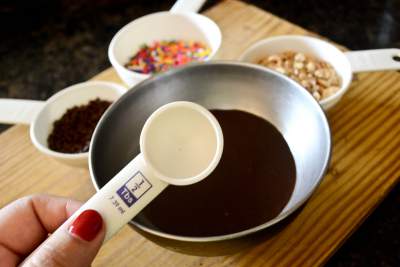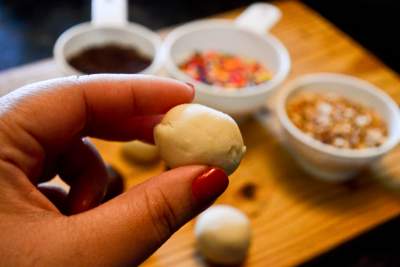 Spoon the ganache, about a half tbsp of mixture each and make little truffle balls with your hands.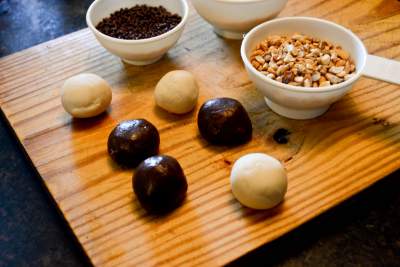 Chill for 10 minutes to set.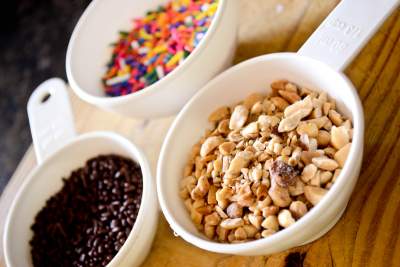 Decorate your truffles with any topping you like. I recommend using truffle toppings: chopped nuts, sprinkles, coconut shreds or even cookie crumbs.