Luxuriously silky smooth white chocolate is the ultimate comfort food. Rich in cocoa butter, white chocolate melts in the mouth and has a deliciously creamy flavor. However, vegan chocolate is famously difficult to find in grocery stores, leaving a lot of us missing out!
If you have some serious chocolate cravings that aren't satisfied by darker dairy-free varieties then you're in the right place - we're going to teach you step by step how to make a scrumptious vegan white chocolate recipe at home.
Our recipe uses 4 simple ingredients which should be pretty easy to find no matter where you live - pure cacao butter, unrefined coconut oil, sugar, and vanilla extract.
Here at Santa Barbara Chocolate, we are working on our own vegan white chocolate that you will be able to buy in our online store for easy use and eating. Our version will use a GMO-free organic rice milk in place of the coconut oil we use in this recipe. Until then, we promise you this homemade white chocolate recipe is just as delicious!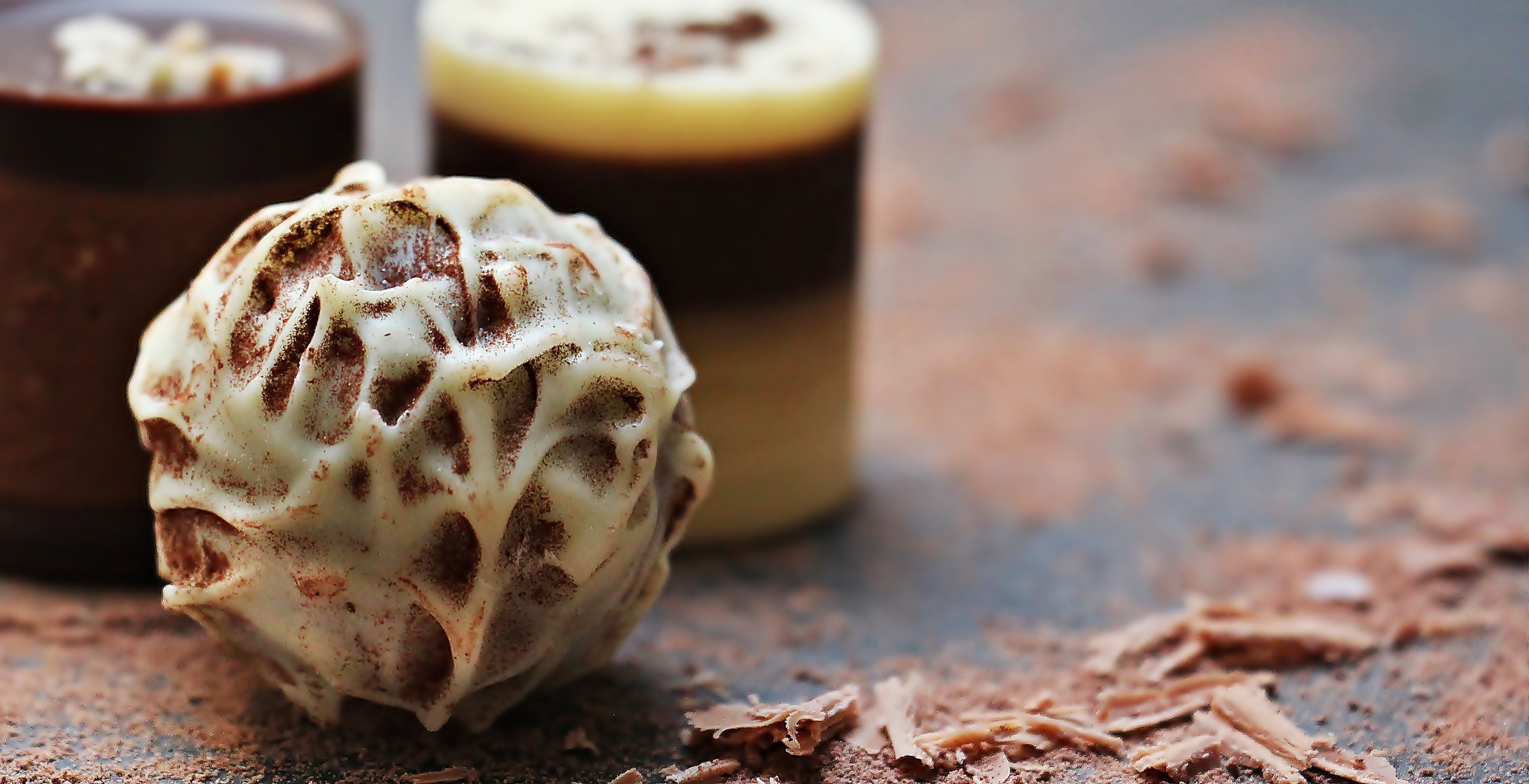 What Is Vegan White Chocolate?
Vegan white chocolate can be difficult to find in stores because legally speaking, white chocolate has to contain 3.5% milk fat and 14% milk solids. This means that anything that doesn't contain cow's milk cannot legally be called 'white chocolate'.
Of course, there are still plenty of vegan substitutes around for white chocolate lovers and they can usually be found hiding out in whole foods stores in particular. The problem with these is that they often contain obscure plant fats and in particular, palm oil.
This makes a large majority of them severely lacking in the ethical standards department, and can leave more conscious consumers without many good options.
Thankfully, vegans and milk-sensitive individuals can make their own chocolate creations at home using the official Santa Barbara recipe.
How to Make Vegan White Chocolate Using Just 4 Ingredients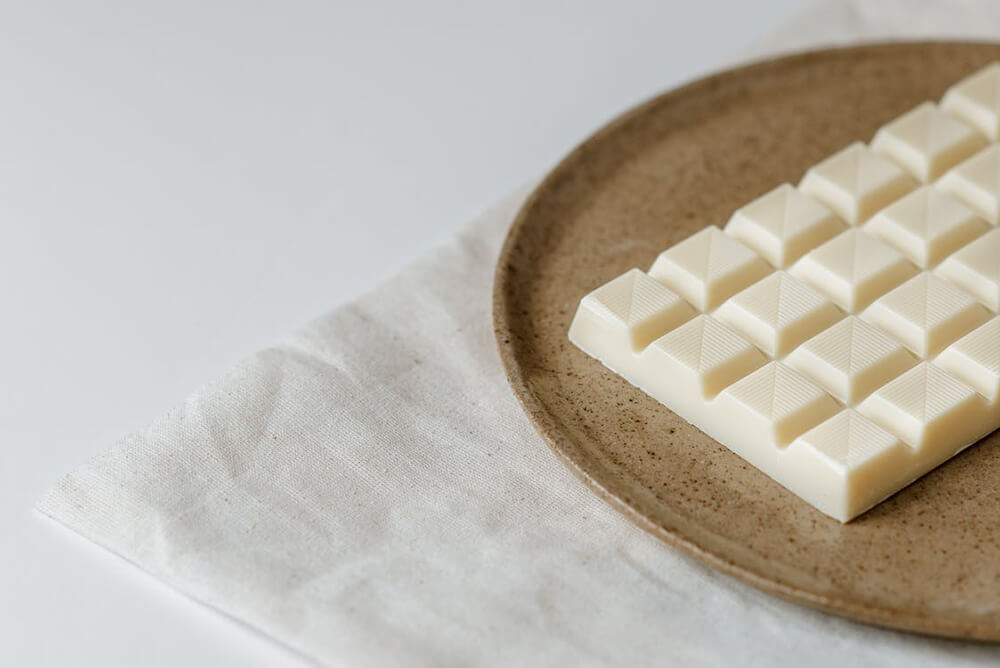 Santa Barbara's official recipe uses authentic pure raw Cacao Butter. To start, you'll need:
2 Cups of Pure Raw Cacao Butter
1/2 of a Cup of Organic, Unrefined Coconut Oil
1 Cup of Organic Sugar, Baker's Sugar, or Confectioner's Sugar (this is the best option)
1 1/2 Teaspoons of Organic Vanilla extract
In terms of utensils, you will also need a saucepan, a heat-resistant dish with a slightly larger circumference than your saucepan, a whisk or spatula, and a lined baking tray (or chocolate mold) to set the finished mixture on as it cools.
And don't forget to do a little research on the origin of your Vanilla extract - along with ensuring that it's up to your own ethical standards, it's a major key to the delicious flavor!
How to Make Vegan White Chocolate
To start, bring half a saucepan of water to a boil. When it is steaming, cover your saucepan with your heat-resistant dish in a 'double boiler' setup.
If your cacao butter is cold or at room temperature, chop it up a little into smaller chunks. This will help it to melt.
Add the chopped cacao butter to your heat-resistant dish, making sure that the dish is not touching the water - this ensures that only the steam from the water heats your mixture, resulting in a gentle melt, and a smoother finished product.
The Cacao Butter should start to melt quickly. It is important to continuously stir the mixture to prevent it from sticking or burning.
Once the cacao butter has melted, add in the coconut oil and continue to incorporate by mixing with a spatula or whisk.
Then, add in the sifted powdered sugar and vanilla extract and whisk. Do this all while the bowl is still over the hot water, so that the mixture stays hot and everything mixes in easily. You might even opt for an electric whisk here to take a bit of the hard work out of it. Remember to use sifted powdered sugar for best results.
When your mixture is ready, pour it onto your lined baking tray or chocolate mold, cover this with plastic wrap and place it in your freezer for no less than 1 hour.
Time for Tasting
When removing your tray from the freezer, your vegan white chocolate mixture should be completely solid. If it's not, return it to the freezer and wait a little longer. If it is, it's time for the all-important taste test.
By using real organic Cacao Butter, the resulting chocolate should be discernibly rich in flavor and silky in texture. Just remember that fats like coconut oil can be liquid at room temperature. Make sure, therefore, to always store your finished chocolate in the refrigerator between snacking. I'm not sure it will last long anyway!
Why Should You Avoid Palm Oil?
Commercial vegan recipes often include plants fats such as palm oil. Increasingly, vegans are making efforts to look deeper into the origins of this ingredient where it is present, or just avoiding it altogether.
Palm oil is harvested from the palm fruit, which is mainly grown in plantations across Malaysia and Indonesia. The problem is that a lot of producers do so with little respect for the other plant and animal species that they evict from the land in the process.
This means that palm oil production often leads to deforestation and the destruction of the habitats of endangered animals such as orangutans, and elephants
So, if you're opting for store-bought vegan chocolate and notice it contains palm oil, try to see if you can dig a little deeper into the company website to make sure that the suppliers they use follow sustainable and ethical working practices.
Consider Experimenting
Now that you've learned how to make vegan white chocolate at home, and hopefully realized how truly delicious the results are, it's time to take things to the next level.
If you're a chocolatier at heart, you could consider tempering your white chocolate and creating your own individual luxury chocolates, truffles, and decorations for vegan baked goods.
Flavorings
Homemade chocolate is also of course a perfect candidate for getting creative with flavorings. You could try incorporating chopped nuts like almonds or hazelnuts, oats, freeze-dried fruits such as raspberries, or even more exotic flavors like chili!
You could also swirl in small amounts of your favorite nut butter, or other chocolates such as vegan dark chocolate before your mixture is left to set. This can give you a really attractive marbling effect on the finished product.
As an Ingredient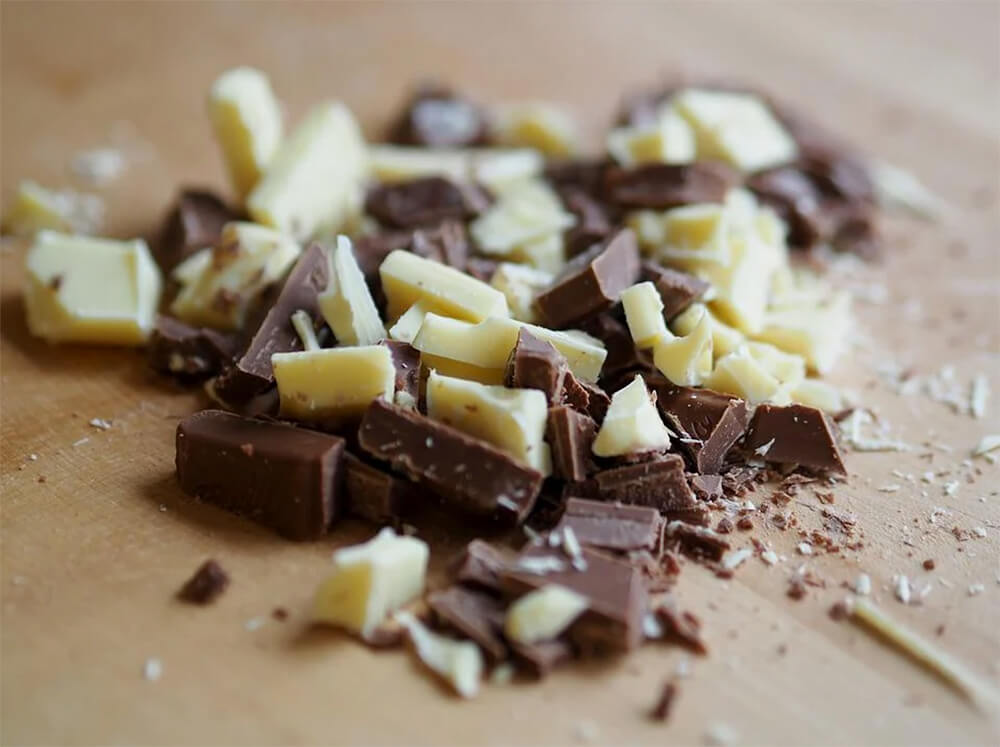 There are also dozens of super tasty recipes you could add your vegan white chocolate to! Here, the only limit is your imagination but some of our absolute favorites are:
White chocolate chip cookies (freezing the chunks before cooking will help them stay intact)
Vegan white hot chocolate
Vegan white choc-chunk brownies or blondies
And again, make sure to always refrigerate the results, especially if living somewhere with year-round warm temperatures like Santa Barbara.