Keto Chocolate CheeseCake Bites
These Keto Chocolate Cheesecake Bites are so delicious, healthy, vegan and gluten free desserts. All the goodness in one bite. Rich in chocolate taste from the vegan cocoa powder and coffee taste from the instant espresso powder.
Prep Time: 30 minutes
Refrigeration Time: 2 hours
Total Time: 2 hrs and 30 min
Serves: 12-14 servings
Definitely the healthiest cheesecake bites you will make for you and your family.
My favorite and the king ingredient of this recipe is the Vegan Cocoa Powder from Santa Barbara Chocolate. It's important that you use a high quality Vegan Cocoa Powder not only for the deep flavor but all the amazing benefits that come with a deep red color and a warm finish.
With a low ash content you get pure cacao flavor. Santa Barbara Chocolate has achieved this remarkable cocoa powder by selecting premium ripe cacao, sun drying the cocoa beans and roasting to perfection. This is a premium non-alkalized cocoa powder. This is the remarkable achievement that they have developed such a beautiful red color without alkalization. You've never had cocoa powder like this before and once you do, you'll be hooked.
Next ingredient in these keto cheesecake bites is the organic instant espresso powder. Adding a little espresso coffee powder helps enhance the flavor of cocoa. If you never tried this trick, you have to start now.
Another key ingredient in this recipe is the pecan flour. I absolutely love adding nut flours to all my baking and no baking recipes. Pecan flour has such a wonderful flavor in all baked and no baked vegan sweets. Is keto-friendly and filled with fiber that can help keep you energized and satisfied.
I really hope you try these cheesecake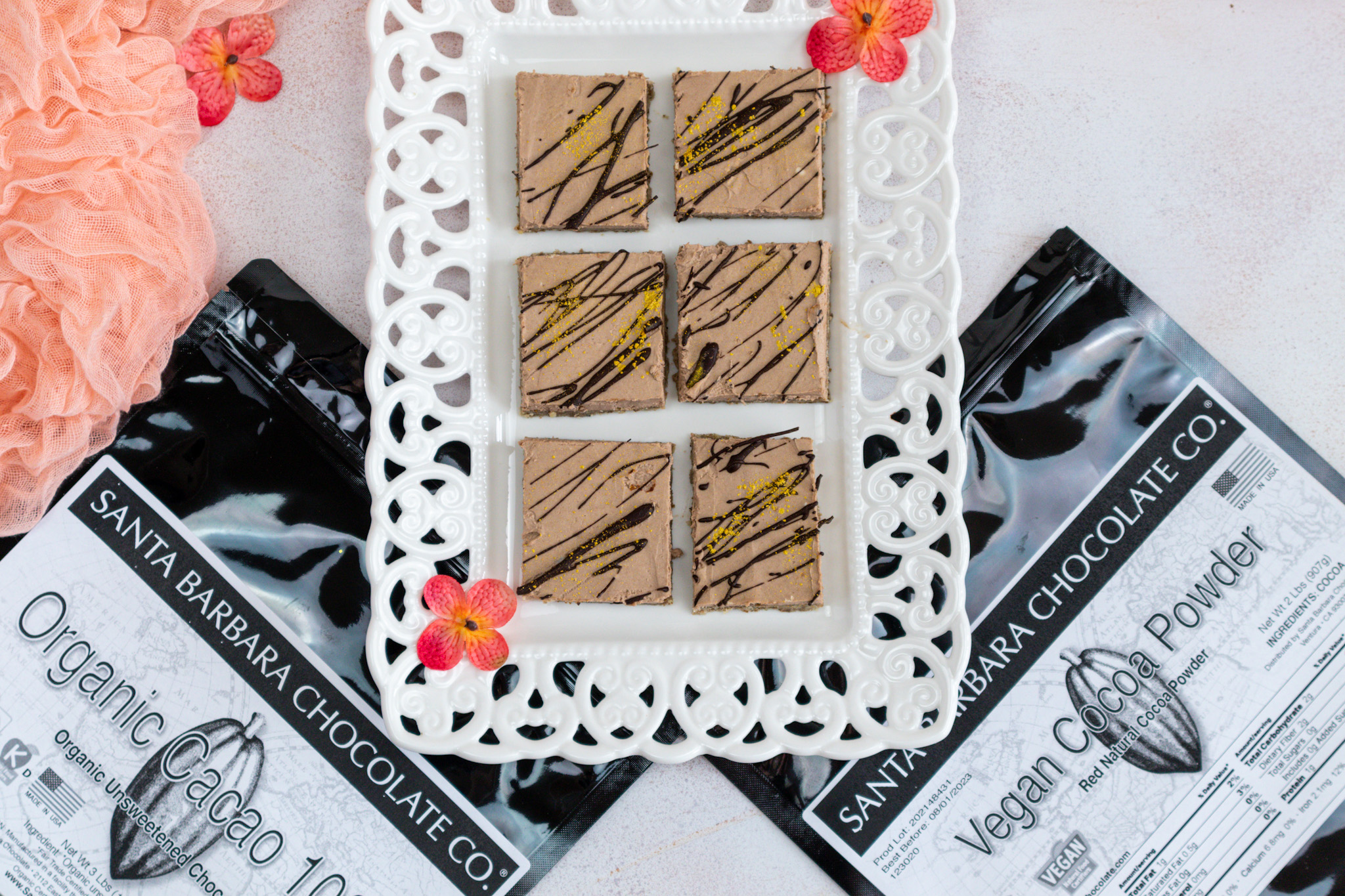 Ingredients:
Crust:
2 Cups Pecan Flour (which can be obtained from mixing pecan nuts in a food processor)
1 Cup Coconut Milk Powder
¼ cup melted coconut oil
1 tbsp water
Instructions:
Using a spatula mix all ingredients in a clean bowl, until well combined.
Spread the crust mix in a pan 13 inch x 8 inch (or you can use what you have at home) making sure to press down with your spatula. Place the pan in the freezer while working on the cheesecake layer.
Cheesecake Layer:
300 grams vegan cream cheese (or regular if you are not vegan)
175 grams coconut whipped cream (or regular)
1-2 TBSP SANTA BARBARA CHOCOLATE Vegan Cocoa Powder
1-2 TBSP instant espresso coffee powder
Drops of Liquid Sweetener Monk Fruit OPTIONAL (I've used 9 drops which equals ½ tbsp of sugar, you can use more if you like)
Toppings: SANTA BARBARA CHOCOLATE 100% Pure Cacao Organic Dark Unsweetened Chocolate and edible gold dust (this are optional, but in my opinion an excellent addition). Cocoa Mass is a great alternative keto chocolate option also.
Instructions:
Start by adding cream cheese and coconut whipped cream to a bowl. Using a hand mixer, mix on low for 2 minute and switch to medium after that. You should be getting a nice whipped cream texture. Add cocoa, espresso powder, monk fruit sweetener and mix again for a few minutes until everything is nicely combined. Take out the crust from the freezer and spread the cheesecake layer evenly over the crust.
Place back in the freezer for at least 2 hrs, take out, cut into square pieces and decorate with your favorite melted chocolate chips from Santa Barbara Chocolate (I used 100% Pure Cacao Organic Dark Unsweetened Chocolate).
Add some gold to make it fancy and finally ENJOY