Description
The Pure Hot Chocolate Experience
This Unsweetened Hot Chocolate powder can be used to make the original Aztec recipe with water, cinnamon, chili and honey. Or just add to hot milk and sweeten as you like to make thick, creamy hot chocolate the delicious European way.
Chocolate is actually based on the Meso American word Xocolaltl (shoko' lot-all) which is an onomatopoeia (word that sounds like the meaning) of making the chocolate drink. Xoco (means bitter but also sounds like the frothing of the chocolate drink using a molinillo) and latl (means water but also sounds like pouring of water from an earthenware vase or olla pot). So the word chocolate is based on the words the Aztecs used for making their glorious hot chocolate.

Pure Organic Cacao

Vegan and Versatile

Serve Hot or Cold

Easy to Mix Powder

Rich Cocoa Flavor

2lb Value Bag
How To Make Hot Chocolate with Cocoa Powder
California style hot cocoa recipe: Whisk 4 Heaping Tablespoons Hot Chocolate with 8 ounces of hot almond milk and 2 Tablespoon honey. Whisk to homogenize with liquid and froth.
Our gourmet hot chocolate is unsweetened and made from extra dark cacao. It has a light red hue when frothed due to the cocoa bean type.
Ingredient: Organic Cocoa
Made from exotic cacao we have sourced Ethical Trade.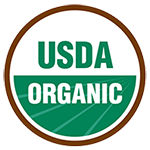 Hot chocolate options:
Our unsweetened dark hot chocolate is made from pure ground cacao solid chocolate with no sugar - make a slurry and then flavor with honey and spice. Serve frothy by whisking or shaking. It can be stored in the refrigerator once made (shake till frothy and pour).
We recommend using a mix of 1:1 cacao powder to raw brown sugar. Use a mix of 3 TBSP per 4 oz of milk. Serve frothy. It will take mixing to get the powder to suspend in the milk (this is due to raw cocoa butter). It tastes wonderful and is a real delight.
NOTHING LIKE HOT CHOCOLATE AND WATCHING CHUPACABRAS IN THE BACKYARD....
Cacao Powder is the same as Cocoa Powder.
Both are common names for the concentrated powder made from cold pressing cacao nibs extracting raw cocoa butter and leaving a low fat brown fiber cake that is ground into powder. This powder is known under FDA terminology as natural process cocoa and in the gourmet chocolate world as Cacao Powder. The powder is a concentrated food made exclusively from the seeds of the cocoa tree. it is sugar free, vegan and has a strong flavor due to the alkaloids and antioxidant value.
Santa Barbara Chocolate Cacao Powder is Natural Process (meaning it is not alkalized and is just pressed cacao nibs ground to a powder). The cacao benefits include no extra processing, 100% organic, Fine Superior cacao flavor and low fat but still full of all the healthy nutrition you would expect from a raw superfood.
Flavor profile: Fine Flavor Cocoa is floral and bitter dark with prominent chocolate notes, mild fruitiness and slight acidity.
Packaged: Bulk Cacao Powder in 2LB. Bag
Ingredient: Organic Cacao Powder
Organic certified by USDA inspection

Fair Trade USA Certified

Pareve

Vegan Cocoa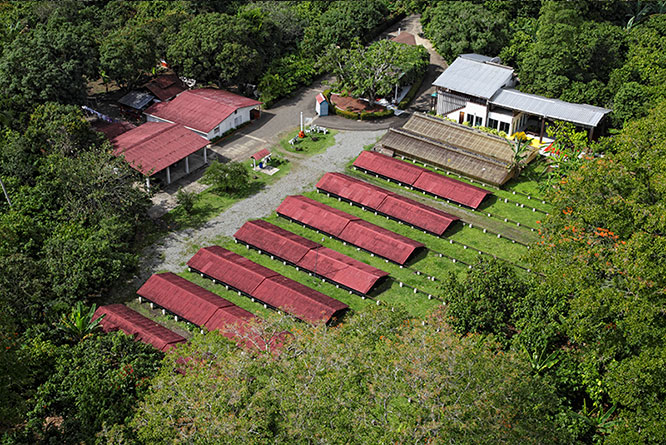 Criollo Cacao grown in the Rainforest around the cocoa farm.
Close up view of the Raw Cocoa Bean cut in half. This inside seed is the Cocoa Nib - this is what is pressed into cocoa powder.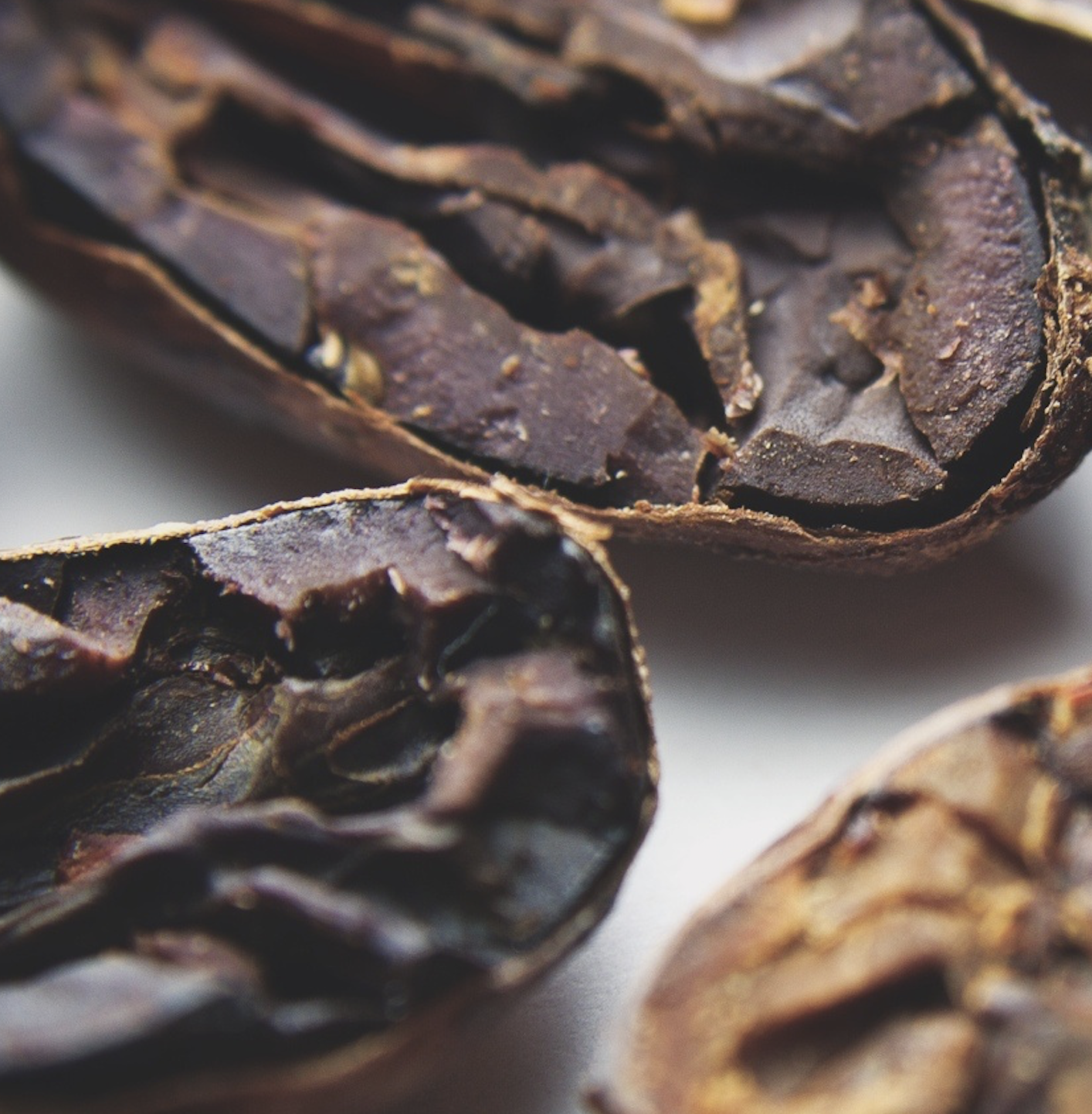 Unsweetened Raw Organic Cocoa
(Unsweetened Hot Chocolate)
Brown Appearance
Ingredient
*Organic cocoa.
*Fair Trade Ingredient: Organic cocoa.
Allergen Information
Manufactured in a facility that handles milk and dairy products.
Country of Origin
United States of America
Physical and Chemical Properties

Fat Content

10 - 12%

Moisture

≤ 5.0%

pH

5.0 - 6.0

Particle size (200 mesh screen)

99.5%
Microbiological Properties

SPC

≤ 5,000/g

Coliform

≤ 10/g

E. Coli

Negative

Salmonella

Negative
Recommended Storing Conditions
60 - 70°F; relative humidity < 50%, in odor free atmosphere.
Shelf Life
Best used within 24 months of production date.
Nutritional Information on Average for 3.53oz (100g)

Calories

260.6kcal

Total fat

11.85g

Saturated

7.47g

Polyunsaturated

0.56g

Monounsaturated

4.18g`

Trans fat

0g

Cholesterol

0mg

Total Carbohydrate

57.9g

Dietary Fiber

33.2g

Sugar

0g

Added Sugars

0g

Protein

19.91g

Calcium

130mg

Iron

13.83mg

Vitamin C

0mg

Vitamin A

0mcg

Vitamin D

0.06mcg

Potassium

1,549mg

Sodium

20.5mg

Magnesium

499mg
*Nutrient content information is indicative of composition but not intended as definitive or complete. It is not intended for use in determining specific nutrient labeling values in finished products containing this ingredient as the responsibility for determining label information lies with the finished product manufacturer. Organic matter such as contained in products of this nature is subject to variation in nutritional composition. We disclaim any and all warranties, whether express or implied, including the implied warranty of merchantability. Our responsibility for claims arising from breach of warranty, negligence or any other cause shall not include consequential, special or incidental damages, even if we have been made aware of the possibility of such damages, and is limited to the purchase price of the product. None of the statements made herein shall be construed as a grant, either express or implied, of any license under any patent held by Santa Barbara Chocolate or other parties.
Warranty Information
Unsweetened Hot Chocolate has No Sugar. The hot drink once made has a red hue due to our rare cocoa we use. Make it as sweet as you want by adding your own sugar or sugar alternative. Thick and rich in chocolate flavor this is the best way to enjoy chocolate easily anywhere and in a smoothie too. This is 100% cocoa. Make a batch and store chilled in the refrigerator for a quick and tasty afternoon delight. For the best tasting hot chocolate drink, be sure to whisk thoroughly to make frothy.