Description
100% Pure Cacao Organic Dark Unsweetened Chocolate
Experience exotic cacao grown deep in the headlands of the mighty Amazon. This is 100% Chocolate made from Pure Cacao.
EXTRA DARK PURE CACAO CHOCOLATE

GMO FREE

KOSHER CHOCOLATE

ETHICAL TRADE CACAO

UNSWEETENED CHOCOLATE

BEST CHOCOLATE BRAND
100% Pure cacao organic dark chocolate ingredients: Organic Cocoa Mass.
Simply pure ground cacao to a smooth texture and then formed into chocolate discs - unsweetened chocolate 100% cocoa solids. This is the flavor of 100 dark chocolate: strong robust and bitter with the subtle nuances of exotic organic cacao.
Bulk organic 100% cacao chocolate has unsurpassed flavor and is perfect for all organic baking chocolate recipes. If you are going to take the time to craft a homemade chocolate truffle or baked good you will want your time to pay off with the best possible result. This pure 100% cacao gives you the real organic cacao experience in a raw flavor. You should experience the taste of wild cacao.

UNSWEETENED ORGANIC CHOCOLATE
The real taste of pure raw cacao is very apparent when eating 100% cocoa solids because there is nothing else added to the chocolate (no sugar, no vanilla, no milk, no extra cocoa butter). This is the real test of quality. Notice the floral nuances with dark earthy flavors and a slight wet cacao taste tempered with a smooth even melt. We know the source of the cacao and the orchards and feel confident in the quality and safety. The farmers tending the cacao trees are paid a living wage and they really enjoy what they do. The farmer co-ops carefully regulate all aspects of the cacao watching that everyone involved is following good hygiene and care of the organic cacao, including sustainability. The result is an unsweetened organic chocolate you'll feel good about.
Unsweetened Chocolate Means It tastes Bitter.
Organic Dark Chocolate Unsweetened Chocolate Ingredients: Organic Cocoa Mass
KOSHER CHOCOLATE
Please read our reviews so you can learn more about our quality chocolate.
We use Ethical Trade and Fair Trade Cacao. UTZ and Rainforest Alliance is a collaboration of independent audit organizations that reviews cacao and fair chocolate practices.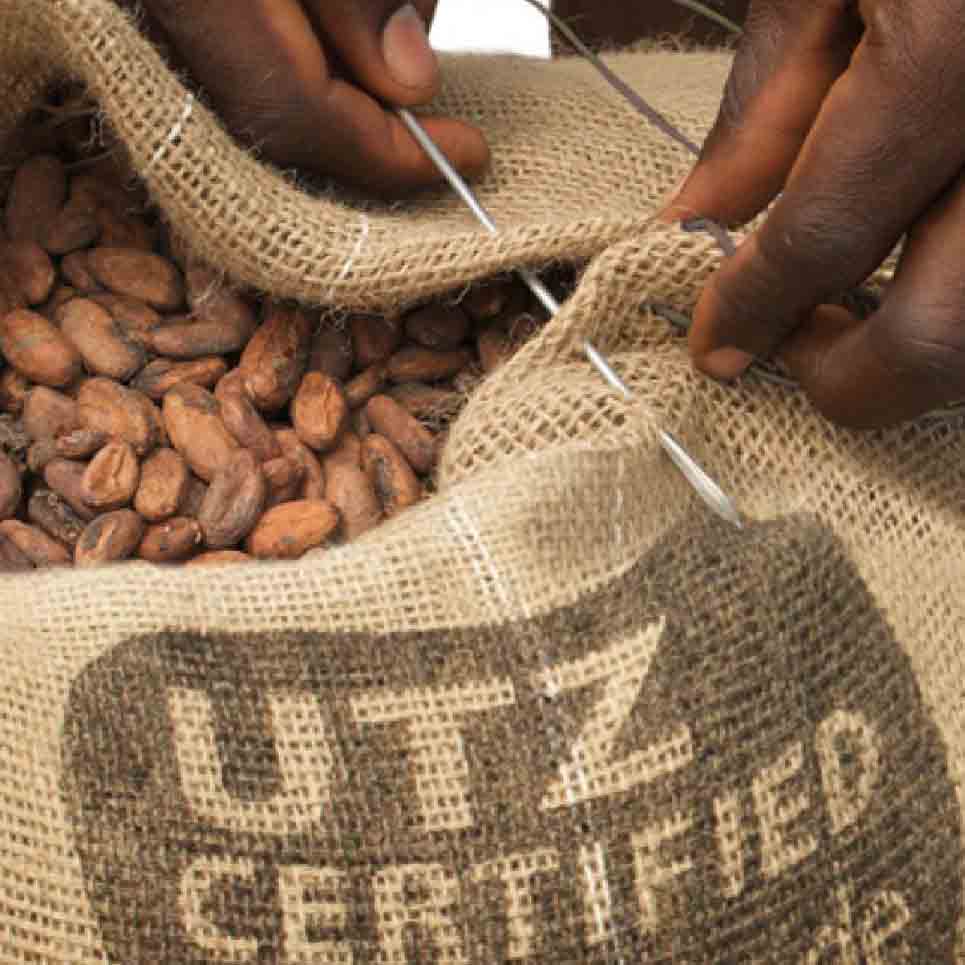 The Differences in Flavor of our Pure Chocolate Types
The differences are based in the cacao origin and as a result flavor and viscosity.

100 Pure Dark Chocolate: Organic cacao ground into a pure chocolate. The chocolate is earthy, slight fruit with pronounce bitterness giving way to floral and lingering cocoa notes. The cacao is slightly lower fat so when melted it is a medium viscosity. The cacao is classified as Cuchillo Criollo.

100 Dark Chocolate Rainforest dark: North Hispaniola from a micro climate area. The chocolate is slightly more mild with hints of fudge and red berry notes giving way to pronounce cocoa and finishing with a clean melt. The cacao is type of Trinitario with a higher fat content by 2% approximately so it is more fluid when melted.
Santa Barbara Chocolate Unsweetened Chocolate Cacao Medallions recipes:
100 Dark Chocolate Fondue: 8 oz. unsweetened cacao chocolate + 4 oz. milk or dairy free rice milk + pinch of cinnamon.Mix and heat at medium temperature, stirring constantly. Dip your favorite fruit or nuts.
100 Dark Chocolate Truffle Ganache Vegan Friendly: 8 oz. unsweetened cacao chocolate + 4 oz. coconut cream + 1 tbsp. agave syrup. Mix and heat at medium temperature, stirring constantly, Once mixed well refrigerate to set. Once set use a spoon to scoop and ball ganache into truffles. Roll them in chopped nuts or our Red Cocoa Powder.
You can also use our Unsweetened Cacao Chocolate as a substitute for any unsweetened chocolate baking recipe. Use a 1:1 ratio by weight for the recipe.
How many medallions are in 1 ounce of the 100% dark chocolate? These coins vary so the numbers below are approximate.
16oz x 22lb = 352 ounces = 352 (1 ounce servings)
1.5 grams per coin = 18.6 coins per 1 ounce serving
18.6 coins per 1 oz x 352 ounces total = 6,571 coins per 22lb box
Santa Barbara Chocolatiers use the 100 Dark Chocolate as a base in making all of our couverture chocolates. By adding in sugar you create chocolate percentage types. For example, if you add 30% sugar to 100 dark chocolate you then have made a 70 couverture chocolate.
Warranty Information
100% Cacao Organic Unsweetened Chocolate Amazonas is the taste of pure raw organic cacao. Grown in the deep jungle headlands of the Rainforest. Exotic floral flavors with deep dark cocoa notes, taste the rarest and exotic cacao few have tasted. This is the best unsweetened chocolate brand.