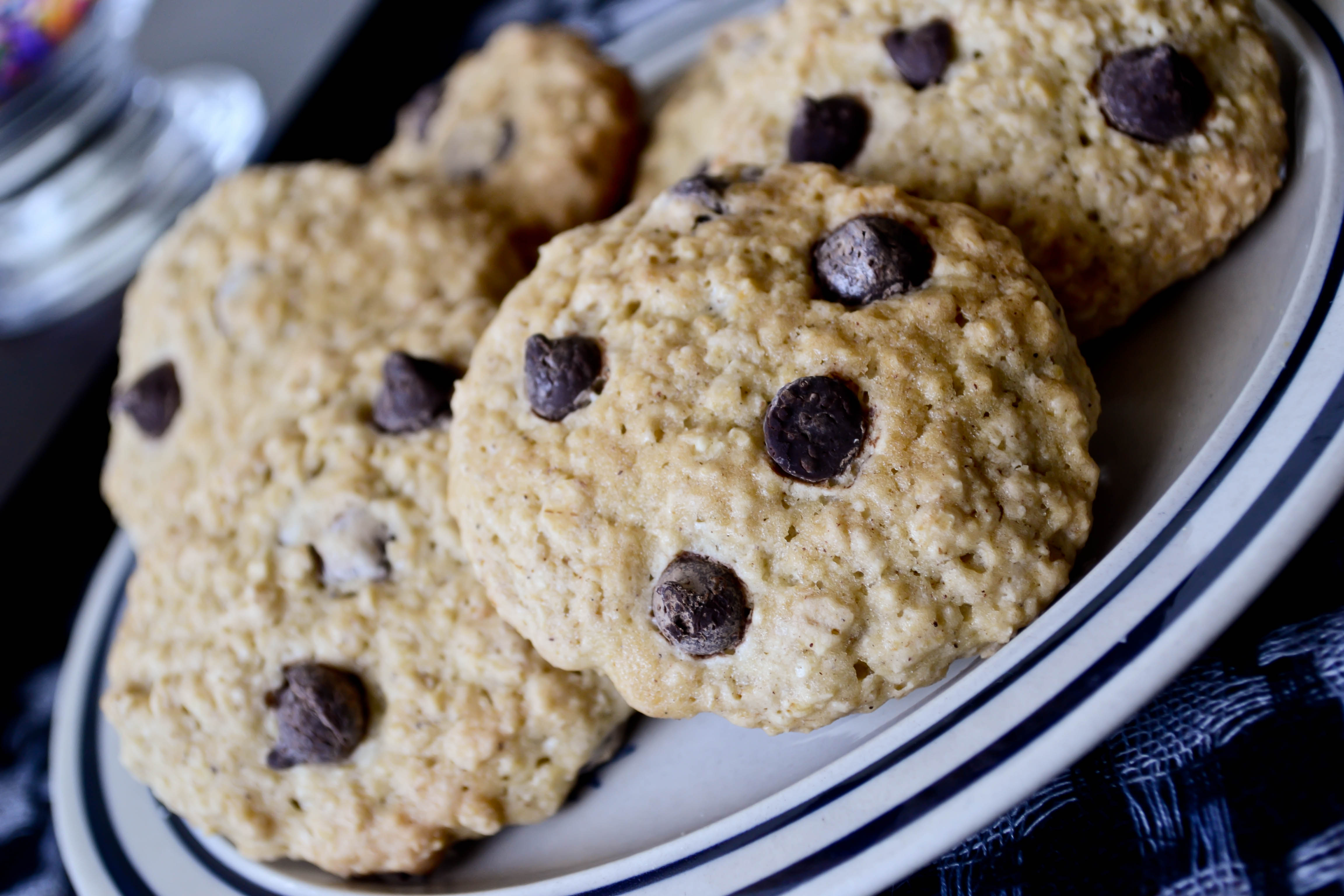 Healthy Oatmeal Chocolate Chip Cookies
Some people think they can't have baked goods that are both healthy and delicious; these cookies are going to show them they do exist and they will become your new favorite breakfast.
The combination of rolled oats, honey, cinnamon and bittersweet chocolate chips is ideal and perfectly combines with your morning coffee or tea. Of course, you don't have to eat them just in the mornings, they are great for an afternoon snack too.
The Organic Dark Chocolate Chips 72% that Santa Barbara Chocolate offers are the best chocolate chips that you can use for this recipe. Don't forget how important it is to use high quality chocolate to get the best treats.
Dark chocolate is delicious, it also is loaded with minerals, a source of antioxidants and may lower the risk of cardiovascular diseases so it is healthy by most people's standards.
Ingredients:
1/4 cup of butter, room temperature
1/2 cup of brown sugar
1 cup of whole wheat flour
3/4 cup of rolled oats
1/2 cup of Organic Dark Chocolate Chips 72%
2 eggs
1/4 cup of greek yogurt
1 tbsp of honey
1 tsp of baking powder
1 tsp of ground cinnamon
1 tsp of vanilla extract
A pinch of salt
Instructions:
Preheat the oven to 350 degrees.
Cream together your butter and brown sugar. If you don't have an electric mixer, don't worry, you can also do this recipe by hand with a simple whisk.
Add the eggs, honey, greek yogurt and vanilla extract; keep whisking to combine as much as possible the ingredients.
Sift into the bowl the whole wheat flour, baking powder, ground cinnamon and salt. Stir for 15 - 20 seconds to integrate.
Add your rolled oats and the Organic Dark Chocolate Chips. Give a last good stir to the cookie dough.
Place your dough into the refrigerator for 20 - 30 minutes to let it chill before baking. This will help the cookies to keep their shape while baking and it also will help you to roll the dough when placing it on the cookie sheet.
Take a cookie sheet and cover it with parchment paper.
Roll around 2 tbsp of dough into a ball and place it on the cookie sheet; press it down slightly.
Bake for 12 minutes. If you like your cookies a little more golden just bake for 2 extra minutes but keep an eye on them to make sure they don't over bake.
Take your cookies out the oven and let the cool down.
If you want to take this treat to the next level, make homemade coconut whipped cream to craft healthy cookie sandwiches!
Ingredients:
1 can of coconut milk, full fat
4 tbsp of powdered sugar
1 tsp of vanilla extract
Instructions:
Place the can of coconut milk in the freezer for at least 12 hours, you need it to be really cold.
In a large bowl add your frozen coconut milk. Don't add the liquid that may still be in the can, you can use that to make a smoothie!
With a hand mixer or stand mixer start to beat the cream until fluffy.
Add the powdered sugar and vanilla extract.
Keep mixing until you can form peaks with the coconut cream.
Fill a pastry bag with the coconut whipped cream.
Take one of your cookies and add some cream in the bottom.
Place another cookie on top to create a sandwich!
Add toppings around the cream like nuts or sprinkles.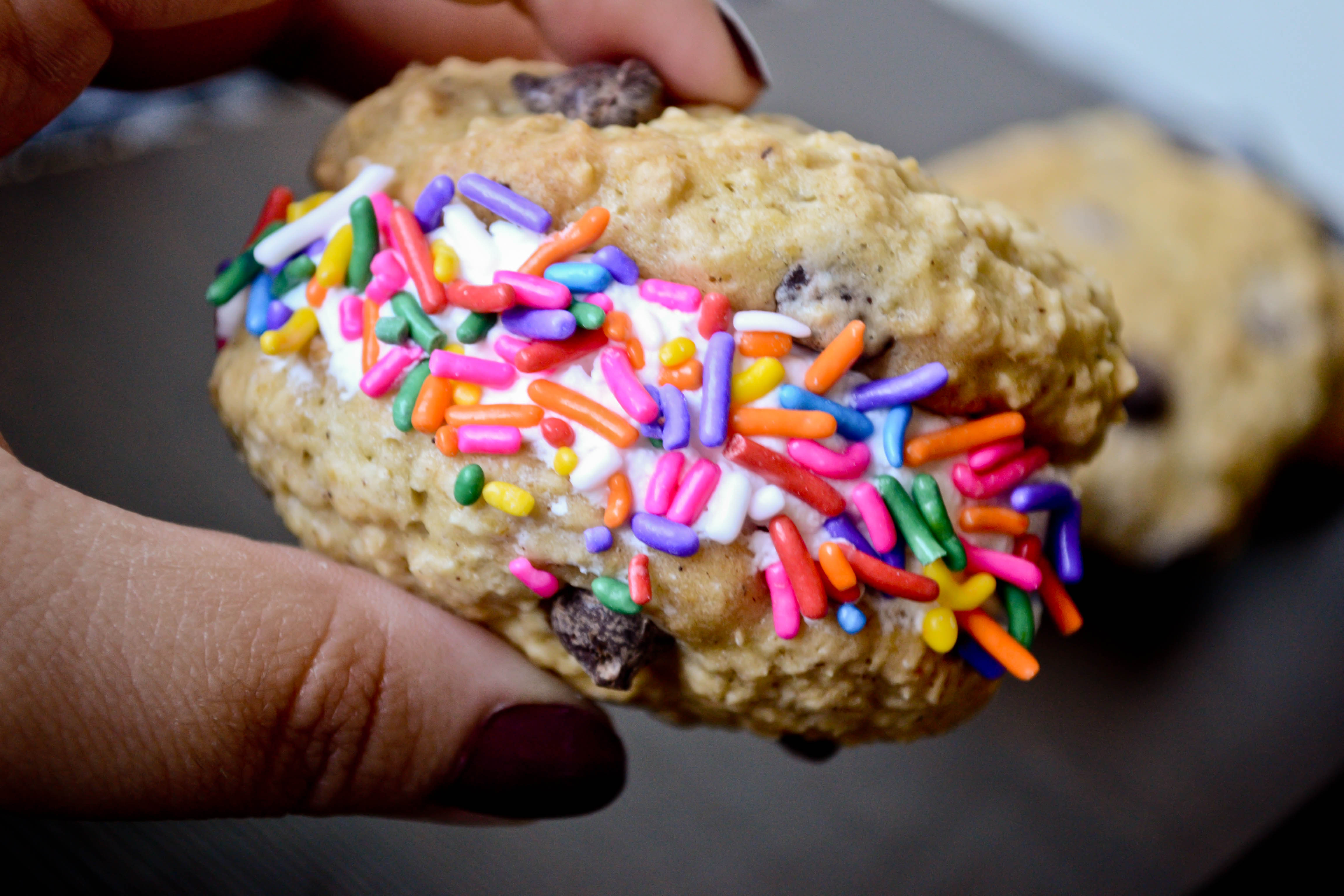 Dark Chocolate Oatmeal Cookies
These dark chocolate oatmeal cookies are what I like to call a perfect go to breakfast; make a bunch and store them in a glass jar to keep them fresh. Then you just have to brew some coffee in the morning, or make a quick instant coffee to save even more time, grab two or three cookies and go!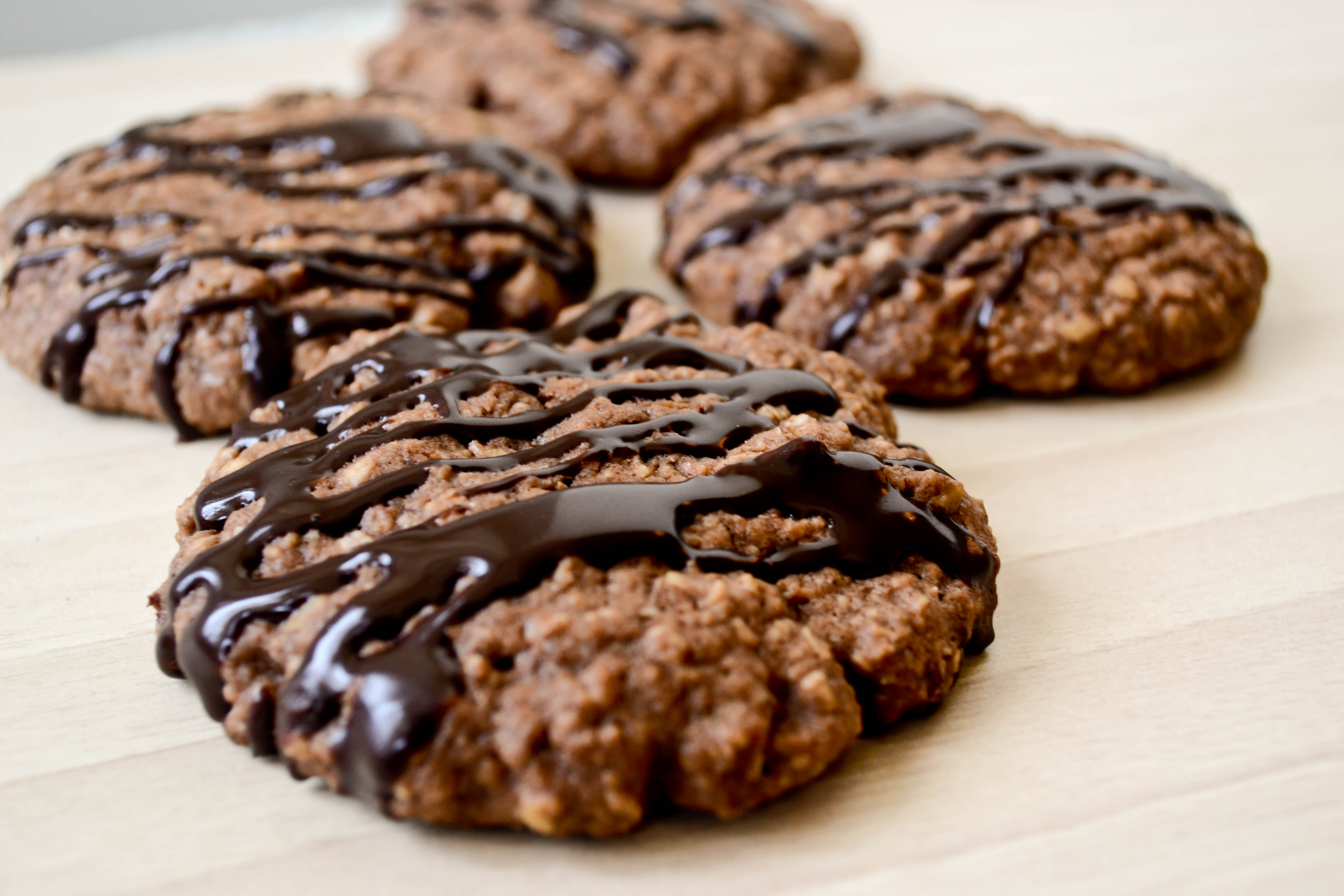 Oats has many benefits for your health. They are load with iron, fiber, zinc, magnesium, vitamin B1 and more. Also they help you to remove bad cholesterol and protect the good one. Dark chocolate has health benefits too, it contains: fiber, iron, magnesium, copper and more. Reduces blood pressure and improves brain function.Do you need more reasons to bake these cookies?
I recommend using high quality dark chocolate for this recipe. I used the Organic Dark Chocolate 60% from Santa Barbara Chocolate. I think is a great option to make these cookies. If you want a stronger chocolate, check their website and you will find several options.
I like to decorate these cookies using melted Dark Chocolate Couverture and if you want to add a little extra flavor, pour the melted chocolate and add some sea salt on top.
Ingredients:
1 cup of all purpose flour
½ cup of butter, room temperature
1 egg
¾ cup of sugar
1 ½ cup of rolled oats
4 oz. of Dark Chocolate Couverture
1 tsp of ground cinnamon
½ tbsp of vanilla extract
1 tbsp of cornstarch
A pinch of salt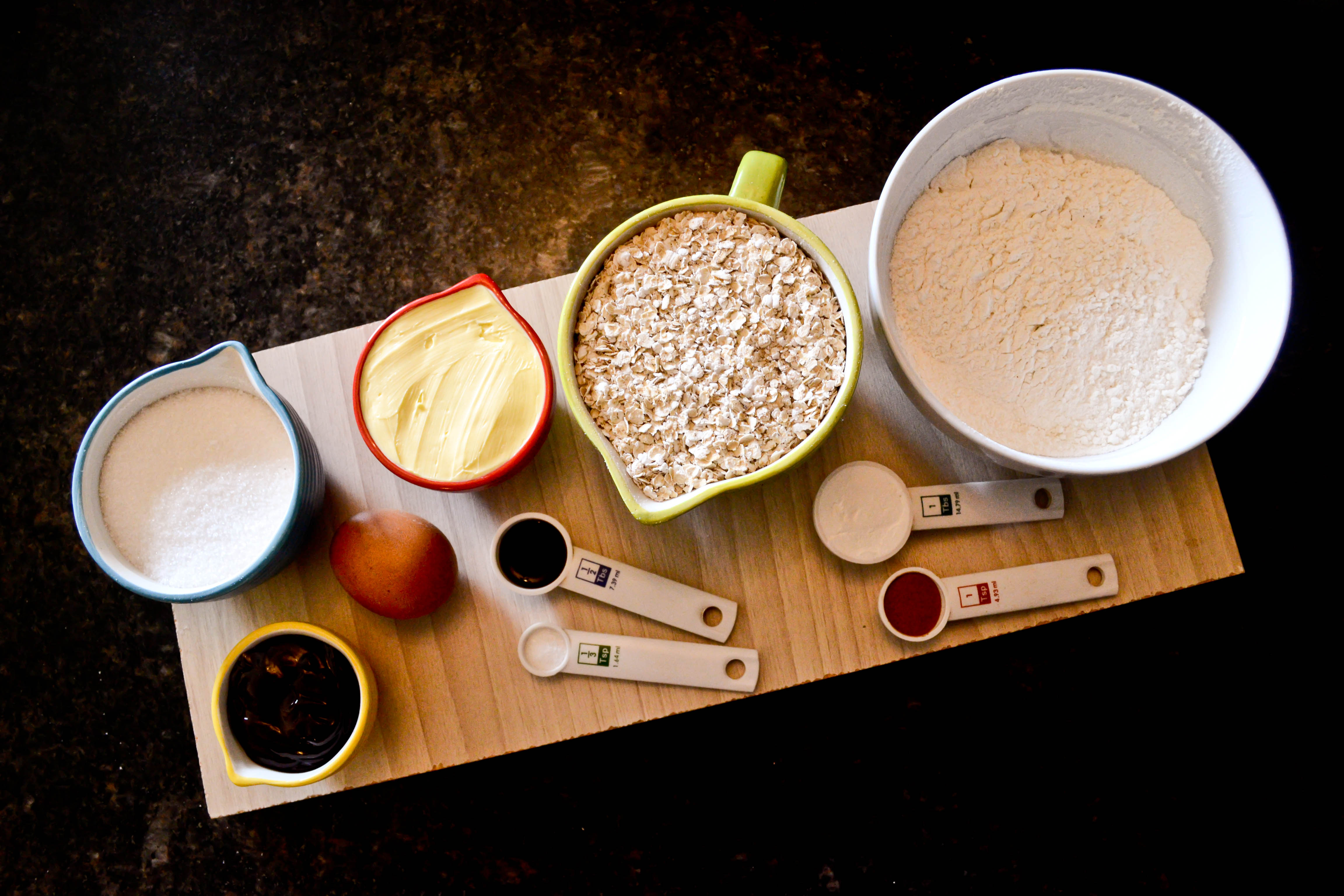 Instructions:
Preheat the oven to 350 degrees F.
Melt your dark chocolate and set aside to let it cool down.
In a large bowl, add your room temperature butter, sugar and salt.
Start mixing either with an electric mixer or by hand. You need a smooth texture before adding the rest of the ingredients.
Incorporate the egg and the vanilla extract, keep mixing until combined.
Sift into the bowl the ground cinnamon. It is really important to sift all the dry ingredients before adding them it to avoid lumps in the dough.
Add the melted chocolate and mix it until the ingredients are incorporated.
Now it is time to add both the cornstarch and all purpose flour, fold them in.
Add the rolled oats and give it a last good stir to get an even batter.
Put the dough in the refrigerator and let it chill for about 10 minutes before using it. This will help you to make the balls easier.
Line a baking sheet with parchment paper, foil also works. If you don't have either, rub some butter on the baking sheet.
Grab a full tbsp of the dough and create a ball, if you feel the dough kind of sticky, don't worry, it is normal.
Place your dough balls in the baking sheet and slightly press them down to create a cookie shape.
Bake for 12 minutes. If you like them softer, take them off after 10 minutes.
To decorate these cookies I recommend letting them cool down and then pouring some melted Dark Chocolate Couverture on top.
Some of our delicious delights:
Couverture Belgian Milk Chocolate