Description
Cacao Chocolate by Santa Barbara Chocolate is made from shade grown cocoa fruit. Chocolate as exotic as the name implies, it is as pure as possible. With pronounced flavor this chocolate is closer to the cocoa bean for those who want to taste the character of 100% cocoa solids. It is bitter chocolate because it has no sugar. Pure chocolate liquor.
We start with premium grade AA cocoa beans that are ground into cocoa paste and then crafted into easy to use and eat chocolate pieces. This pure dark chocolate has all the cocoa solids from the cocoa beans intact. This pure cacao has a smooth texture and pleasant melting characteristic releasing a bouquet of flavors which dark chocolate lovers will savor.
Enjoy right from the package or as a baking chocolate in any recipe like chocolate brownies. These are the most flavorful option for Paleo hot chocolate recipes and Keto chocolate recipes.
1/2" DIAMETER FLAT MINI WAFER SHAPE (FLAT CHIPS) - approximately 1,200 pieces per pound.
Chocolate liquor is the same ingredient as unsweetened chocolate, cocoa mass or pure cacao chocolate
Single Origin Amazonas Criollo Cacao
What is Chocolate Liquor?
Chocolate Liquor is the technical term used in chocolate manufacturing and defined by specific standards under FDA safety and supervision. As a definition it is from the early days of chocolate making. It is a colloquial use of words from the late 1800's when the words used in combination meant concentrated flavor and pure essence of cocoa beans.
CHOCOLATE LIQUOR IS ALSO KNOWN AS UNSWEETENED CHOCOLATE:
Subpart B - Requirements for Specific Standardized Cacao Products
Sec. 163.111 Chocolate liquor.
(a) Description. (1) Chocolate liquor is the solid or semiplastic food prepared by finely grinding cacao nibs. The fat content of the food may be adjusted by adding one or more of the optional ingredients specified in paragraph (b)(1) of this section to the cacao nibs.
Does Chocolate Liquor contain alcohol?
The FDA defines our Cacao Chocolate as a Chocolate Liquor. This means it is a type of pure chocolate with no fillers and no alcohol.
When you eat pure cacao type of chocolate, you'll taste the darkest cocoa bean essence.
1 INGREDIENT CHOCOLATE

IQUITOS CACAO CRIOLLO VARIETY

1/2" DIAMETER FLAT MINI WAFER SHAPE (FLAT CHIPS)
Ingredient: Organic Chocolate Liquor (pure milled cacao with no additives)
This chocolate has minimal processing of the cocoa bean without any added sugar as allowed by FDA and USDA law. No alcohol: chocolate liquor is bitter dark chocolate.
Distinctly a California lifestyle chocolate, you will find this chocolate liquor to have robust flavor, fudge like with hints of nut like flavors.
Do you want the darkest chocolate perfection? Share a kindred connection with Santa Barbara Chocolate and have food safety for your family. You, just like us, want exotic tasting chocolate that is worth investing the time in a creative way crafting a chocolate delight. We share your chocolate passion as a chocolate lover, eating the absolute black and darkest of all chocolate types. This is real cacao showcasing all the glory of the superfood.
The FDA regulates the use of chocolate terminology and for chocolate to be sold in the USA it must meet government standards.
Below is the description from the FDA explaining what our chocolate classification is and why it is called chocolate liquor as a single ingredient under USA standards. The Santa Barbara Chocolate branded food is classified in this FDA category PART 163. We list chocolate liquor as the only ingredient on the packaging.
PART 163 -- CACAO PRODUCTS
Subpart B--Requirements for Specific Standardized Cacao Products
(a) Description. (1) Chocolate liquor is the solid or semiplastic food prepared by finely grinding cacao nibs. The fat content of the food may be adjusted by adding one or more of the optional ingredients specified in paragraph (b)(1) of this section to the cacao nibs. Chocolate liquor contains not less than 50 percent nor more than 60 percent by weight of cacao fat as determined by the method prescribed in 163.5(b).
Santa Barbara Chocolate does not alkalize chocolate. This is an exotic chocolate with no added ingredients. Our goal is to keep it as raw as possible and as close to the original cocoa beans as possible.
Cocoa Powder can be replaced with CACAO CHOCOLATE in Baking Recipes
Cocoa powder is more intense in flavor then chocolate because it is fat reduced through high pressure pressing (cold process but with kinetic energy heat). Cocoa butter extraction when pressing cocoa nibs leaves a concentrated cocoa bean product (powder). This powder through pressing, experiences very high heat from kinetic energy. As a result of pressing, the antioxidant value can be reduced. Cacao chocolate is more in tact and closer to the original cocoa beans as a whole food because it hasn't been pressed.
Sample recipe:
100 grams of powder = 150 grams chocolate
Reduce the butter or fat in the recipe by 75 grams
Ratios:
1 powder = 1.5 chocolate
Reduce recipe fat by the amount calculated when you take the total chocolate weight divided by 2.
How is chocolate liquor made?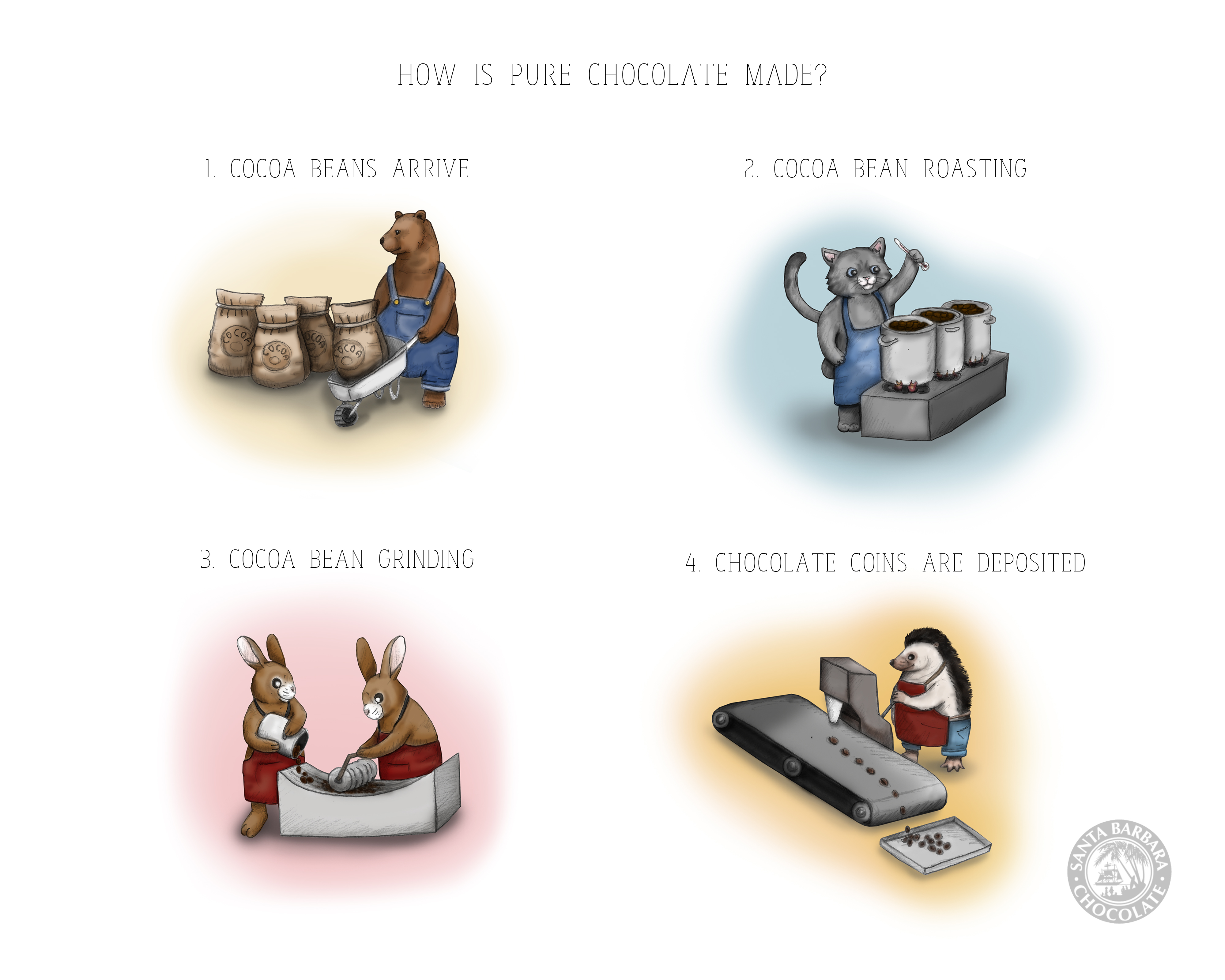 • Cocoa Beans Arrive
The magic begins. Our doors open in order to receive Cocoa Beans from exotic and exciting places all around the world, such as the Caribbean, Ecuador, Vietnam, Trinidad and Hispaniola (just to name a few).That means that the final chocolate you'll be tasting is not only a delicious chocolate, but one that taste like an adventure from around the world.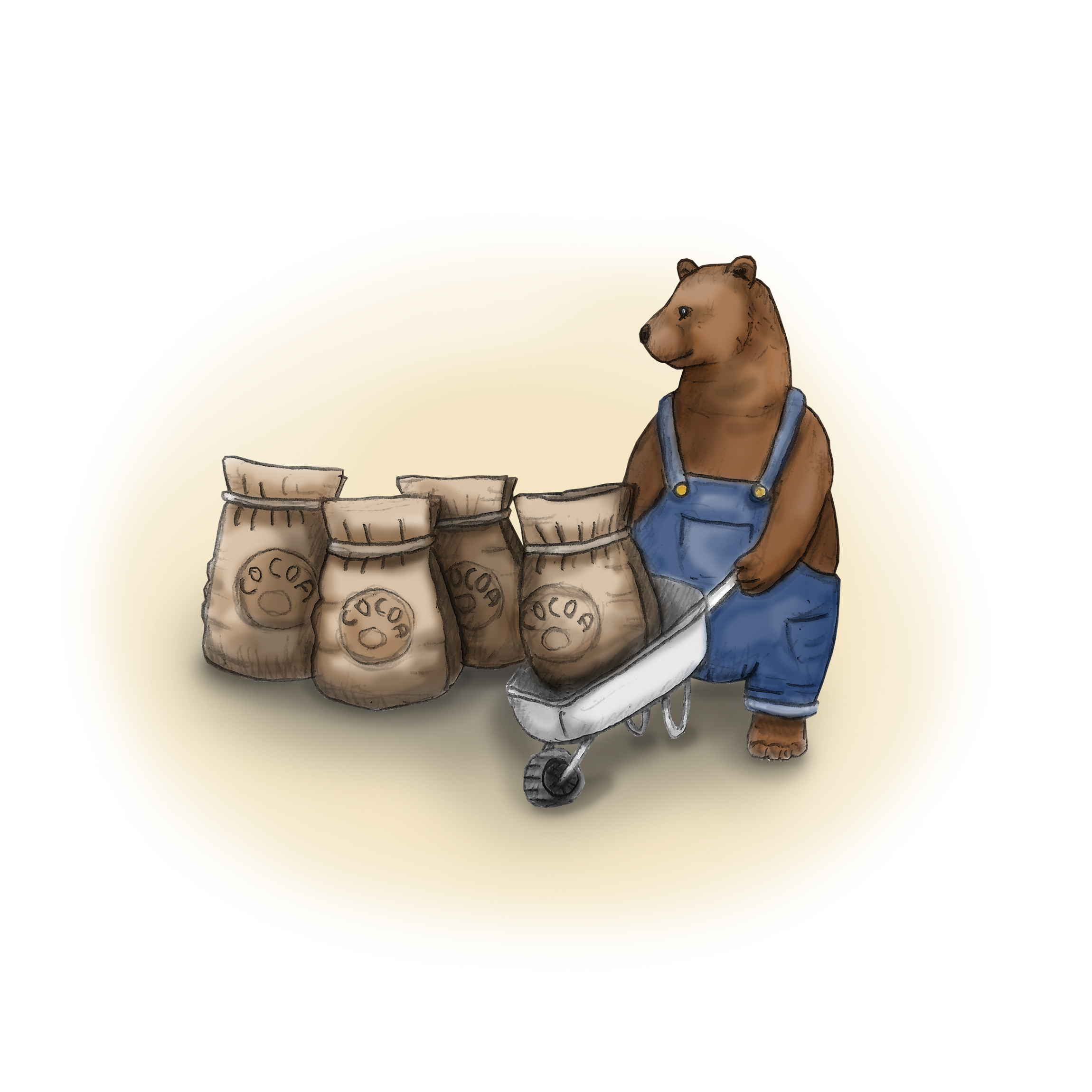 • Cocoa Bean Roasting - lowest allowable temperature by law
The adventure continues. We clean up and select the best Fair Trade cocoa beans so that we can guarantee you a chocolate that is pure and good. Next, when we are sure we have the best of the best, we roast the cocoa beans so that the exquisite flavor of the cacao fruit shines. In this process the colors intensify and the richness of cocoa blossoms.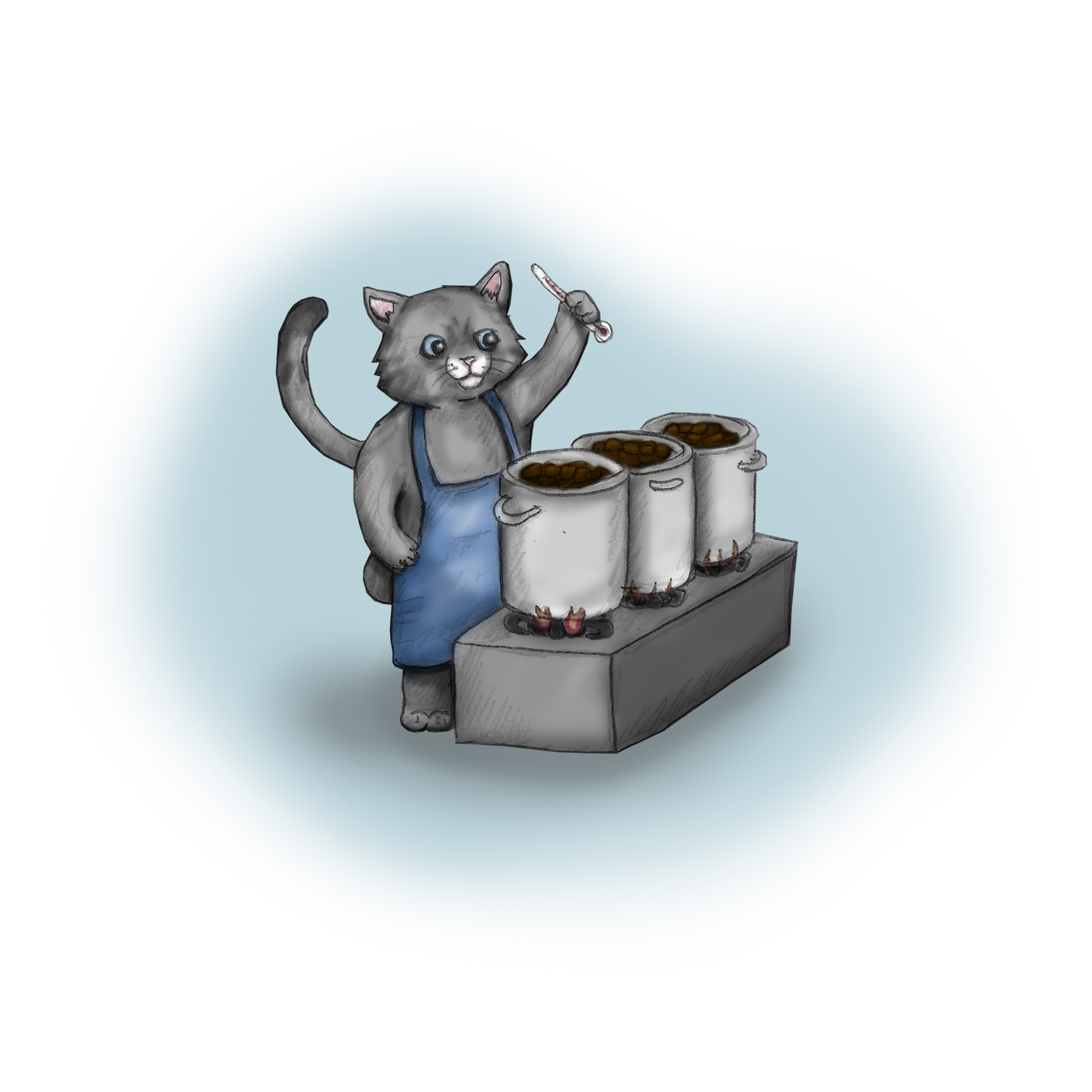 • Cocoa Bean Grinding
Unique. At this process, the flavor and smell explode. By grinding the high quality cocoa beans previously lightly roasted, we get to obtain a fantastic chocolate liquor that won't contain any added sugar. An authentic and pure chocolate flavor results.
• Chocolate is Made
Now the Magic is Yours. The chocolate liquor is tempered and turns into thousands of chocolate pieces that, one by one, fall onto the conveyor belt and take a ride to a future of possibilities. Thanks to these pieces, you and yours create your own magic at home by making all kind of recipes adding your own taste and personality or simply eating and enjoying every bite of these exquisite morsels.
Flow Chart of our process:
Warranty Information
Chocolate with no sugar added is called Chocolate Liquor under FDA terminology and is also known as Black Chocolate in some parts of the world because of the dark color. 100% Cacao Chocolate is a blend of our best cacao varieties creating a mellow bitterness with a smooth dark chocolate flavor and clean melt.
Additional Details
SKU:

SKU-85EC8A4F

UPC: