How to Make Chocolate Covered Pretzels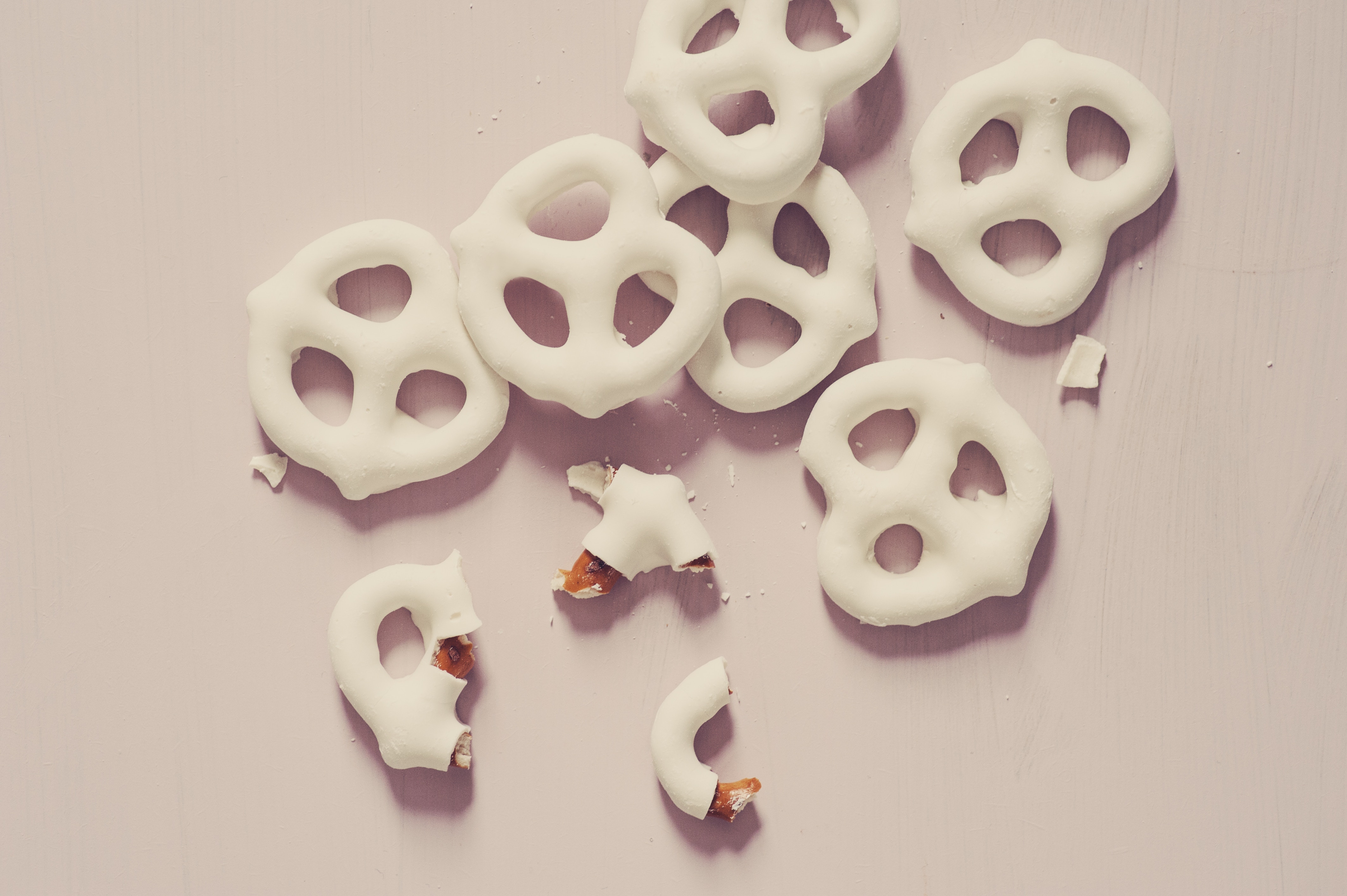 The Chocolate Pretzel Recipe
Chocolate covered pretzels are the perfect DIY gift and easy to make - only a few simple ingredients! You can use dark, milk or white chocolate or a combination to create a pattern. There are tons of toppings you can add too, making it a unique treat and super versatile. You can choose from classic pretzels to pretzel sticks to pretzel rods to square pretzels or even the many gluten-free options available. The variations are endless, so go ahead and get creative!
For this method, we mix a bit of coconut oil into the chocolate to ensure the chocolate covered pretzels have a beautiful sheen after the chocolate sets. It also makes the melted chocolate easier to work with. Typically a ¼ cup of coconut oil to 1 cup of chocolate chips is the ratio when making a chocolate coating (whether it's for pretzels or to make peanut butter cups, chocolate covered strawberries, etc). Simply melt them together in a double boiler or in the microwave (in 30 second increments) and you're ready to go! See the recipe for a step by step guide.
Two ways to coat your pretzels
You can dip the pretzels completely in the chocolate or hold one end with your fingers and just dip the rest of the pretzel for a peekaboo effect. If you prefer to dip the whole pretzel, use a fork to remove it from the melted chocolate and tap the sides of the bowl to shake off excess chocolate before transferring it to your parchment-lined baking sheet. A toothpick is a great trick to help slide the pretzel off the fork if it gets stuck.
For a pretty design, use more chocolate!
After you dip the pretzels in the chocolate and before they completely set, add your toppings or melt another batch of chocolate for a drizzle design. This is where you can use an alternate type of chocolate, like white chocolate, for a contrast of color. Melt the chocolate in your double boiler (or microwave) as in the first step of the recipe, then simply dip your fork in the melted chocolate and drizzle it over your coated pretzels to create a pretty pattern.
If you're adding toppings, make sure to prep them in advance so you can add them before the chocolate sets. You'll have to work fast, so having them ready to go in small bowls makes the process go smoother.
Toppings you can add to your pretzels:
Crushed cookies
Sprinkles
Candy cane bits
Chopped nuts
Dried fruit, finely diced
Freeze-dried fruit, crushed into pieces
M&Ms
Mini marshmallows
Fluer de sel
Edible flowers
Kid's cereals
Gummy bears
Packaging up your chocolate covered pretzels
Once set, chocolate covered pretzels keep for a few weeks in an airtight container. If you're giving them away as gifts, you can layer them into a mason jar with a tight-fitting lid and decorate the jar itself (one of our favorite decorating ideas is to glue on 3 buttons to make it look like a snowman or make a tie out of fabric or construction paper to wrap around the jar for Father's Day!). If you're making large chocolate covered pretzel rods, you can also individually wrap each one in plastic and tie it with a ribbon. You can find these wrappers on Amazon or at party supply stores. Search for "self-sealing pretzel cellophane bags".
Chocolate covered pretzels are a wonderful treat that can be made all year round for just about any event, party, bake sale, or simply as a snack. If you have favorite toppings you'd like to add to the list, let us know in the comments below. Enjoy!
Chocolate Covered Pretzels Recipe
ACTIVE: 20 min TOTAL CHILL TIME: 1 hour to chill
Makes a big batch
Ingredients
2 cups baking chocolate, divided
2 Tbsp coconut oil, divided
1 8 to 9 oz bag of mini pretzels or tiny twists (like Snyder's or Rold Gold or a Glutino if gluten-free)
Special equipment:
Saucepan
Heatproof bowl
Baking sheet lined with parchment paper (or a silpat mat)
Toothpicks
METHOD
Step 1 - In a small saucepan over medium-low heat, add 1 Tbsp coconut oil. Once melted, add 1 cup of the chocolate disks and stir constantly until chocolate melts. (Or stir coconut oil and coconut oil together in a microwave-proof bowl, and microwave in 30-second increments until melted).
Step 2 - Once chocolate is melted, remove from heat source. Dip your pretzels into the melted chocolate one by one, using a fork to lift out, gently tapping the fork on the side of the bowl to allow excess chocolate to drip off.
Step 3 - Transfer dipped pretzel to parchment-lined baking sheet, using a toothpick to coax it off the fork, if needed.
Step 4 - Repeat with remaining pretzels and second batch of chocolate, depending how many you'd like to make.
Step 5 - Place baking sheet in fridge to set. Transfer to an airtight container and store in a cool place.
Check out our full list of chocolate varieties: