Organic Rainforest Dark Couverture Chocolate Chips 72% cocoa solids.
Shade grown rainforest cacao is the secret in our best selling organic dark chocolate brand.
Gluten Free Chocolate
Chocolate without soy lecithin
GMO Free Chocolate Factory
Ethical Trade rainforest grown cacao
Chocolate for the California lifestyle
Couverture Chocolate Chips
Organic chocolate benefits go beyond the bulk wholesale value and delicious taste to include the piece of mind knowing sustainable cacao farming is environmentally better.
Organic Dark Chocolate without soy Ingredients: Organic cocoa beans, organic sugar, organic cocoa butter and organic vanilla
Bulk organic dark chocolate 72% is a couverture chocolate made using traditional candy making principles based on the simple recipe of wholesome organic ingredients. The results are sublime. Please read our reviews to learn more.

Organic Vegan Chocolates: Mix 16oz Santa Barbara Dark Chocolate without soy with 5oz Coconut Cream and 2oz Agave Syrup. Without overheating, melt ingredients together until no un-melted pieces are visible. Chill over night. Spoon truffle balls and dust with red cocoa powder or dip in tempered Santa Barbara Dark Chocolate 72% couverture.
Chocolate California Style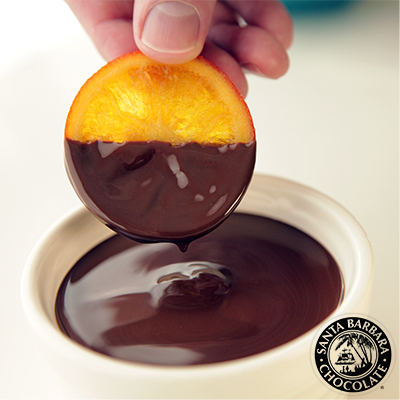 Bulk organic dark chocolate couverture chips are perfect to eat and for use in all chocolate making and baking recipes. This chocolate is unique because there is no added soy lecithin. Enjoy the ultimate flavor of real rainforest raw cacao. Smooth and earthy with slightly fruity flavors are the characteristics of our premium Dark 72% Chocolate. It's the best organic chocolate brand around.