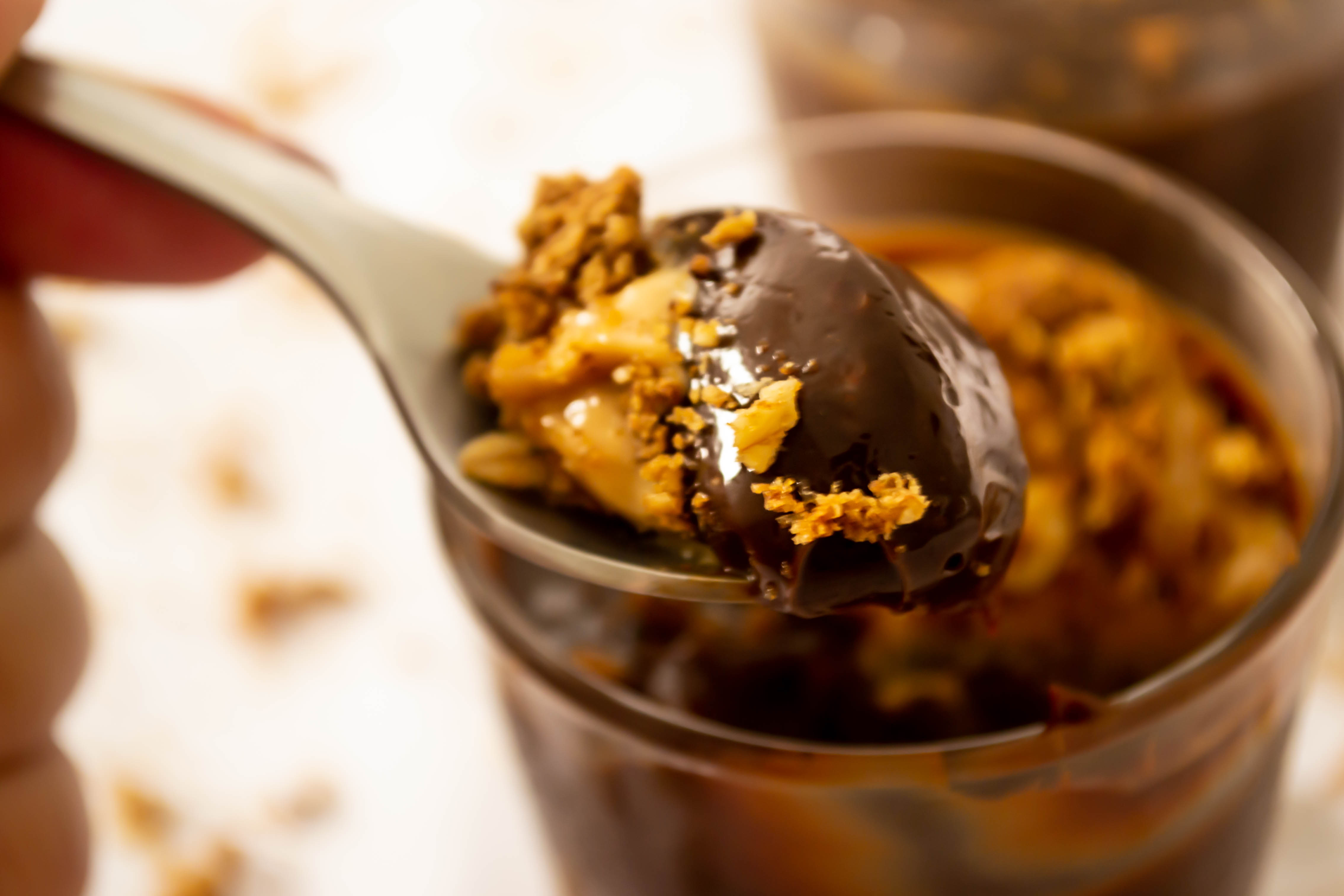 Chocolate Budino
Budino is an Italian dish which is creamy and rich. You can prepare it with several toppings and it is perfect for any chocolate craving! For this recipe we'll use just high quality ingredients, including our lovely Dark Chocolate 72% from Santa Barbara Chocolate which is going to be the star of this recipe.
Budino Ingredients:
180 g. of Dark Chocolate 72%
1 cup of heavy cream
1 cup of whole milk
6 egg yolks, room temperature
¼ cup of brown sugar
1 tbsp. of olive oil
A pinch of salt
Method:
In a large saucepan, combine the heavy cream and whole milk. It's important to use whole milk instead of skim for better texture and richness.
Place the saucepan over low heat and let it bring to simmer.
While the cream is in the heat, take a large bowl to whisk the yolks and sugar together until creamy and completely combined. You can use white sugar if you don't have brown at home.
When the cream is starting to boil, remove from the heat. Now you will combine the cream and egg yolks carefully.
Start to whisk the egg yolks mixture continuously and, at the same time, slowly pour the cream into the bowl. Be cautious not to combine them too fast or you can cook the yolks by mistake.
Now, place the mixture back to the saucepan over low heat, stir every now and then. If you have a cooking thermometer, you want to use and it wait until it reaches 175° F. Most people don't have one at home, so make sure the mixture is thick enough to coat a spoon and don't let it boil.
Place your dark chocolate into a heat proof bowl and add the cream and yolks mixture on top. Let it sit for about 8 to 10 minutes. The heat will melt the dark chocolate.
After about 10 minutes, stir the chocolate using a whisk or a spatula. Add the olive oil, pinch of salt and give it a last good stir. You can add a tbsp. of rum or whisky if you want to add a bit of flavor, this is totally optional.
Transfer the budino to your glass or container of choice and place it in the refrigerator at least 6 hours. If possible, leave it overnight.
Serve with your favorite toppings and enjoy!
Chocolate budino with homemade peanut butter and cookie crumbles
Ingredients for the peanut butter
1 cup of peanuts, chopped with no shell
1 tsp of honey
A pinch of salt
Chocolate chips oatmeal cookies
Instructions
Preheat the oven to 350° F.
Place the chopped peanuts into a baking sheet and roast them for 3 to 5 minutes, until brownish.
Using a food processor or a blender, add in the roasted nuts, honey and pinch of salt.
Blend until creamy. If you want to make chunky peanut butter, don't blend it as much to leave some chunks.
Store in a glass jar and use it as you wish.
To assemble the budino:
Add a tbsp. of homemade peanut butter on top and sprinkle chocolate chip oatmeal cookie crumbles on top. I like this combo but use any other cookie flavor, chopped nuts, or even chocolate candy to decorate the dessert and of course, to add your personal touch to the dish!
Dark Chocolate Budino:
Budino is an Italian famous dessert, so easy to make and it's hard not to fall in love with it.
English has the word pudding, French boudin, and Italian budino.
The first mention of the Italian dessert to appear here in the states was in a 1963 issue of San Fernando Valley Living, a small California newspaper of the day. The article in question described a dinner event of the Wine and Food Society of the San Fernando Valley in which Iberian wine pairings accompanied courses from "foreign lands" that Valley residents would certainly not have regular encounters. The dessert course, budino Maltais, was listed as heralding from the tiny European island nation of Malta, just south of Italy. From there, mentions of budino trail off until the mid 1980s, when California chef and KCRW host Evan Kleiman listed the dessert on menus at her restaurant Angeli. A 1990 profile by Ruth Reichl of Kleiman in The Los Angeles Times included the chef's recipe for ricotta budino, gently nudging the dish closer toward the mainstream once more. But then in 2017, the once obscure dessert was named "the dessert of Los Angeles" by Saveur.
This version of Dark Chocolate Budino Recipe could be also Vegan if you sub the Milk with Plant based one!
Serves: 12 individual budino molds .
Preparation time: 20 minutes + 2 hours refrigerate
Ingredients:
800g Milk
150g Butter
180g Santa Barbara dark chocolate
160g Sugar
80g flour
Rum
Method:
1. In a Small pan Bring the milk to a bare simmer.
2. Use another saucepan and add the butter, let it melt with the sugar and whisk together till smooth.
3. Turn off the heat / Remove from stove.
4. Add the dark chocolate while whisking till smooth.
5. While whisking vigorously add gradually the flour and keep whisking until dissolved .
6. Immediately put back over the stove and pour in the hot milk and cook over medium heat stirring constantly (about 5 minutes), until you have a smooth and thick chocolate pudding / budino.
7. Brush the Budino moulds with Rum .
8. Pour the pudding /budino into the molds and chill in the fridge for at least 2 hours before eating. The more time in fridge the better.
Notes:
1. The chocolate pudding can be kept in the fridge for a maximum of 4 days if covered with plastic wrap or closed in an airtight container. Chocolate pudding can be safely prepared in advance of when you intend to serve it.
2. To have vegan Pudding all you need is to sub the butter and the milk with soy milk and butter.
3. To have it gluten free, sub with GF flour.
4. I used those stamps. Dimensions: diameter 8 cm ( 3.14 inch) - Height 4.5 cm ( 1.77 Inch) - Diameter of the base 6 cm (2.36 cm).