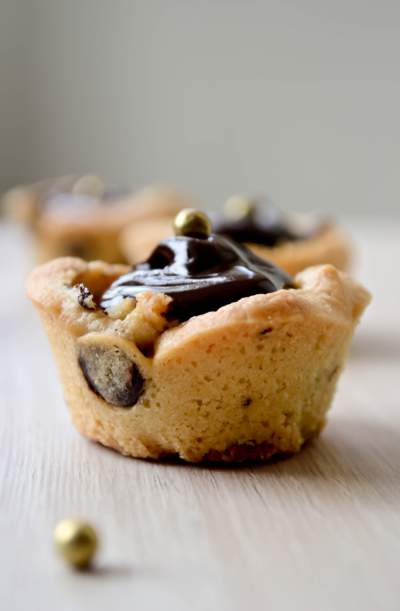 Chocolate Chip Cookie Cups
Chocolate chip cookies are probably the most famous cookie in the world. Recognized across all nations as an American invention, they were created in the United States in the 1930's by Innkeeper and chef Ruth Graves, who ran the Toll House Inn. Since the original chocolate chip cookie recipe there have been many creative variations, some of the most famous being chocolate chips cookie nut recipes.
Probably one of the most fun variations of the chocolate chip cookie is the recipe where the cookie itself becomes shaped like a cup to act as a container that can hold fillings like chocolate ganache filling! This type of specialty shaped cookie is called a Chocolate Chip Cookie Cup.
Fill these cookie cups with homemade chocolate ganache or whipped cream. Always use high quality ingredients for making gourmet and delicate desserts. Santa Barbara Chocolate brand of organic chocolates can help you achieve the best results in fancy baking and gourmet pastry.
Chocolate Chip Cookie Cup Ingredients:
1 1/2 cup of all purpose flour
1/2 cup of butter, room temperature
1 cup of sugar
3 oz of Organic Dark Chocolate
1 egg
1 tbsp of vanilla extract
1 tsp of baking soda
1 tsp of baking powder
A pinch of salt
Instructions:
In a bowl, sift in the all purpose flour, baking soda and baking powder, set aside.
In a separate bowl, cream together sugar, salt and room temperature butter until completely light and fluffy. You can do this either with an electric mixer or by hand.
Add the egg and vanilla extract into the creamy mixture; keep whisking until incorporated.
Take your dry ingredients and start adding them into the wet mixture bowl. Stir continuously until an even mixed cookie dough results.
Add the Organic Dark Chocolate Chips and give it a last good stir.
Refrigerate your chocolate chip cookie dough for at least 1 hour before baking.
Use a mini cupcake baking tray if you want small cookie cups or a large cupcake baking tray if you want to make jumbo ones.
Preheat the oven to 350 degrees F.
Shape the dough into tiny balls (if using the mini baking tray) and place each into the tray holes. Do not add too much dough, just enough to cover the edges.
You will need to mold the dough, it is pretty easy; start to push the cookie dough ball to the edges and bottom.
Bake for 8 minutes or until slightly golden. Take the tray out the oven, push down the dough in the middle to make them even more deep; for this you can use the back of a spoon or even a shot glass.
Take the tray back in the oven for 2 or 3 minutes more until completely golden.
Fill your chocolate chip cookie cups with anything you would like!
Homemade chocolate ganache filling:
Ingredients:
One part of high quality chocolate, chopped
Two parts of heavy cream, hot
Instructions:
Over low heat, warm the heavy cream until really hot but before completely boiling.
Remove from heat and add the chopped chocolate, don't stir right away.
After 5 minutes, whisk the cream until you get smooth and creamy texture.
Fill your chocolate chip cookie cups with the delicious homemade ganache.
Decorate with nuts or dried fruit.

https://www.santabarbarachocolate.com/chocolatier-jason-vishnefske/
{ "@context": "https://schema.org/", "@type": "Recipe", "name": "Chocolate Chip Cookie Cups", "image": "https://store-ham8sjk.mybigcommerce.com/product_images/uploaded_images/chocolate-chip-cookie-cups-1519163475-104.172.155.216.jpg", "description": "", "keywords": "", "author": { "@type": "Person", "name": "Jason Vishnefske" }, "datePublished": "2020-07-08", "prepTime": "", "cookTime": "", "totalTime": "", "recipeCategory": "dessert", "recipeCuisine": "American", "nutrition": { "@type": "NutritionInformation", "calories": "" }, "recipeIngredient": [ "Chocolate Chip Cookie Cup Ingredients:", "1 1/2 cup of all purpose flour", "3 oz of Organic Dark Chocolate", "1 egg", "1 tbsp of vanilla extract", "1 tsp of baking soda", "1 tsp of baking powder", "A pinch of salt", "½ cup of heavy cream", "Homemade chocolate ganache filling Ingredients:", "One part of high quality chocolate, chopped", "Two parts of heavy cream, hot" ], "recipeInstructions": [{ "@type": "HowToStep", "text": "In a bowl, sift in the all purpose flour, baking soda and baking powder, set aside." },{ "@type": "HowToStep", "text": "In a separate bowl, cream together sugar, salt and room temperature butter until completely light and fluffy. You can do this either with an electric mixer or by hand." },{ "@type": "HowToStep", "text": "Add the egg and vanilla extract into the creamy mixture; keep whisking until incorporated." },{ "@type": "HowToStep", "text": "Take your dry ingredients and start adding them into the wet mixture bowl. Stir continuously until an even mixed cookie dough results." },{ "@type": "HowToStep", "text": "Add the Organic Dark Chocolate Chips and give it a last good stir." },{ "@type": "HowToStep", "text": "Refrigerate your chocolate chip cookie dough for at least 1 hour before baking." },{ "@type": "HowToStep", "text": "Use a mini cupcake baking tray if you want small cookie cups or a large cupcake baking tray if you want to make jumbo ones." },{ "@type": "HowToStep", "text": "Preheat the oven to 350 degrees F." },{ "@type": "HowToStep", "text": "Shape the dough into tiny balls (if using the mini baking tray) and place each into the tray holes. Do not add too much dough, just enough to cover the edges." },{ "@type": "HowToStep", "text": "You will need to mold the dough, it is pretty easy; start to push the cookie dough ball to the edges and bottom." },{ "@type": "HowToStep", "text": "Bake for 8 minutes or until slightly golden. Take the tray out the oven, push down the dough in the middle to make them even more deep; for this you can use the back of a spoon or even a shot glass." },{ "@type": "HowToStep", "text": "Take the tray back in the oven for 2 or 3 minutes more until completely golden." },{ "@type": "HowToStep", "text": "Heat your heavy cream until really hot but before it boils." },{ "@type": "HowToStep", "text": "5 minutes after the chocolate rests in the cream, stir until all the chocolate is completely melted and you get that smooth and silky texture. Here is more info on chocolate ganache." },{ "@type": "HowToStep", "text": "Cut and serve your beautiful flourless chocolate cake to your hungry cake monsters." },{ "@type": "HowToStep", "text": "for the ganache filling , Over low heat, warm the heavy cream until really hot but before completely boiling. Remove from heat and add the chopped chocolate, don't stir right away." },{ "@type": "HowToStep", "text": "After 5 minutes, whisk the cream until you get smooth and creamy texture. Fill your chocolate chip cookie cups with the delicious homemade ganache. Decorate as you wish" }], "aggregateRating": { "@type": "AggregateRating", "ratingValue": "5", "bestRating": "5", "worstRating": "1", "ratingCount": "1" }, "video": { "@type": "VideoObject", "name": "Chocolate Chip Cookie Cups", "description": "Probably one of the most fun variations of the chocolate chip cookie is the recipe where the cookie itself becomes shaped like a cup to act as a container that can hold fillings like chocolate ganache filling! This type of specialty shaped cookie is called a Chocolate Chip Cookie Cup.", "thumbnailUrl": "https://store-ham8sjk.mybigcommerce.com/product_images/uploaded_images/chocolate-chip-cookie-cups-1519163475-104.172.155.216.jpg", "uploadDate": "2020-07-08", "contentUrl": "https://youtu.be/btLeT6RvudA", "embedUrl": "https://www.youtube.com/embed/btLeT6RvudA" } }