Chocolate Cherry Cordials are a delight that tantalize the taste buds.
Professionally making chocolate cherry cordials is a process that requires several steps to make the liquified cherry centers.
The chocolate covered cherries we make in our Santa Barbara Chocolate factory and sell online go through an in depth process where the centers are shaped as a semi-hard center in starch trays and then later dipped in our dark chocolate couverture. We cure the freshly dipped cherry cordials for 2 weeks in a special temperature and humidity controlled room where the solid cherry fondant, morello cherry center transforms into a liquified cherry juice center. Once we know the cherries are suitable for eating we then offer them online and ship world wide.
With the unique combination of cherry flavored soft sweet center and whole cherry dipped in chocolate coating, cherry cordials offer a chocolate that is classic American. If you want to make them at home here is one of the best homemade chocolate cherry recipes we have found. This cherry recipe is easy, fast and the chocolate cherries turn out great. The fastest way to make chocolate covered cherries is to use our Brazilian Compound Chocolate, but if you want to make cherries the way we do, please use one of our couverture chocolates. If you'd rather buy a gift box of cordial cherries than make them from scratch, we offer chocolate cherries made fresh from our chocolate factory.
EASY CHOCOLATE COVERED CHERRIES RECIPE:
Chocolate Covered Cherries
60 maraschino cherries with stems
3 tablespoons butter softened
3 tablespoons light corn syrup
1/4 teaspoon salt
2 cups sifted powdered sugar
1 1/2 pounds candy-making chocolate
Drain cherries thoroughly on paper towel. Combine butter, corn syrup, and salt. Stir in powdered sugar; knead mixture till smooth (chill mixture if too soft).
Shape 2 teaspoon of the sugar mixture around each cherry. Place coated cherries on a baking sheet lined with waxed paper (or parchment paper), chill.
In a heavy 1 quart saucepan, melt chocolate over low heat, stirring constantly (use the microwave on low to melt more quickly). Holding by the stems, dip coated cherries, one at a time, into chocolate coating. Spoon chocolate over cherries to coat to ensure the center is fully encased. Place cherries on a baking sheet lined with waxed paper (or parchment paper). Chill. Store in refrigerator in a covered container. Let candies ripen in refrigerator for one or two weeks before serving.....IF you can wait! Most everyone will usually just eat them up after the chocolate has dried.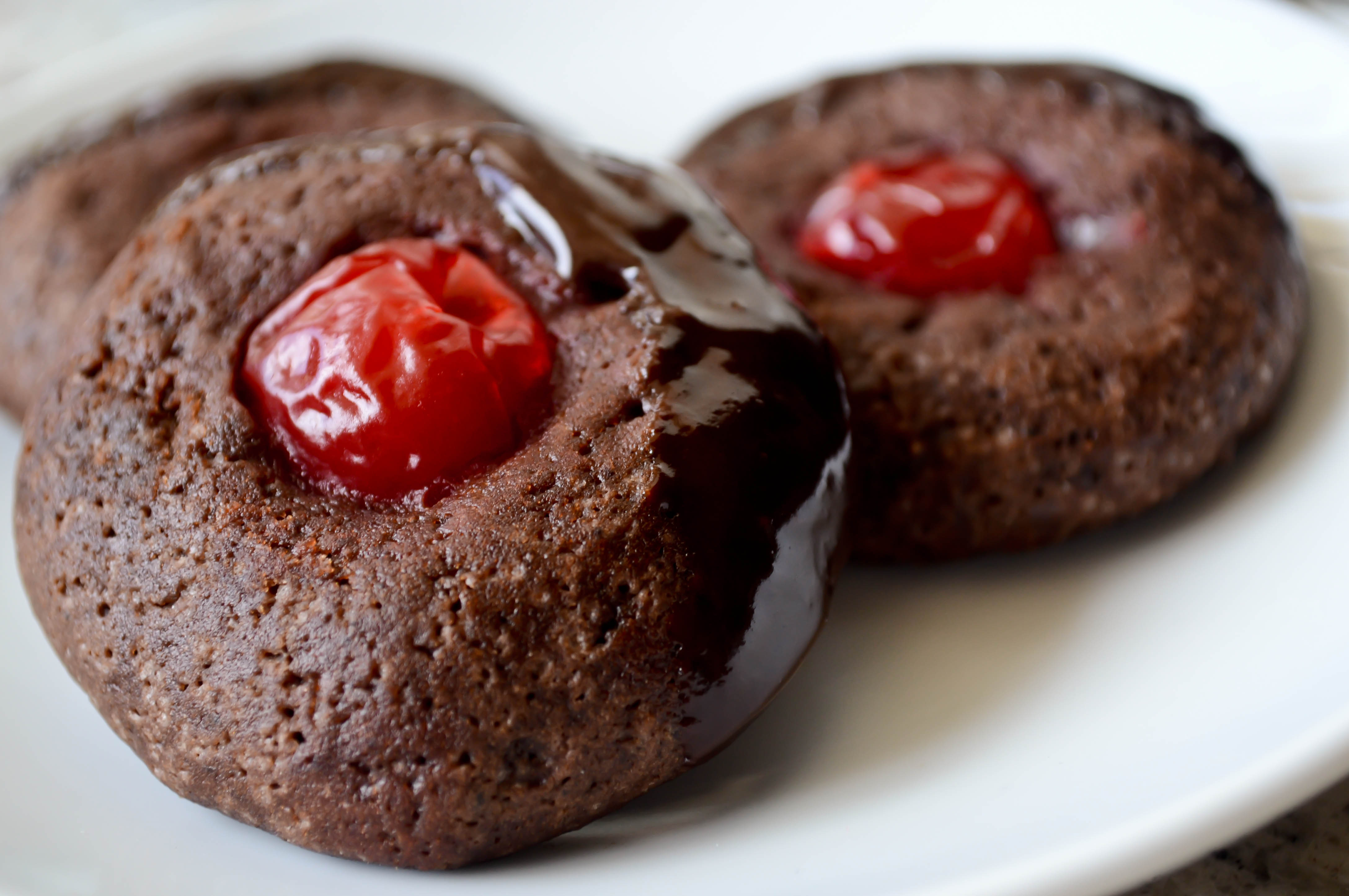 Chocolate Cherry Cookies
These cookies are the perfect ones to make amazing edible gifts around the holidays or to serve during a special dinner as dessert. The combination of flavors and colors is what makes these cookies so gorgeous and delicious.
The Maraschino cherries are the perfect sweet punch in the middle of each cookie. Because of the cherries, the cookie dough recipe calls for less sugar than other chocolate cookies. Also, one of the ingredients listed below is brewed black coffee, even though you won't taste it at all in the cookies, it is recommended to use some coffee in chocolate recipes to enhance the flavor and make it richer.
It is important to use just high quality cocoa powder in order to get gourmet style cookies. I recommend the Rainforest Red Cocoa Powder from Santa Barbara Chocolate. If you want to add some melted chocolate on your cookies, there are some from the same brand that would be a truly right match, they are: Chocolate Couverture and Milk Chocolate, any of these will combine perfectly.
Ingredients:
1/2 cup of butter, room temperature
3/4 cup of sugar
2/3 cup of Rainforest Red Cocoa Powder
1 1/4 cup of all purpose flour
2 eggs
2 tbsp of black coffee, brewed
1 tsp of baking powder
A pinch of salt
12 - 14 Maraschino cherries
Instructions:
Preheat the oven to 350 degrees.
In a large bowl add butter and sugar; cream them together using either a hand mixer or a whisker until pale and fluffy, it will take around 2-3 minutes.
Incorporate eggs and black coffee, keep mixing to combine all the ingredients.
Sift into the bowl the all purpose flour, salt, baking powder and red cocoa powder. It is important to sift your dry ingredients to avoid lumps.
Mix until you get an even chocolate batter.
Place your bowl in the refrigerator for 30 - 40 minutes to chill the dough.
Take a cookie sheet and cover it with parchment paper.
When your dough is already chilled, take about a tbsp of dough and make a little ball with your hands.
Place the dough ball on the sheet and slightly press it down.
Take the back of a tsp and create a small indentation in the center of each cookie dough.
Place a Maraschino cherry in the middle of each chocolate cookie.
Bake your cookies for 10 minutes.
Take them off the oven and let them cool down.
If you want some extra chocolate in your warm cookies, add some melted dark chocolate to give them an extra touch in flavor and decoration.
Some people prefer to keep the chocolate flavor as strong as possible, if you are one of them I recommend using just half of the cherry for each cookie. They will look the same and your chocolate flavor will be the prominent one.
Check out our full list of chocolate varieties:
{ "@context": "https://schema.org/", "@type": "Recipe", "name": "Chocolate Cherry Cookies", "image": "https://www.santabarbarachocolate.com/product_images/uploaded_images/chocolate-cherry-cookies.jpg", "description": "These cookies are the perfect ones to make amazing edible gifts around the holidays or to serve during a special dinner as dessert. The combination of flavors and colors is what makes these cookies so gorgeous and delicious.", "keywords": "Chocolate Cherry Cookies", "author": { "@type": "Person", "name": "Jason Vishnefske" }, "datePublished": "2018-04-29", "prepTime": "PT30M", "cookTime": "PT15M", "totalTime": "PT45M", "recipeCategory": "dessert", "recipeCuisine": "USA", "recipeYield": "12", "nutrition": { "@type": "NutritionInformation", "calories": "" }, "recipeIngredient": [ "1/2 cup of butter, room temperature", "3/4 cup of sugar", "2/3 cup of Rainforest Red Cocoa Powder", "1 1/4 cup of all purpose flour", "2 eggs", "2 tbsp of black coffee, brewed", "1 tsp of baking powder", "A pinch of salt", "12 - 14 Maraschino cherries" ], "recipeInstructions": [{ "@type": "HowToStep", "text": "Preheat the oven to 350 degrees." },{ "@type": "HowToStep", "text": "In a large bowl add butter and sugar; cream them together using either a hand mixer or a whisker until pale and fluffy, it will take around 2-3 minutes." },{ "@type": "HowToStep", "text": "Incorporate eggs and black coffee, keep mixing to combine all the ingredients." },{ "@type": "HowToStep", "text": "Sift into the bowl the all purpose flour, salt, baking powder and red cocoa powder. It is important to sift your dry ingredients to avoid lumps." },{ "@type": "HowToStep", "text": "Mix until you get an even chocolate batter." },{ "@type": "HowToStep", "text": "Place your bowl in the refrigerator for 30 - 40 minutes to chill the dough." },{ "@type": "HowToStep", "text": "Take a cookie sheet and cover it with parchment paper." },{ "@type": "HowToStep", "text": "When your dough is already chilled, take about a tbsp of dough and make a little ball with your hands." },{ "@type": "HowToStep", "text": "Place the dough ball on the sheet and slightly press it down." },{ "@type": "HowToStep", "text": "Take the back of a tsp and create a small indentation in the center of each cookie dough." },{ "@type": "HowToStep", "text": "Place a Maraschino cherry in the middle of each chocolate cookie." },{ "@type": "HowToStep", "text": "Bake your cookies for 10 minutes." },{ "@type": "HowToStep", "text": "Take them off the oven and let them cool down." },{ "@type": "HowToStep", "text": "If you want some extra chocolate in your warm cookies, add some melted dark chocolate to give them an extra touch in flavor and decoration." }], "aggregateRating": { "@type": "AggregateRating", "ratingValue": "5", "bestRating": "5", "worstRating": "1", "ratingCount": "1" } }